Basement Remodeling In Riverview, Omaha NE
Put to good use all that extra living space beneath your home with a basement remodel!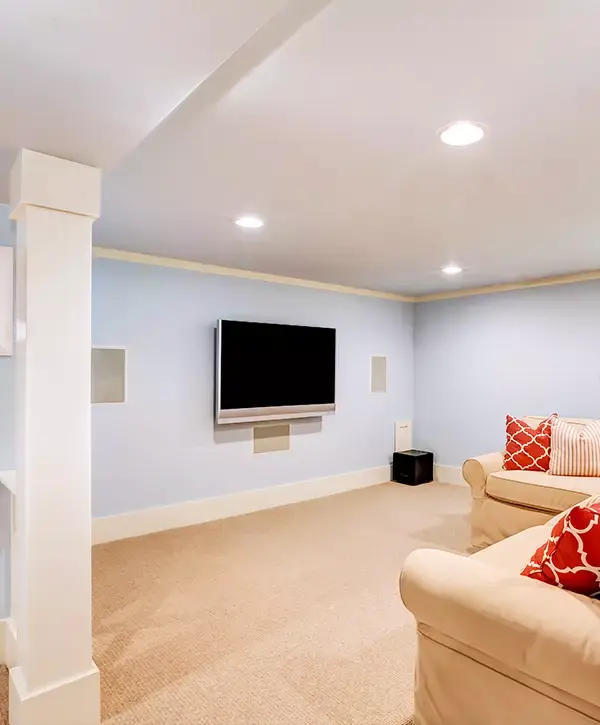 Basement remodeling is one of the best investments you can make if your goal is to add more living square footage to your home. 
Instead of paying hundreds of thousands of dollars on a home addition, you can spend less than $50k on a basement remodel that gets you the same, if not more, value for your home. 
Besides, you'll get to transform this space into anything you'd like, like an in-home gym, a home office, a home theater, laundry room, or even an extra living space with a bedroom and bath!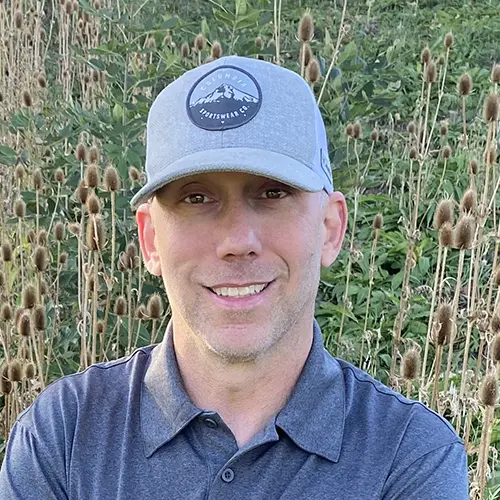 Tony Inzauro – Owner of Home Matters Construction
Hi, I'm Tony Inzauro, owner of Home Matters Construction. My personal approach and honest communication will give you the confidence and peace of mind to finally start your project and enjoy watching your home become your personal heaven. I love working on basements because of all that unused potential, and I made it my mission to help homeowners tap into that huge benefit!
A Complete Basement Remodeling Service In Riverview, Omaha NE
Here at HMC, our commitment stands tall throughout your project. We'll deliver exceptional service that guarantees every single dollar you spend transforms into a lasting investment. With us, you'll get: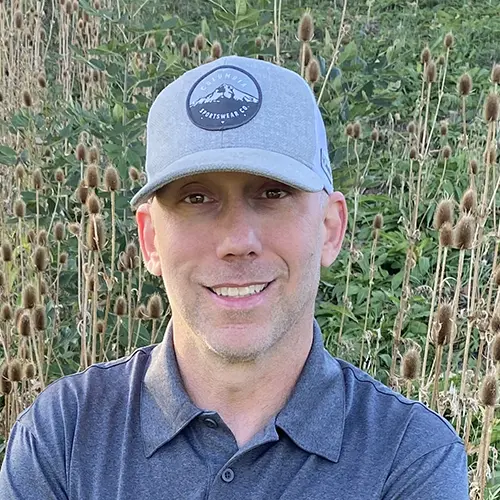 If you're still unsure about hiring a professional basement remodeler for your project, don't worry! Feel free to contact us with any questions by completing the form on this page, or you can simply send us a message at (402) 661-0910. We're here to help!
Your Neighbors Loved Working With Professionals
Many residents in Riverview, Omaha, and the surrounding areas have already chosen us to create their new basements. The satisfaction and trust of our clients speak volumes about our professionalism and reliability. We take great pride in delivering exceptional service and building strong relationships with our valued customers.
HMC are great! They were upfront and professional about all aspects of our basement remodel. They worked with us on our floor plan and gave insight about better ways to install or incorporate certain parts of the build.
They gave us exactly what we wanted and everything was held to a very high standard. Everyone was professional, respectful, and very great at their job! I wish I could give more stars on this review. 5+ stars in our book.
All the crew at Home Matters Construction were very polite and professional. Arrive on time, clean up after themselves and completed the job early. 
My wife want's me to call Tony now and have them do our basement.
Basement Remodeling Cost In Riverview, Omaha NE
Renovating your basement in Riverview, Omaha NE, and the surrounding areas can be a smart and cost-effective investment. Prices range from $40k to $70k, which may seem significant at first. 
However, it's important to consider that a home addition would cost two or three times as much for the same amount of additional square footage. So, transforming your basement is a great way to maximize value without breaking the bank.
Before
After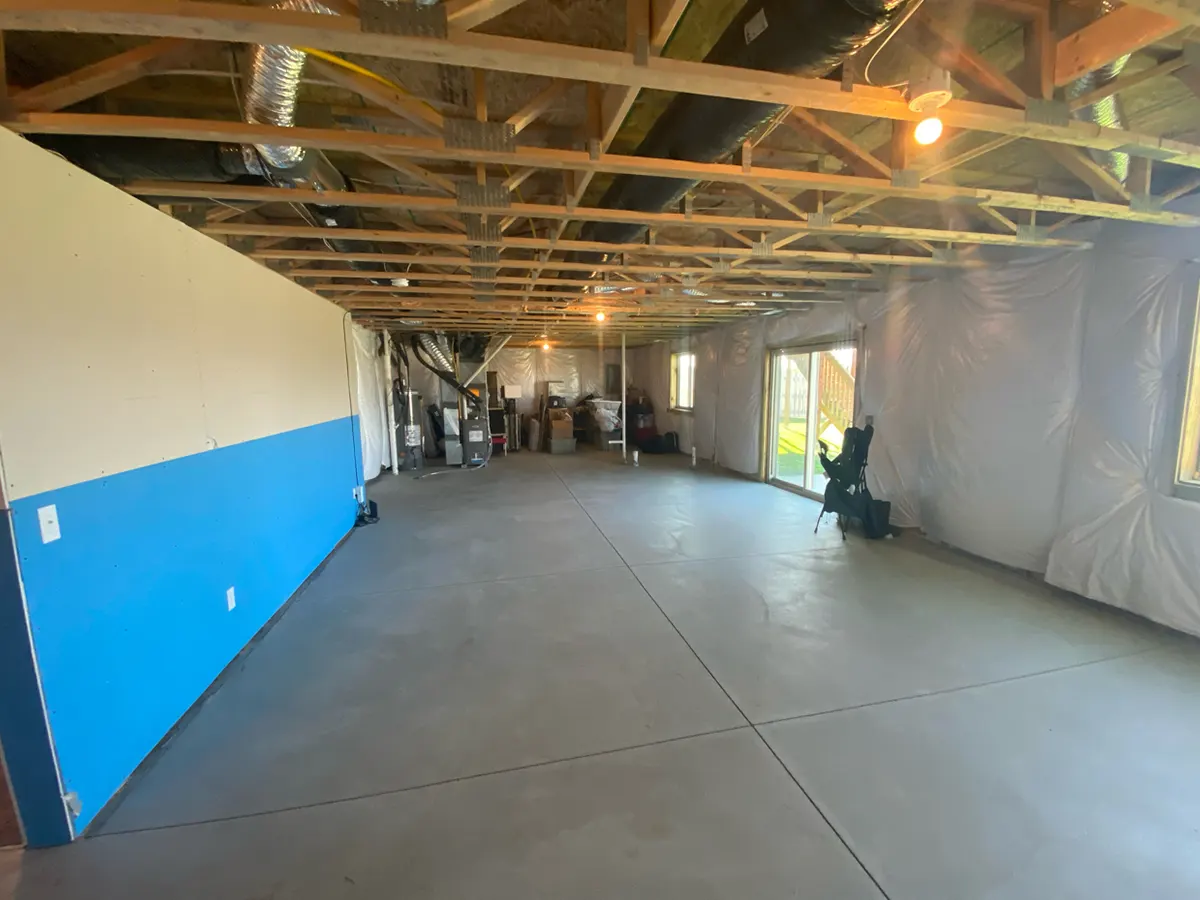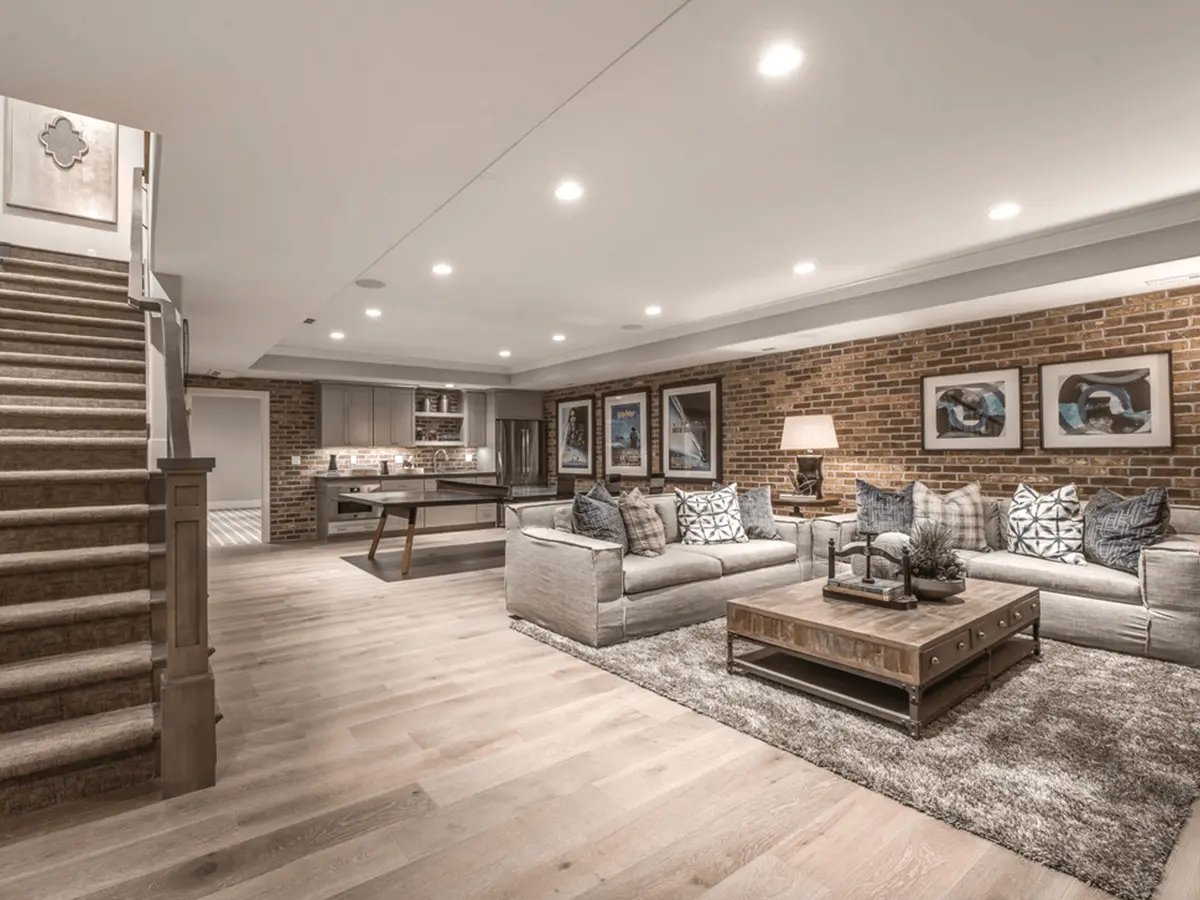 Basement Remodel In Riverview, Omaha NE
The project was quoted at $79k, where the bathroom was the most expensive item.
| Factor | Average cost |
| --- | --- |
| Waterproofing | $1,900 - $6,300 |
| HVAC | $5,000 - $11,000 |
| Electrical | $2,000 - $3,500 |
| Plumbing | $2,500 - $20,000 |
| Framing | $1,100 - $4,500 |
| Insulation | $600 - $4,600 |
| Drywall | $750 - $8,300 |
| Painting | $800 - $2,500 |
| Ceiling | $1,000 - $6,000 |
| Flooring | $1,000 - $36,000 |
| Egress Window | $2,000 - $5,000 |
| Staircase | $xxx - $xxx |
| Door | $225 - $1,900 |
| Lighting | $100 - $650 |
* The above prices are rough estimates. Actual costs may vary based on unique challenges presented by each basement. For a more accurate pricing estimate, get a free quote by filling out this form.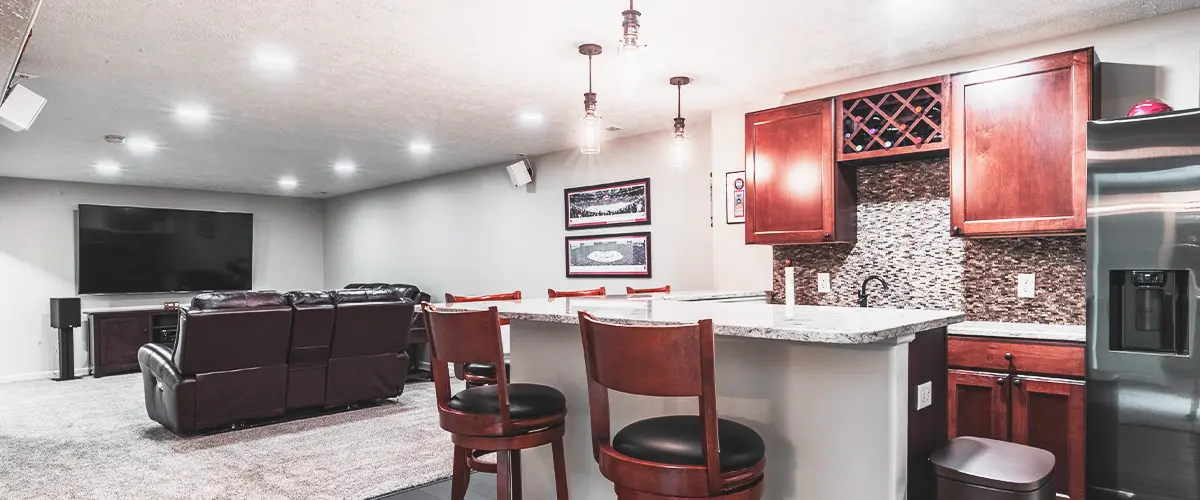 We're Taking Care Of Everything For You!
When it comes to homeowners, two concerns are frequently voiced: the budget and the timeline of the project.
Our remodeling services are tailored to suit a wide range of budgets. We have successfully completed basement projects spanning from $15k to $90k, showcasing our versatility. Moreover, to ensure a hassle-free project initiation that doesn't strain your finances, we also provide flexible financing options.
We are dedicated to delivering projects on time and take immense pride in our consistent track record. You can rest assured that we will fulfill our promise to complete your new basement in a timely manner, minimizing any potential delays that could result in additional expenses, time, and stress.
A Basement Remodeling Service That Takes Care Of Everything
Our remodeling process is thoughtfully crafted to prioritize your comfort, needs, and preferences. Our ultimate objective is to provide an outstanding remodeling experience that seamlessly blends enjoyment with a top-notch end result.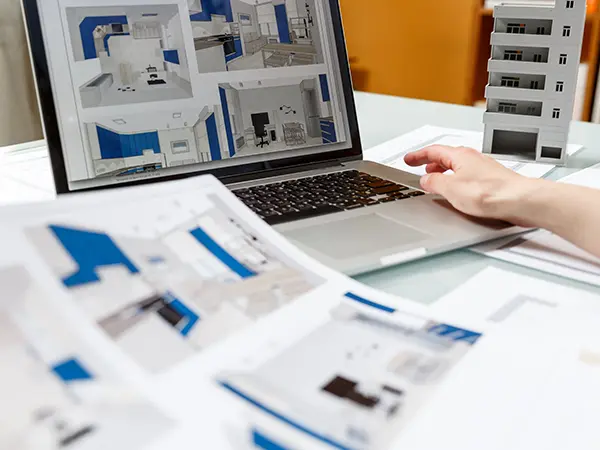 Get in touch with us, and let's partner up to tap into the full potential of your basement.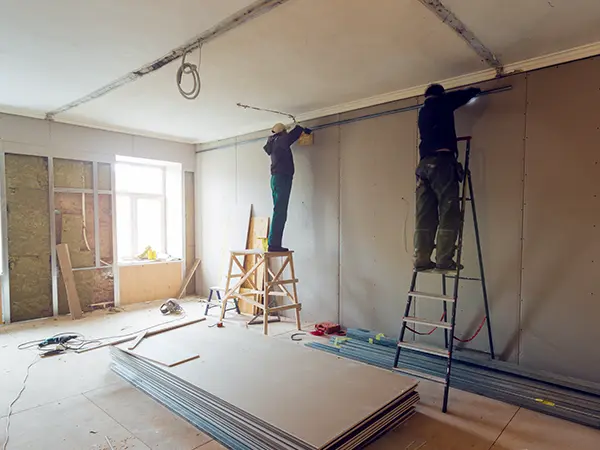 As soon as you've decided on the materials, we get to work according to our schedule.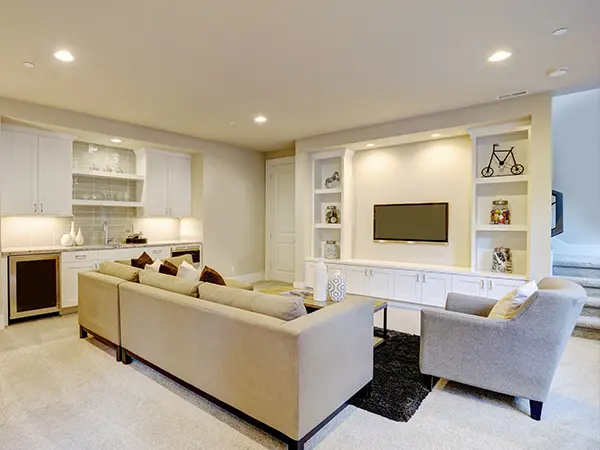 Now you can take full advantage of all that space in your basement and enjoy it however you want!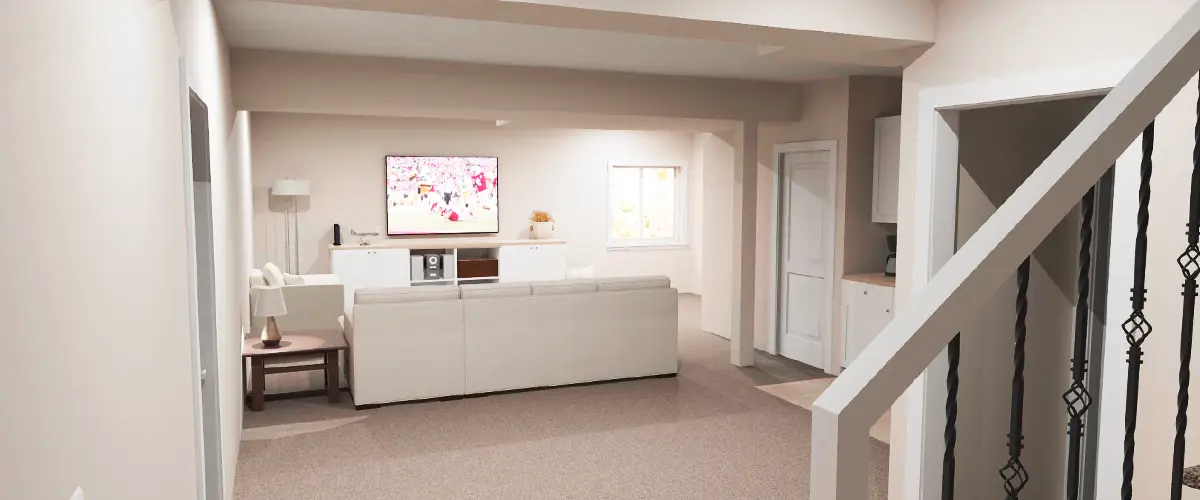 Boost Your Home's Value With Quality Basement Remodeling In Riverview, Omaha NE
Investing in a basement remodel is a wise decision that greatly enhances both the value of your home and your personal life in numerous ways. 
At HMC, our primary objective is to deliver a top-tier remodel that seamlessly aligns with your budget. We understand that the cost of renovating your basement is a concern, and we are dedicated to identifying a cost-effective solution for your project.
If you're ready to make this investment and profit for the rest of your life, give us a ring at (469) 583-6213 or request a free quote from the button below!
Home Matters Construction remodeled my basement for me. They were amazing! Definitely the best remodeler in Papillion! Couldn't have asked for a better experience. Thank you Tony and Michael.
Used Home Matters Construction to finish our basement, and the job was top notch start to finish. The whole team was very responsive throughout the entire process, and extremely professional. They were able to make everything we want happen, and were able to adapt to some changes throughout the process as well. Any issues we had were promptly addressed and resolved, and our main contact Tyler really went above and beyond. Would 100% recommend them to anyone looking at remodeling work.
Riverview, Omaha NE, is a vibrant neighborhood known for its scenic beauty and friendly ambiance. The city is home to an array of landmarks that contribute to its unique charm. One of the most notable is the Riverview Marina State Recreation Area, boasting serene parklands and a welcoming marina, making it a prime destination for boating enthusiasts. Additionally, the city takes pride in its well-kept local parks, including the Riverview Community Centre Park, renowned for its playground and picnic amenities. Whether it's the tranquility of the marina or the recreational opportunities in the local parks, Riverview offers a delightful blend of relaxation and activity for residents and visitors alike.