Bathroom Tiling In Papillion, La Vista, Bellevue, And More Of NE
Transform your bathroom into the ultimate retreat, the go-to oasis for unwinding after a long day.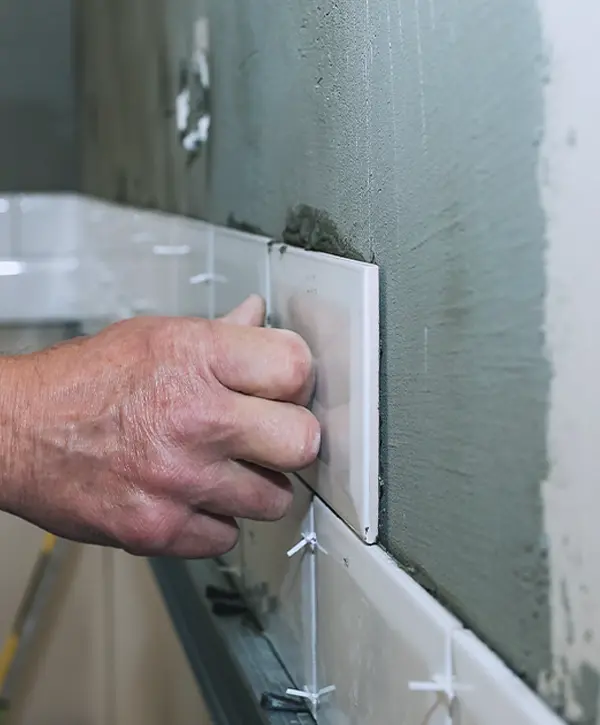 Transform your bathroom into a stunning sanctuary with exquisite tiling, or elevate it with the touch of elegance provided by luxurious marble tiles.
Ready for a complete home renovation? Look no further! Our team of skilled professionals is here to make your dreams a reality. From small projects to grand transformations, we've got you covered. Experience a seamless and stress-free remodeling journey from start to finish.
As highly skilled bathroom remodelers, we offer a comprehensive range of services, including:
The Importance Of Bathroom Tiling
Embarking on a bathroom remodeling project? Let's talk about the star of the show: bathroom tiling. It's more than just a pretty face; it holds the power to transform your entire bathroom experience. At Home Matters Construction, we're passionate about the impact of bathroom tiling and eager to unveil its secrets with you.
Select tiles that align with your style and personality, creating the ideal atmosphere for your sanctuary. Our extensive range of options, from contemporary elegance to timeless classics, ensures a perfect match for your vision. Let your bathroom truly reflect your authentic self.
Bathroom tiles are not just about looks, they also ensure functionality and safety. With slip-resistant tiles and proper sealing, your bathroom stays safe and protected from water damage and mold. We value both style and practicality, ensuring that your bathroom serves you well for years to come.
Investing in a well-tiled bathroom can greatly boost your home's value. Show potential buyers your attention to detail and quality. Our expert tiling work creates a lasting impression, making your property stand out in the market.
Get ready to unleash your creativity with bathroom tiling! Discover a world of design possibilities – from stunning mosaics to versatile subway tiles. Our talented designers are here to create a one-of-a-kind bathroom that perfectly matches your style and preferences.
Let Home Matters Construction be your trusty sidekick in transforming your bathroom dreams into reality. Contact us today and embark on your remodeling adventure with our expert bathroom tiling superpowers!
Why NE's Homeowners Love Us
We take pride in delivering quality service with a personal touch – from start to finish. Our highly skilled team of professionals pays close attention to detail and ensures that your bathroom remodeling project is up to code and completed on time.
Home Matters was referred to me by a member at my sister's church. From the moment we connected with Tony, we felt his honesty, integrity and desire to help us meet our needs for a full, functional kitchen remodeling project. 
We were not disappointed. Our experience with Tony and the Home Matters team was wonderful. The coordination with their sub-contractors was impressive. The workmanship and work ethics was top notch. The office staff is friendly, professional and easy to work with. 
I wouldn't hesitate contacting Home Matters for any of your home services, big or small.
Tony and the crew are VERY professional. Our remodeling project faced the inevitable covid shipping delays. They anticipated and worked around the supply problems, kept the project on schedule. They kept us in the loop, answered all our questions, and did some really great work. 
The kitchen lights installation just blew us away! The new floors are simply a delight. We absolutely recommend Home Matters. Tony and his crew will have our next project!
For bathroom tiling, the right tiles can transform your space. At Home Matters Construction, we offer a wide selection of tiles for every taste and need. From practical floor tiles to stylish wall tiles, we have you covered.
A great bathroom starts with durable and stylish floor tiles. Our selection includes porcelain and ceramic tiles, known for their strength and resistance to wear. Choose from a variety of designs, colors, and patterns to create an elegant and cohesive bathroom flooring. These tiles withstand foot traffic and add an element of elegance to the space.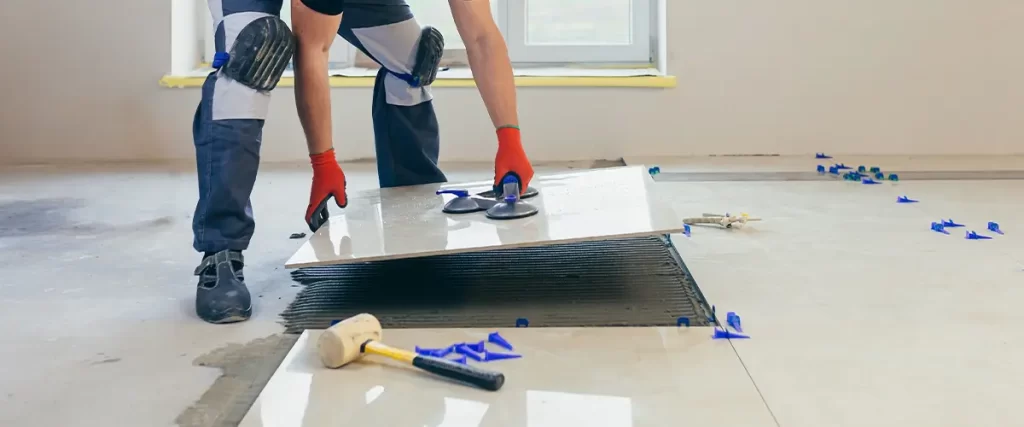 Elevate your bathroom walls with our exquisite wall tiles. From timeless subway tiles to intricate penny tiles, the possibilities are endless. Our collection offers a range of sizes and shapes, allowing you to create unique patterns and designs. Whether you prefer a modern or classic look, our wall tiles will turn your bathroom into a masterpiece.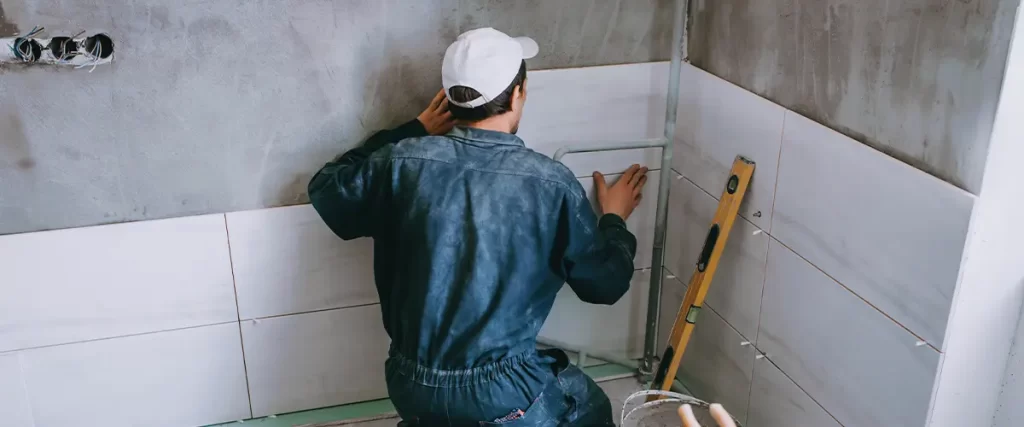 Bathroom with Subway Tiling Style
Subway tiles are a timeless choice for bathroom walls. With their rectangular shape and clean lines, they bring sophistication to any space. Choose from traditional white tiles or explore bold colors in our versatile collection to match your style and preferences.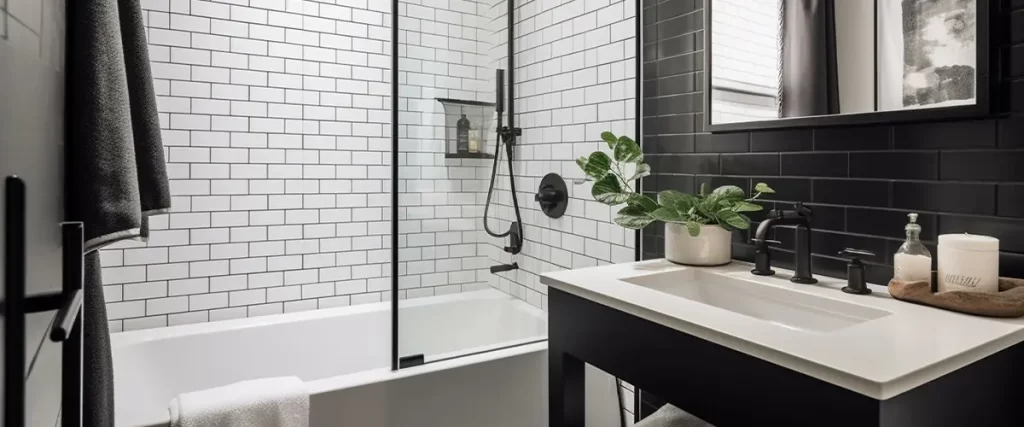 Bathroom with Penny Tiles
Add charm and visual delight with our selection of penny tiles. These small, round tiles bring playfulness to your bathroom design. Available in porcelain and ceramic, penny tiles let you create eye-catching patterns and accents, making your bathroom stand out.
Natural Stone Tile for bathrooms
Enhance your bathroom with our elegant natural stone tiles, including luxurious marble. Each piece is unique, creating a one-of-a-kind design. The natural beauty and durability of marble make it perfect for adding sophistication to your space.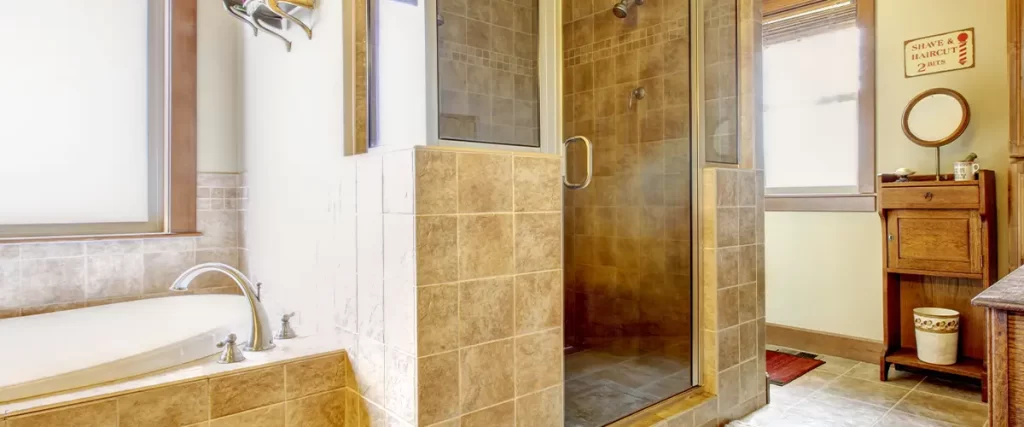 Our porcelain tiles offer exceptional strength and exquisite beauty. They are highly resistant to moisture, stains, and scratches, making them perfect for bathrooms. With a wide variety of styles and finishes, you can achieve any desired look, from modern to rustic.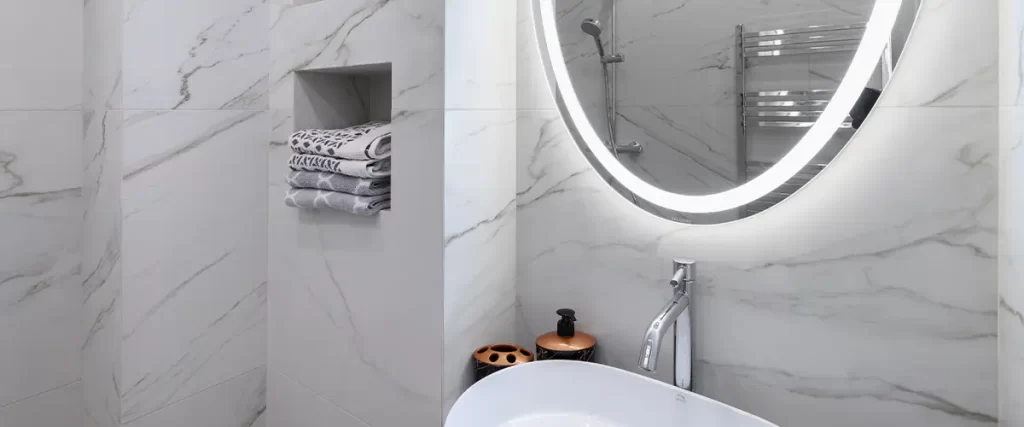 Don't hesitate to contact us at Home Matters Construction today for a free consultation, and let us turn your bathroom remodeling dreams into reality!
The Home Matters Process Of Installing Bathroom Tiling
At Home Matters Construction, we take great pride in delivering impeccable tile installations that enhance both the beauty and functionality of your bathroom. Our team of skilled professionals follows a streamlined process to ensure a seamless and hassle-free experience.
Step 1: Surface Preparation
Before any tile installation, our team goes through a meticulous preparation process to guarantee outstanding results. We start by thoroughly inspecting the bathroom walls and floors, ensuring that every surface is not only clean and level but also free from any debris or imperfections.
If you have existing tiles, our experts handle their removal with utmost care, creating a fresh and flawless canvas for the installation of your brand-new tiles. With our attention to detail and commitment to excellence, you can expect nothing less than a stunning transformation for your bathroom space.
Step 2: Tile Layout Planning
Creating a well-planned tile layout is crucial for achieving a visually stunning bathroom that reflects your unique style and preferences. Our experienced designers collaborate closely with you to carefully select the perfect tile patterns and layouts that complement your vision.
Whether you prefer the timeless elegance of classic square tiles or desire to explore more distinctive tile patterns, our meticulous approach ensures every tile is thoughtfully placed to enhance the overall aesthetics of your space. With our attention to detail, your bathroom will become a true masterpiece of design.
Step 3: Cutting and Shaping Tiles
Once the layout is finalized, our skilled team utilizes a range of high-quality tools, including a precise tile cutter, to meticulously cut and shape the tiles as needed. This meticulous step ensures that each tile fits flawlessly into its designated area, seamlessly blending around obstacles such as elegant glass shower doors or stunning hardwood floors.
Our unwavering attention to detail guarantees a truly polished and professional finish that will elevate the aesthetic appeal of any space.
With the tiles meticulously prepared and cut to perfection, our team of expert installers begins the installation process with utmost precision. We carefully utilize tile spacers to guarantee uniform grout lines and ensure precise alignment between each tile.
Working diligently, we strive to achieve a seamless and consistent look that not only adds a touch of elegance but also exudes a sense of sophistication, transforming your bathroom into a serene oasis of tranquility.
Step 5: Surface Grout Application
The grout lines play a vital role in both the aesthetics and durability of your bathroom tiles. We utilize a rubber grout float to expertly apply grout, ensuring a smooth and even finish.
Our meticulous grouting process guarantees secure tile placement and well-defined, clean grout lines. Additionally, the grout serves to protect the tile surface and enhances the overall longevity of your bathroom tiling.
Step 6: Final Touches and Inspection
Before completing the installation, we meticulously conduct a comprehensive inspection to guarantee that every aspect meets our unwaveringly high standards of quality. Our dedicated team pays unwavering attention to every minute detail, meticulously ensuring that the tile surface is flawlessly smooth and that the intricate tile patterns are precisely aligned, creating a visually captivating masterpiece.
The final result is a breathtakingly stunning bathroom with an impeccable tile installation that not only enhances the aesthetic form but also elevates the functionality to a whole new level of excellence.
At Home Matters Construction, we go above and beyond to exceed your expectations as your trusted bathroom remodeler. Get in touch with us and discover the unmatched craftsmanship that extends far beyond the confines of your bathroom wall tile.
There are several types of tiles that are suitable for bathroom floors, each with its unique aesthetics and benefits.
Ceramic Tiles: Ceramic tiles are a popular choice due to their durability, resistance to dampness, and relatively low cost. They come in a wide array of colors, patterns, and sizes.
Porcelain Tiles: Porcelain tiles are noted for their strength, dense nature, and moisture resistance. They are a bit costlier than ceramic tiles but they hold up well in high traffic areas and come in a variety of designs.
Stone Tiles: Stone tiles, made from marble, granite, or slate, add a touch of luxury to the bathroom. However, they require more maintenance compared to ceramic and porcelain.
Vinyl Tiles: Vinyl tiles are budget-friendly, water-resistant, and comfortable underfoot. They are available in a variety of styles mimicking expensive tile options.
Glass Tiles: Glass tiles add sheen and depth to the flooring. They are stain-resistant but could be a little slippery when wet.
Remember that the choice of bathroom floor tiles depends on your lifestyle, budget, and aesthetic preferences. It's crucial to consider factors such as durability, slip resistance, and maintenance alongside the tile's overall design and finish.
Yes, marble tiles can indeed be used for bathroom floors. They are a classic choice that adds a touch of elegance and sophistication to any bathroom. Besides their stunning aesthetic appeal, marble tiles are also durable and long-lasting.
However, they do require regular sealing to prevent staining and water damage. Furthermore, marble can be a bit slippery when wet, so it's important to choose marble tiles with a honed or textured surface to increase slip resistance, especially for bathroom floors.
Always consider these factors to ensure the suitability of marble tiles for your specific bathroom requirements.
Several tile options are suitable for shower walls due to their water resistance and durability.
Ceramic and Porcelain Tiles: Both ceramic and porcelain tiles are popular choices for shower walls. They offer a wide range of color, size, and design options and are resistant to water. Porcelain tiles are denser and less porous than ceramic tiles, making them slightly more water-resistant.
Glass Tiles: Glass tiles add a sleek, modern look to your shower walls. They are water-resistant and easy to clean. Their reflective surface also helps to make the space feel larger.
Stone Tiles: Stone tiles, such as marble, granite, or slate, bring a natural, luxurious feel to the shower. However, they require more maintenance and need to be sealed regularly to prevent water and soap scum build-up.
Subway Tiles: Subway tiles are a timeless choice that can fit in with any bathroom decor style. They are easy to clean, stain-resistant, and waterproof when properly installed and sealed.
Always consider the maintenance, durability, and aesthetics when choosing the right tiles for your shower walls. Consult with a professional to help you make the best decision for your specific needs and preferences.
Absolutely, marble tiles can be used for shower walls. They deliver an unmatched level of elegance and luxury, elevating the aesthetic appeal of any bathroom. Marble tiles are also known for their durability.
However, it's essential to note that marble needs regular sealing to maintain its luster and prevent water damage or staining over time. It's also worth considering the fact that marble tiles may require a bit more maintenance compared to other tile options.
Therefore, while marble certainly brings style and sophistication, please ensure that you are willing to invest time in its upkeep to maintain its beauty and longevity.
Maintaining the beauty and cleanliness of your bathroom tiles can be achieved through regular care and using the right cleaning solutions. It's recommended to sweep or vacuum your tiles weekly, to remove loose dust and dirt before it becomes embedded.
For routine cleaning, you can use warm water and a soft sponge or cloth. For a deeper clean, consider using a mild detergent or a non-abrasive bathroom cleaner.
Grout can often be a problem area as it can harbor grime and mildew. A good option for cleaning grout is a mixture of baking soda and water applied with a toothbrush. Rinely thoroughly afterward.
Avoid using acidic or abrasive cleaners as they can damage the tile surface. Similarly, for stone tiles like marble or granite, avoid using vinegar or lemon-based cleaners, as they can etch the stone.
Lastly, ensure proper ventilation to prevent the build-up of moisture, which can lead to mildew and mold. Regular sealing of the grout and stone tiles can also help maintain their appearance over time.
Keep in mind that individual types and finishes of tiles may have specific maintenance needs. Always check with your tile provider or installer for best practices in maintaining your specific tiles.
Yes, grout is essential when installing bathroom tiles. It serves a dual purpose: it keeps the tiles in place and prevents water from seeping beneath them, thereby providing a waterproof seal.
Additionally, grout also contributes to the aesthetic appeal of your bathroom, as it comes in various colors and can be used to complement or contrast your tiles. However, grout requires regular cleaning and maintenance, as it can harbor dirt and mildew.
It's also recommended to seal the grout periodically to maintain its appearance and prolong its life. Always consult a professional to ensure proper grouting for your bathroom tiles.
Lean On Your Papillion, NE, Bathroom Remodeling Experts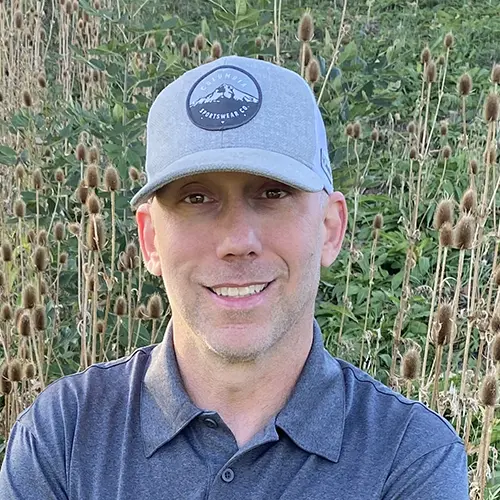 Should you have any further questions about bathroom tile selection, or maintenance, or if you're planning a bathroom remodel, don't hesitate to reach out to us. We are here to offer expert advice and provide professional services tailored to your unique needs and preferences.
Call us today at (402) 661-0910 to discuss your project. We look forward to transforming your dream bathroom into a reality!