If you plan on remodeling your basement, it is essential first to determine the purpose of this new space. Constructing a comfortable and functional area in your basement requires thoughtful planning and dedicated effort – so make sure you get it right from the start!
Considering the five elements highlighted in this article, you can ensure that your basement finishing project will transform into a worthwhile investment. Not only will it bring out its true potential, but it will also raise your home's market value!
Let's begin!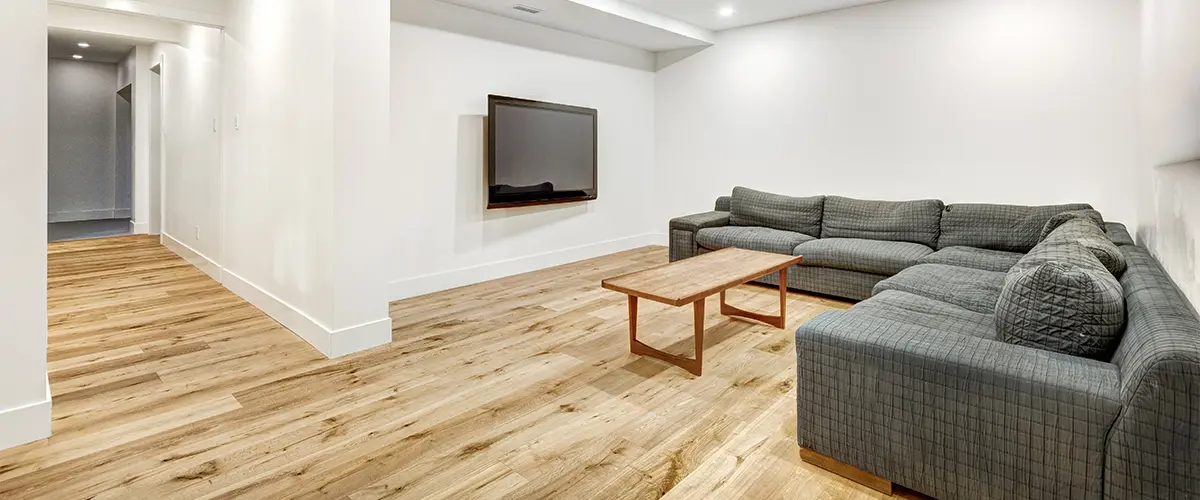 1. What's The Basement Transforming Into?
Before beginning your basement remodeling project, you need to take a step back and ask yourself the most important question concerning this undertaking. Carefully think through each possible outcome before proceeding forward.
Crafting a functional and aesthetically pleasing office space is an art entirely distinct from tailoring the ideal guest bedroom. Similarly, devising your own personal gym requires completely separate considerations from those of a bedroom.
Think about what you'd like to do with your new space, and go from there.
Before you finish your basement, the most critical decision is what it will be transformed into. Everything else that follows should depend on this initial choice.
2. Figuring Out The Design And Layout
Let us now consider how a bedroom's layout and design can differ from a playroom.
When designing a playroom for the little ones, ensure adequate open space; while in a bedroom, it's essential to find ways of utilizing each corner without compromising form and function.
Furthermore, it is vital to provide children with a secure area for parents not worry needlessly. Keep any sizable object or furniture away from them and out of their reach. Despite this precautionary step, the bedroom should still remain aesthetically pleasing by incorporating necessary fixtures like furniture pieces and storage units.
In addition, a contractor's expertise will be required to attend to the basement walls, basement ceiling, and floor joists for this transformation project to move forward.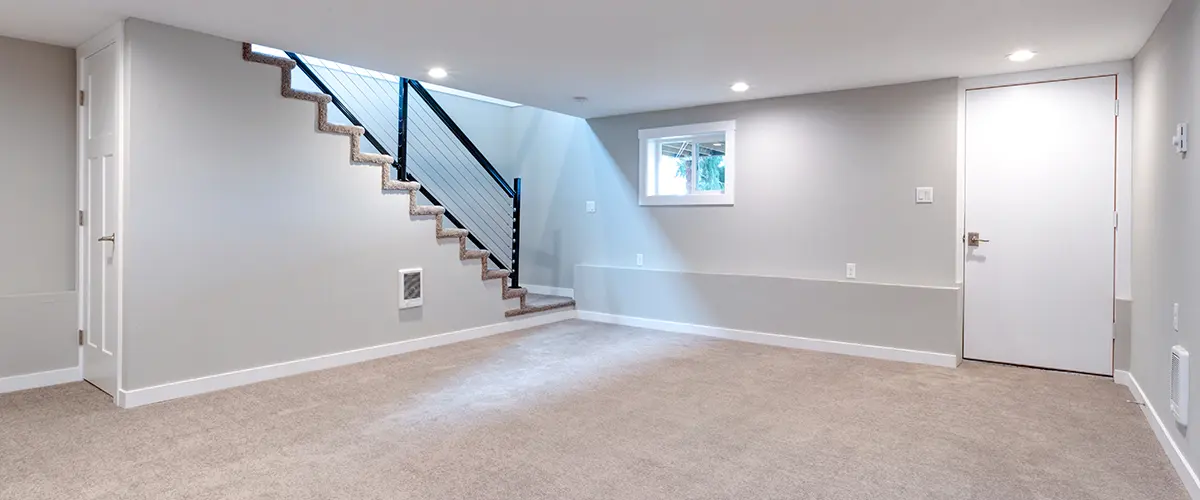 3. Consider The Total Cost Of The Basement Finishing
You must take into account your financial situation when planning a project. While it's crucial to remain within the planned budget, you should also leave room for unexpected circumstances. Think of this as an emergency fund; if all goes according to plan, the extra money won't be needed!
Crafting a basement into an in-house gym is substantially more costly than tailoring it to become an office. The refurbishment cost will largely depend on which upgrades you select for your space.
Home Matters Construction offers the most cost-effective solutions for your basement, finishing the project without sacrificing quality. We're focused on giving you a new space that'll match your lifestyle, all while keeping the entire project within your set budget.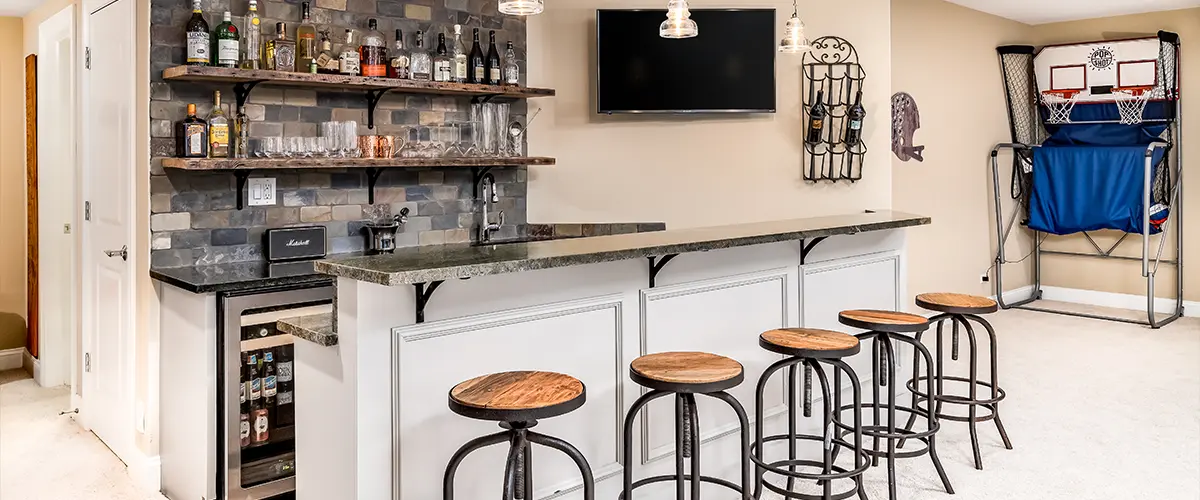 4. Find The Right Basement Remodel Company
When you choose the wrong contractor, your basement finishing project can quickly transform into a never-ending nightmare; it may become too stressful to even handle. Don't let this be you! Make sure to find experienced contractors who are reliable and trustworthy.
Home Matters Construction guarantees your peace of mind by ensuring that you remain in control throughout every process stage. Your requests and desires are our priority, so don't hesitate to reach out if any queries arise.
We offer professional basement remodeling services in Papillion, Omaha, Bellevue, La Vista, and more of the Omaha Metro Area!
5. Your Choice Of Materials
Materials play a big role in your project's budget and the functionality they'll bring to your new space.
When money is not a constraint, you'll want to get the best materials to make your basement look stunning and function optimally. On the other hand, if you are operating on a budget, we can assist in finding that perfect balance between aesthetics and practicality. Our team will guarantee amazing results for your finished basement while staying within your financial means!
For example, the existing wood flooring in your basement is unsuitable for a damp environment like this.
For most basement flooring upgrades, homeowners choose luxury vinyl plank flooring, as this can mimic the look of wood and make the room feel comfortable.
Let's see some other basement floor materials for you can get for an unfinished basement: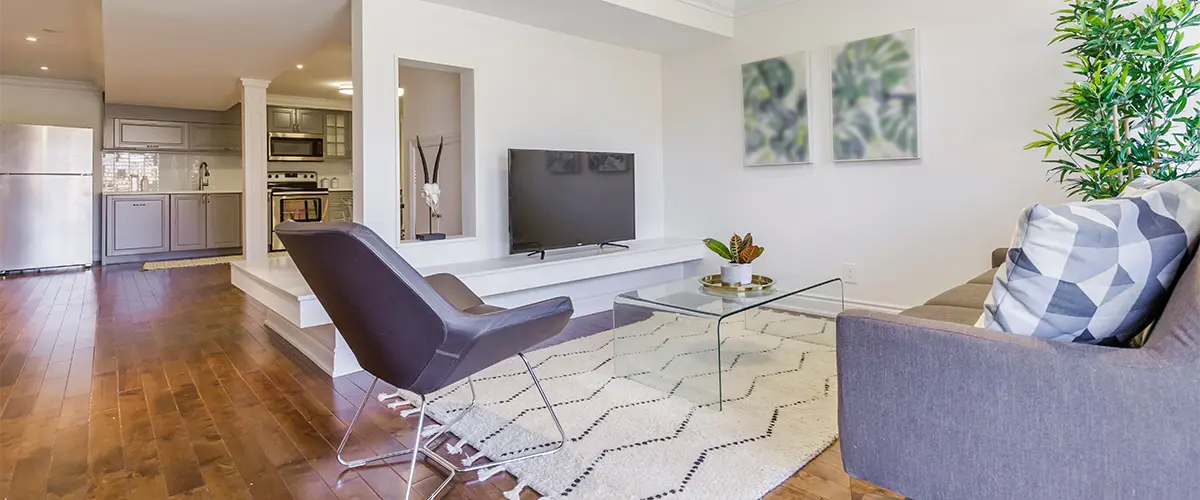 Finished basements are exciting and bring a lot of value to your home. But this endeavor should not be taken lightly, as it will require an investment in both time and money.
Considering these points, it becomes evident that finding an experienced contractor you can trust with your home is one of the essential aspects of any home improvement project. At this time, locating a competent contractor should be your top priority.
If you want a smooth process with a basement builder who listens, understands, and advises, you're in the right place. Home Matters Construction offers professional basement remodeling services for homeowners in La Vista, Papillion, Bellevue, and more of the Omaha Metro Area.
Contact us today for a consultation at (402) 661-0910 or request a free quote and we'll get back to you to discuss your upcoming project!