As basement remodeling specialists, we're getting this question a lot.
The short answer is YES!
The longer answer is still yes, but with a little bit more details and implications that this home improvement will have on your daily life.
If the short answer is good enough for you, come talk to us directly at (402) 661-0910. If you're still curious if it's worth finishing a basement in Nebraska, keep reading see for yourself!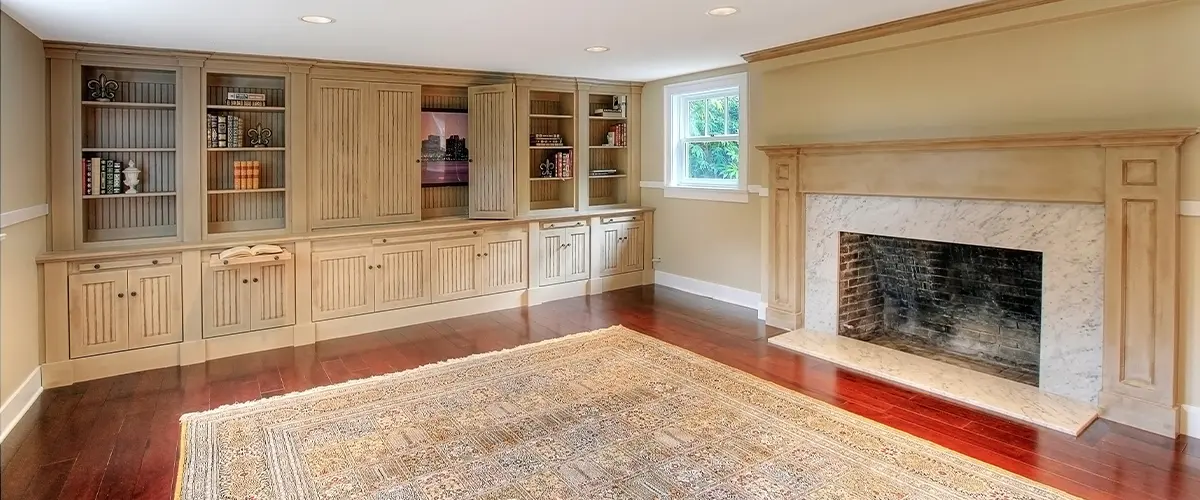 Let's talk about your investment first, as I imagine this is what you think of when you ask about the real worth of finishing a basement.
The Cost Of Finishing A Basement
According to Angi, you can expect to spend anywhere from $2,800 to as much as $34,500 for a basement finishing project. That would be about $7 to $23 per square foot, including labor and materials.
However, different contractors will have different rates. Some might offer a discount for larger basements, but others won't.
Here at Home Matters Construction, we've remodeled basements for as low as $10k and as much as over $70k. It all depends on the size of the space and the materials you're going for. Finishing the space will cost less, but transforming it to reach its full potential will be a bit more expensive.
What Does The Remodel Imply For Your Day-To-Day Life
There's no way around it, remodeling takes time, effort, and maybe even some stress.
We at HMC try to minimize all of these and make your project flow smoothly and without any major setbacks, but sometimes, issues arise, and we must find the best way to deal with them.
We'll do everything in our power to ensure the remodel remains a pleasant journey. We'll clean up after ourselves and schedule our work so it doesn't affect you in any way whatsoever. We'll keep noise to a minimum and efficiency at the max.
We'll offer you a precise time frame for your remodel after our initial consultation, but we finish most basements in 2 to 4 weeks.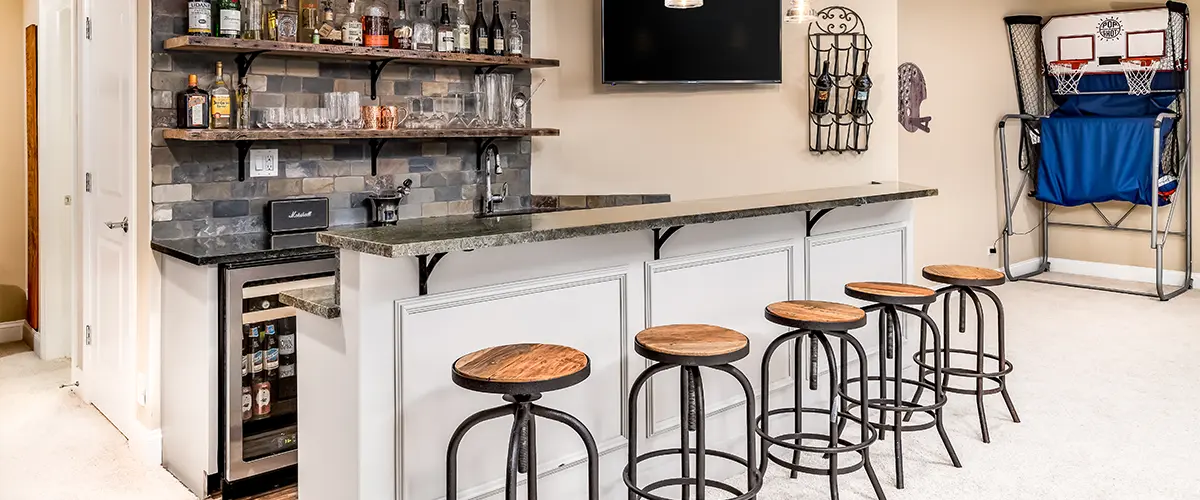 Results That Make You Want More
And let's see what you're getting from a finished basement.
The ROI Of Finishing A Basement
After such an investment, you'll want to see the results. The return on investment when finishing a basement is huge, both financial and intrinsic value.
According to punchlistusa.com, finishing a basement will give you a return of 70 to 75% of your investment. In other words, for every $10,000 you spend on improvements, you'll boost your property's value by about $7,000.
Sure, you might not recoup 100% of the investment, but the missing 30 to 25% will show in your daily life.
Increased Comfort And Functionality
You'll be able to reach your home's full potential and make every inch of it fully functional.
You'll enjoy more living square footage, an extra room, a man cave, a home theatre, an office, or really just extra space that you can use for whatever you want to.
We often see homeowners in Omaha Metro Area transforming their basements because they want to use that space more wisely. And truth be told, what's the point of keeping a 2,000 sq ft of usable space (sometimes even more) a dark and creepy place?
Homeowners are getting upgrades that make this room the most impressive one in their home. The most common transformation, however, is building an additional living space with a guest bedroom and a bath.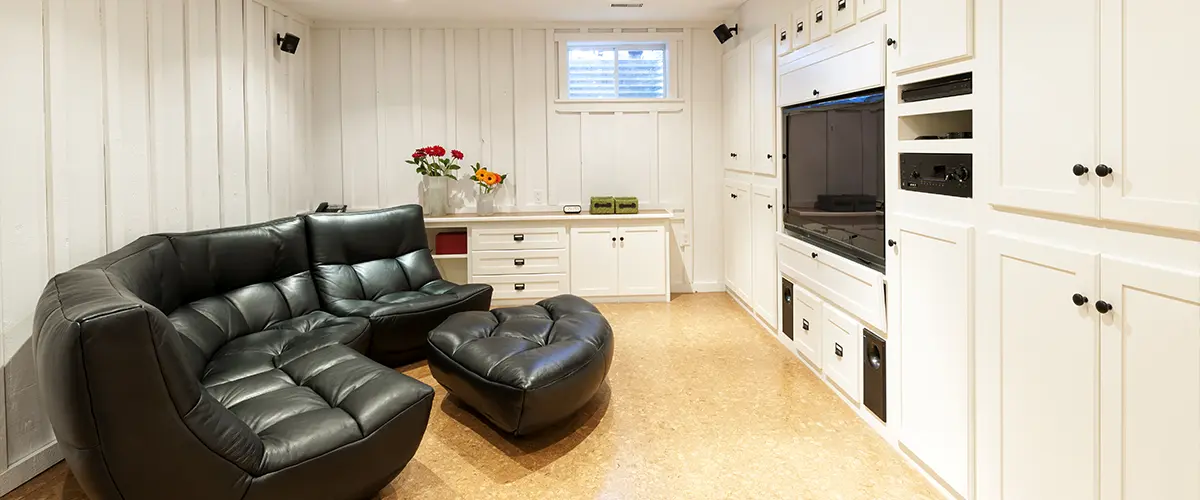 Why Is It Worth Having A Real Pro On This Project
There are a couple of reasons why you should work with a professional. Let's start with the obvious.
Pros Know What They're Doing
This is not to say to say you have no idea how to remodel a basement. Maybe you've tackled your fair share of home improvement projects, and this would be just another one, but more difficult.
But a lot of stuff goes into a basement finish and remodel. What are the chances you can install the insulation, the electrical system, the plumbing system, the flooring, and everything else, by yourself?
These are exhausting tasks, and if you want to reap the benefits ASAP, you probably don't want to spend years working alone.
With that being said, basement remodelers work with a multitude of tradesmen capable of seeing your vision through and making the most out of your remodel.
Applying for the building permits by yourself is an endeavor, and let's not mention actually obtaining them.
Here at HMC, we know our way around the city building department, and we can get building permits much faster and easier. We'll do all the paperwork, so you don't have to. All you need to do is sit back, relax, and enjoy the show.
Besides, you'll need an architect's plans for your basement remodeling project, and we work with the best in Omaha!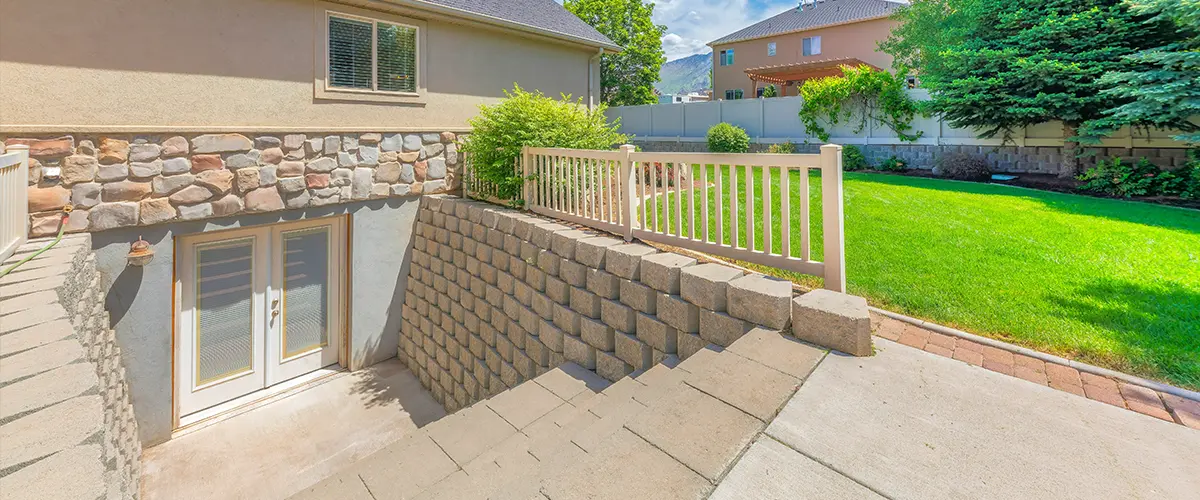 So, Is It Worth Finishing A Basement?
Without a shadow of a doubt, finished basements are worth every single dollar!
Even if you're not planning to sell the place, getting such an upgrade will make your day-to-day life much more comfortable and efficient. You'll have access to a new livable space that you can use however you want to.
If you want to sell, good for you! You just got over 75% of your investment back! Besides, you might actually sell the place faster and negotiate for a price that you would for a home with an unfinished basement.
No matter what the perspective is, finishing a basement space is totally worth it.
But do it with the right contractor!
Contact us today for a consultation at (402) 661-0910 or request a free quote and we'll get back to you to discuss your upcoming project!