Finishing a basement is a great home improvement project but also a rather large undertaking.
Many people start their remodeling journey without understanding what are the steps to finishing a basement, how long it'll take, and what they'll have to spend.
In this guide, we'll discuss the steps to finishing a basement, or at least how your local pros from HMC do it!
Let's begin!
1. Meet Up - Quote - Contract
We'll start by meeting up at your place to have a closer look at your home. After we see the actual scope of work, we'll come up with an advantageous pricing quote, we'll offer you a time frame estimate, and we'll prepare a contract with everything included in our service.
Once you're ready to begin, you can sign the paperwork, and from then, it's a smooth ride all the way to the finish.
We'll schedule your starting day and we'll get everything ready by then, including the drawings, the floor plans, the building permits, etc.
Most basements will have a wood frame, but it'll most likely be old and wobbly. The frames are there since the whole house was built, but if the basement wasn't finished (for various reasons) it'll need to be changed.
We'll build a new wood framing for the drywall, insulation, and electrical system.
If you want to demolish or add a wall to your new basement finishing project, we'll install everything according to our building plans. The plans must reflect the reality, and what's really happening in your basement, otherwise, we risk a lot of trouble at the final inspections.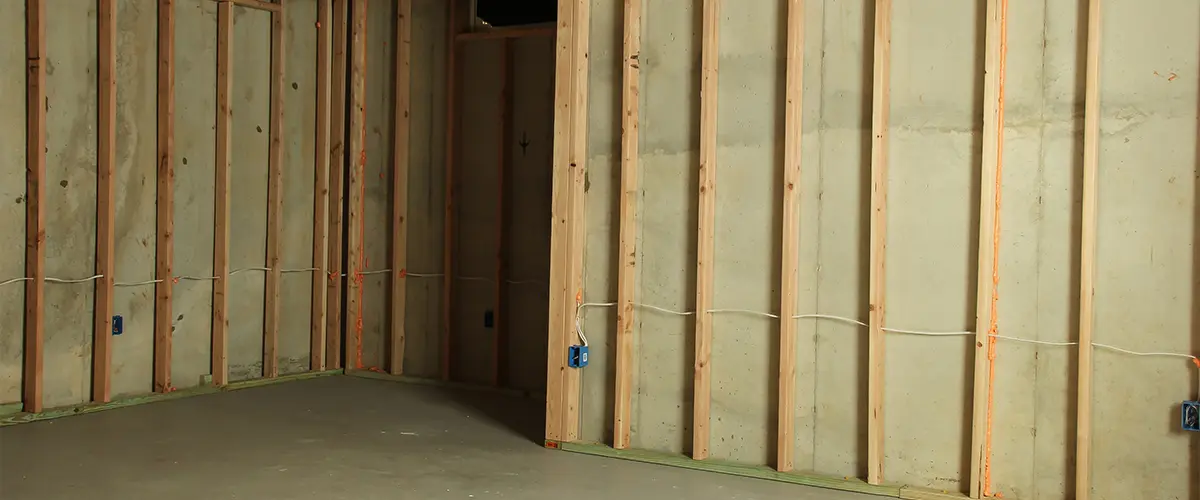 After the wood framing is installed, we'll continue with insulation. This keeps your basement warm and cozy, and it's the first part of finishing a basement.
Note: Finishing a basement means making it safe to live in it for longer periods of time. It implies making sure the walls are covered and the electrical and plumbing systems are installed.
On the exterior walls, there are three types of insulation: rigid mineral wool boards, high-density polystyrene foam insulation (Type IV), and polyurethane/polyisocyanurate boards. For the interior walls, fiberglass will perform great. Fiberglass insulation is coated in a vapor barrier ideal for locking out the moisture common in a basement space.
After the insulation, we'll have to cover the walls with drywall. Drywall hides the insulation, helps build the walls, offers extra insulation, and more protection against humidity, water damage, or even fire.
Drywall is classified in colors based on one of its properties. We'll help you choose the right drywall based on your needs and your home. Here are the most common types of drywall: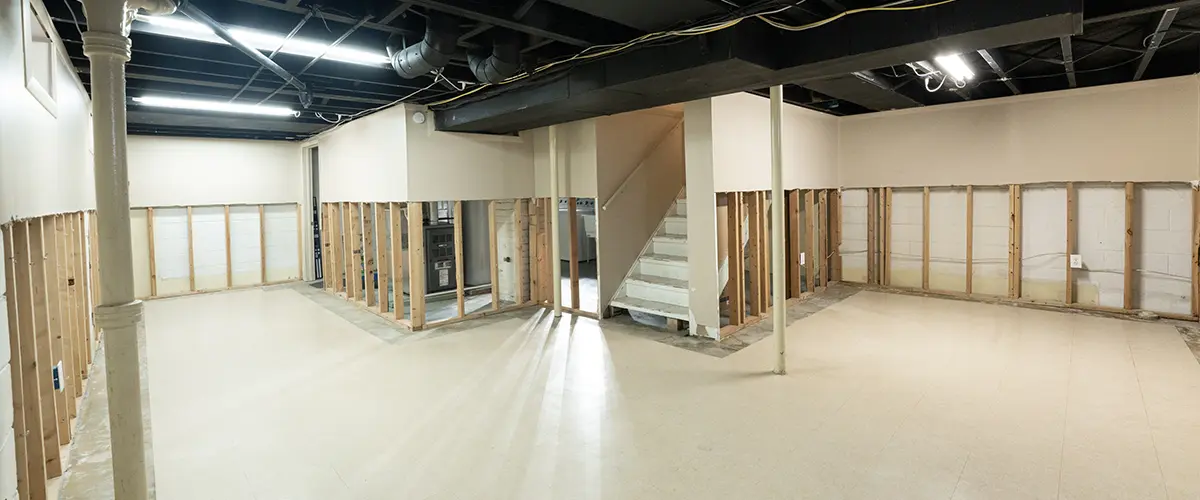 Once the drywall is installed, finishing the basement wall can begin. For example, wallpapers and paints are excellent materials to add a decorative touch to any space. Wallpapers come in various textures, colors, and patterns and provide a great way to personalize your space.
Paint is also an easy and cost-effective option for basement walls. We offer a variety of paints with different sheens and textures to fit your style.
In addition to wallpaper and paint, we also provide textured wall panels for a modern look. These are perfect for basements because they're moisture-resistant and easy to clean. We have many styles available, such as wood, stone, brick, and more. 
They come in many colors, so you can pick the perfect one to match your space.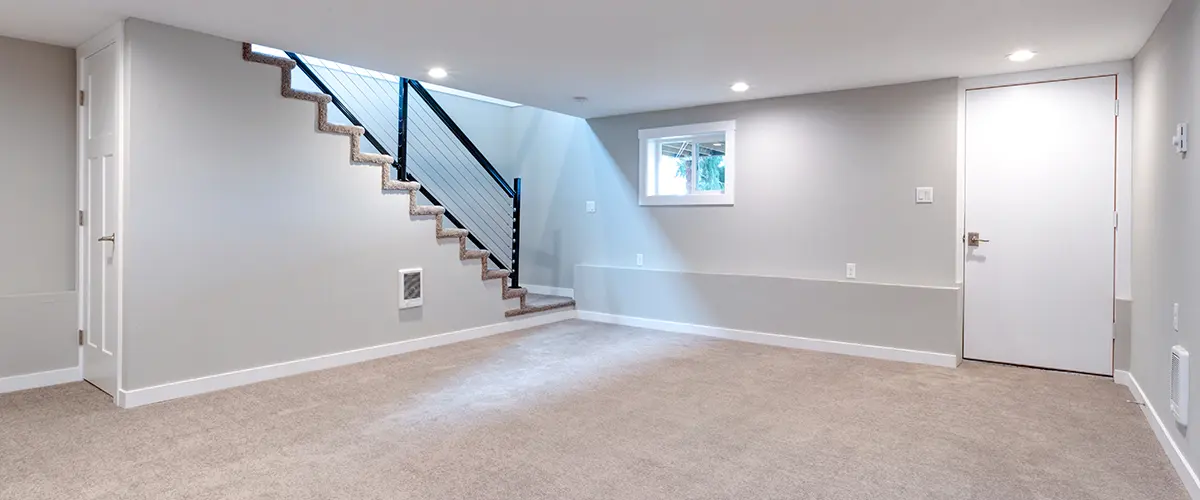 When it comes to the basement floor, there are many options available.
Your subfloor will be a concrete floor. You can stick with that, but you're better off replacing it. You may choose from tile, vinyl, carpet, or concrete floors. Tile is a great choice if you're looking for an easy-to-clean and modern look. Vinyl flooring also offers a wide range of designs and colors, while carpet provides a more comfortable feel.
Finally, concrete or epoxy flooring is a great option if you want durability. However, you'll need a lot of concrete screws.
No matter the type of flooring you choose, make sure it's suitable for basement use and you take care of the floor joists. Some materials may not be waterproof or have too much traction to prevent slips and falls.
Once you've chosen the type of flooring, we can help you install it properly to ensure a long-lasting finish. We'll ensure that it's level and secure so you can enjoy your new floor for years to come.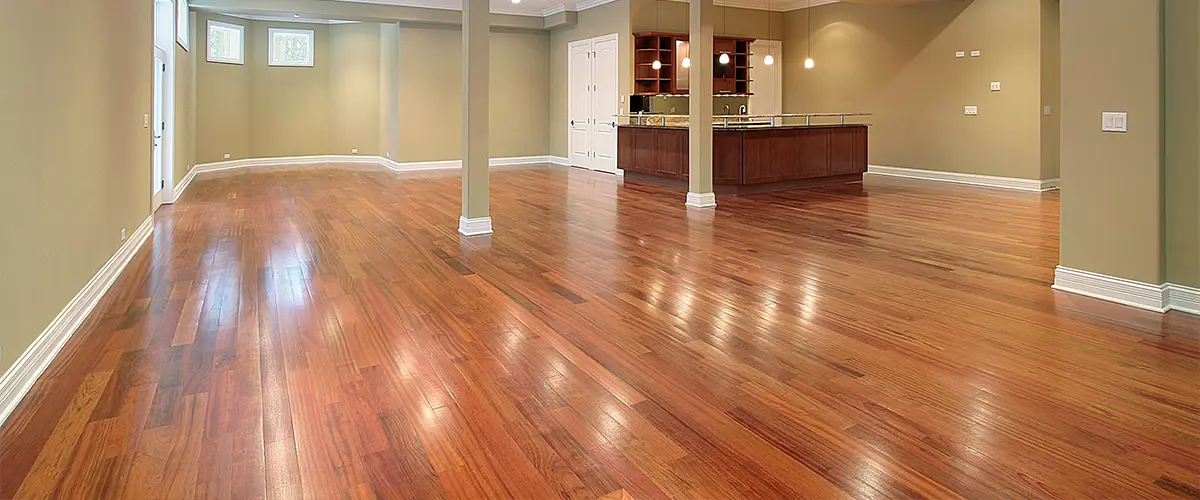 The last step to a finished basement is adding a drop ceiling. We offer many materials for ceilings, such as PVC, acoustic ceiling tiles, or drop-in panels. Ceiling tiles come in various sizes, textures, and designs to match any style. They're also relatively easy to install and can help add insulation to the room.
We'll give you more basement ceiling options at our on-site consultation, and we'll help with the drop ceiling installation ourselves.
We'll help you choose the right material and guide you through the installation process. We can even help with additional details, like recessed lighting or ceiling fans, to complete your basement's look.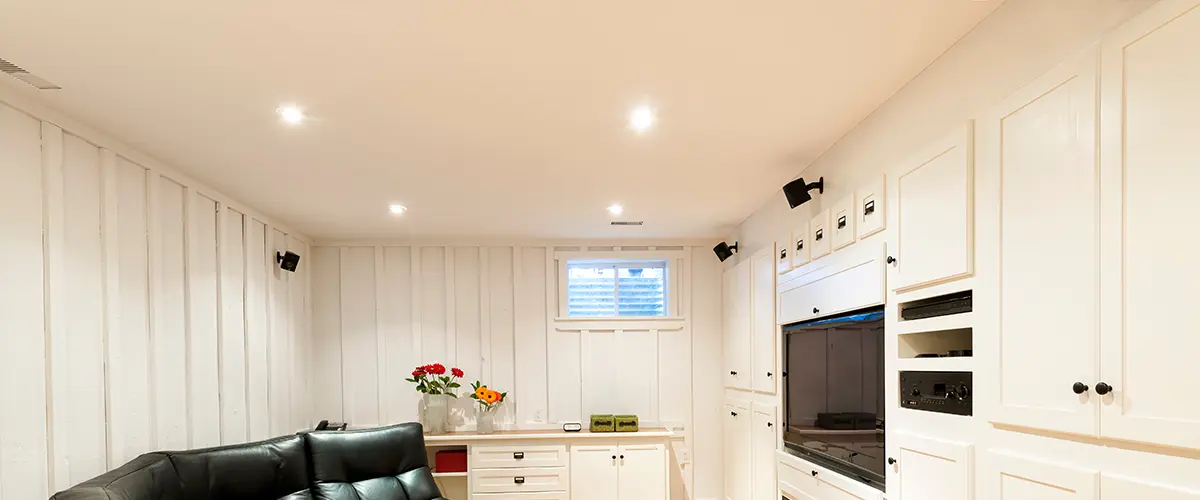 So, Is It Worth Finishing A Basement?
So, finishing your basement will go somewhat like this. And although it seems easy and fast, some projects turn out to be way more delicate than others.
Some common issues we find when finishing basements are rotten wood frames, cracked concrete foundation walls and subfloors, and a lot of molds. You'll also need features like vents and a sump pump.
To make sure your basement finishing project goes according to plan and without any major setbacks, why not get expert's advice and consultation?
Contact us today for a consultation at (402) 661-0910 or request a free quote and we'll get back to you to discuss your upcoming project!