The Best Bathroom Remodel In Springfield, NE
Don't let anything stopping you from getting your well-deserved bathroom upgrade!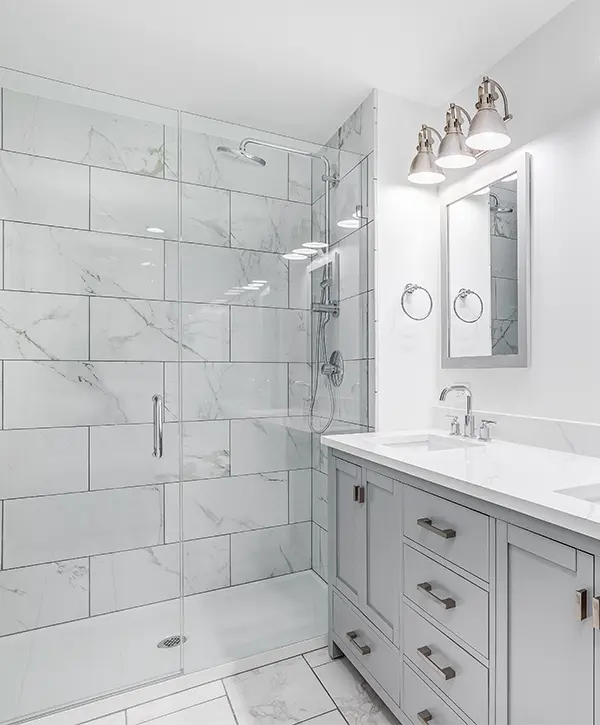 If you're planning a bathroom remodel in Springfield, NE, we've got good news!
Home Matters Construction is the go-to company for revamping bathrooms in Springfield and surrounding areas.
Go through a swift and proficient remodeling process that guarantees you'll be coming back for more! Years of experience in construction, project management, and design under our belts will ensure a seamless transition to your dream bathroom.
We have a few tricks up our sleeve to make that happen!
A Remodel That Brings The Whole Nine Yards
Our passionate team of tradesmen and women take immense pride in their craftsmanship and always ensure we meet the highest standards. We are devoted to delivering superior quality projects so you can be sure you'll get the best remodel possible – one everyone will ask about!
Get Your Premium Remodel With The Best Contractor In Town!
A superior remodeling process eliminates the pressure and worries accompanying home renovations, allowing you to enjoy a stress-free experience. But not many Springfield, NE contractors possess the skills to make that happen.
At Home Matters Construction, we've been optimizing and improving our process since day one with one goal in mind, to offer you a remodel that keeps you in full control of your project and 100% relaxed.
At the core of our work lay your requirements and desires, so no detail will be overlooked and all your concerns will be promptly addressed. You'll collaborate with a passionate team devoted to helping you reach success from day one!
Homeowners Love Their Bathroom Remodel In Springfield, NE
Hundreds of homeowners have already experienced the effortless joy of working with us to get their dream bathrooms. The best part is – they don't have any hustle, stress, or extra work on their end! In fact, here's what they said about our services:
Home Matters managed the complete renovation of our master bath (gut and replace) and updating of 2 other bathrooms. 
Their communication was very good, the quality of the work was excellent, all of the subcontractors that were in our home were very professional. 
It was a lot of work and the project took longer than the initial estimates, but we are completely satisfied with the outcome.
HMC are great! They were upfront and professional about all aspects of our basement remodel. 
They worked with us on our floor plan and gave insight about better ways to install or incorporate certain parts of the build. They gave us exactly what we wanted and everything was held to a very high standard. 
Everyone was professional, respectful, and great at their job! I wish I could give more stars on this review. 5+ stars in our book.
Types Of Bathroom Upgrades
Transform your bathroom into an opulent 5-star Ritz-Carlton with some luxurious upgrades and features, or keep it within a strict budget with some cost-effective solutions that improve your bathroom's curb appeal and efficiency. There's something perfect for everyone.
Installing a double vanity in your bathroom is an essential upgrade to create ambiance and maximize storage. Not only will it provide you with ample practicality, but its beauty will also be sure to impress.
A vanity with slab doors and no hardware will make your bath look modern and minimalistic, while a hardwood vanity with pulls will make your bath feel more warm and cozy. Add a few other hardwood features, and you'll have a beautiful, rustic bathroom.
If you're bent on getting maximum ROI, semi-custom vanities are the way to go. However, if the return isn't a major factor for you and your primary goal is creating something uniquely yours, fully custom vanities will be perfect!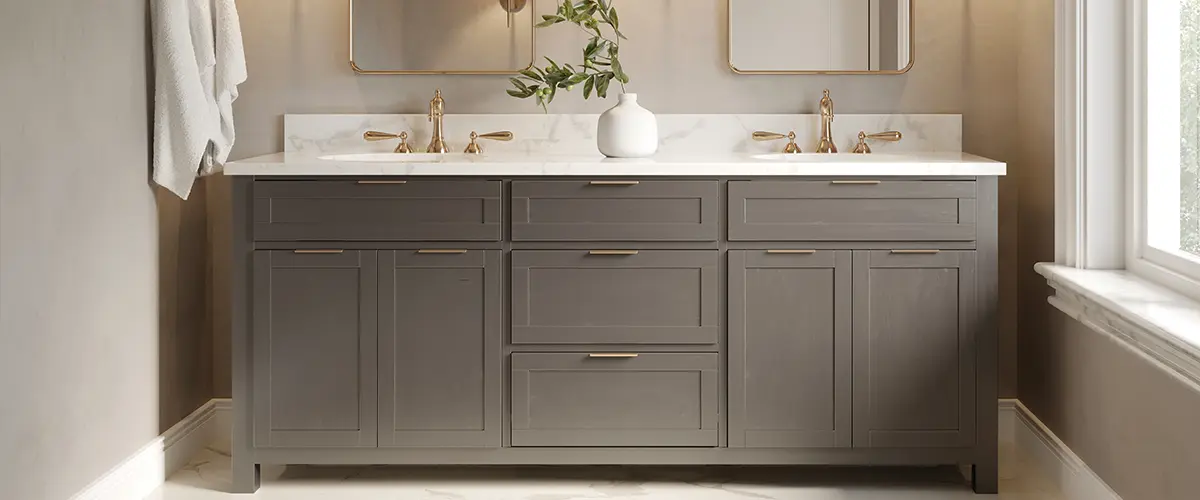 Several of our projects involve transforming an old bathtub into a modern shower or swapping out outdated Jacuzzis that can become perilous for senior citizens.
Shower pans are quite old-fashioned and don't do anything to improve functionality or looks, so that needs to go. Instead, upgrade your bathing experience with a stylish tile surround.
Senior homeowners are starting to upgrade their baths mostly for comfort and low maintenance requirements, and the best option to achieve that would be a glass walk-in shower with tile surround. It looks high-end, it's easy to maintain, and most importantly, it's safe to use.
A freestanding tub might be the ideal choice if you enjoy hot baths frequently. With the help of a professional, these can be placed anywhere in your bathroom!
Hardwood floors throughout the house, even in the bathroom, are common in older homes. But wood floors are far from perfect when dealing with an environment as humid and wet as this room can be.
If you're searching for an affordable tile flooring solution that provides superior quality, porcelain or ceramic tiles are definitely the way to go. These materials provide resilience at a reasonable cost, making them perfect for bathroom floors!
If you're willing to splurge, luxurious marble slabs will grant your bathroom a high-end opulence that is sure to wow. On the other hand, luxury vinyl plank flooring is a great and affordable alternative for flooring material that mimicks very well the natural grain of wood or stone.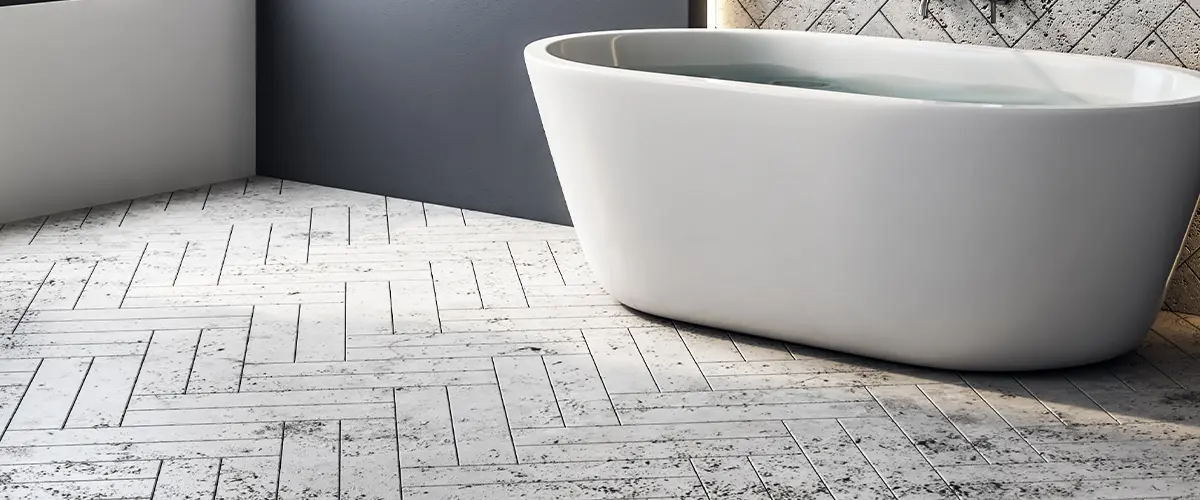 Outfitting a new vanity with fresh countertops can truly take it to the next level. Aesthetically speaking, replacing outdated countertops is key when you want your vanity to stand out and have that contemporary appeal.
Moreover, most old-fashioned countertop designs won't fit into this newer vanities style – so getting new ones is your best bet!
Without a doubt, quartz is the most superior option when it comes to countertops. Quartz has increased durability and resistance, making maintenance effortless. While still more expensive than granite, quartz remains an affordable choice for those wanting quality materials in their home.
Other options are soapstone countertops, marble counters, or the classy granite top. Out of all these, granite is one of the most popular countertop materials.
Upgrading your sinks and toilets is a great way to improve the look and feel of your bathroom at a very affordable price.
If you want your sink to become the focal point of your bath, choose a copper, marble, or granite vessel sink.
Undermount porcelain sinks (or ones made from the same material as your counter) will make your counter seem continuous and create an uninterrupted flow in your bathroom. These are more expensive, but will definitely make a great impression.
Porcelain, ceramic, or acrylic are the most common option for toilets.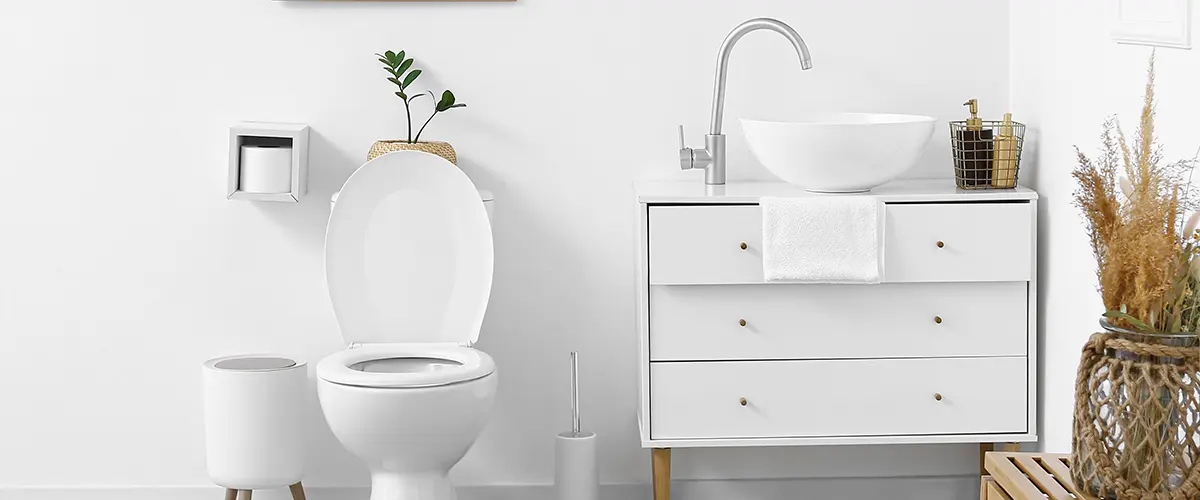 Other Bathroom Upgrades You Can Get
If you want your bathroom to go beyond the basic level of comfort, there are several extra features you can get to ensure that. Other bathroom upgrades include, but are not limited to:
The Easiest Bathroom Remodel In Springfield, NE
At our company, we strive to make remodeling a delightful and hassle-free experience! Your satisfaction and peace of mind will be at the top of our priority list during construction, granting you full control over your project.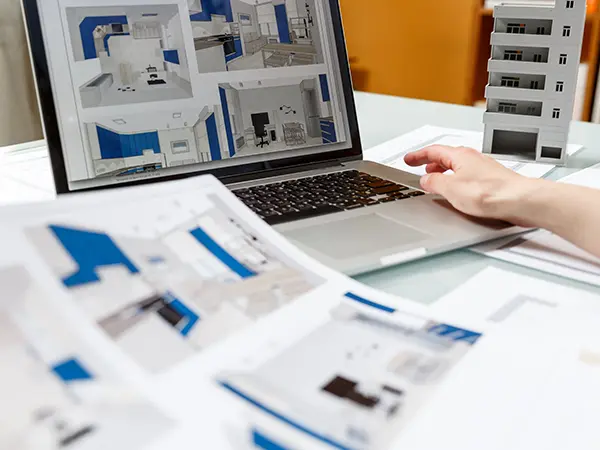 Let's discuss your upcoming project.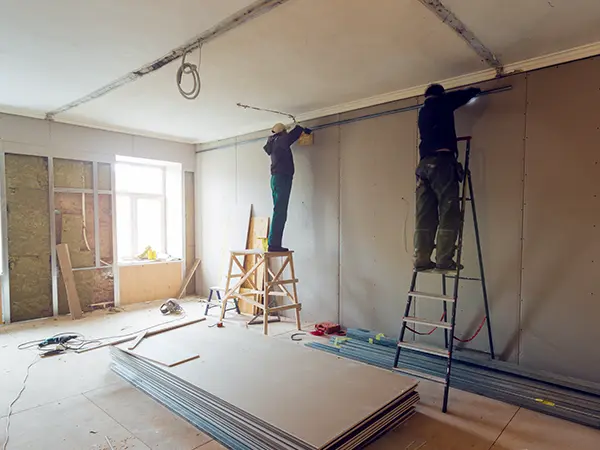 We'll build your new bathroom according to your needs.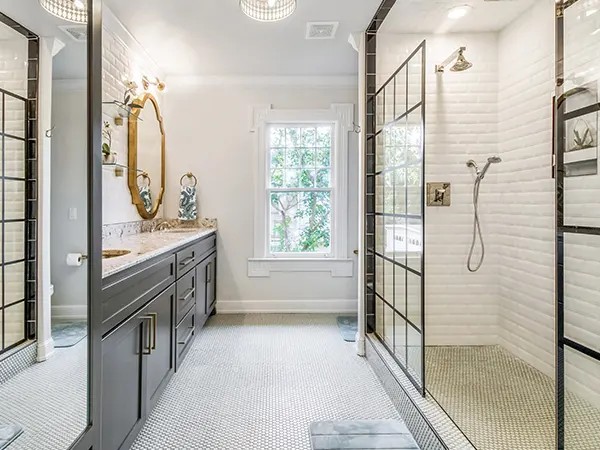 Show off your new bathroom to your friends!
Frequently Asked Questions
When it comes to bathroom remodels, size and complexity make a difference in how long the job will take. Yet generally speaking, we estimate most renovations can be accomplished within 3-4 weeks.
When it comes to remodeling projects, the price you pay is often determined by your selections. For instance, an extravagant freestanding tub will be more costly than a typical model and tile and flooring also impact the overall cost greatly.
The cost for your bathroom remodel can also increase if you're looking to do any layout reconfiguration as that will involve moving to plumb around. On average, the cost of a bathroom remodel in Springfield, Papillion, La Vista, or Omaha starts at $15k – $20k.
Before you start the fun part of selecting all your bathroom features, take care to attend to any plumbing or electrical issues. Tiles and vanity selections serve as a powerful foundation for your design; after that, focus on smaller details such as sinks, lights, mirrors, and accessories – these not only add character but also bring an extra touch of luxury!
At HMC, we take the stress off you and handle all of the required permitting for your bathroom remodel in Springfield, Papillion, La Vista, Bellevue – or anywhere else throughout Nebraska – necessary to make sure it's up to code. Rest easy knowing that no matter how large the scope of work is on your project, we have everything covered!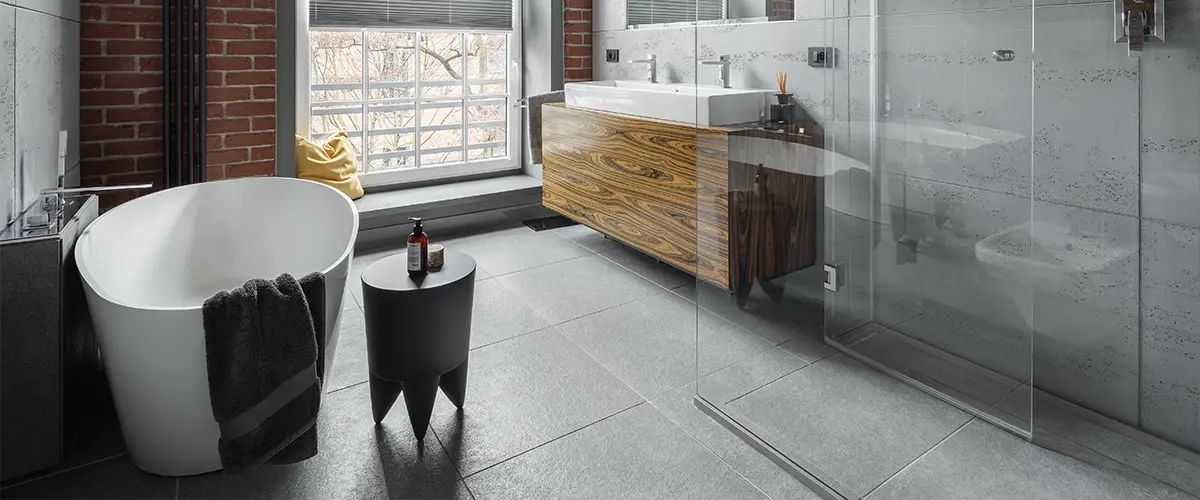 Get A Bathroom That Makes You Proud To Have Guests Over
If you're looking for a bathroom remodel in Springfield, NE, you're in the right place!
Home Matters Construction's bathroom remodelers have years of experience and the know-how to transform your space into something you can be proud of. With our straightforward process, you'll receive expert guidance and advice along the way to make sure your project turns out exactly as envisioned!
Bathroom remodeling in Springfield, NE, reaches a whole new level of ease with us. Rest assured, you'll take full advantage of working with reliable pros that value your home and investment, giving you a one-of-a-kind remodel with you in the driver's seat.
Get ready to receive:
Your New Bathroom Awaits You!