Kitchen Remodeling In Riverview, Omaha NE
Get yourself a kitchen you can be fully proud of. Request your free estimate and start today!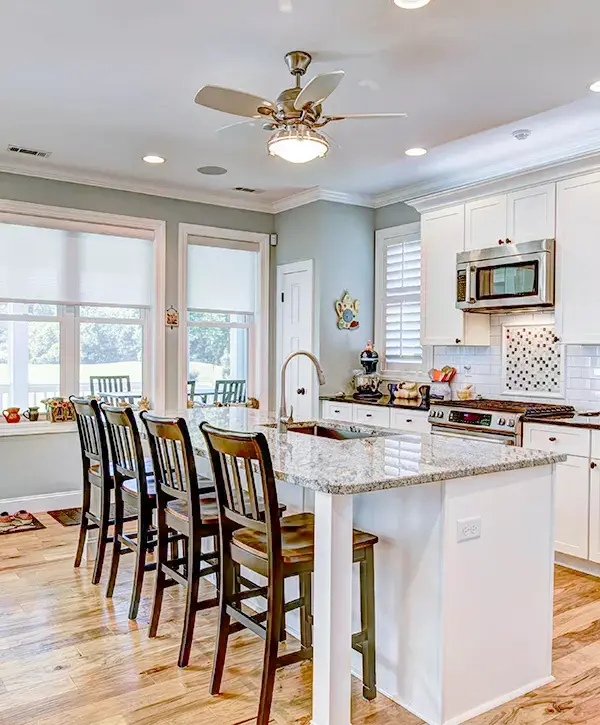 A kitchen remodel is a fantastic home improvement project that ensures your home aligns with your long-term needs and evolving preferences. In Riverview, Omaha Nebraska, kitchen remodels can range from $25k to over $100k. 
With Home Matters Construction, you can benefit from a competitive kitchen remodel cost, comprehensive remodeling services, and a reliable kitchen contractor that will streamline your journey. We prioritize you and your family, allowing you to fully embrace the excitement of this remodel and enjoy its transformation.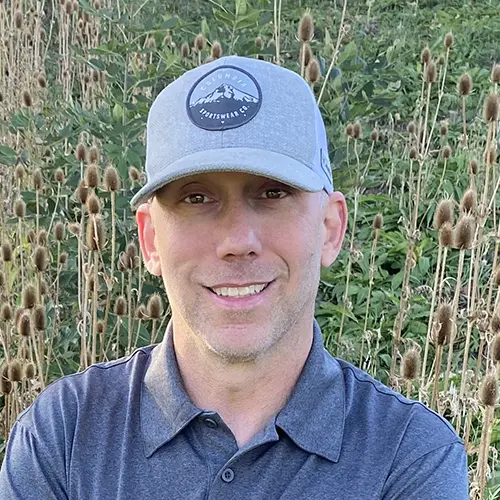 Tony Inzauro – Owner of Home Matters Construction
Hi, I'm Tony Inzauro, owner of Home Matters Construction. My personal approach and honest communication will give you the confidence and peace of mind to finally start your project and enjoy watching your home become your personal heaven. I love working on basements because of all that unused potential, and I made it my mission to help homeowners tap into that huge benefit!
A Complete Kitchen Remodeling Service - Now At Your Doorstep
We are fully dedicated to surpassing your expectations for your project, allowing you to experience the extraordinary benefits of collaborating with a highly proficient contractor. We consistently go above and beyond on every project we undertake, and yours is no exception
With us, you'll get:
Get Inspiration From Our Portfolio!
Our profound knowledge and experience in kitchen remodeling exemplify the exceptional skills and craftsmanship that can be incorporated into your new kitchen. 
Take a moment to explore our portfolio and uncover a plethora of innovative ideas that you can seamlessly integrate into your own space.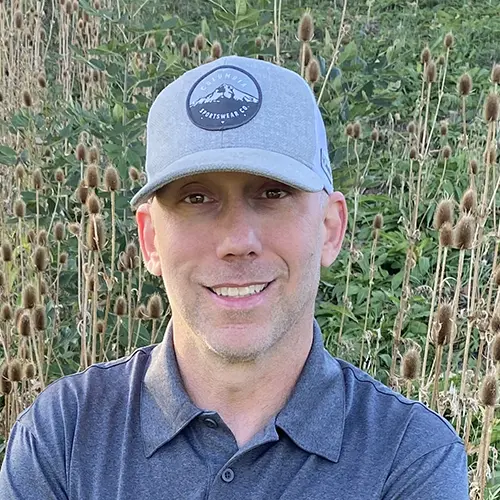 For inquiries regarding your kitchen remodel process, price, and materials, please feel free to reach out to us at (402) 661-0910 or simply click the button below to request a complimentary quote. We guarantee a prompt response within one business day to discuss your plans in detail.
Your Neighbors Loved Working With Professionals
We take great pleasure in witnessing the sheer delight of our clients as they wholeheartedly embrace their newly transformed space. Here's what homeowners have to say about their experience working with Home Matters Construction.
Tony and his crew were great – they remodeled our kitchen. The craftsmanship was awesome. High attention to detail. Very polite, just the type of dudes you'd prefer to have working in your house. Tony was up front about everything, no hidden costs or weird surprises. I'd trust these guys to do just about anything.
Tony and his crew remodeled a family kitchen for me and it far surpassed my expectations. His people were super nice as my family was living in the residence. I wouldn't call anyone one else!
Kitchen Remodeling Cost In Riverview, Omaha NE
Kitchen renovations in Riverview, Omaha NE, and the nearby regions begin at $40,000 and can exceed $100,000 for spacious areas featuring top-of-the-line appliances and exquisite cabinetry finishes. 
Our proficiency lies in transforming kitchens ranging from $20k to $90k, guaranteeing the realization of your vision, irrespective of your budget.
What influences the kitchen remodeling cost:
Before
After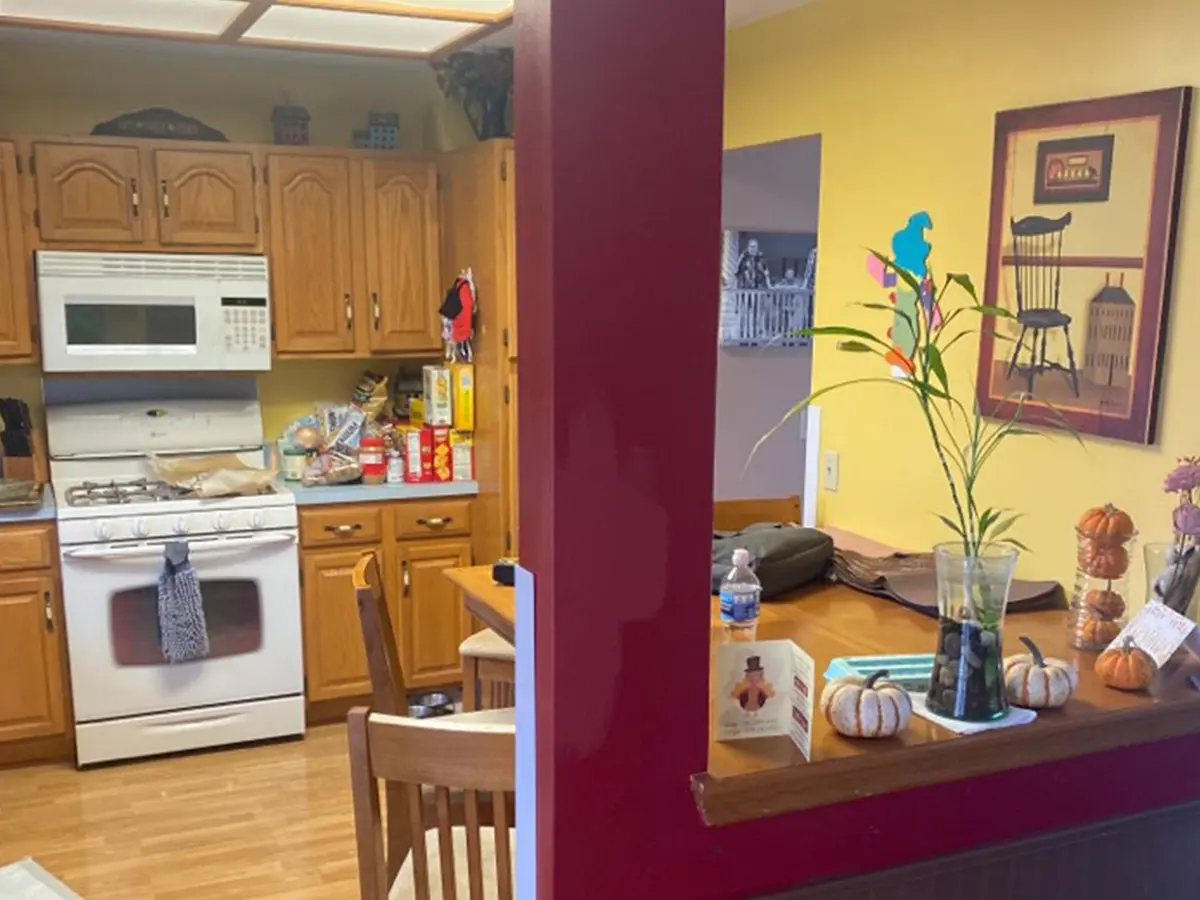 High-End Kitchen Remodel In Omaha​
This kitchen remodel was quoted at $87k, where the most expensive items were the luxury appliances, at $25k.
| Type | Job Cost | Resale Value | Cost Recouped |
| --- | --- | --- | --- |
| Minor Kitchen Remodel - Midrange | $28,327 | $20,478 | 72.3% |
| Major Kitchen Remodel - Midrange | $82,580 | $28,564 | 34.6% |
| Major Kitchen Remodel - Upscale | $164,137 | $43,969 | 26.8% |
At Home Matters Construction, we prioritize your satisfaction and convenience. Our goal is to design a kitchen that perfectly aligns with your needs and lifestyle. With our seamless process, collaboration becomes effortless, putting the focus on you, your time, and your investment. Trust us to surpass your expectations and deliver an exceptional outcome.
We're Taking Care Of Everything For You!
Our primary objective is to simplify the remodeling process, eradicating the stress and inconvenience often linked to projects in Riverview, Omaha NE. We have taken into account the most prevalent concerns.
Kitchen remodeling projects may come with a significant price tag, but they also offer a remarkable return on investment. Our dedicated team is committed to working within your budget, and we can even provide access to flexible financing plans to help jumpstart your project.
We highly appreciate your time as well as ours, and we are committed to minimizing any unnecessary on-site delays. Our primary goal is to ensure the completion of your project within the specified timeline, allowing you to relish your new kitchen while we efficiently assist the next homeowner.
A Simple, Quick, And Effortless Kitchen Remodel
At the heart of our process lies a deep commitment to your comfort and well-being. We are dedicated to ensuring that you fully embrace the thrill of this upgrade, and we stand behind our assurance that you will do so with utmost confidence!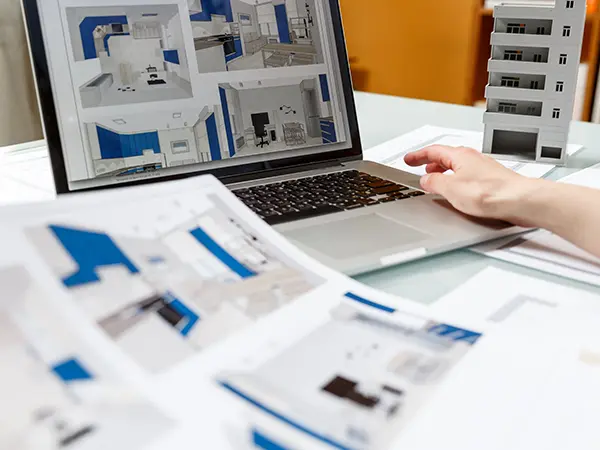 Get in touch with us, share your vision, and we'll help you out with advice and insights about your new kitchen.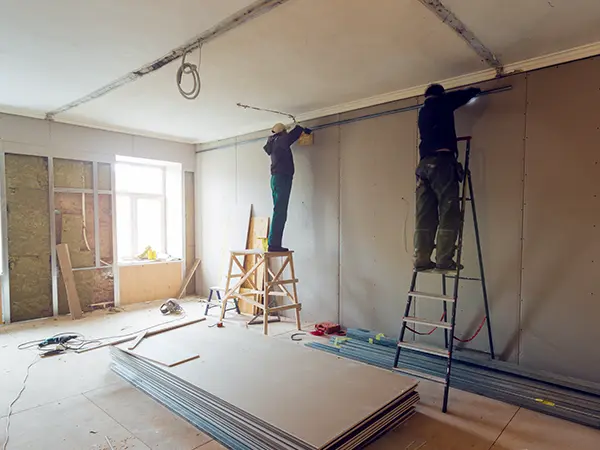 As soon as we pick the design and materials, we get to work according to our timeline. You'll have complete control over everything.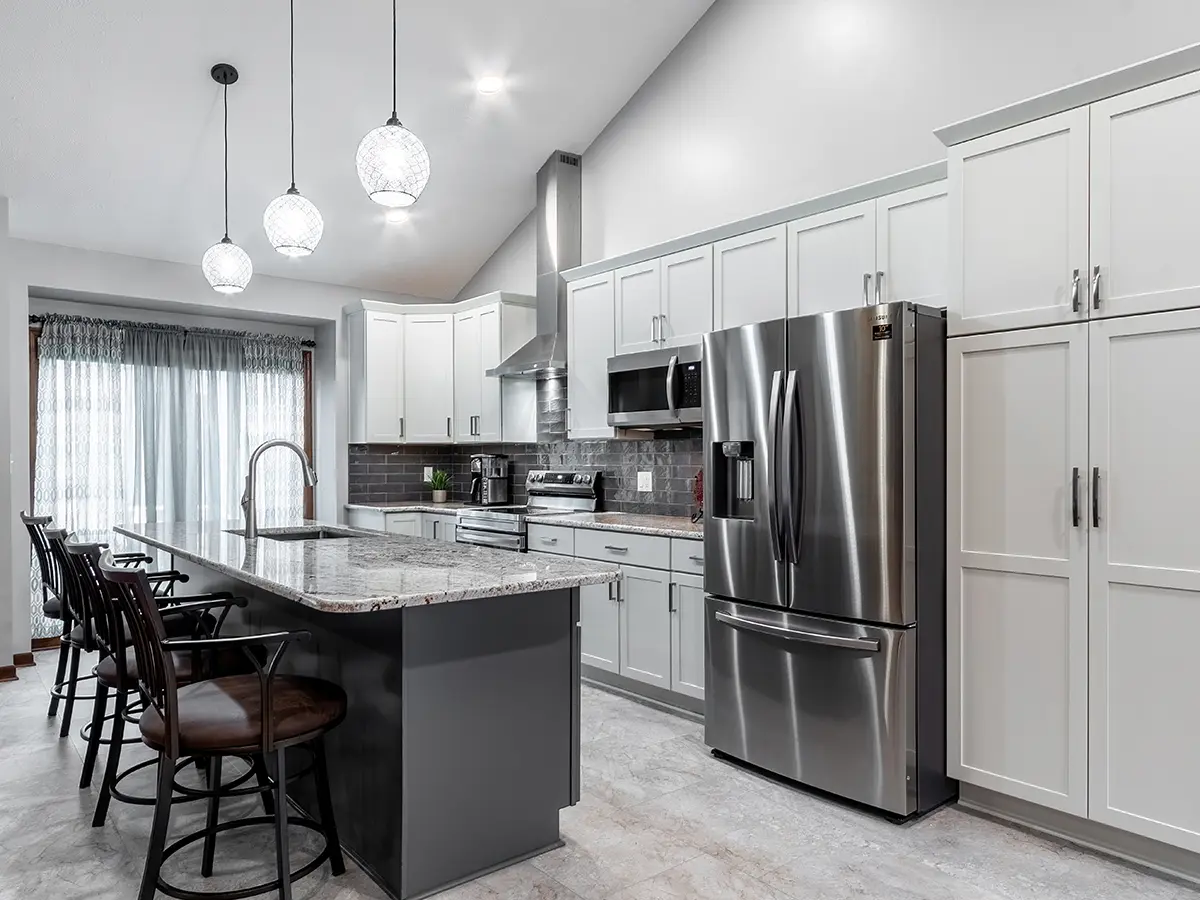 Your new kitchen is ready to host the best family gatherings you'll ever have! Start calling your friends!
If you are undertaking electrical or plumbing work as part of your kitchen remodel, it may be necessary to obtain a permit. Rest assured, we will handle all the necessary paperwork and take care of the permitting process on your behalf. Your project's unique requirements will be given utmost attention to ensure a smooth and hassle-free experience for you.
Typically, when it comes to remodeling a kitchen, the cabinets, countertops, and appliances tend to be the priciest components. Based on your design and choices, it's reasonable to allocate at least 35% of your budget solely to cabinets and countertops.
In most cases, there is no need for you to leave your home during your kitchen remodel. We will take steps to protect and isolate the work area, ensuring that dust and debris are kept away and allowing you to use the other rooms in your home as you normally would.
A kitchen remodel takes between 4 and 6 weeks, depending on material and vendor supply and the size of your space.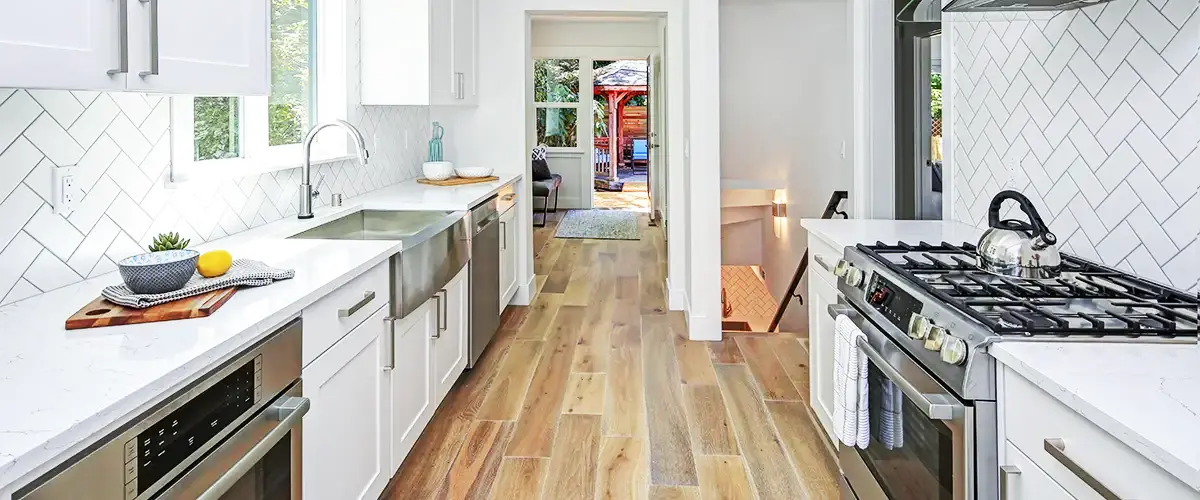 Remodel Your Kitchen With A Pro That Puts You And Your Investment First!
Acquiring a new kitchen in Riverview Omaha represents a momentous achievement for both you and your family. This investment is truly worthwhile, as it not only enhances the value of your property but also instills a sense of pride within you. With your magnificent new kitchen, you'll be eagerly awaiting the opportunity to host friends every weekend.
If we have successfully convinced you to pursue the remodel you've been longing for, please don't hesitate to reach out to us at (775) 242-6405 or click the button below to request a quote. We guarantee a response within one business day.
Tony and the crew are VERY professional. Our remodeling project faced the inevitable covid shipping delays. They anticipated and worked around the supply problems, kept the project on schedule. They kept us in the loop, answered all our questions, and did some really great work.
The kitchen lights installation just blew us away! The new floors are simply a delight. We absolutely recommend Home Matters. Tony and his crew will have our next project!
HMC are great! They were upfront and professional about all aspects of our basement remodel. They worked with us on our floor plan and gave insight about better ways to install or incorporate certain parts of the build.
They gave us exactly what we wanted and everything was held to a very high standard. Everyone was professional, respectful, and very great at their job! I wish I could give more stars on this review. 5+ stars in our book.
Riverview, Omaha NE, is a charming neighborhood offering a unique blend of small-town tranquility and convenient access to urban amenities. This part of Omaha is known for its cafes and strong culture or carpooling, but there's so much more to it that we here at HMC love. Every project in this beautiful neighborhood makes us proud to live in Omaha!