Bathroom Remodeling In Ralston, NE
Is your bathroom no longer as comfortable or efficient as it once was? We have a solution that will greatly benefit you!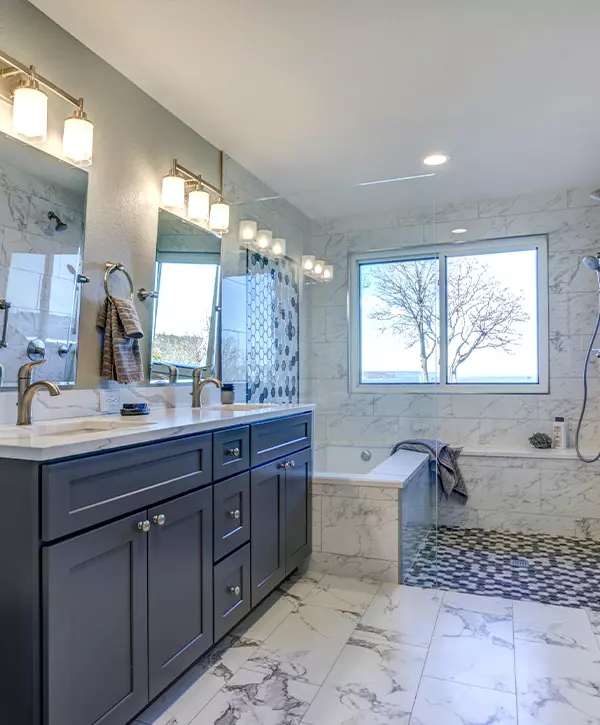 Over time, bathrooms naturally become less efficient due to extensive usage. We have noticed this problem in numerous distinct settings, and not one homeowner was happy with their space – we're thinking neither are you. 
As we grow older, our needs change, and as a result, we need a bathroom that satisfies us and makes our life comfortable. If you are searching for solutions for your upcoming bathroom remodeling project in Ralston, NE, Home Matters Construction has got you covered!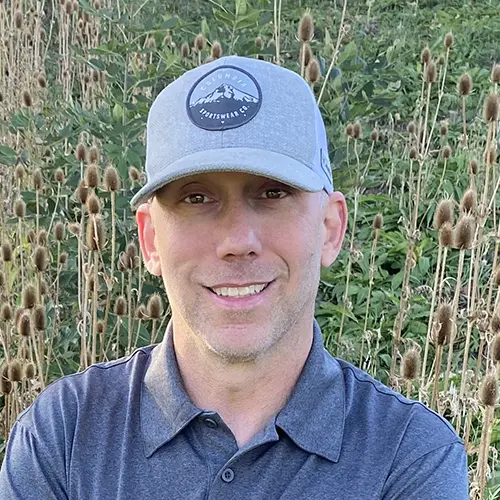 Tony Inzauro – Owner of Home Matters Construction
Hi, I'm Tony Inzauro, owner of Home Matters Construction. My personal approach and honest communication will give you the confidence and peace of mind to finally start your project and enjoy watching your home become your personal heaven. I love working on basements because of all that unused potential, and I made it my mission to help homeowners tap into that huge benefit!
An Unbeatable Bathroom Remodel Service
Finding a competent contractor can be a daunting task. After all, you're not just searching for anyone; you're seeking someone who can seamlessly bring your project to life. With Home Matters Construction Omaha, you're getting the best you'll ever find around here.
Get ready to enjoy: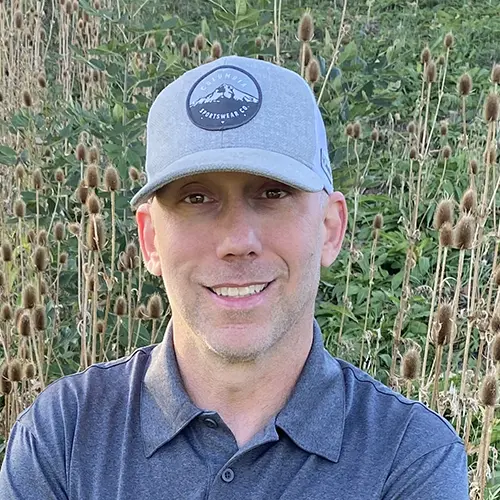 If you're ready to learn more about what your bathroom remodel entails or you're ready to get a free quote and get your project started, fill out the form here or give us a ring at (402) 661-0910. Looking forward to hearing from you!
Your Neighbors Loved Working With Professionals
We have assisted numerous homeowners in Ralston, NE, and the surrounding areas, crafting new kitchens, bathrooms, additions, and a wide array of other projects. Allow us to share what sets us apart from the majority of contractors in this region.
We wanted to get siding installed. I did get other bids and all were competitive. We chose Home Matters Construction as they were able to get our house done quickly. They were up front about every aspect of the siding process, explained how corners, gutters, soffits and every part of the house would be done.
If there would be an extra cost we were informed immediately and given the option to choose. While the color choices were limited because of the issues with product availability, we were able to get the color we wanted.
The installers were knowledgeable and came to us with questions before they proceeded. I do have to say that it was a noisy process! We are very happy with the work and definitely recommend Home Matters for any of your house needs!!!
Home Matters was referred to me by a member at my sister's church. From the moment we connected with Tony, we felt his honesty, integrity and desire to help us meet our needs for a full, functional kitchen remodeling project.
We were not disappointed. Our experience with Tony and the Home Matters team was wonderful. The coordination with their sub-contractors was impressive. The workmanship and work ethics was top notch. The office staff is friendly, professional and easy to work with.
I wouldn't hesitate contacting Home Matters for any of your home services, big or small.
Bathroom Remodeling Cost In Ralston, NE
Bathroom renovations in Ralston, NE, and the surrounding areas begin at $20,000 and can go up to $70,000 for larger spaces with luxurious features such as heated floors and elegantly tiled glass walk-in showers. We have successfully completed projects ranging from $10,000 to $90,000, so regardless of your budget, rest assured that we can bring your vision to life!
| Bathroom Size | Square Feet | Average Cost |
| --- | --- | --- |
| 3' x 5' | 15 | $1,800 - $4,100 |
| 4' x 6' | 24 | $1,900 - $4,400 |
| 4' x 8' | 32 | $3,900 - $8,800 |
| 5' x 7' | 35 | $4,200 - $9,600 |
| 5' x 8' | 40 | $4,900 - $10,900 |
| 5' x 9' | 45 | $5,500 - $12,300 |
| 5' x 10' | 50 | $6,100 - $13,700 |
| 6' x 6' | 36 | $4,400 - $9,900 |
| 6' x 8' | 48 | $5,900 - $13,100 |
| 6' x 9' | 54 | $6,600 - $14,800 |
| 6' x 10' | 60 | $7,300 - $16,400 |
| 7' x 9' | 63 | $7,700 - $17,200 |
| 8' x 8' | 64 | $7,800 - $17,500 |
| 8' x 10' | 80 | $9,800 - $21,900 |
| 9' x 10' | 90 | $11,000 - $24,600 |
| 10' x 10' | 100 | $12,200 - $27,400 |
| 10' x 12' | 120 | $14,700 - $32,800 |
| 11' x 9' | 99 | $12,100 - $27,100 |
| 12' x 13' | 156 | $19,000 - $42,800 |
What influences the bathroom remodeling cost:
| Item | Average Cost* |
| --- | --- |
| Fixtures | $300 - $2,500 |
| Showers | $400 - $4,000 |
| Vanity | $300 - $3,000 |
| Countertops | $200 - $1,000 |
| Light fixture | $50 - $300 |
| Exhaust fan | $30 - $350 |
| Flooring | $300 - $1,800 |
| Doors & windows | $200 - $1,500 |
| Paint | $50 - $200 |
| Mirror | $30 - $500 |
| Plumbing | $400 - $2,000 |
* Prices are subject to change due to factors that impact labor or material costs. Contact us for your bathroom remodeling project so you can get a more accurate pricing estimate.
A Remodel Where You Don't Worry About Anything
Bathrooms are a bit more affordable than kitchens but just as valuable in terms of ROI and intrinsic value. We'll get you some cost-effective solutions for your upgrade, and we can even offer you some financing plans so you won't drain your savings all at once.
Bathrooms are a bit more affordable than kitchens but just as valuable in terms of ROI and intrinsic value. We'll get you some cost-effective solutions for your upgrade, and we can even offer you some financing plans so you won't drain your savings all at once.
We value and honor both your time and ours, and we strive to minimize any unnecessary delays at the job site. Our goal is to complete your project within the agreed timeline, ensuring that you can fully enjoy your new space while we seamlessly transition to our next endeavor.
A New Bathroom As Quickly As 1-2-3
Our goal is to ensure your complete comfort and provide dedicated attention throughout the entire bathroom remodeling process.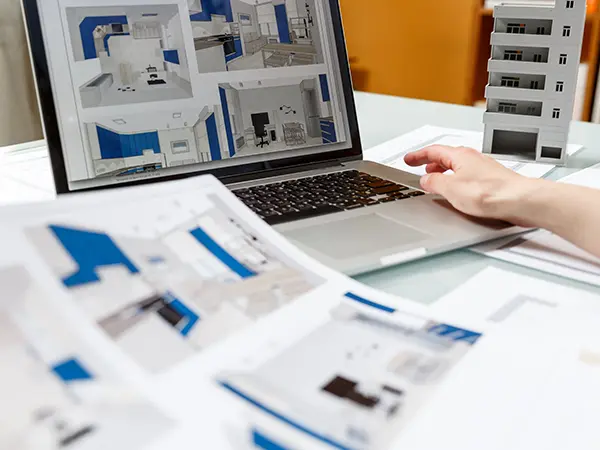 Get in touch with us, share your vision, and we'll help you out with advice and insights about your new bath.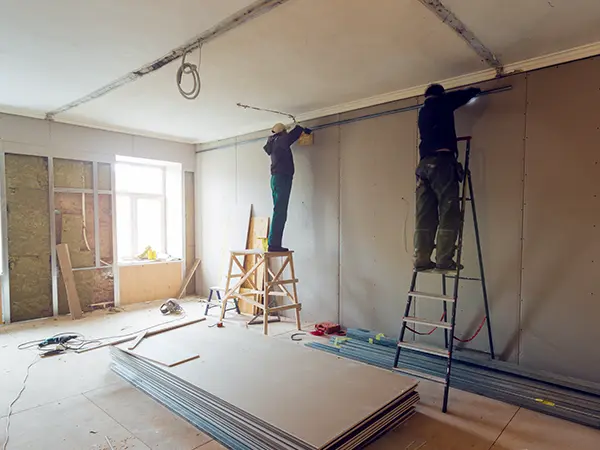 As soon as we pick the design and materials, we get to work according to our timeline. You'll have complete control over everything.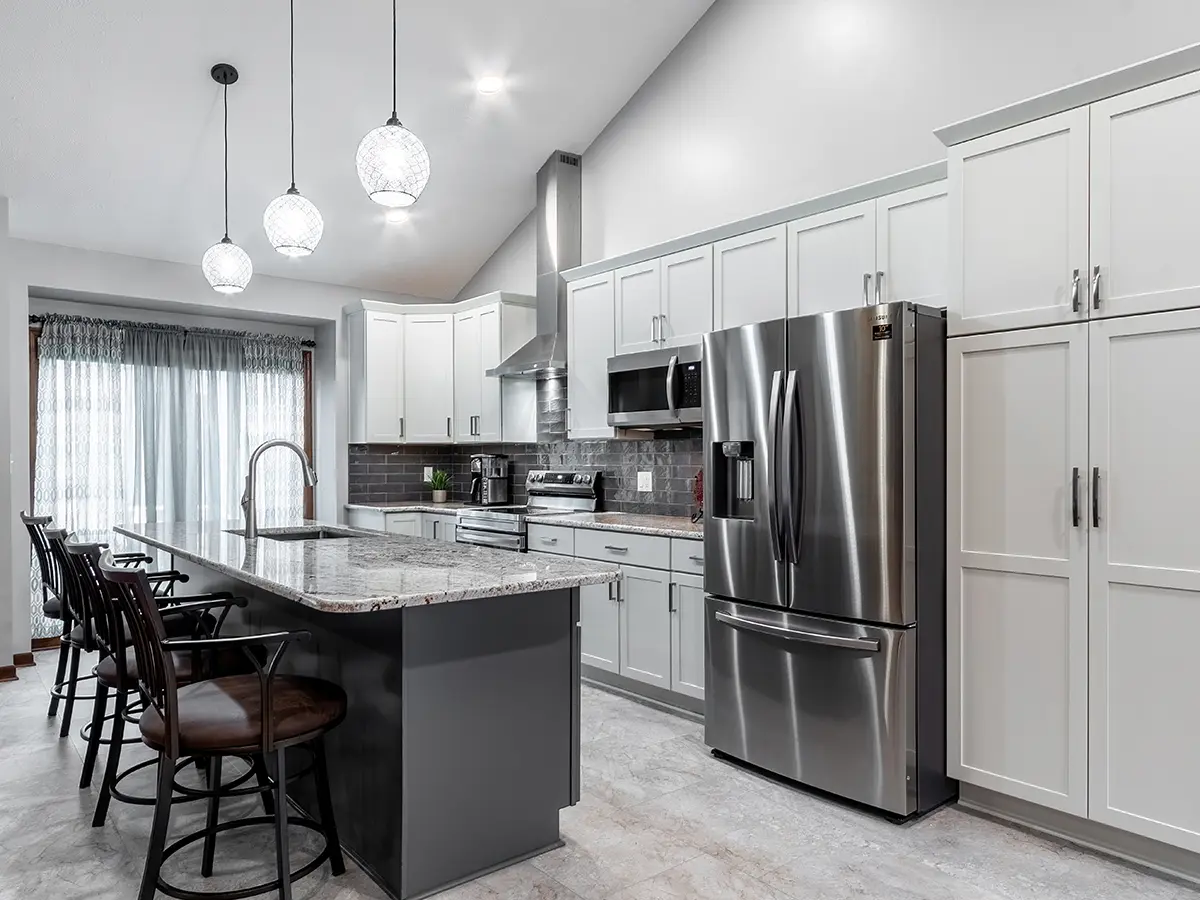 A 5-year workmanship warranty gives you the peace of mind you'll need to enjoy your new bathroom!
As with any remodeling project, your selections will influence the price a lot. A freestanding tub will cost more than a regular tub, and your choice of tile and flooring also matter a lot.
The cost for your bathroom remodel can also increase if you're looking to do any type of layout reconfiguration, as that will involve moving plumbing around. On average, the cost of a bathroom remodel in Papillion, La Vista, or Omaha starts at $15k – $20k.
Depending on the scope of work, a bathroom remodel in Papillion, La Vista, Bellevue, and typically across Nebraska can require a permit. At HMC, we handle all permitting work for your bathroom remodel so that you can enjoy a relaxing process.
We complete all bathroom remodeling projects with our in-house team of craftsmen and carpenters while partnering with trusted, licensed contractors.
The size of your bathroom and the extent of the remodel are important time indicators, but usually, we can complete most bathroom remodels in 3 to 4 weeks.
Moving out is not necessary when remodeling your bathroom, but if this is your only bathroom, we recommend staying with a friend or relative during your remodel. While your remodel unfolds, we take protective measures to make sure any dust or debris stays away from the rest of your home, and we keep a tidy worksite at the end of each day. The rest of your house will function as usual.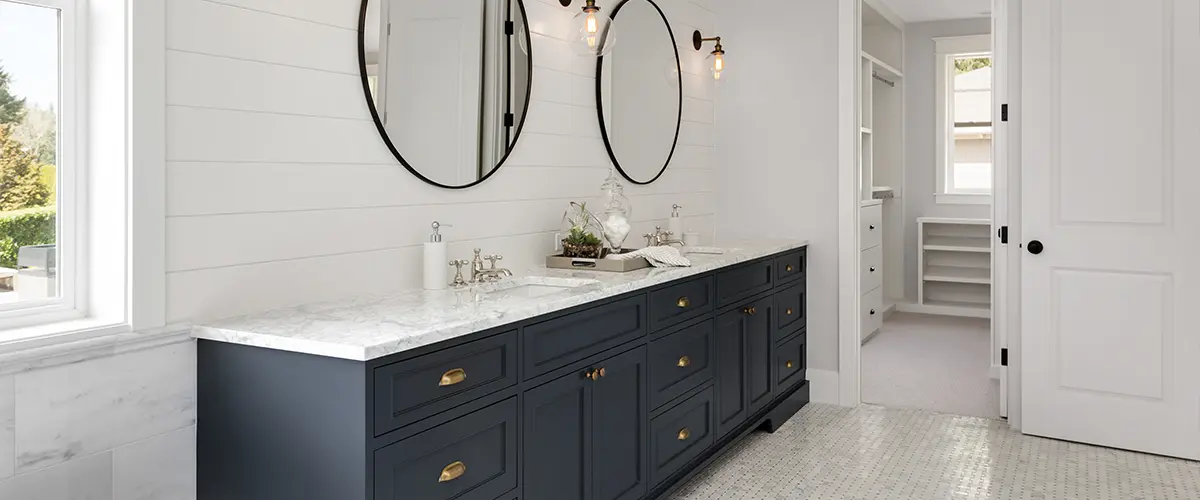 Get The Best On The Job And Ensure A Lasting Investment
The longer you delay starting your project, the more challenging it becomes. At Home Matters Construction, we genuinely prioritize our client's needs and projects. We provide cost-effective solutions for your new bath, ensuring affordability, quality craftsmanship that lasts for decades, and a timeless bathroom that matches your lifestyle and preferences.
If we've convinced you to finally get the remodel you've been dreaming of, give us a ring at (402) 661-0910 or request a quote from the button below, and we'll circle back within a business day.
Home Matters Construction wants you to be happy and they will do what it takes to make sure you are. I was looking for someone to repair my home after a large hail storm hit the entire neighborhood. I reached out to Tony and he couldn't have been nicer and more patient when explaining the whole insurance and repair process – as was his office staff.
His roofing and gutter crew was great – very polite and respectful of my space. I was very happy with my decision to go with Home Matters – they worked very hard for me.
Home Matters is a must hire! The team is fantastic! They provided extremely friendly service that was not intimidating!
Their care and concern to provide the finished product I had in mind was truly a blessing. This was my first large project, and they stood by me every step of the way. They maintained a neat workspace and made the entire process a dream come true!
Thank you Home Matters!
Ralston, NE, is located just west of Omaha and is known for its parks and trails. One of the most popular landmarks in Ralston is the Snyder Park Nature Center, which offers visitors a chance to explore a peaceful natural refuge and observe wildlife. Another noteworthy destination in the city is the Ralston Arena, an indoor venue that has hosted some of the biggest musical acts in the country. If you're feeling adventurous, be sure to check out Flixx Arcade – an all-ages family entertainment center featuring over 150 classic arcade games.