The Best Bathroom Remodel In Papillion, NE
If you're planning a bathroom remodel in Papillion, NE, we've got good news!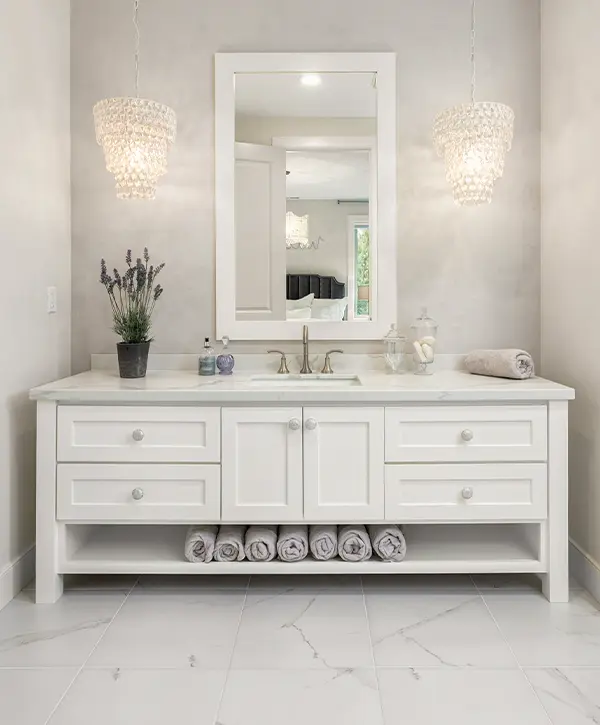 Home Matters Construction has been helping homeowners in Papillion and surrounding areas get their bathrooms remodeled with a quick and efficient process. You'll love our complete remodeling service, and we'll make you come back for more!
With years of experience in construction, project management, and design under our belts, we're more than qualified to take on your remodeling project. You can be confident that the final product will not only meet but exceed your expectations.
We want to over-deliver on our promises and make you fall in love with your home again. We have a few tricks up our sleeve to make that happen!
We'll Make Sure You'll Come Back For More
We're dedicated craftsmen that take pride in the quality of their work. We'll always deliver on our promises and get you hooked on one of the best remodel you've ever had!
Get Your Premium Remodel With The Best Contractor In Town!
A high-quality remodel means you'll get nothing of the stress and anxieties that these home improvement projects may bring.
At Home Matters Construction, we're focused on offering a smooth process that can unfold without you stressing over it. You can sit back, relax, and enjoy witnessing your dream bathroom come to life.
We'll put your needs and wants at the core of our work. Nothing will remain unattended, and each and every one of your questions will be answered promptly and politely. You'll work with a team dedicated to your success, and you'll be able to see this from day one!
Make sure to check out our bathroom remodeling offer in Papillion! Work with a professional that makes sure your project goes according to plan and takes care of everything, from start to finish.
Homeowners Love Their Bathroom Remodel In Papillion, NE
We've helped hundreds of homeowners get their remodeled bathrooms in the best way possible. No hassle, stress, or effort on their behalf. This is what they say about working with us!
Home Matters managed the complete renovation of our master bath (gut and replace) and updating of 2 other bathrooms. 
Their communication was very good, the quality of the work was excellent, all of the subcontractors that were in our home were very professional. 
It was a lot of work and the project took longer than the initial estimates, but we are completely satisfied with the outcome.
HMC are great! They were upfront and professional about all aspects of our basement remodel. 
They worked with us on our floor plan and gave insight about better ways to install or incorporate certain parts of the build. They gave us exactly what we wanted and everything was held to a very high standard. 
Everyone was professional, respectful, and great at their job! I wish I could give more stars on this review. 5+ stars in our book.
Types Of Bathroom Upgrades
Some available upgrades and features will make your bathroom feel like a 5-star Ritz-Carlton hotel, others will just make your space feel truly yours – personalized to your needs and preferences.
So many options can be overwhelming, but we'll constantly guide you and help you make the right choices for your new bath.
Let's look at the most common bathroom upgrades.
The vanity is one of the most popular bathroom upgrades, and you can't skip this. Double vanities will increase your bath's functionality by adding more storage space than you'll ever have. Besides, it can also set the mood and style of your bath, so it needs careful consideration.
A vanity with slab doors and no hardware will make your bath look modern and minimalistic, while a hardwood vanity with pulls will make your bath feel more warm and cozy. Add a few other hardwood features, and you'll have a beautiful, rustic bathroom.
We'd recommend semi-custom vanities if you're looking to get the maximum ROI, but if you don't really care about return on investment, fully custom vanities will create a space that's truly yours.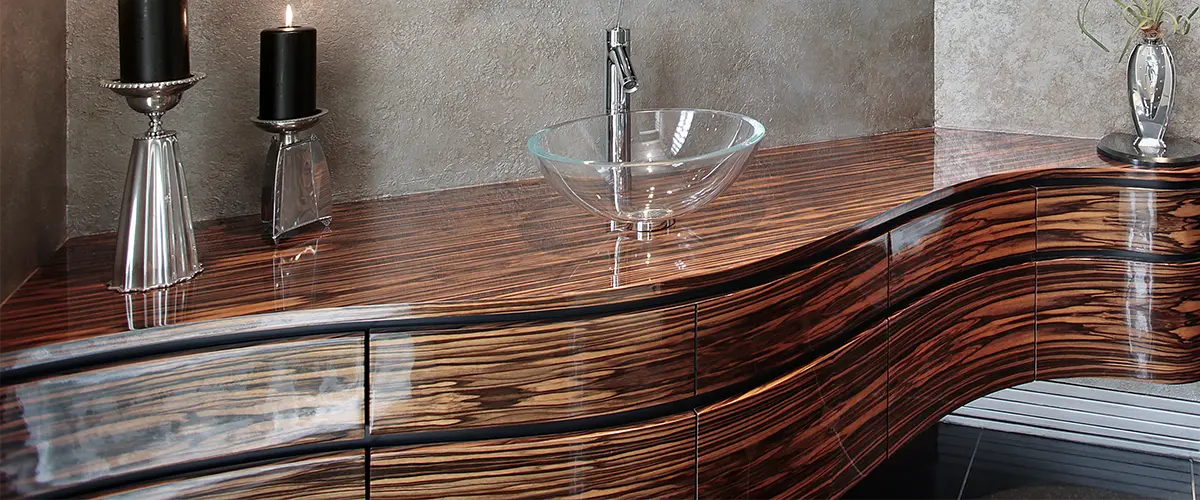 Many of our projects include a tub-to-shower conversion or replacing old jacuzzis that become a hazard for older homeowners.
Walk-in glass showers are more and more common for seniors, as they're easier to use and maintain. Let go of the dated shower pans that look outdated and cheap, and get a tile surround that'll really make your shower pop.
If you enjoy hot baths frequently, a freestanding tub might be the ideal choice. With the help of a professional, these can be placed anywhere in your bathroom!
Older homes have hardwood floors in most rooms, including the bathroom. Needless to say, wood flooring in a room with so much humidity and water spills is never a great idea.
If you're looking for quality tile flooring on a budget, consider using porcelain or ceramic tiles. These materials are both durable and affordable, making them ideal for bathroom floors.
If you're willing to spend more money on your floors, more expensive stones like marble slabs are a luxurious option that will give your bathroom a high-end look.
Luxury Vinyl Plank flooring is a great and affordable alternative for your bathroom remodel that is easy to maintain, and install, and resembles the natural look of wood.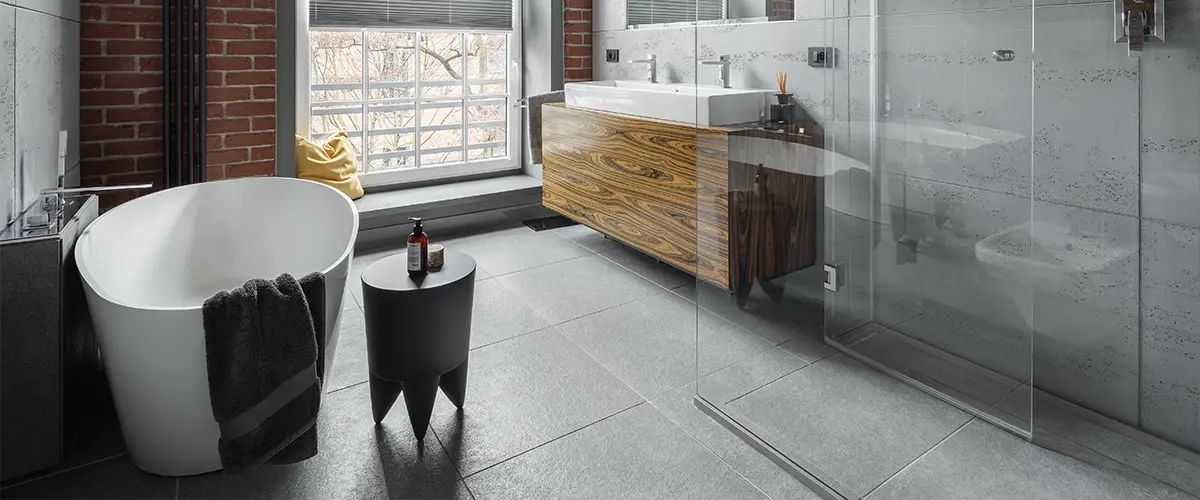 A new vanity always looks better with new countertops. Oftentimes, old countertops won't fit the new vanity or they might not match the updated style which is why we recommend getting new ones.
Undoubtedly, the best countertop material is quartz. It's resistant, durable, easy to maintain, and fairly affordable. Still, this is a manufactured material, so it'll cost more than granite, for example.
Other options are soapstone countertops, marble counters, or the classy granite top. Out of all these, granite is one of the most popular countertop materials.
Other Upgrades You Can Get
Other bathroom upgrades include, but are not limited to:
The Easiest Bathroom Remodel In Papillion, NE
We're making remodeling an easy and joyful experience! Your comfort and well-being will be our #1 priority during the construction phase, so you'll always be in control of your project.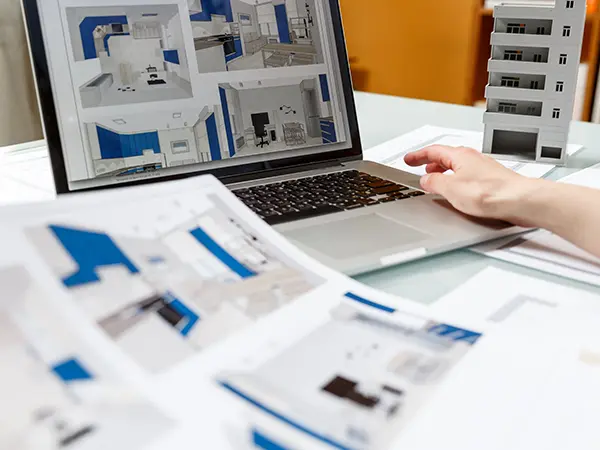 Get in touch, and we'll figure out the best solution for your bath!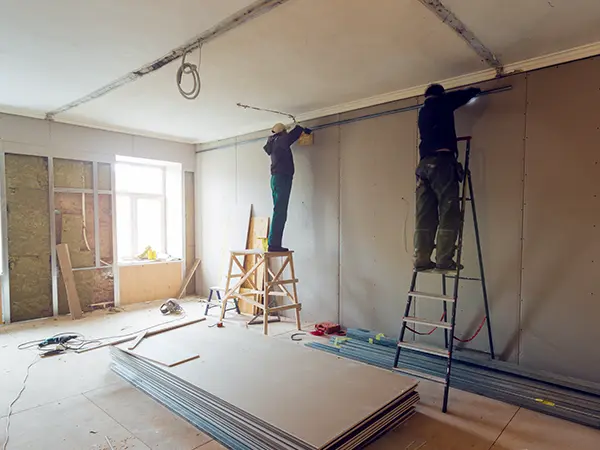 We start building and remodeling your bathroom.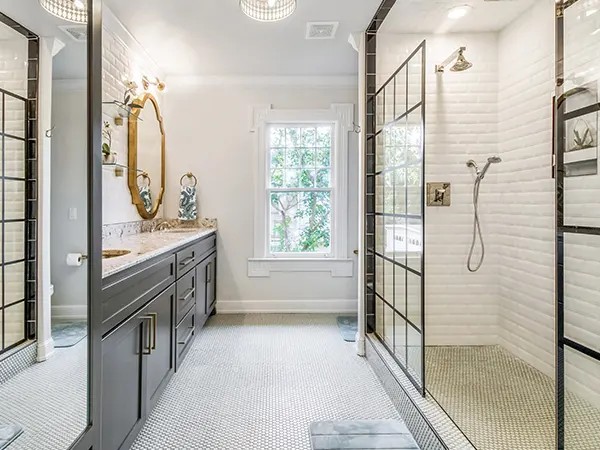 After our final walkthrough, you'll get to enjoy your new bathroom!
A Pricing Guidelines For Your Bathroom Remodel In Papillion
This was an 86 ft² bathroom in Papillion that was not looking at its best. The space felt dated and it failed to meet our homeowner's needs.
It was the perfect time for a remodel. This project included:
We quoted this bathroom remodel in Papillion at $43k, where the most expensive items were the glass walk-in shower.
Frequently Asked Questions
The size of your bathroom and the extent of the remodel are important time indicators, but usually, we can complete most bathroom remodels in 3 to 4 weeks.
As with any remodeling project, your selections will influence the price a lot. A freestanding tub will cost more than a regular tub, and your choice of tile and flooring also matters a lot.
The cost for your bathroom remodel can also increase if you're looking to do any type of layout reconfiguration as that will involve moving to plumb around.
On average, the cost of a bathroom remodel in Papillion, La Vista, or Omaha starts at $15k – $20k.
Before you go into choosing the look of your bathroom, it's important to take care of any plumbing and electrical issues. Once these are cleared, your tile and vanity choice will bring the biggest impact, followed by smaller details such as the sink, the lights, the mirror, and any other accessories.
Depending on the scope of work, a bathroom remodel in Papillion, La Vista, Bellevue, and typically across Nebraska can require a permit. At HMC we handle all permitting work for your bathroom remodel so that you can enjoy a relaxing process.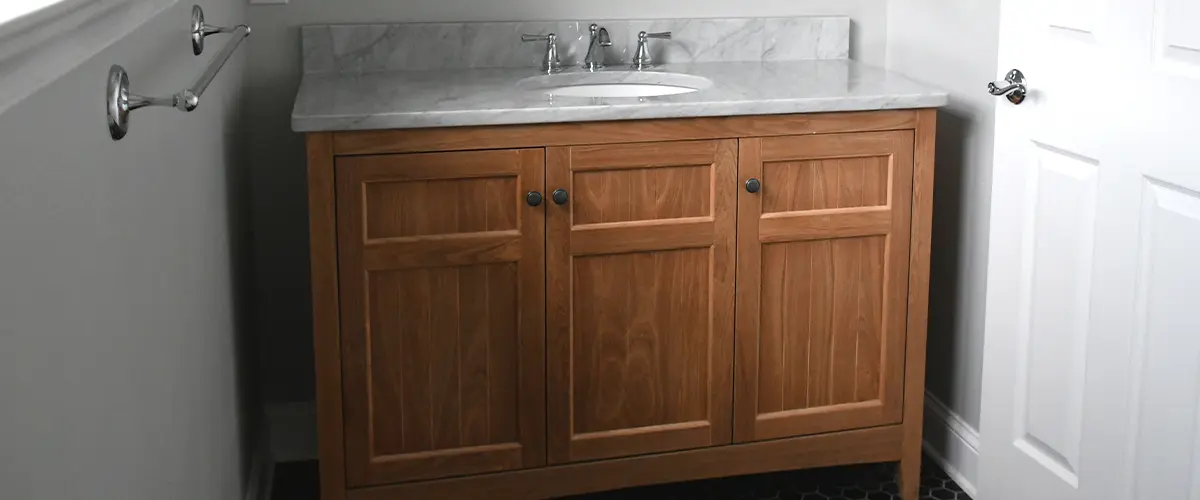 Get A Bathroom You Can Be Proud Of!
If you're looking for a bathroom remodel in Papillion, NE, you're in the right place!
With years of experience, our bathroom remodelers from Home Matters Construction are ready to tackle your project and give you a stunning end result that will make you proud. You'll love our clear process and the chance to hear an expert's advice on your home.
Working with us means your bathroom remodel in Papillion will turn out exactly the way you envisioned it, without the stress that these projects usually come with.
Get ready to receive:
Your New Bathroom Awaits You!