The Best Basement Remodeling In Papillion, NE
Thinking about a basement remodel? Talk with one of our pros today!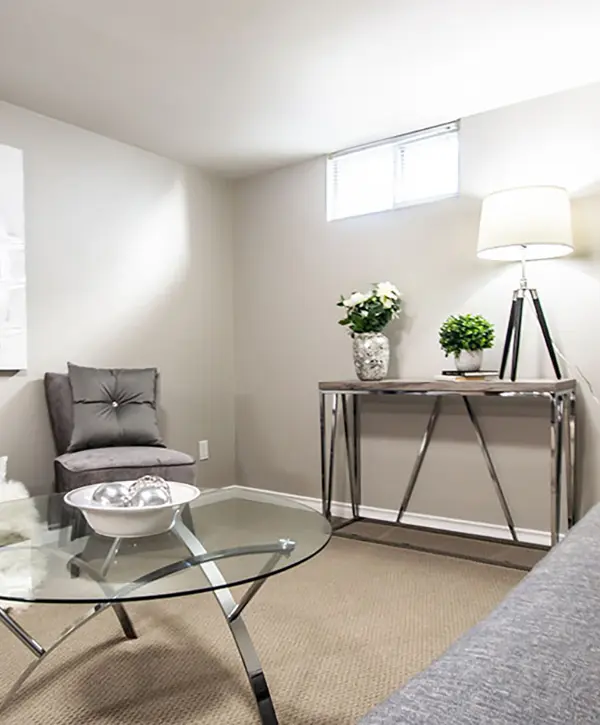 When you remodel your basement, you're not only giving yourself more space to work with, but also increasing the value of your home.
We started Home Matters Construction LLC with the aim of providing honest, reliable, reasonably priced home improvement services to people in the Omaha area. No matter if you're looking to get a new walkout or walkup basement, you won't find a better fit for your basement remodeling in Papillion.
We have years of experience in basement transformations. We take pride in our ability to turn your vision into reality, providing custom designs and high-quality workmanship at a fair price.
Get More Than A Basement Remodel
With decades of experience in remodeling and design and hundreds of basements transformed, we know exactly how to create the jaw-dropping basement of your dreams!
Boost Your Home's Value And Efficiency With A Quality Basement Remodel
Many homeowners forget about their basements, but this area actually has a lot of potential.
Not only will finishing and upgrading your basement make it more appealing to potential homebuyers, but it can also add real value to your property. And if you're not planning on selling anytime soon, you'll still have the opportunity to enjoy the expanded living space for yourself and your family.
You can design and pick the features of your new space, so it will fit all of your needs perfectly. For example, you could create a man cave to watch the game with friends or a playroom for kids that is completely safe. The possibilities are endless!
Papillion Homeowners Love Their Finished Basements!
Take advantage of our transformation services to breathe new life into the area and join satisfied homeowners in Papillion. Here's what they have to say about us!
I shopped many different companies before deciding on Home Matters Construction to complete a basement remodel. I found their attention to detail and business process was the most efficient and cost effective process around. 
I worked with a wonderful planning team prior to any construction, where every detail was worked out. The timeline for the job was clearly mapped out and followed appropriately. The team members are punctual and finished the remodel within the timeframe proposed. 
Follow-up after completion has been outstanding and most importantly, the response I have received from friends and family about our new basement bar has been outstanding.
I was looking for someone to remodel my basement in Papillion. I called several contractors, but Home Matters Construction in Papillion was definitely the obvious choice from the beginning. They were transparent, upfront, and honest. They took the time to walk me through the entire process. 
They gave me clear numbers from the beginning that never changed. The construction process was painless. They shared the schedule with me from the beginning and then updated me along the way with all of the progress. 
The software that they used was great for us to see everything along the way from the estimate to progress pics, to schedule, to payments. I won't waste my time with anyone else in the future. Home Matters will be my only call. HIGHLY RECOMMEND!
Different Finishes You Can Get For Your Basement
Your basement can be whatever you want it to be.
Imagine a place in your home where the kids are calmly doing their homework, or you're reading your new book peacefully. Maybe it's the perfect hangout spot to watch movies with friends on movie night. For some people, it could even double as a workshop to finish long-awaited projects.
Your options are limitless, and all it takes to get this awesome upgrade is a great design!
Increasing your home's living space by adding a bedroom to your basement is an excellent idea, especially as your family grows and needs more room.
An extra bedroom provides a number of benefits, from making it easier to have visitors stay the night, to giving you more space for hosting family gatherings. You may even be able to earn some additional income by renting out the room. Whatever your reason for wanting an extra bedroom, it can certainly pay off in the long run.
A half bathroom and even a small living space can be included in this project.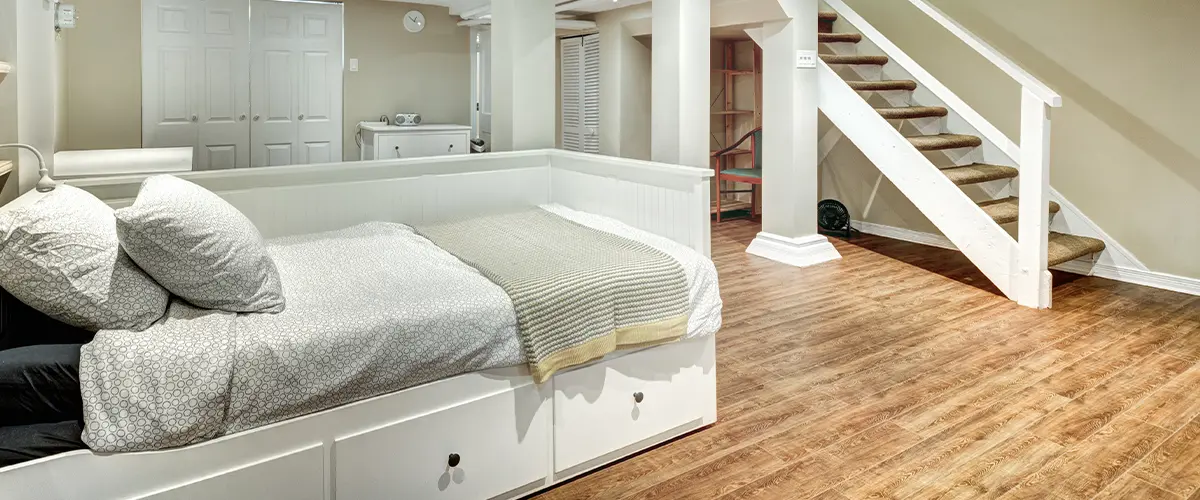 The greatest deterrent to productivity for employees working remotely was always distractions and a lack of concentration. With others coming in and out of the frame during Zoom calls, it became challenging to uphold a sense of professionalism.
Since we've embraced remote work, more of our customers have made the switch to remodeling their basements into home offices or dedicated workspaces – for themselves or their children.
With our fast-paced lifestyles, it's difficult to make time for things like working out. Even if you do have time, going to the gym can become expensive with membership fees and gas prices.
The most efficient method of bettering your wellbeing is by working out in the privacy and reassurance of your home. When you have a gym in your house, you are more likely to stay on track with meeting fitness goals as well as feeling comfortable while doing so.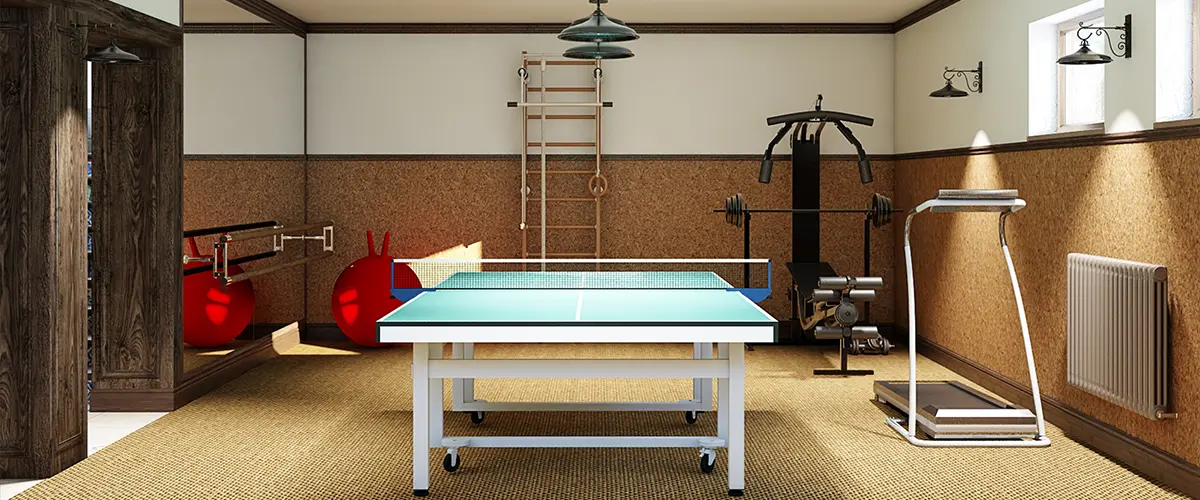 Parents with young children love the idea of having a basement playroom where their kids can explore and play without screens. By making sure the room is safe for them and adding some of their favorite toys, you can create a space they will love.
Not only is this an inexpensive change, but it's also perfect for temporary use since the kids will grow out of it eventually.
If there are no kids in the home, you can make a playroom for yourself. Add in a pool table, a ping-pong table, some chairs, a bar, and a TV, and call your friends over to watch the game!
Other Upgrades You Can Get
Some other upgrades and basement finishes in Papillion, NE that our customers get are:
A Highly-Efficient Process To Get You Going
Our process is designed with your comfort and well-being as top priorities, knowing that this will lead to a better remodeling experience for everyone involved.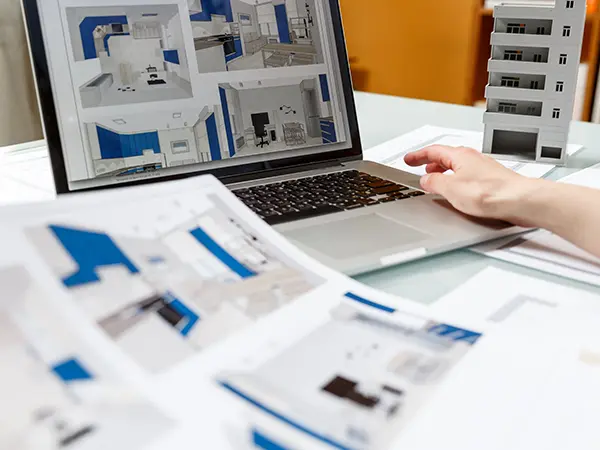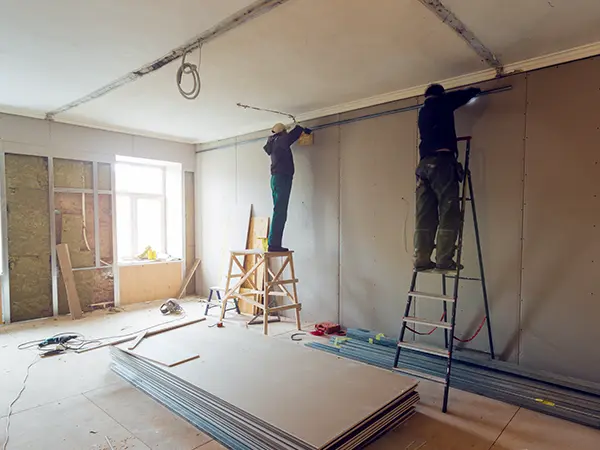 You'll be in full control of everything during the building phase.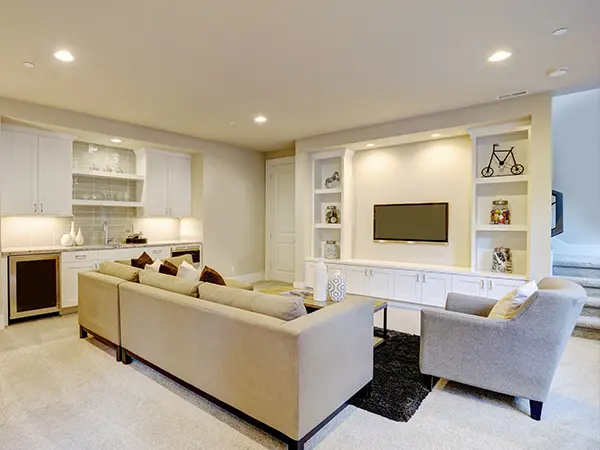 Enjoy your new, transformed basement!
A Pricing Guidelines For Your Basement Remodel In Papillion
This basement remodel in Papillion was a huge project we had. The homeowner wanted to make good use of all the extra space and transform it into a place he'd be proud to show their friends.
It included:
Before
After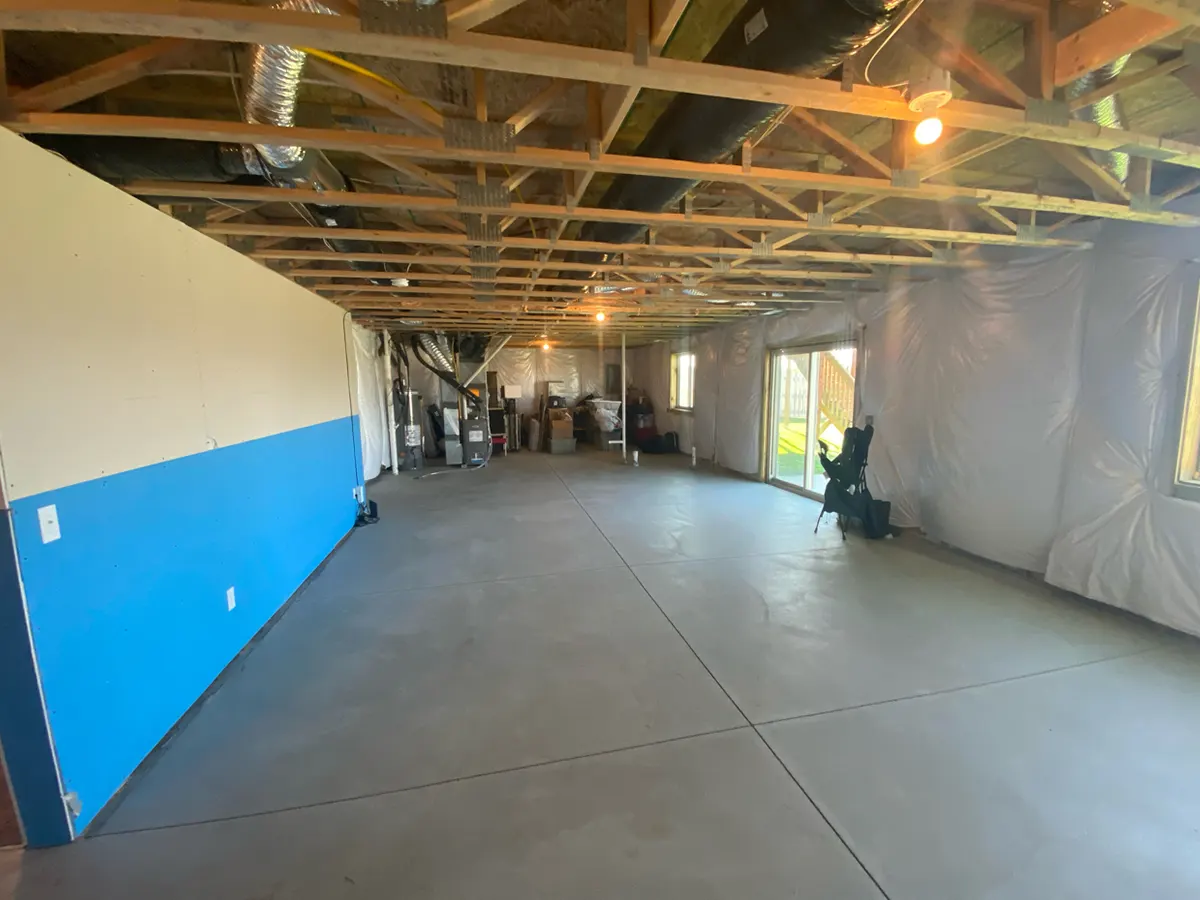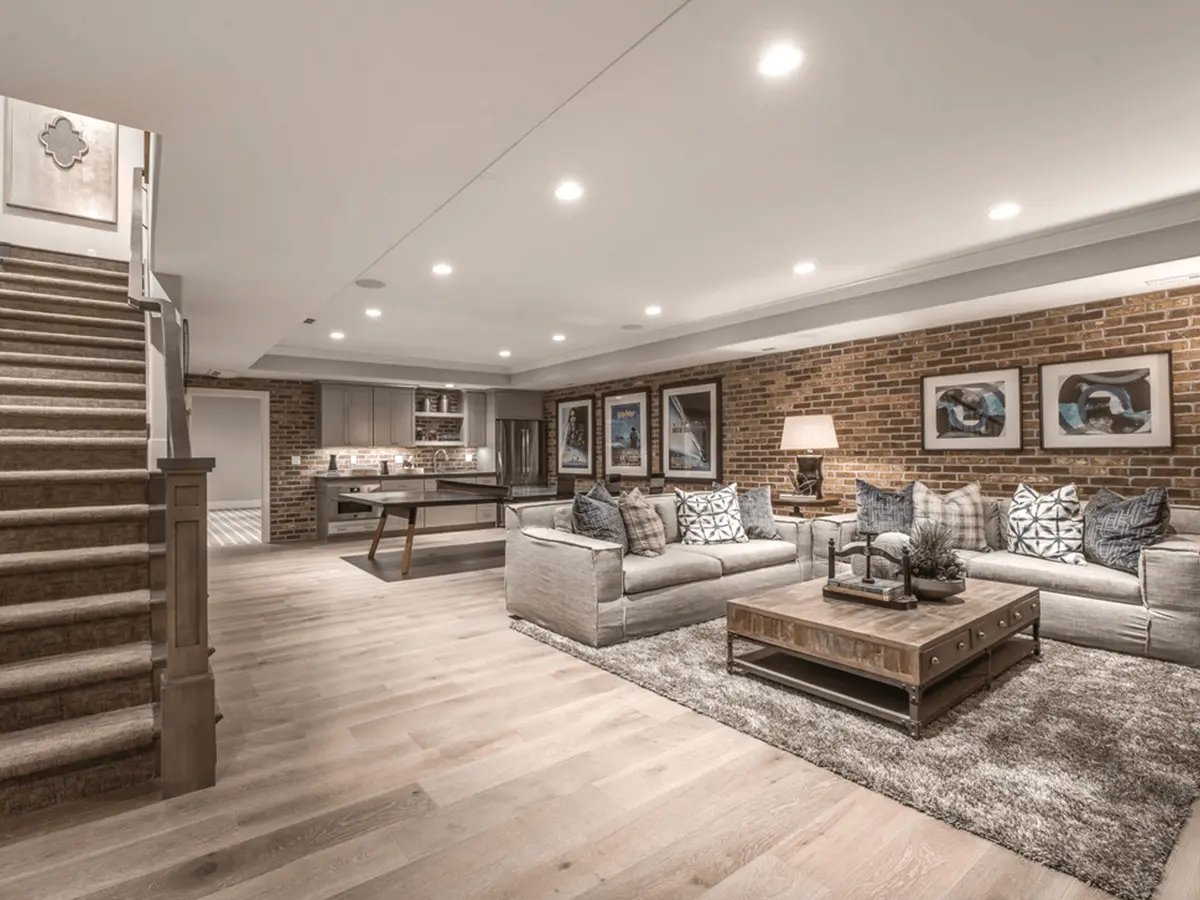 We quoted this basement remodel in Papillion at $79k, where the bathroom was the most expensive item.
Frequently Asked Questions
Depending on the size of your basement and the selections you make, you're looking at a $40k-to-$70k investment for a basement remodel in Papillion. Considering most home additions cost hundreds of thousands of dollars, refinishing or remodeling your basement is an investment that makes sense.
Basement remodeling in Papillion, La Vista, Bellevue, Omaha, Gretna, and typically across Nebraska will require a permit. Rest assured as we'll handle all permitting work for your basement remodel.
At HMC, we complete all basement remodeling projects with our in-house team of craftsmen and we partner with trusted, licensed contractors for specific work such as electrical or plumbing.
Depending on the scope of work, most basement remodels take between 2 and 4 weeks.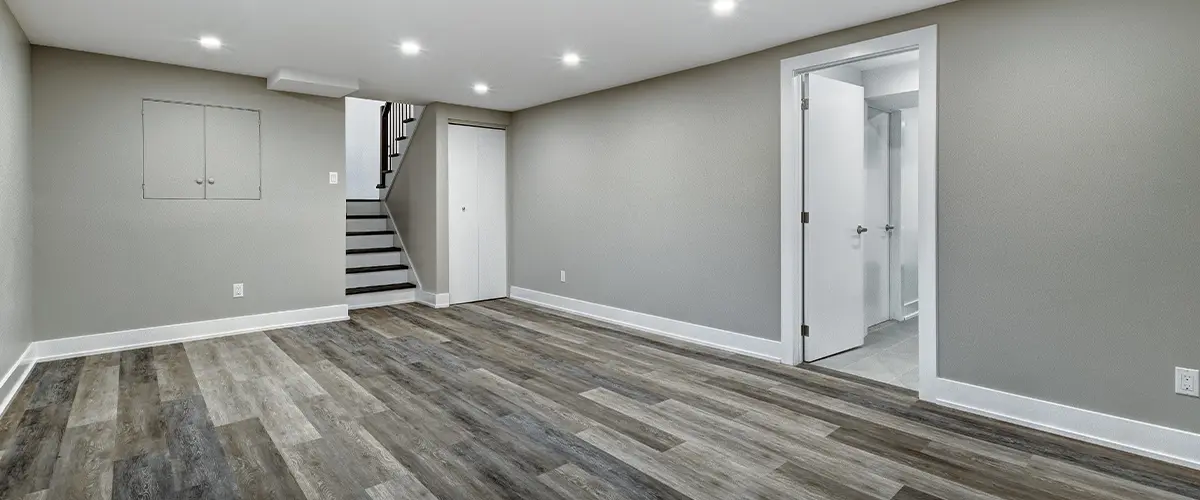 Take Full Advantage Of A Complete Remodeling Service
If you're on the fence about Papillion basement remodeling, now is the time to take action and get started.
Basement remodeling is a tough process, but with Home Matters Construction by your side, we'll help turn your vision into reality. Our top priority is making sure our clients are happy and satisfied with the final product.
With us handling everything, you can rest easy knowing that your project will go off without a hitch.
Work with us in Papillion and get:
Let Your Home Reach Its Full Potential With A Basement Remodel