Basement Remodeling Companies In Papillion, NE
Want to work with a basement contractor that truly cares?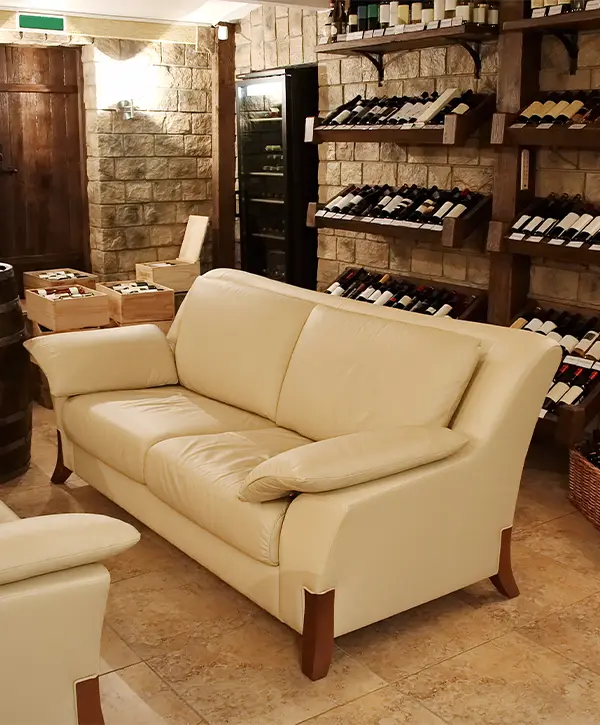 There are countless basement remodeling companies in Papillion, NE, but finding a "good" contractor is no longer enough. You'll want to work with a real professional who brings none of the stress and hassle of remodeling.
With Home Matters Construction, that is now possible! With us, you get a fully functional and safe basement tailored to your changing needs and preferences. We value you, your time, and your investment, which is why we go further than other basement remodeling companies around here.
To make your decision easier, let's look at an unbiased opinion on the best basement remodeling companies in Papillion, NE.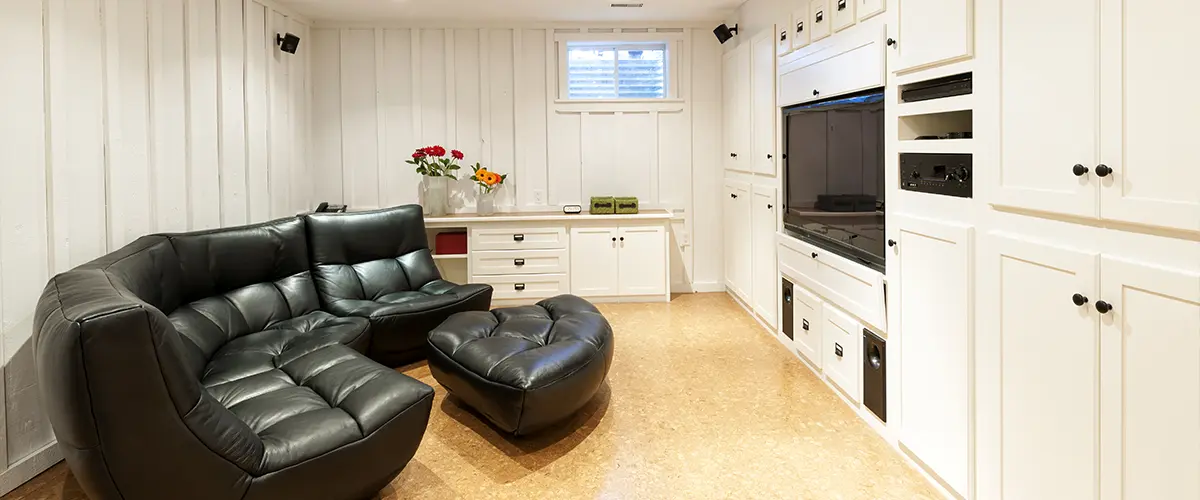 1. Starting With Home Matters Construction
For years, Home Matters Construction has been the premier choice for Papillion homeowners searching for unparalleled basement remodeling services.
We are remodelers with a single aim – to offer you outstanding service and an exceptional renovation that will make you come back for more. You're guaranteed to enjoy some of the best craftsmanship in Papillion!
At the top of our list is enabling you to reach your desired outcome, and we'll do whatever it takes to make sure that you are thrilled with your new, fully-functional basement.
Get A Complete And High-Quality Basement Remodeling Service
We know the state of the basement remodeling market in Papillion, and we're not happy with it. HMC aims to raise the remodeling standard around here, and we'll go the extra mile to ensure homeowners like you receive top-quality service at a reasonable price.
Your Neighbors In Papillion Love Their Newly Remododeled Basements!
Your Papillion neighbors have already improved their homes with the best remodeling company around! Upgrade your home and enjoy the benefits!
I shopped many different companies before deciding on Home Matters Construction to complete a basement remodel. I found their attention to detail and business process was the most efficient and cost effective process around. 
I worked with a wonderful planning team prior to any construction, where every detail was worked out. The timeline for the job was clearly mapped out and followed appropriately. The team members are punctual and finished the remodel within the timeframe proposed. 
Follow-up after completion has been outstanding and most importantly, the response I have received from friends and family about our new basement bar has been outstanding.
I was looking for someone to remodel my basement in Papillion. I called several contractors, but Home Matters Construction in Papillion was definitely the obvious choice from the beginning. They were transparent, upfront, and honest. They took the time to walk me through the entire process. 
They gave me clear numbers from the beginning that never changed. The construction process was painless. They shared the schedule with me from the beginning and then updated me along the way with all of the progress. 
The software that they used was great for us to see everything along the way from the estimate to progress pics, to schedule, to payments. I won't waste my time with anyone else in the future. Home Matters will be my only call. HIGHLY RECOMMEND!
Siefken Contracting is a family-owned business that takes pride in treating every job as if it were their own.
They operate in downtown Papillion and have been in business for more than 12 years. They bring years of combined industry experience to every customer interaction, which is why they became the favorite contractor of many homeowners around here.
They offer a wide selection of services, but they're focused on roofing, gutters, siding, and storm damage. For your basement remodeling needs, they might not be the best option.
Dave and the crew were amazing throughout the entire process of my new roof and siding. Highly recommend.
3. Mr. Handyman of Papillion
Mr. Handyman of Papillion is proud to be many homeowner's contractor for small and quick home and commercial fix-it jobs. While they're not specialized on basements in particular, they can handle all sorts of handy projects, such as carpentry, painting, remodeling, and installation.
The company is run by Dan Johnson, a proud US Navy Veteran and former government employee, so he knows his way around paperwork and bureaucracy.
For your basement, they can install new flooring, repair and finishing of the drywall, install new lighting fixtures, assembly new furniture, install a dimmer or timer, build custom shelving and bookcases, and much more.
Had handyman replace a piece of drywall in the bathroom ceiling that had been damaged from a roof leak. Also, do a spackling patch that requires texturing. Both of these jobs will require another visit to finish up. So far, work has gone well and the handyman has been very professional.
4. DeLoa & Sons Construction Inc.
DeLoa & Sons Construction Inc. is a general contractor successfully serving the Omaha Metro Area for over 20 years.
They have years of expertise in designing, building, and remodeling residential and commercial spaces. The business takes pride in being a one-stop shop with multiple crews to bring your project to life, no matter where in Omaha.
They do kitchen, bathroom, and basement remodels, and they build decks, porches, and additions. They're also remodeling commercial spaces with immense precision and quality.
We had DeLoa Construction help us with a bathroom remodeling project. They did a fantastic job and completed the project in a timely manner.
5. Wetzel Properties and Remodeling
Wetzel Properties and Remodeling, LLC was born when Tom began working in restoration in 2011.
He developed a passion for working with his hands and high-quality craftsmanship. Since then, he remodeled numerous bathrooms and kitchens, finished several basements, and completed many other projects.
He loves talking about his great-great grandfather's bungalow, a building from 1924, on which he worked to restore to its former glory without changing its vibe.
Wetzel Properties and Remodeling does tiling, drywall installations, trim and casing, cabinetry installations, framing, and more.
Very pleased with our kitchen remodel. As a contractor, Tom was detail-oriented trustworthy. Estimates were accurate. Workmanship was impeccable. We've already hired him back for another project. Highly recommend.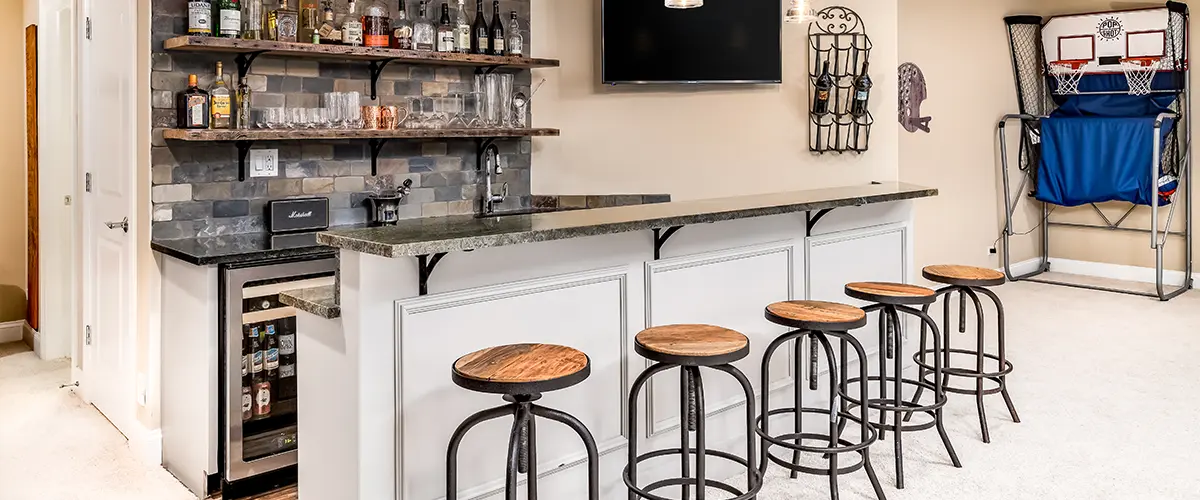 All of the basement remodeling companies that we mentioned excel at something. Some might build very beautiful decks, others might be the best in building custom cabinets, while others will have exactly what you need.
At Home Matters Construction, we dedicate most of our time to basement remodeling projects, as these projects are what we first fell in love with. Needless to say, with us, you'll get a world-class basement remodeling project that focuses on your changing needs, wants, and preferences.
The process you'll go through is designed to ensure your comfort and peace of mind, and to help us get the job done fast and responsibly, without bringing any stress or difficulty whatsoever!
If you're intent on transforming your basement into something truly special, let's join forces and make it happen!
Let A New Basement Improve The Quality Of Your Life