The Best Bathroom Remodel In Omaha, NE
Don't let anything stopping you from getting your well-deserved bathroom upgrade!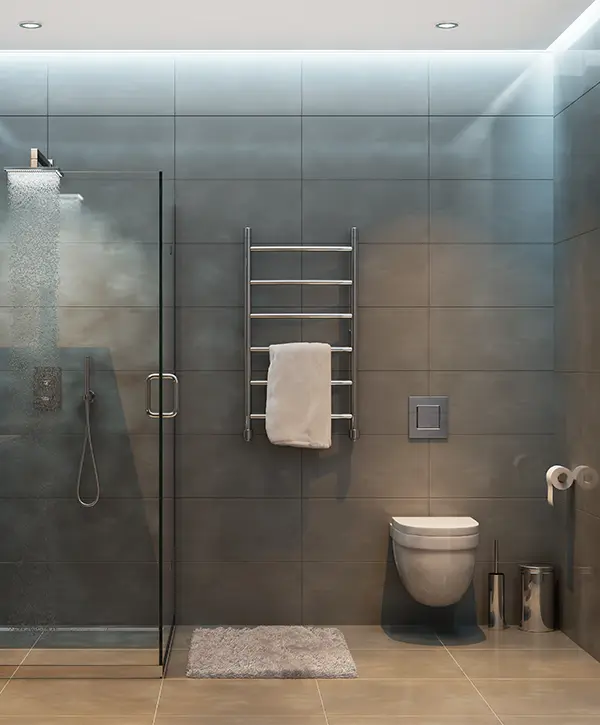 If you're in the market for a high-quality bathroom remodel in Omaha, you just hit the jackpot!
Home Matters Construction is the go-to bathroom expert for Omaha's homeowners looking to fall back in love with their baths and increase their comfort.
We offer the highest standard of excellence you've ever seen in the remodeling industry in Omaha, so you'll get a complete and premium service from top to bottom.
You and your family are our main priorities, and we'll go above and beyond to see you fully satisfied with how your bathroom will turn out!
Get Comfort, Functionality, And Aesthetics With An Excellent Bathroom Remodel
Because the industry's standards don't do you justice, we made it our mission to overdeliver on our promises and offer you the best contracting experience.
Enjoy A Stress-Free Bathroom Remodel
You and your family can rest assured that throughout the entire process, we work to reduce strain and alleviate any worries you may have about your bathroom remodel. We prioritize making it a low-pressure project with minimal stress so everyone involved is comfortable.
You'll be in total control of your project, from initial quotes and timeframes to the final walkthrough and cleaning of the site.
In a nutshell, you're getting a complete remodeling service where we'll take care of everything. You'll get the most cost-effective options for your upgrades, constant hand-holding through the selection of materials, and regular follow-ups to ensure you're satisfied with our work.
Homeowners In Omaha Love Their New Bathrooms
We're proud to have helped hundreds of homeowners make their dream a reality. With us, you'll get a new bathroom tailored to your changing needs, just like your neighbors did.
Home Matters managed the complete renovation of our master bath (gut and replace) and updating of 2 other bathrooms. 
Their communication was very good, the quality of the work was excellent, all of the subcontractors that were in our home were very professional. 
It was a lot of work and the project took longer than the initial estimates, but we are completely satisfied with the outcome.
HMC are great! They were upfront and professional about all aspects of our basement remodel. 
They worked with us on our floor plan and gave insight about better ways to install or incorporate certain parts of the build. They gave us exactly what we wanted and everything was held to a very high standard. 
Everyone was professional, respectful, and great at their job! I wish I could give more stars on this review. 5+ stars in our book.
Type Of Upgrades And Materials
When it comes to materials and upgrades you can get, the list is endless. And with so many options to choose from, decision fatigue can start to set in. That's why our knowledgeable bathroom designers are here for you!
Let's look at some upgrades our customers are getting:
Upgrading your vanity and cabinets is a fast and simple way to uplift a dated bathroom.
Stock and semi-custom cabinets are great if you have enough space to work with. These come with standard sizes and limited finishes, so matching your existing layout with them might be tough.
Our licensed carpenters can take care of your cabinetry if you want something unique and specific to your needs.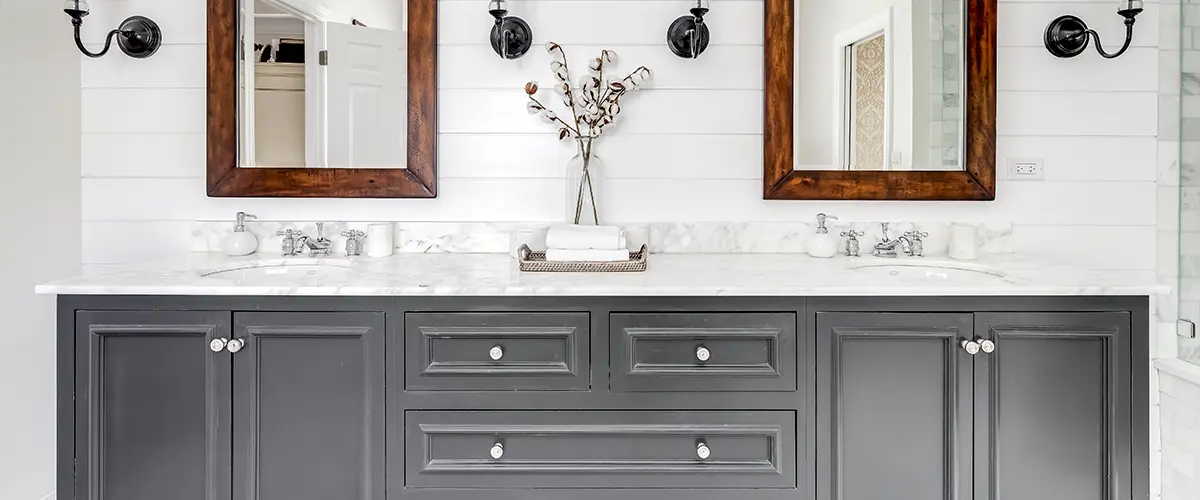 Many of our Omaha customers focus on transforming their fiberglass pan shower into a curbless entry shower. Add a matching tile floor and concealed drains to increase your space's functionality and aesthetics.
Another favorite upgrade is freestanding soaking tubs. These allow absolute relaxation and increase floor space.
Older homeowners are moving away from Jacuzzis and step-down tubs because they create entry and exit hazards as we age.
Flooring is where most bathroom issues begin. Mold, unpleasant smells, or leaks are common problems that hide under older bathroom floorings.
Tile remains an excellent option for your bathroom flooring. Porcelain and ceramic are common options, but luxury vinyl tile (LVT) is slowly gaining ground. Due to their easy installation and low maintenance, luxury vinyl planks are also growing in popularity.
The moisture and frequent water spills from bathrooms make hardwood floors a poor flooring material choice. Wood will absorb water and will start to rot sooner than anticipated.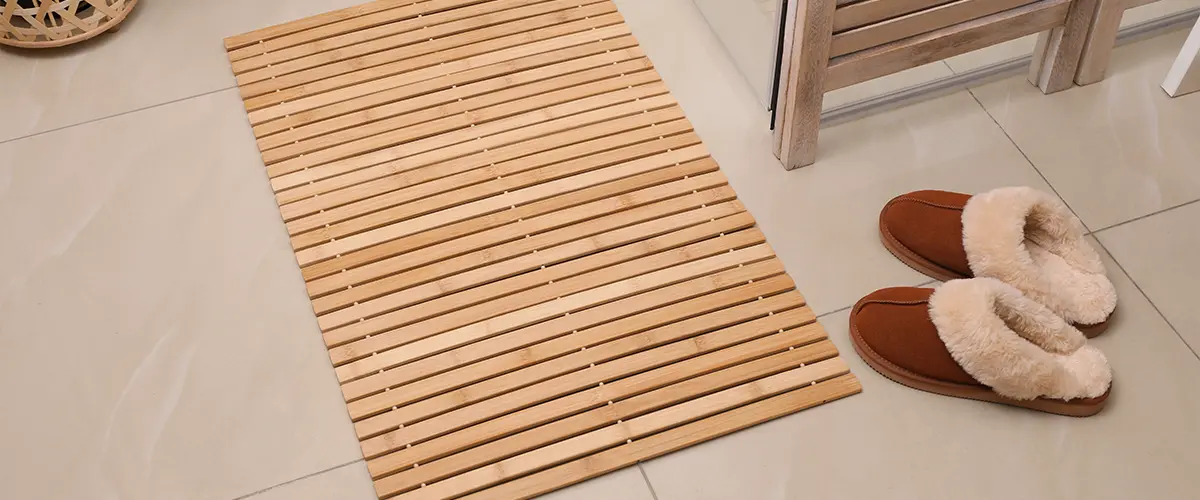 If you're changing a vanity, you'll want to ensure it matches the countertop. Most often, homeowners will change their counter as well.
At Home Matters Construction, we recommend quartz counters. This material is durable, resistant to stains, scratches, or chips, and requires little to no maintenance.
Quartz is more affordable than other counter materials like granite, marble, or stainless steel and provides even better functionality. Wood countertops are not ideal for your bathroom, where water spills and moisture will cause wood to rot.
Sinks and toilets are other popular upgrades that will uplift your bathroom without undertaking a full-scale remodel.
If you want to create a focal point with your new sink, go for a bowl sink made of copper, marble, or pure granite. For undermount sinks, find a material that resembles the look of your counter to create a seamless look in your bath.
Other standard options for your sink are pedestal sinks, wall-mounted sinks, and drop-in sinks.
Porcelain, ceramic, or acrylic are the most common option for toilets.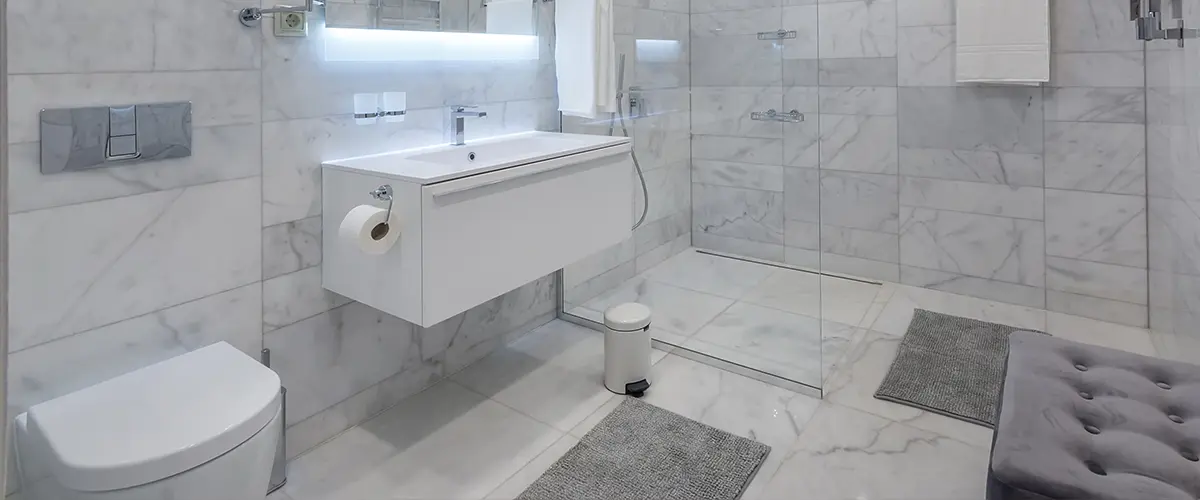 Other Bathroom Upgrades You Can Get
If you want your bathroom to go beyond the basic level of comfort, there are several extra features you can get to ensure that. Other bathroom upgrades include, but are not limited to:
A Process Focused On Your Comfort
We've designed this process with your comfort and well-being in mind. It aims to alleviate the stress and anxieties that remodeling jobs usually bring, and its goal is to keep you relaxed and in control at all times.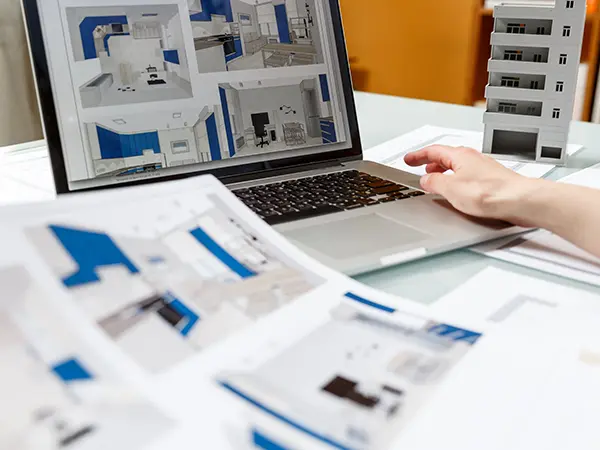 Let's discuss your upcoming project.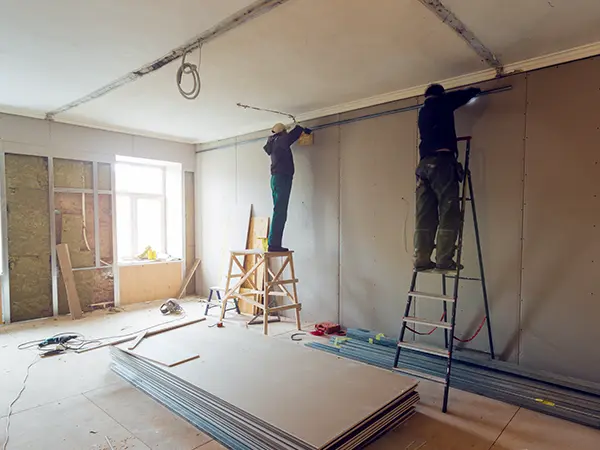 We'll build your new bathroom according to your needs.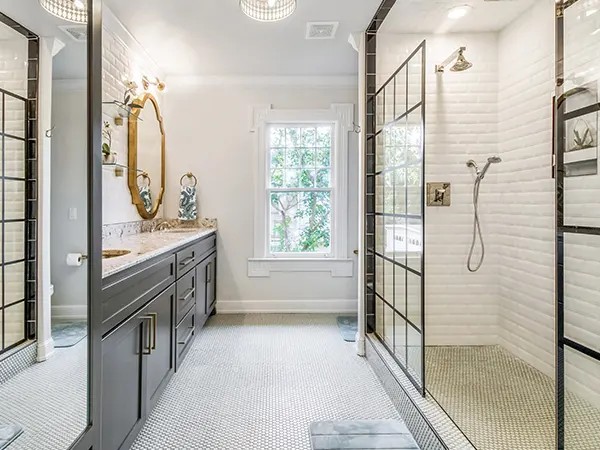 Show off your new bathroom to your friends!
Frequently Asked Questions
As with any remodeling project, your selections will greatly influence the price. A freestanding tub will cost more than a regular tub, and your choice of tile and flooring also matters a lot.
The cost for your bathroom remodel can also increase if you're looking to do any type of layout reconfiguration, as that will involve moving the plumbing system around.
On average, the cost of a bathroom remodel in Papillion, La Vista, or Omaha starts at $15k – $20k.
Depending on the scope of work, a bathroom remodel in Papillion, La Vista, Bellevue, and typically across Nebraska can require a permit. At HMC, we handle all permitting work for your bathroom remodel so that you can enjoy a relaxing process.
The size of your bathroom and the extent of the remodel are important time indicators, but usually, we can complete most bathroom remodels in 3 to 4 weeks.
Before you go into choosing the look of your bathroom, it's important to take care of any plumbing and electrical issues. Once these are cleared, your tile and vanity choice will bring the biggest impact, followed by smaller details such as the sink, the lights, the mirror, and other accessories.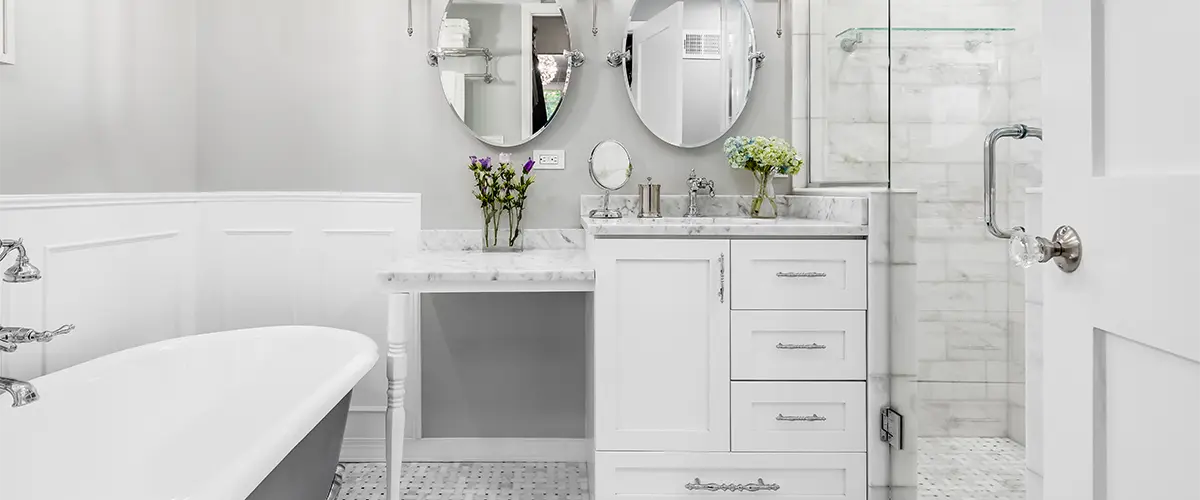 Take Full Advantage Of A Premium Bathroom Remodel In Omaha!
Like any homeowner, you're probably looking for a high-quality remodel at an affordable price. At Home Matters Construction, we're offering some of the best solutions to keep your remodel within your budget.
We'll work with any budget you have in mind, without sacrificing anything from the quality of your new bath.
We'll adapt to your needs and transform your bath into what you've always dreamed of having. But besides this, you'll also enjoy the perks of working with a contractor that sets the bar higher than others.
You'll get:
Your New Bathroom Awaits You!