The Best Basement Remodeling In Omaha, NE
Thinking about a basement remodel? Talk with one of our pros today!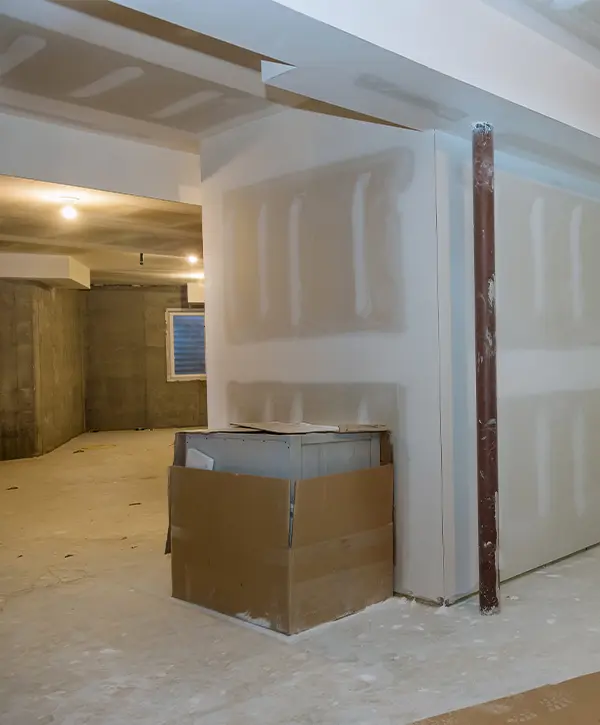 Are you planning a basement remodel in Omaha, NE? Make sure the investment pays off with Home Matters Construction's exceptional services!
Get the best chance to increase the value of your home and gain a high-quality finished basement with one of the most sought-after basement contractors in Omaha, NE.
Home Matters Construction specializes in making your basement vision a reality.
Let our pros go the extra mile to make sure you're absolutely delighted with your finished space, and fully enjoy the excitement of getting your basement remodeled!
A Remodeling Service That Keeps On Giving
Home Matters Construction Omaha is devoted to creating a remodel that will outshine your expectations and stand apart from the competition. With extensive knowledge, we are experts at crafting stunning yet practical basements.
Make The Most Out Of Your Home With A New Basement
It's a shame that so many homeowners leave their basements unattended, especially when knowing this space has so much potential. Basements offer so many opportunities for your lifestyle, and the last thing you want to do is neglect them.
In our opinion, a basement remodel in Omaha is probably the best investment you can make.
You get more living square footage, a home priced higher on the market, a better quality of life, and the pride that you have a beautiful basement that works at its full capacity.
Your Neighbors In Omaha Love Their New Basements!
If your Omaha neighbors can do it, so can you! Upgrade to the best and make your basement one of the most remarkable rooms in your house. This is what our customers in Omaha say after we worked on their basement remodels!
I shopped many different companies before deciding on Home Matters Construction to complete a basement remodel. I found their attention to detail and business process was the most efficient and cost effective process around. 
I worked with a wonderful planning team prior to any construction, where every detail was worked out. The timeline for the job was clearly mapped out and followed appropriately. The team members are punctual and finished the remodel within the timeframe proposed. 
Follow-up after completion has been outstanding and most importantly, the response I have received from friends and family about our new basement bar has been outstanding.
I was looking for someone to remodel my basement in Papillion. I called several contractors, but Home Matters Construction in Papillion was definitely the obvious choice from the beginning. They were transparent, upfront, and honest. They took the time to walk me through the entire process. 
They gave me clear numbers from the beginning that never changed. The construction process was painless. They shared the schedule with me from the beginning and then updated me along the way with all of the progress. 
The software that they used was great for us to see everything along the way from the estimate to progress pics, to schedule, to payments. I won't waste my time with anyone else in the future. Home Matters will be my only call. HIGHLY RECOMMEND!
Different Finishes You Can Get For Your Basement
Basements are such great investments because you can transform them into anything you can think of. From a guest bedroom to a home theatre, we can help your basement reach its true potential and make your life so much better!
These are just some of the upgrades you can do to your basement.
As your family increases, you may soon discover that you don't have enough room for everyone. This is especially true as children grow and desire their own space.
Transforming your basement into an additional bedroom is the perfect way to counter this issue. Not only will you have more living square footage, but it also means you can rent it out so you gain some extra income.
A guest bedroom in the basement usually includes a bedroom, a small living room, and a small bathroom.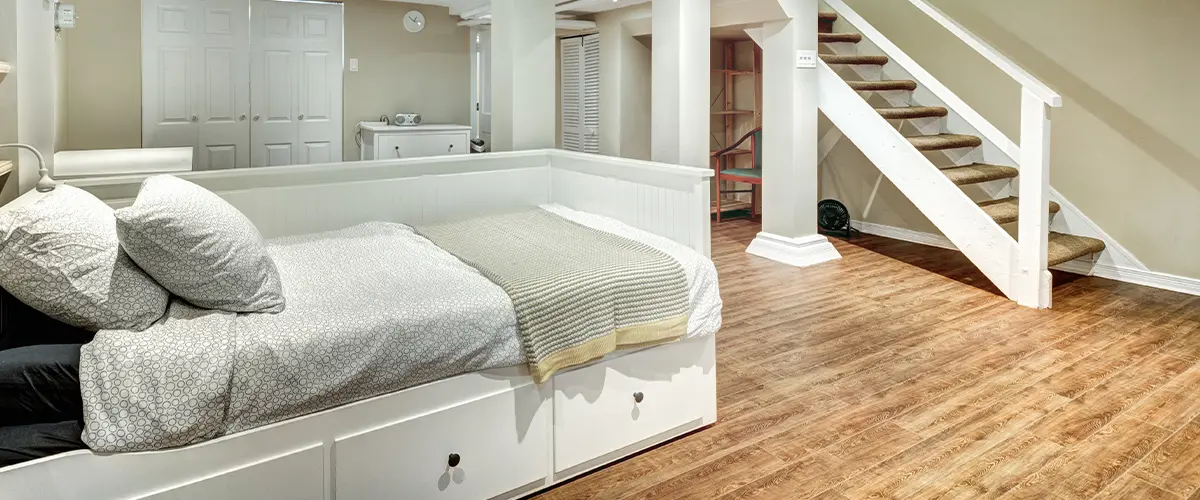 One of the most pervasive problems people faced while working remotely was that they weren't able to carve out a personal, tranquil space for themselves. With continuous interruptions and background noises during video conferences, it became harder than ever to stay focused on their work.
Homeowners are now taking advantage of their basements, turning them into study or work areas for themselves and/or their children. We're seeing a steady growth in the number of customers doing this type of renovation.
This remodeling project is simple and straightforward! All that's required to complete it is the basement renovation itself, followed by merely adding a couch and desk – then you'll be good to go!
With our active lives and busy schedules, it can be difficult to make time for our own self-care – like going to the gym. Not only that, but membership fees are pricey and getting there takes up your valuable free minutes.
Homeowners who are seeking to attain and maintain physical fitness can often find the perfect solution in creating a gym within their own homes.
Taking time for yourself, finding comfort in your workout space, and avoiding judgment from others; these needs should be central when we take care of our well-being.
With an in-house gym, you have the ability to work out on your own terms without any distractions or anxieties.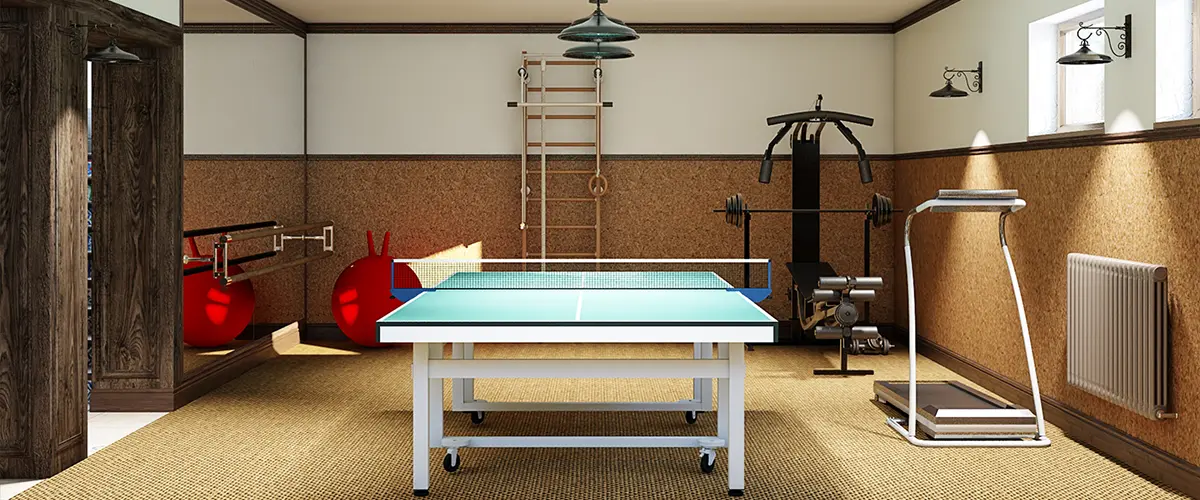 Homeowners have come to us in droves looking to transform their basements into an oasis of relaxation and entertainment.
Just try and picture it – you can watch the game, share a cold beer with your friends, and revel in good company, all in one room!
The great thing about this redesign is that it won't require much effort. A tiny bathroom should definitely be included in the basement, so you don't have to keep trekking up and down the stairs throughout the night. Aside from that, add a pool table, TV set, comfortable couch, and bar top – all these combined ensure your friends will experience some of the best parties ever!
Other Upgrades You Can Get
Here are some other upgrades you can get for your basement remodel in Omaha, NE!
A Highly-Efficient Basement Remodeling Process
We know a basement remodel in Omaha can become a challenge. Because of that, we developed a simple process that's focused on making your experience quick, easy, and transparent.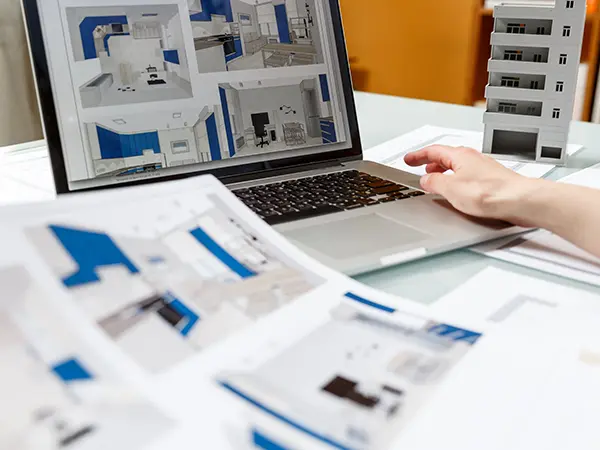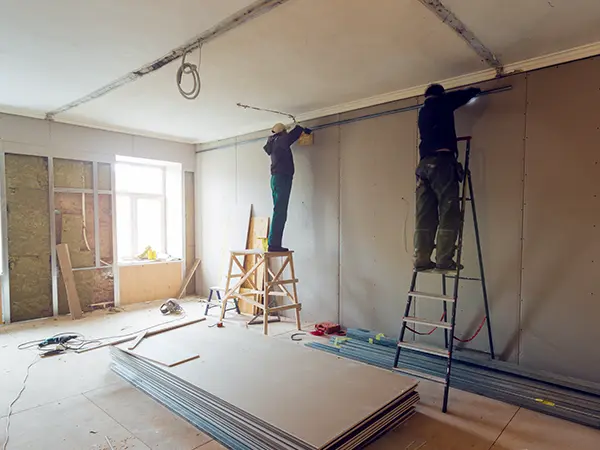 You'll be in full control of everything during the building phase.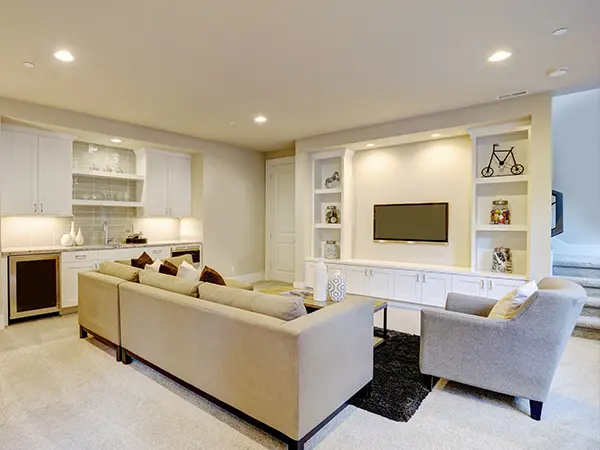 Enjoy your new, transformed basement!
Frequently Asked Questions
Depending on your desired end-result, remodeling a basement could cost anywhere from $45,000 to a whopping $115,000. Should you desire an office space for instance; that would be much less expensive than transforming the basement into an in-home gym due to all of the required equipment needed.
When it comes to remodeling your basement in Omaha, the time frame can vary from three to six weeks depending on the size of your project. If you're simply looking for some minor updates such as wall framing upgrades, painting, and lighting installations – these tasks will be relatively quick compared to a more extensive renovation including brand new flooring, enhanced electricity systems, an additional half bathroom, and kitchenette installation.
Here at Home Matters Construction, we seek only the most reliable tradesmen who possess expertise in remodeling and the building codes in Nebraska.
We understand that your home is important to you and are sincerely grateful for having gained your trust by working on it. With our highly-skilled craftsmen, nothing but true excellence will be provided until each of our customers find complete satisfaction with their new basement renovation.
A Basement Remodel Tailored To Your Lifestyle
If you've continually been putting off the renovation of your basement in Omaha, now is the perfect moment to make a definitive decision and start right away.
HMC offers a service that will rid you of the basement remodel stressors other contractors bring. Here, we focus on giving you exactly what you need and want so that your end vision is accomplished successfully.
You'll go through a process tailored to your needs and concerns and get a high-quality remodel that'll be worth every dollar!
With your local experts from Home Matters Construction Omaha, you'll also get:
Improve Your Day-To-Day Life With A New Basement