The Best Bathroom Remodeling In Millard, NE
Ready to get your bathroom to the next level of comfort? Your chance to remodel is here!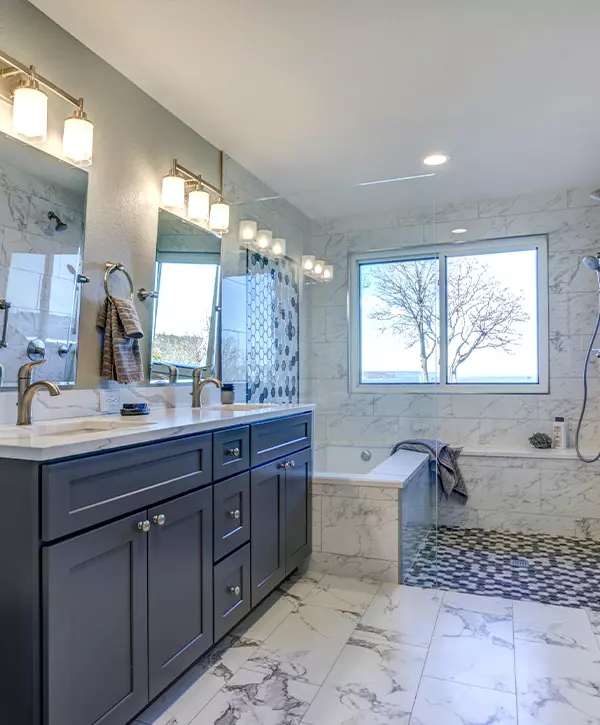 According to Cost vs. Value Reports, a mid-range bath remodel can generate a return on investment of over 55%. And besides getting a lot of your money back, having a new bathroom is sure to elevate your day-to-day life and make morning routines so much better.
With Home Matters Construction, you're ensured a spectacular bathroom remodel and a seamless remodeling process that brings none of the stress or hassle. In short, we're offering you a complete remodeling service that takes care of everything!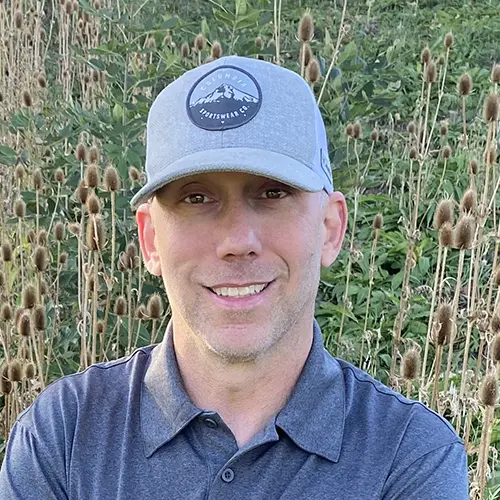 Tony Inzauro – Owner of Home Matters Construction
Hi, I'm Tony Inzauro, owner of Home Matters Construction. My personal approach and honest communication will give you the confidence and peace of mind to finally start your project and enjoy watching your home become your personal heaven. I love working on basements because of all that unused potential, and I made it my mission to help homeowners tap into that huge benefit!
A Bathroom Remodeling Service That Brings More To The Table
We surpass industry standards to provide an outstanding service that's customized to your changing needs. Get a top-tier contractor on your upcoming project and take full advantage of all the perks of working with pros!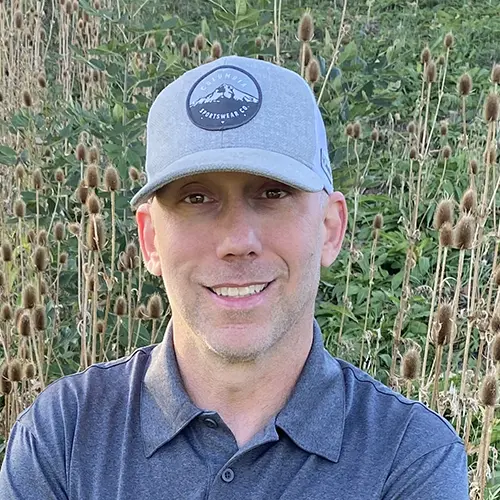 Ready to elevate the comfort and functionality of your bathroom? Get a free pricing quote by filling out a quick form or reach out to us directly at (402) 661-0910 to discuss your bathroom remodeling needs in Millard, NE.
Your Neighbors Loved Working With Professionals
Discover why countless satisfied customers have entrusted their home improvement projects to our dedicated team of experts. Here's what people say about working with HMC.
Tony and the crew are VERY professional. Our remodeling project faced the inevitable covid shipping delays. They anticipated and worked around the supply problems, kept the project on schedule.
They kept us in the loop, answered all our questions, and did some really great work. The kitchen lights installation just blew us away! The new floors are simply a delight. We absolutely recommend Home Matters. Tony and his crew will have our next project!
Home Matters managed the complete renovation of our master bath (gut and replace) and updating of 2 other bathrooms.
Their communication was very good, the quality of the work was excellent, all of the subcontractors that were in our home were very professional. It was a lot of work and the project took longer than the initial estimates, but we are completely satisfied with the outcome.
Bathroom Remodeling Cost Millard, NE
On average, the cost a bathroom remodel in Millard, Papillion, La Vista, or Omaha starts at $15k – $20k and can go all the way up to $80k+ for a large, high-end bathroom remodel.
| Type of Bathroom Remodel | Average Cost* |
| --- | --- |
| Half-Bath Remodel | $2,000 - $5,000 |
| Full Bath Remodel | $6,000 - $15,000 |
| Primary Bath Remodel | $10,000 - $30,000 |
| Wet Room Installation | $11,000 - $18,000 |
| Luxury Bath Remodel | $50,000+ |
Before
After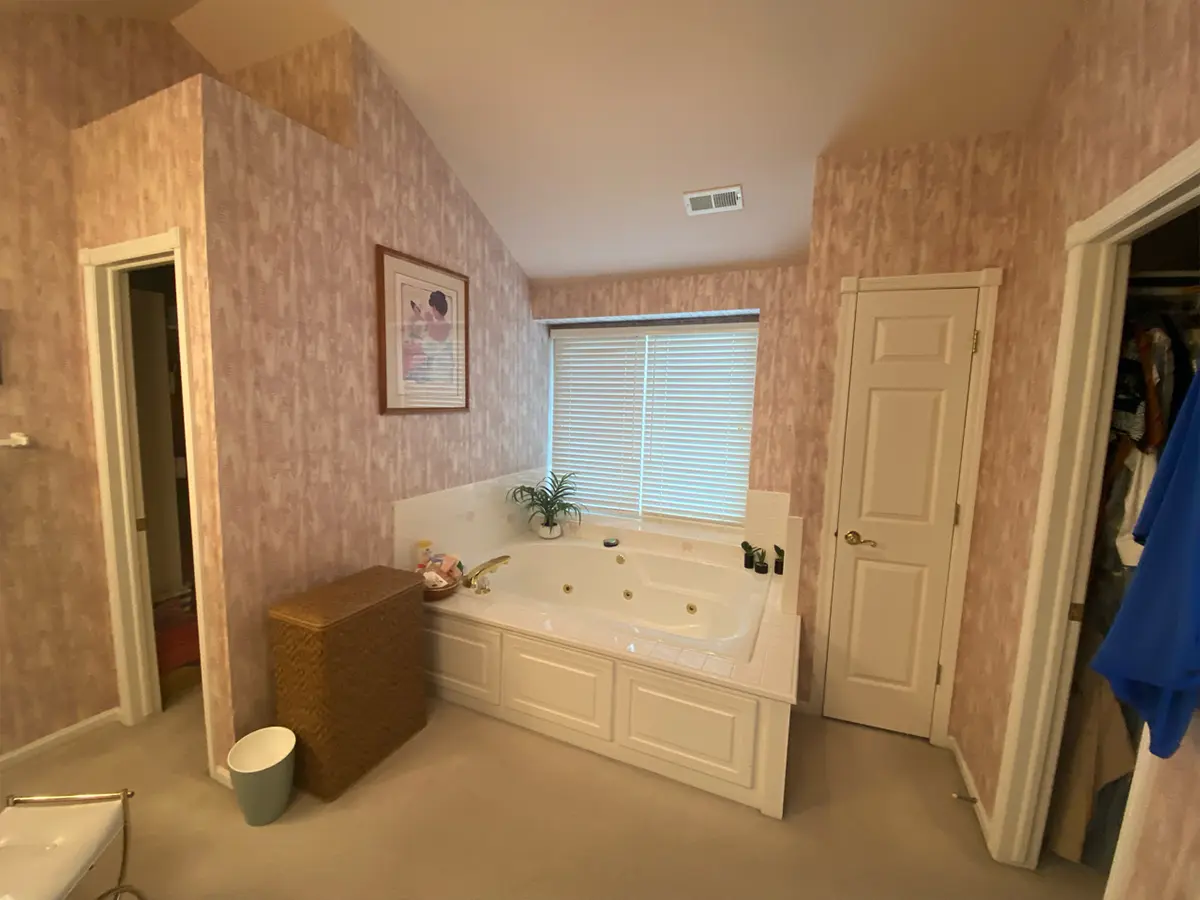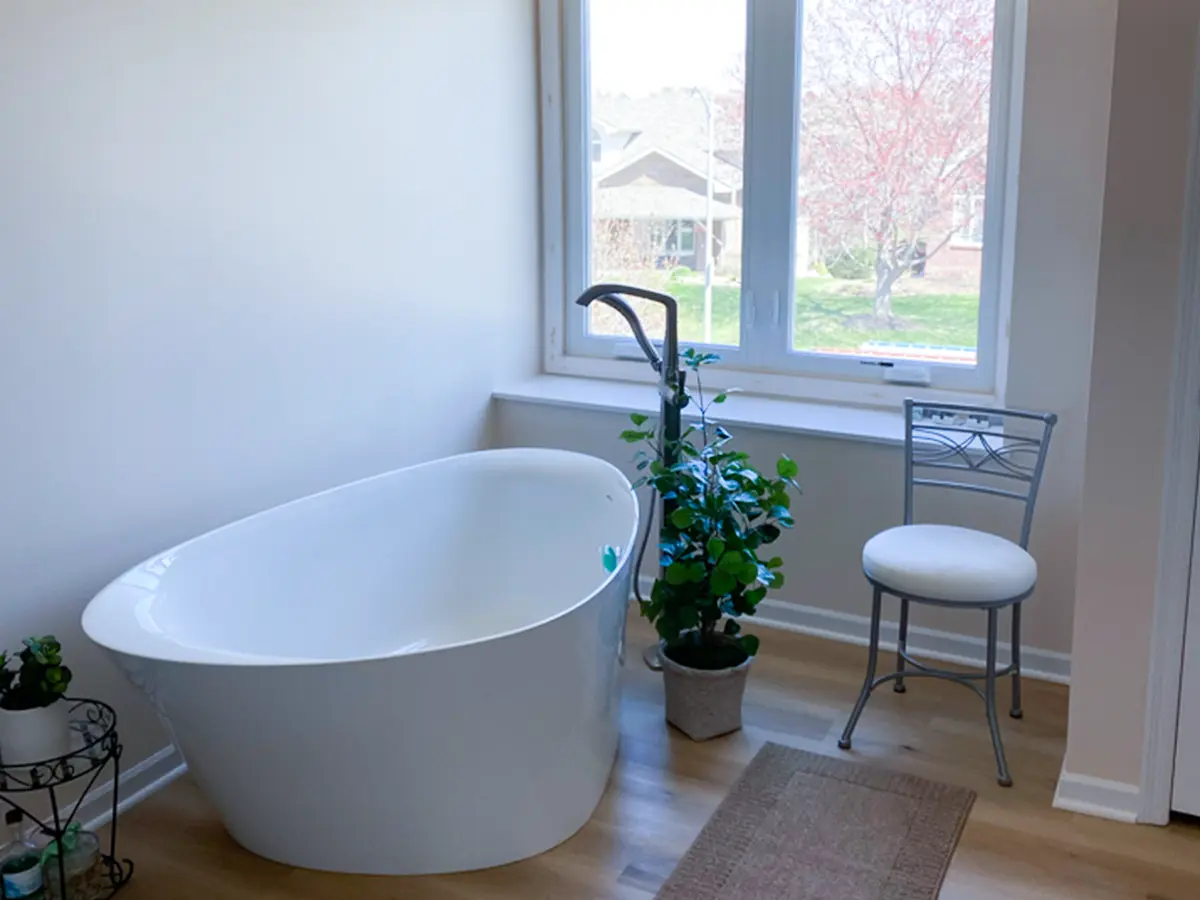 Bathroom Remodel In Millard
The project was quoted at $55k, where the most expensive item were the plumbing fixtures.
| Labor Type | Cost |
| --- | --- |
| Shower | $450 - 10,000 |
| Countertops | $900 - $13,000 |
| Cabinets | $1,200 - $13,000 |
| Toilet | $150 - $800 |
| Vanity | $300 - $4,000 |
| Flooring | $800 - $7,000 |
| Paint | $350 - $750 |
| Plumbing | $750 - $16,000 |
* Please note that the prices above are estimates and exclude labor fees. For an accurate pricing quote for your bathroom, give us a call! In just a few minutes, we can provide a quick estimate and valuable project insights.
You're Covered On All Sides
We are committed to providing you with reassurance and a streamlined process that ensures a beautiful experience – one where you don't have to worry about anything!
Regardless of your budget, we can work together to discover a solution that works for you. Our bathroom remodels usually start at around $20k, and for larger projects, you can benefit from some amazing financing plans.
The prompt realization of your vision continues to be our utmost priority. Rest assured that your new bathroom will be completed in accordance with our initial plan, with our unwavering commitment to making it happen.
Bathroom Remodeling - Now Easier Than Ever
Our goal is to ensure your complete comfort and provide dedicated attention throughout the entire bathroom remodeling process.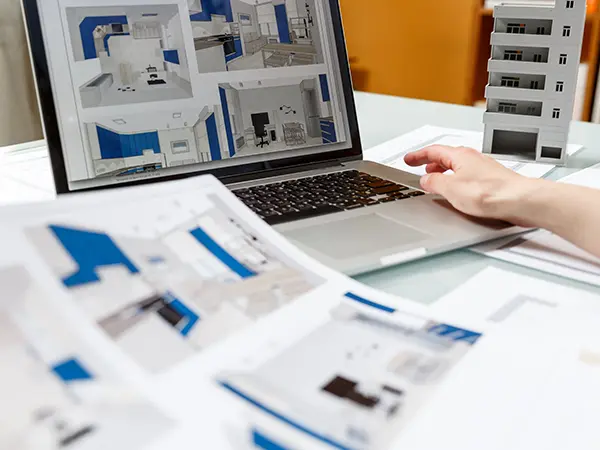 Let's partner up to design a bathroom that matches your vision and needs!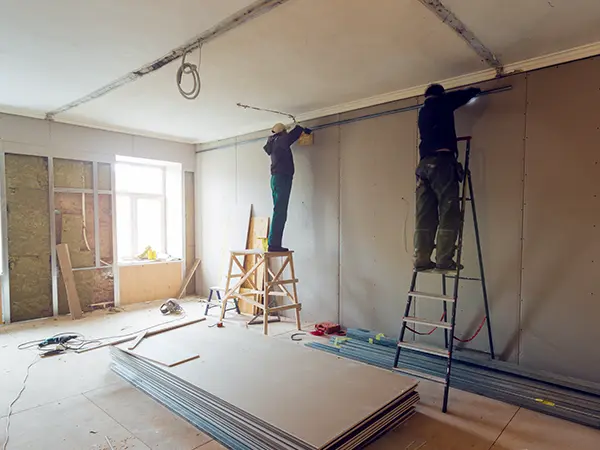 As soon as you've decided on the materials, we get to work according to our schedule.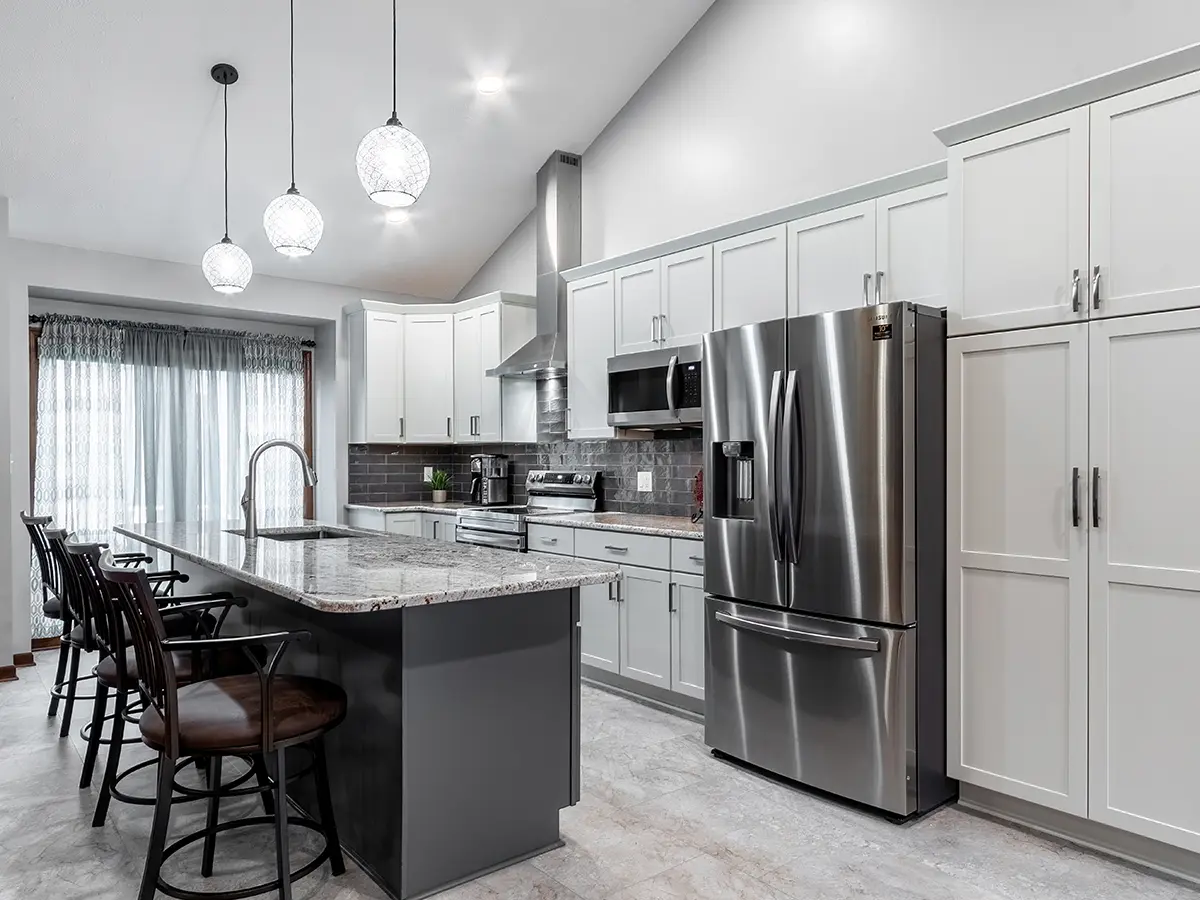 Your new bathroom is ready! Enjoy more comfort and functionality in your new oasis!
Frequently Asked Questions
When it comes to remodeling projects, your choices play a significant role in determining the price. Opting for a freestanding tub, for example, will incur higher costs compared to a regular tub. Additionally, your selection of tiles and flooring also has a substantial impact.
Moreover, if you plan on reconfiguring the layout of your bathroom, such as moving plumbing fixtures, be prepared for an increase in remodeling costs.
If you're planning a bathroom remodel in Millard, Papillion, La Vista, Bellevue, or other Nebraska areas, it's necessary to obtain a permit for the project's scope. At HMC, we handle all the permitting requirements for your bathroom remodel, ensuring a seamless and hassle-free process for you to savor.
Although it is not mandatory to vacate your premises during bathroom renovations, we highly recommend considering alternative accommodations, especially if this is your only bathroom. Throughout the renovation process, we take diligent precautions to ensure that any dust or debris remains confined to the worksite and does not infiltrate the rest of your home. Our team maintains a clean and organized work area, leaving your house fully functional and undisturbed. Rest assured that we prioritize the quality of our work and strive to deliver exceptional results while minimizing any inconvenience to you.
The size of your bathroom and the extent of the remodel are important time indicators, but usually, we can complete most bathroom remodels in 3 to 4 weeks.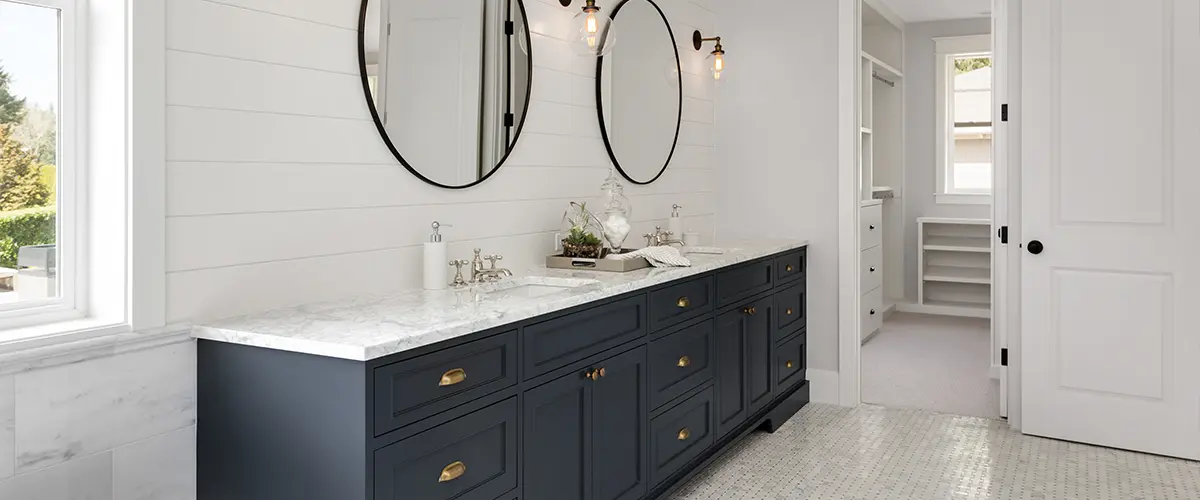 Get A High-Quality Bathroom Remodel From A Local Pro
Your bathroom is an integral part of your home, providing a sanctuary to prepare for the day and unwind after a hectic one. It should offer comfort, ample space, cleanliness, and functionality while showcasing your unique style. At Home Matters Construction, we are dedicated to making bathroom remodeling projects stress-free and hassle-free. Our goal is to deliver a new bathroom that not only aligns with your budget and timeline but also enhances your overall well-being.
If you're ready to work with a professional on your new bathroom, give us a ring at (402) 661-0910 or request your pricing estimate from the button below!
Tony and Mike at Home Matters Construction are hands down the best in town. Not to mention, they restored my faith in contractors. I had several bad experience before working with them. They are professional, have pride in their work and make sure you are completely satisfied with the work. Not to mention they are pretty hilarious.
They put in luxury vinyl plank floors in my kitchen, bathrooms. They look absolutely amazing. I highly recommend them and will work with them on future projects.
HMC are great! They were upfront and professional about all aspects of our basement remodel. They worked with us on our floor plan and gave insight about better ways to install or incorporate certain parts of the build.
They gave us exactly what we wanted and everything was held to a very high standard. Everyone was professional, respectful, and very great at their job! I wish I could give more stars on this review. 5+ stars in our book.
Millard, Nebraska, is a vibrant community nestled in the metro area of Omaha. It's known for its rich history, family-friendly environment, and a plethora of noteworthy landmarks. One such landmark is the historic Millard Plaza, where one can find a variety of local businesses and eateries that showcase the town's unique character. Millard is also home to the Zorinsky Lake Park, an expansive recreational area equipped with trails, picnic spots, and a beautiful lake that offers residents and visitors alike a place to unwind and enjoy the natural beauty of Nebraska.