The Best Kitchen Remodel In La Vista, NE
Looking to get the best kitchen remodel in La Vista? This is it!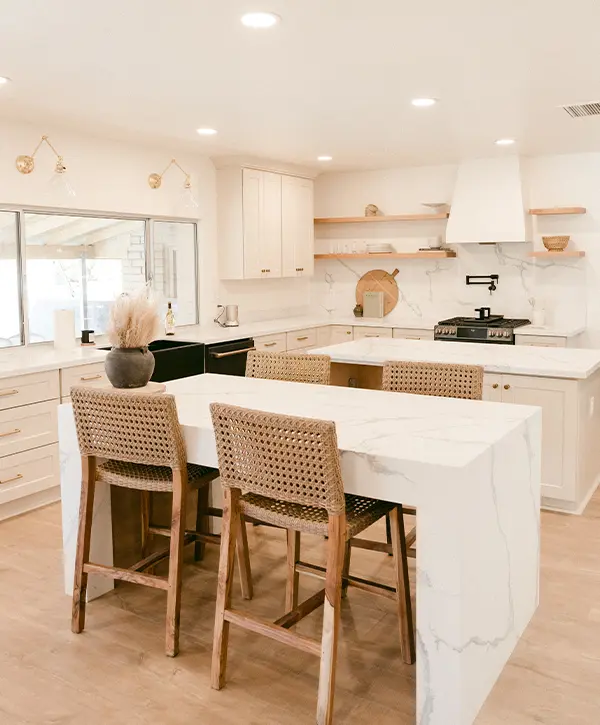 At Home Matters Construction, we treat La Vista as our second home.
We love this place and its homeowners, and we're doing everything we can to help them fall in love with their kitchens again.
We've been delivering superior kitchen remodels in La Vista since 2016. We've come to be the go-to kitchen remodeler for people looking to get a new, high-quality kitchen with an honest, reliable, and fair contractor.
You'll get our utmost attention and dedication, and you'll enjoy a team of workers that would go above and beyond to see you fully satisfied with your new space!
A Kitchen Remodel Like No Other In La Vista
We're planning to change the remodeling industry for the better! We're setting a new standard of excellence – one that other contractors in La Vista and all over Nebraska will have a hard time matching.
With us, you'll get more than any other contractor has to offer!
Get Your Hands On The Best Kitchen Remodel In La Vista!
From shoddy and unreliable contractors to remodels done with no sense of responsibility, we've seen them all!
At HMC, our mission is to make your kitchen remodel flow smoothly. For you, this means no hidden fees, no extra costs, and no cutting corners. We're taking our craftsmanship seriously, so we're all in for your project's success because it's what defines us.
You'll go through a quick and intuitive remodeling process that aims to keep you in the loop at all stages of the project. You'll be informed enough to call the shots, and you'll witness every single dollar you spend transform into an investment that'll pay off every time you enter your kitchen.
La Vista Homeowners Love Their New Kitchens!
Our past customers are in love with their new kitchens and the quality they received. We not only get the job done quickly and efficiently, but we're making sure you're enjoying every second of your remodel. Check out what other homeowners say about working with us!
We had a wall removed between our kitchen and dining room and they did a wonderful job! 
They were open and honest about everything and were very organized. They did a great job cleaning up after themselves too! 
We will definitely use them for other projects!
Tony and his crew were great – they remodeled our kitchen. 
The craftsmanship was awesome. High attention to detail. Very polite, just the type of dudes you'd prefer to have working in your house. 
Tony was up front about everything, no hidden costs or weird surprises. I'd trust these guys to do just about anything.
Type Of Upgrades And Materials
Kitchen remodeling can be tough when it comes to choosing what to upgrade, what materials to use, and what extra features to spend money on.
With Home Matters Construction, you can take full advantage of our designers and architects and see what your space can look like before you spend a single dollar!
For now, let's see the most popular upgrades.
New kitchen cabinets are a must in kitchen remodels. These can improve the storage space in your new kitchen, but they'll also set a whole new vibe and make your kitchen seem brand new.
Kitchen cabinets can be:
According to KCMA, the best ROI comes from semi-custom cabinets.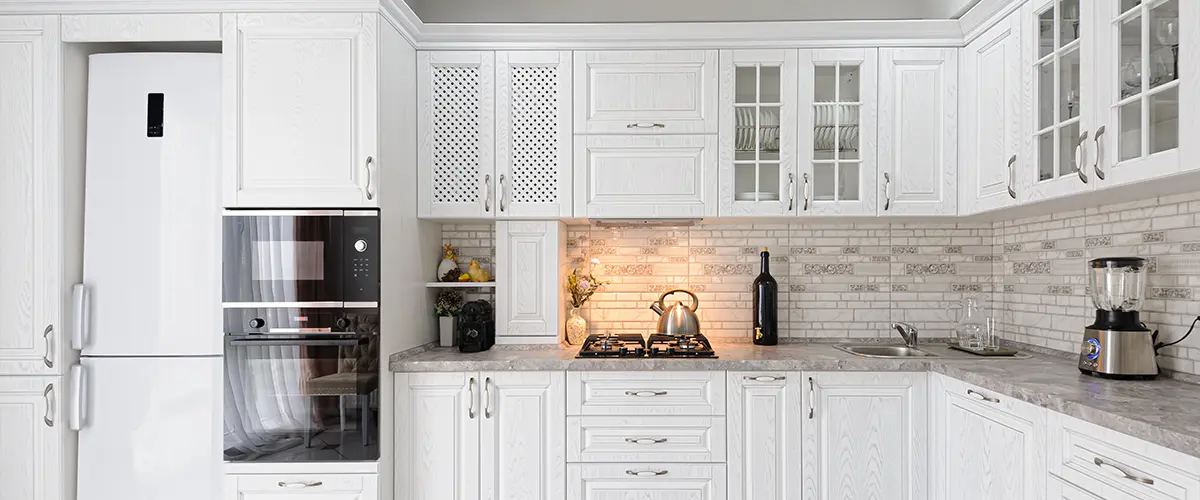 Wooden floors in the kitchen were once very popular, but now they are much less common because they aren't as functional. They're harder to keep clean and often get water damage or stained easily.
Instead, luxury vinyl planks or tiles are a great alternative to wood floors, as they are easy to clean and less prone to damage. Besides, luxury vinyl planks can mimic every wood species out there, but without all the downsides.
Porcelain or ceramic tile is also incredibly great options, but they are more expensive and require more effort to install. Their installation cost is also higher, but so is their ROI.
If you have a hardwood floor installed already and you want to keep it for several more years, your best option would be to restore it. Resurfacing and refinishing the wood will guarantee a much better-looking kitchen floor.
Keeping the old countertops is rarely a good idea, especially if they're laminate counters. This material is simply not suited for a room that sees plenty of water spills. Besides, old countertops are unlikely to fit the new cabinets that you've got.
To make a real upgrade, quartz countertops are some of the most functional countertop materials you can get. They're durable, strong, and resistant, and quality quartz has no veins, helping you to create a consistent look on your counter space.
The second best option would be a granite countertop, followed by the expensive yet mesmerizing marble.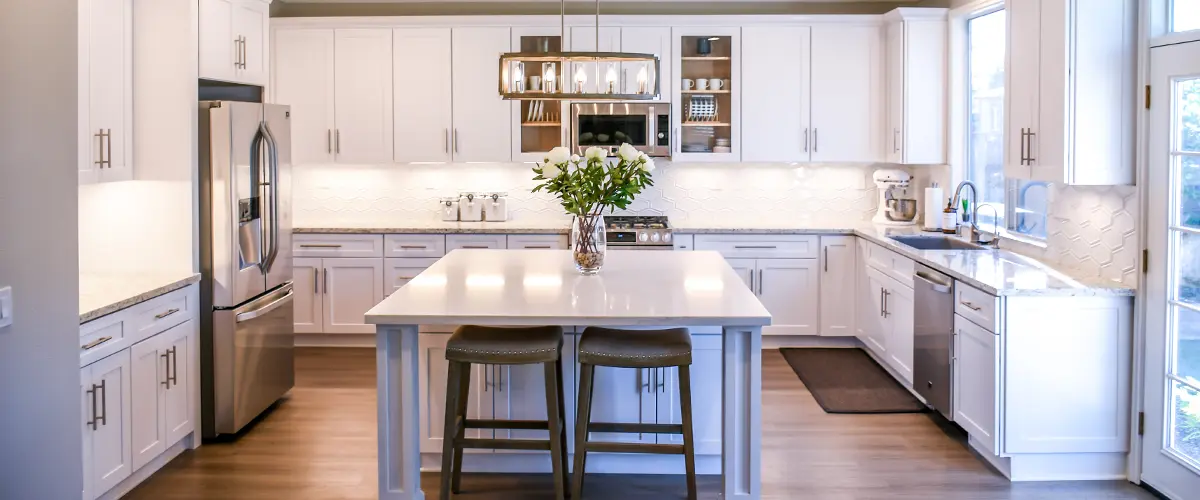 Drop-in sinks and undermount sinks are the favorite options among our customers.
A lot of people love an extendable sink faucet because you can move it around and select your preferred water pressure.
If you're considering keeping your old appliances, be aware that they may not operate as efficiently as newer models. More recent devices are designed to use less energy, which may save you money on your electricity bill.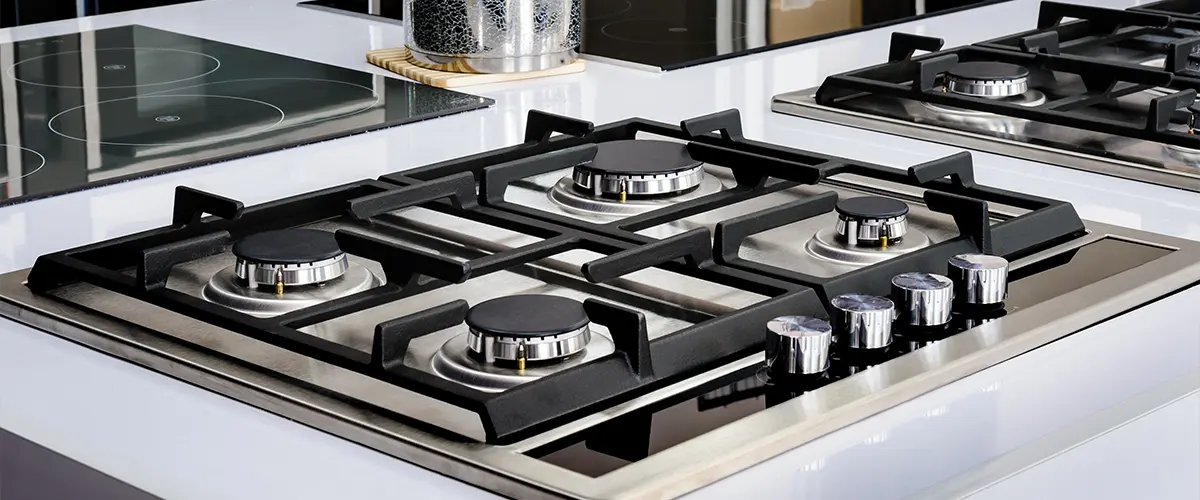 Other Upgrades You Can Get
Some other upgrades and kitchen finishes in La Vista, NE that our customers get are:
A Kitchen Remodeler That Puts You First
Redesign your dream kitchen with our efficient and easy-to-use remodeling process. You'll be in charge of every aspect of the project, ensuring that you end up with exactly what you want!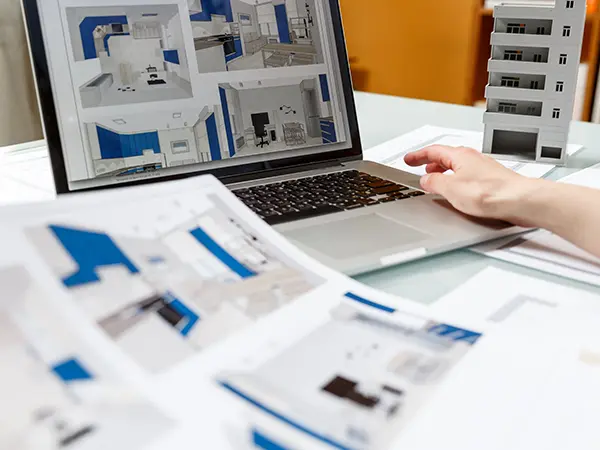 Get in touch with us, and let's discuss your project!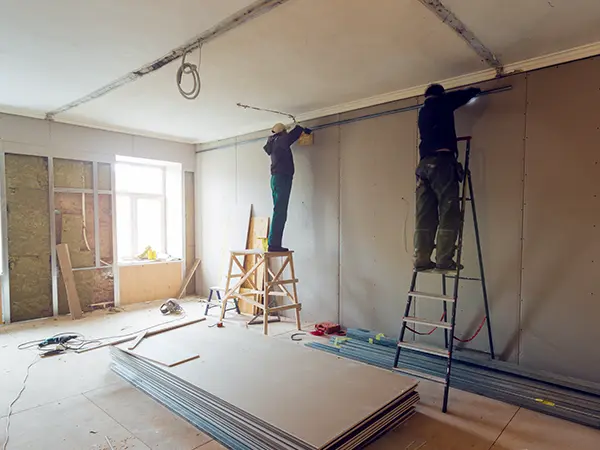 Sit back, relax, and enjoy seeing your kitchen take shape.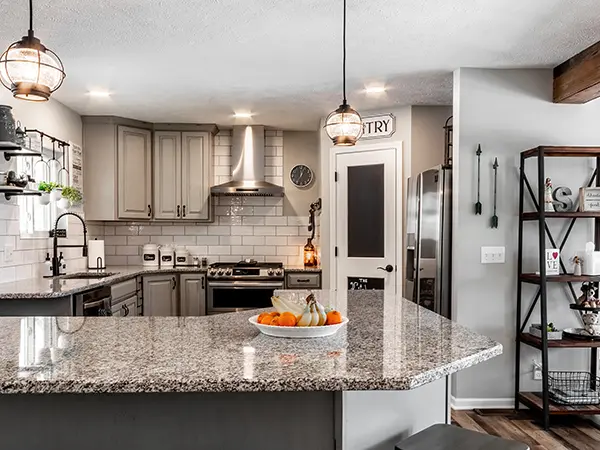 Start creating new memories in your new kitchen!
Frequently Asked Questions
A kitchen remodel in La Vista and generally across Nebraska start at around $40-45k. Depending on the size of your kitchen, cabinet selection, appliances, and any layout reconfiguration, you can expect to pay up to $90k for a medium to large kitchen remodel.
If electrical or plumbing work is being done, or if you're adding or removing a wall, your kitchen remodel in La Vista, or anywhere in Nebraska, for that matter, will require a permit. 
Depending on the specifics of your project, we'll prepare the paperwork needed and take care of permitting on your behalf.
Usually, the most expensive part of a kitchen remodel will be the cabinets, along with countertops and appliances. Depending on your design and selections, you can expect to pay at least 35% on the cabinets and countertops alone.
A kitchen remodel takes between 4 and 6 weeks depending on material and vendor supply and the size of your space.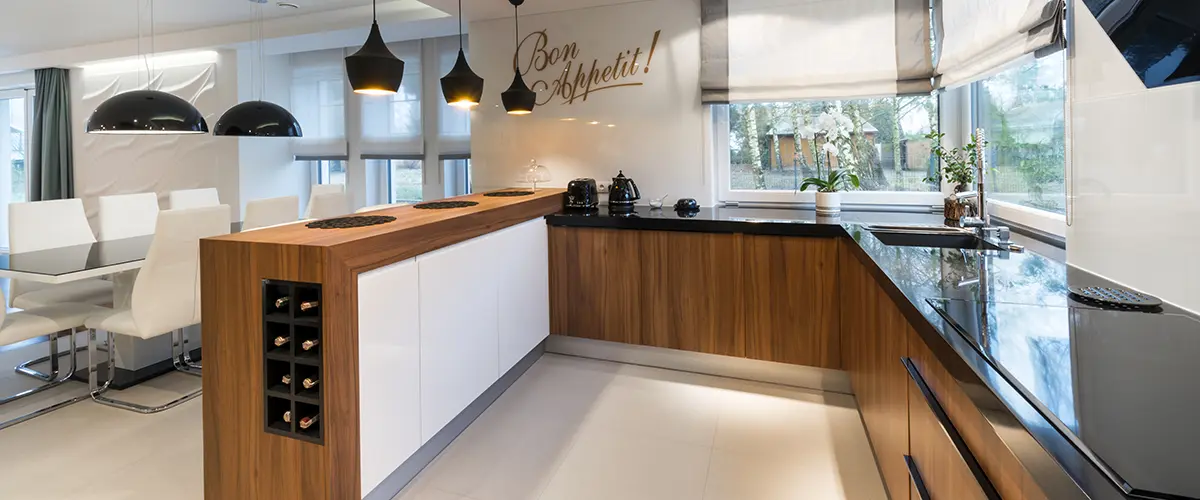 Time To Get Your Well-Deserved Kitchen Remodel!
If you've been thinking about a kitchen remodel for quite some time now, but there's something missing, this is the sign you need to start!
Here at Home Matters Construction, we're dedicated to helping you achieve your dream kitchen with a memorable experience that you'll be eager to share with all your friends.
We're making sure you'll enjoy every moment of your remodel, and you'll come back for more!
Get ready to experience:
Take The Final Step Toward A Well-Deserved Upgrade