The Best Basement Remodel In La Vista, NE
Thinking about a basement remodel? Talk with one of our pros today!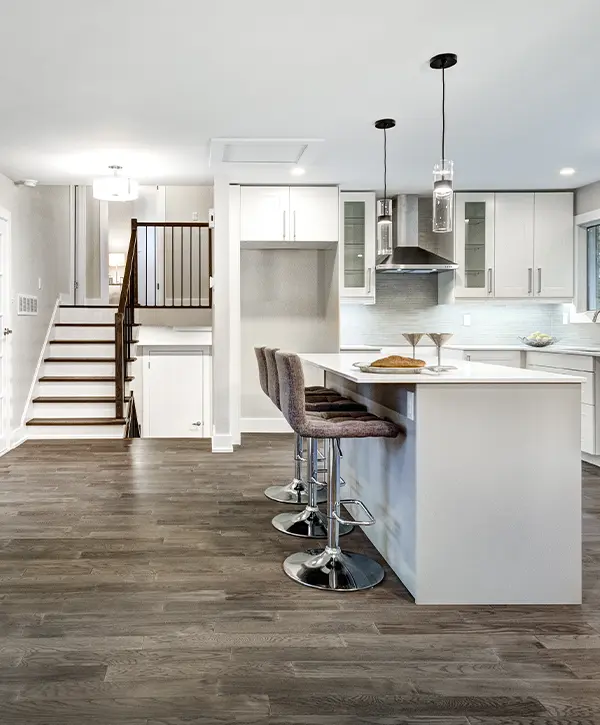 Thinking about starting a basement remodel in La Vista, NE? Ensure you're making an investment with Home Matters Construction!
A successful basement remodel means more living square footage, increased property value, and the opportunity to create a completely new space that you can use in dozens of different ways.
Home Matters Construction is here to help your basement achieve its true potential and transform it into a livable space that'll make your home feel more like yours.
We'll help you achieve all these goals, and more!
A Remodel That Brings With It Extra Perks
Our mission at Home Matters Construction La Vista is to give you a remodel that no one else in the industry offers. We're bringing with us a lifetime of experience and insights into creating fully functional and amazing basements.
Boost Your Home's Value With A Premium Basement Remodeling In La Vista, NE
Homeowners tend to overlook their basements for a rather long time, forgetting that this space has so much potential. In fact, older basements will be a reason for potential home buyers to negotiate for a smaller price.
Therefore, remodeling this space is going to be a great investment that will raise the value of your home on the market, but will also bring immeasurable value to your life.
You'll design and create a completely new space that'll serve any of your changing needs. You can get a man cave to kick back with your friends, a playroom to keep the little ones away from their phones, or a beautiful bedroom that'll convince your guests to stay the night.
La Vista Homeowners Love Their Finished Basements!
Your neighbors in La Vista already transformed their basements into one of the best rooms in their entire home. Don't let anything stop you and get your well-deserved upgrade too!
I shopped many different companies before deciding on Home Matters Construction to complete a basement remodel. I found their attention to detail and business process was the most efficient and cost effective process around. 
I worked with a wonderful planning team prior to any construction, where every detail was worked out. The timeline for the job was clearly mapped out and followed appropriately. The team members are punctual and finished the remodel within the timeframe proposed. 
Follow-up after completion has been outstanding and most importantly, the response I have received from friends and family about our new basement bar has been outstanding.
I was looking for someone to remodel my basement in Papillion. I called several contractors, but Home Matters Construction in Papillion was definitely the obvious choice from the beginning. They were transparent, upfront, and honest. They took the time to walk me through the entire process. 
They gave me clear numbers from the beginning that never changed. The construction process was painless. They shared the schedule with me from the beginning and then updated me along the way with all of the progress. 
The software that they used was great for us to see everything along the way from the estimate to progress pics, to schedule, to payments. I won't waste my time with anyone else in the future. Home Matters will be my only call. HIGHLY RECOMMEND!
Different Finishes You Can Get For Your Basement
From a quiet workspace or an office where you can finish your projects to a man cave where you can gather your friends and watch the game, there's no limit to what you can do with your basement.
Let's look at some of the best basement transformations you can get!
Transforming your basement into a bedroom is a great way to increase the living square footage of your property. As your family grows, you'll need more space to accommodate everyone's changing needs.
An extra bedroom will be a reason for your guests to stay the night, for your family to gather more often, or, if times are tough, you can rent it out and earn some extra bucks, while helping someone at the same time.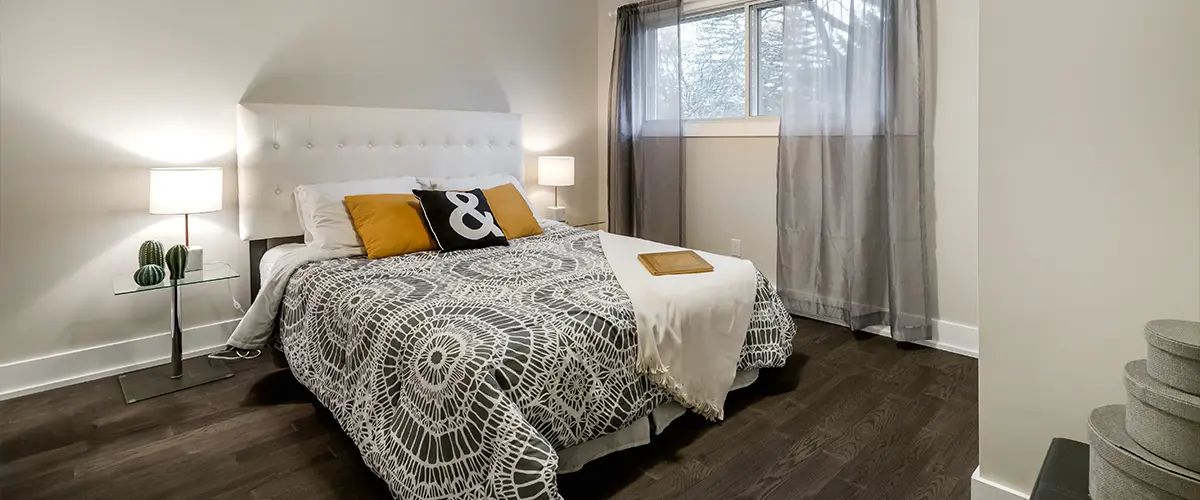 Back when everyone was forced (more of less) to work from home, the biggest problem was lacking a quiet and comfortable place to get their tasks done. Interruptions and people walking in the background of a Zoom meeting were common, and also a problem.
Since then, more and more of our customers are remodeling their basements and transforming them into an office or a workspace. If not for themselves, for the little ones.
Finding time for everything is a real challenge in today's age. And even if you have time to work out, gym subscriptions can cost a lot of money, and driving there might take you some time.
We find that the best solution for homeowners trying to stay fit and healthy is to get their own in-house gym. Working out in your own comfort, at your own pace, and without anyone making you uncomfortable are some underlying needs that we all have.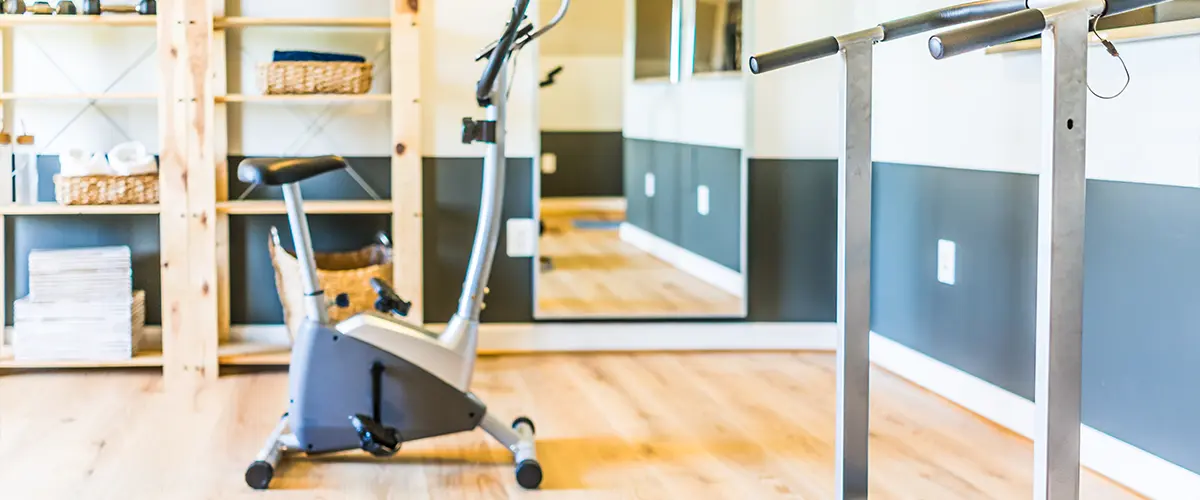 Many of the families we helped here in La Vista were looking for a way to keep the little ones busy, so they loved the idea of transforming their basement into a safe and risk-free playroom.
Make the entire room child-proof, add in their favorite toys, and that's pretty much all it takes to keep the little ones away from their devices for at least a few hours.
The best part about this transformation is how inexpensive it is. And when you're thinking the kids will eventually grow, it makes it even better, as you can then quickly transform the basement into something else.
For example, a playroom for yourself, with a pool table, a small bar, and a nice place to have your friends over.
Other Upgrades You Can Get
Some other upgrades and basement finishes in La Vista, NE that our customers get are:
The Easiest Basement Remodel You Can Get!
Go through a highly-efficient basement remodeling process designed exclusively for you and your needs. We're making your remodel quick, intuitive, and so transparent that'll know what happens and why – at every step of the way.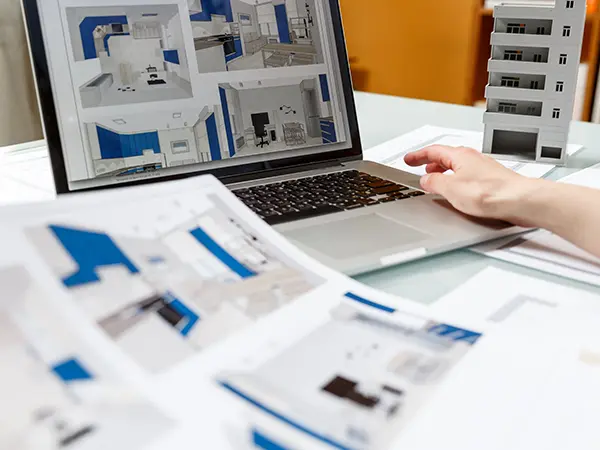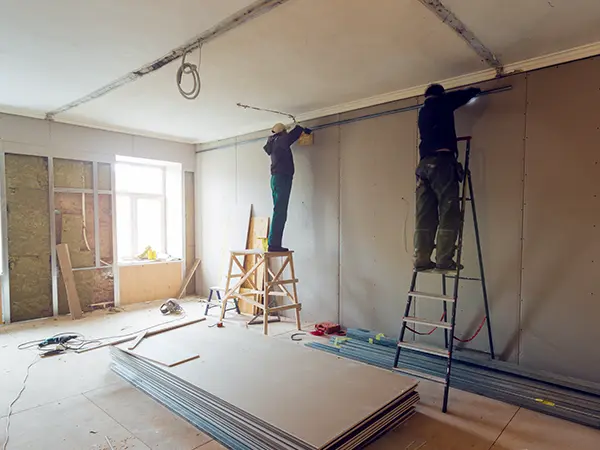 You'll be in full control of everything during the building phase.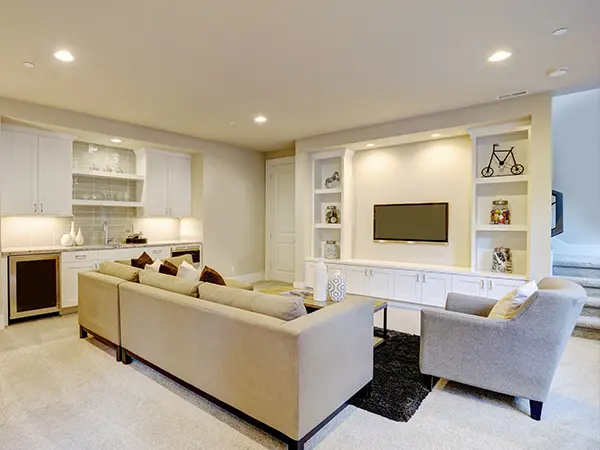 Enjoy your new, transformed basement!
Frequently Asked Questions
Depending on the size of your basement and the selections you make, you're looking at a $40k-to-$70k investment for a basement remodel in La Vista. Considering most home additions cost hundreds of thousands of dollars, refinishing or remodeling your basement is an investment that makes sense.
Depending on the scope of work, most basement remodels take between 2 and 4 weeks.
At HMC, we complete all basement remodeling projects with our in-house team of craftsmen and we partner with trusted, licensed contractors for specific work such as electrical or plumbing.
Basement remodeling in La Vista, Papillion, Bellevue, Omaha, Gretna, and typically across Nebraska will require a permit. Rest assured as we'll handle all permitting work for your basement remodel.
Bring Your Basement To Life With This Well-Deserved Upgrade!
If you've kept postponing your basement remodeling in La Vista, now is the best time to make the final decision and get started.
Work with Home Matters Construction and have the peace of mind that your basement remodel will be free of the stress and anxieties that other contractors bring. We're focusing on your needs and wants, as we know this is what gets you the space you envisioned.
We'll go above and beyond to see you fully satisfied with our work, and we won't call it a day until that happens.
With Home Matters Construction La Vista, you'll also get:
Improve Your Day-To-Day Life With A New Basement