The Best Bathroom Remodel In Gretna, NE
Get your dream bathroom with a top-tier contractor in Gretna, Nebraska!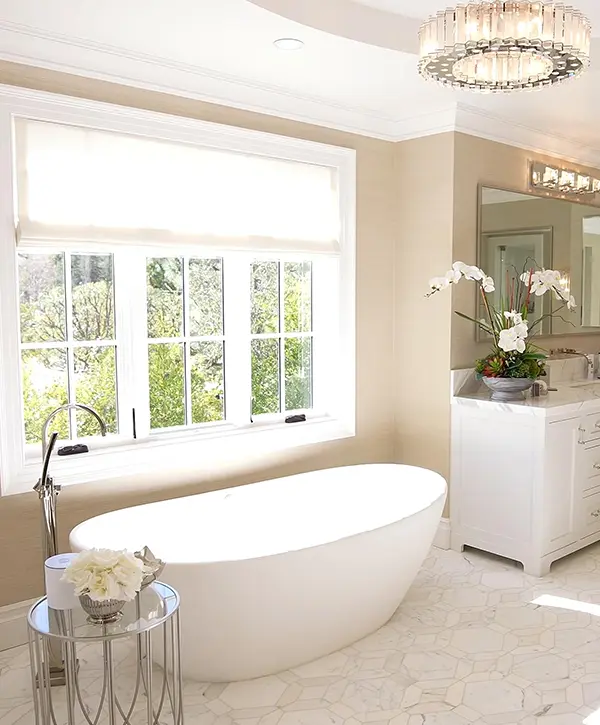 If you're planning a bathroom remodel in Gretna, NE, this is your chance to work with the best remodeler in town!
Home Matters Construction provides an altogether better experience for homeowners in Gretna and the surrounding areas. We're reliable tradesmen ready to deliver you a high-quality bathroom with a simple and stress-free process.
Instead of enduring a time-consuming and nerve-wracking endeavor, take full advantage of a complete and reliable service that gets you what you want!
Get Your Dream Bathroom With A Premium Remodel!
We're a committed group of professionals who always go the extra mile in every assignment – no matter its size. We're aiming to set the bar higher for the rest of the contractors in Gretna by delivering what no one else does!
Enjoy High-Quality Craftsmanship And Comfort With HMC!
With us, you won't have to experience the typical stress and anxiety that are usually associated with remodeling.
Let Home Matters Construction turn your dream bathroom into a reality. Watch us execute your vision to perfection, and enjoy seeing your vision through with an effortless process from start to finish.
We're keeping your best interests at heart, and we value your home just as much as you do.
We aim to see you fully satisfied with your home again, and we'll go above and beyond to ensure our work is second to none. You'll get the whole nine yards at a reasonable price and without stressing over anything as long as we're there.
Make sure to check out our bathroom remodeling offer! Work with a professional who ensures your project goes according to plan and takes care of everything from start to finish.
Homeowners Love Their Bathroom Remodel In Gretna, NE
A high-caliber remodel, a reliable team to work with, and the confidence that you are always in the driver's seat. This is what our past customers got, and you can too! Here's what they say about working with a top-tier contractor!
Home Matters managed the complete renovation of our master bath (gut and replace) and updating of 2 other bathrooms. 
Their communication was very good, the quality of the work was excellent, all of the subcontractors that were in our home were very professional. 
It was a lot of work and the project took longer than the initial estimates, but we are completely satisfied with the outcome.
HMC are great! They were upfront and professional about all aspects of our basement remodel. 
They worked with us on our floor plan and gave insight about better ways to install or incorporate certain parts of the build. They gave us exactly what we wanted and everything was held to a very high standard. 
Everyone was professional, respectful, and great at their job! I wish I could give more stars on this review. 5+ stars in our book.
Types Of Bathroom Upgrades
Bathrooms can be luxurious, cozy, or anywhere in between. There are hundreds of materials and features you can add to your space, and all of them can bring a different mood to your new space.
You'll get our designers' attention at all times during your project, but until then, let's look at the most popular upgrades people in Gretna get for their new baths.
The perfect upgrade is installing a double vanity to add a touch of luxury and increased functionality to your bathroom.
Not only does it provide an abundance of extra storage space, but it also sets the overall tone and look for your entire bath area.
Choose a vanity with slab doors and no hardware if you want a modern and minimalist bathroom. If you're going for a warm and cozy feel, pick one made of hardwood with pulls.
If you're aiming to maximize your return on investment, then semi-custom vanities are the way to go, according to KCMA. If you want something exclusively yours, a fully custom vanity will ensure your space looks just like what you had in mind.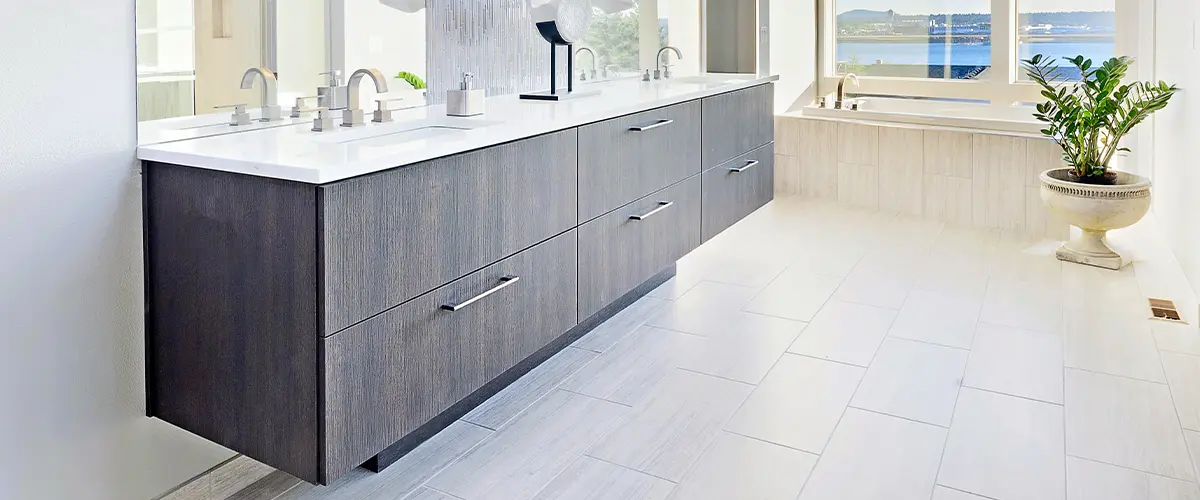 We notice more and more seniors are replacing their bathtubs with glass walk-in showers. The tub-to-shower conversion is an invaluable upgrade, especially as we age.
Tubs become a trip hazard, and showers are simply much more efficient.
However, you need to forget about dated shower pans and consider getting a tile surround instead. A beautiful tile design can make your bathroom stand out and impress every one of your visitors.
Hardwood floors in bathrooms are a dangerous choice for older homes, as the humidity and water spills in these rooms will damage them in the long run.
Porcelain or ceramic tile flooring is the perfect option to ensure longevity and aesthetic appeal. Sure, it may come at a higher cost than other materials; however, the value they bring to your home is priceless.
Luxury Vinyl Plank flooring is a cost-efficient and simple-to-care-for way to give your bathroom the timeless appeal of wood without all the hang-ups that come with it.
Another alternative that's slowly gaining ground is epoxy flooring. With a nice finish, an epoxy floor can resemble the look of marble or another natural stone of your choosing.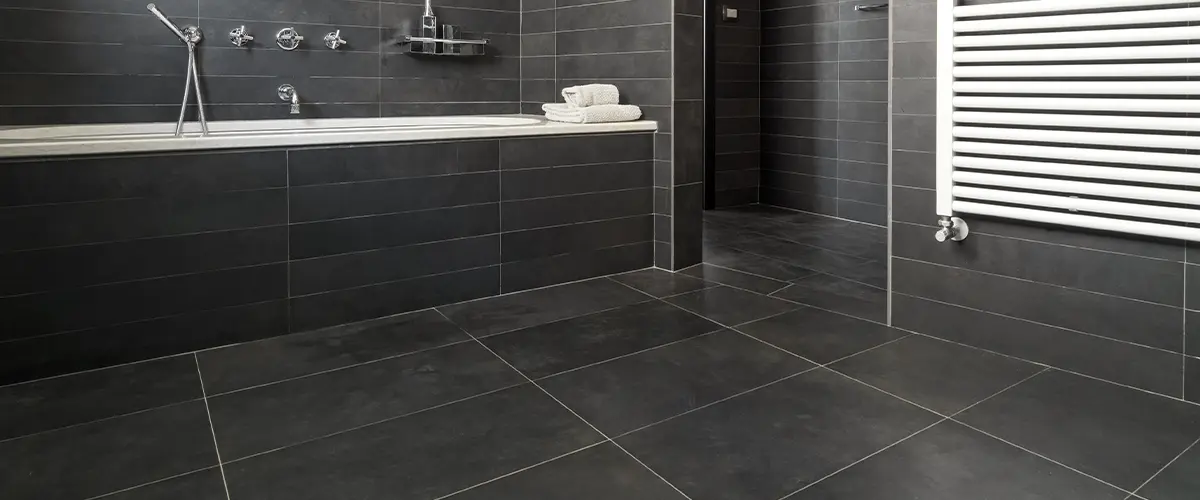 Revamping your existing countertops is a fantastic way to complete the new vanity look. The counters will blend seamlessly with the updated style and fit precisely for an exquisite finish!
Without a doubt, quartz is the leading choice for countertops. It's reliable and long-lasting, requiring minimal upkeep. Even though this is a manufactured material and will cost more than granite or marble counters, it'll give excellent value for money.
Other countertop alternatives are soapstone, marble, granite, stainless steel, and butcher block. However, we recommend steering clear from wood and laminate tops, as they're not as efficient in a damp space like a bathroom.
Upgrading the bathroom essentials – the sinks and toilets – is a great way to quickly improve the functionality of the space.
For sinks, you can choose between undermount, pedestal, wall-mounted, or drop-in sinks. These can be enameled iron cast, porcelain, copper, quartz, or other material.
Porcelain, ceramic, or acrylic are the most common option for toilets.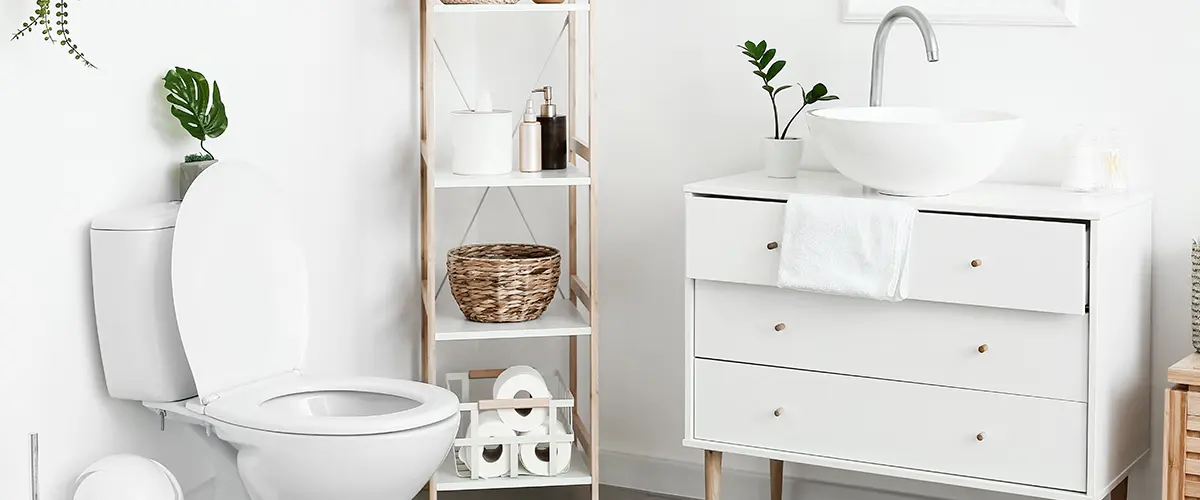 Other Bathroom Upgrades You Can Get
If you want your bathroom to go beyond the basic level of comfort, there are several extra features you can get to ensure that. Other bathroom upgrades include, but are not limited to:
The Easiest Bathroom Remodel In Gretna, NE
Go through a simple and quick process designed with your comfort and well-being in mind. We take care of everything from top to bottom, so you won't have to move a finger. Just enjoy the ride!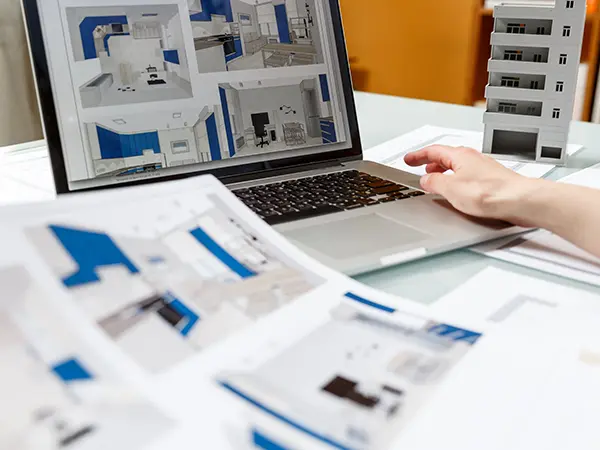 Let's discuss your upcoming project.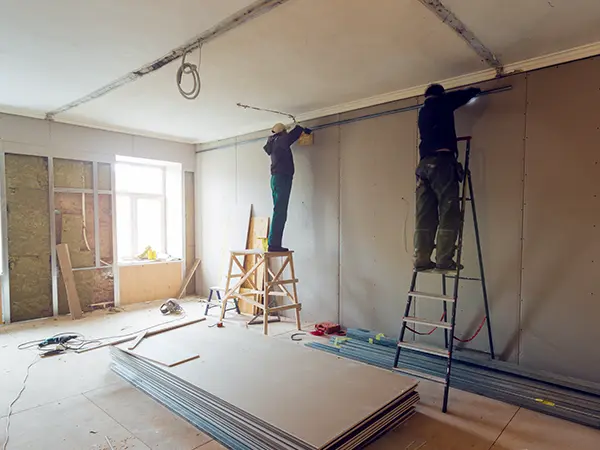 We'll build your new bathroom according to your needs.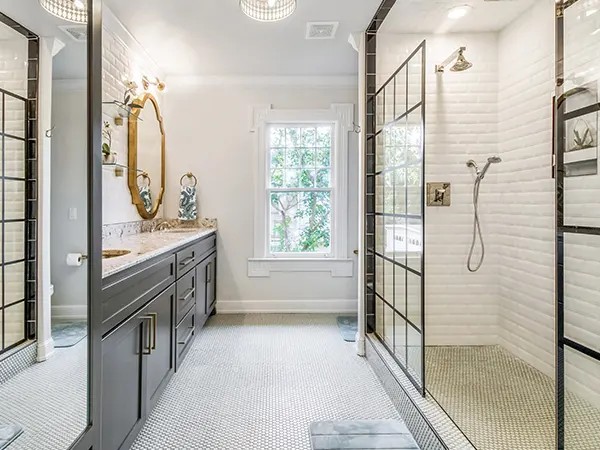 Show off your new bathroom to your friends!
Frequently Asked Questions
The time it takes to remodel a bathroom varies depending on the size of your space and specifics of the project, but most often we can finish within 3-4 weeks.
On average, the cost of a bathroom remodel in Gretna, La Vista, or Omaha starts at $15k – $20k.
Whenever you embark on a remodeling project, your selections are paramount in the cost of the task. A freestanding tub alone is more expensive than an ordinary one and similarly, tile and flooring selection can drastically alter the price too!
HMC makes the restaurant remodeling process a breeze by handling all of your permitting needs. Whether you are in Papillion, La Vista, Bellevue, or elsewhere across Nebraska, we'll ensure that everything is done according to code and you can sit back and relax knowing it's taken care of.
Before you embark on designing the aesthetics of your bathroom, ensure that all plumbing and electrical matters are sorted out first. Once these issues are addressed, investing in a tile and vanity will make the biggest visual impact. Complementary details including the sink, lighting fixtures, mirrors and other accessories may then be added to complete your beautiful new space!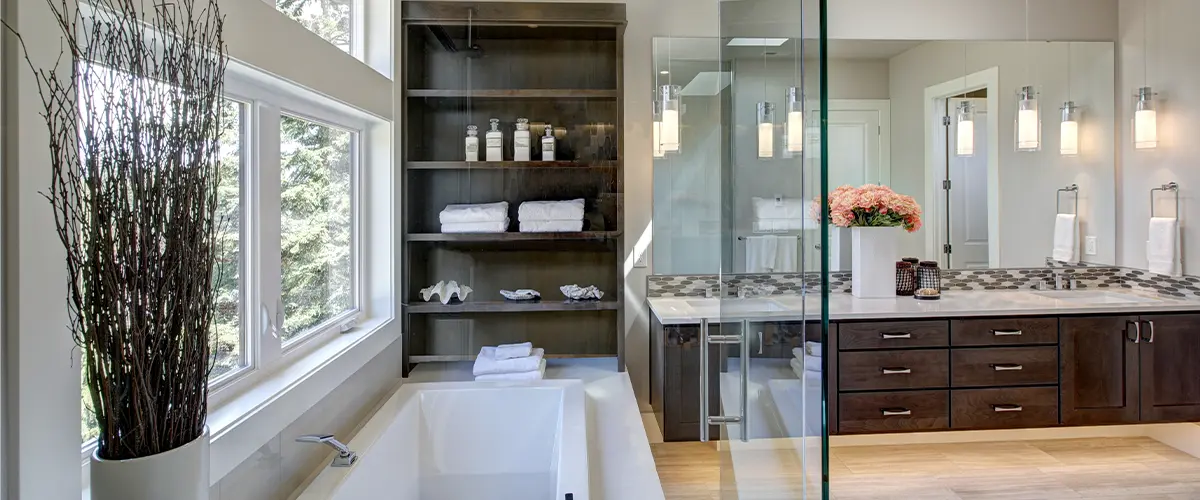 Let's Give You A Bathroom Worthy Of Remodeling Magazines
If you're looking for a bathroom remodel in Gretna, NE, you're in the right place!
With Home Matters Construction, your bathroom remodeling project will result in stunning transformations and make you proud of the results and investment.
Your bathroom remodel in Gretna will turn out precisely how you envisioned it, without the stress that these projects usually come with. We're ready to go all-in for the success of your project, and we're not stopping until you're fully happy with the results.
Get ready to receive:
Let's Make It Happen Together!