The Best Bathroom Remodeling In Elkhorn, NE
Don't let anything stopping you from getting your well-deserved bathroom upgrade!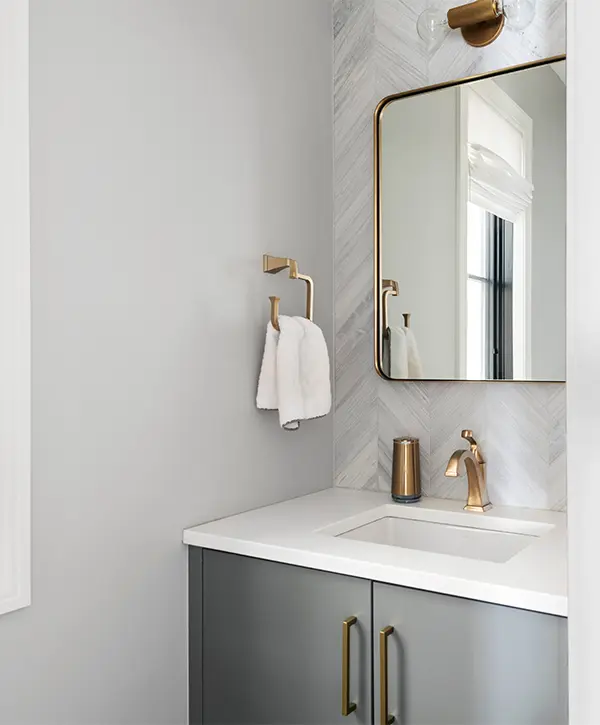 If you're looking for a reliable contractor to take on your bathroom remodeling in Elkhorn, NE, here's why you just hit the jackpot!
At Home Matters Construction, your home, time, and investment remain our #1 priority throughout your remodel. You'll receive some of the best tradesmen and women in the Omaha Metro Area, all committed to your complete satisfaction and bringing your project to fruition.
We take immense pride in being a respected authority on bathroom remodeling here in Elkhorn, which is to say our commitment to excellence has no boundaries.
Reap All The Benefits Of Working With Pros
Our enthusiasm for our trade is unparalleled, and we are constantly trying to raise the bar with every project. We bring something unique to Elkhorn that hasn't been seen before – a spectacular bathroom remodeling service that ends with your complete satisfaction!
Witness Your Vision Come Through With The Best Bathroom Remodel
Having an outdated bathroom fails to fulfill most of your day-to-day needs. Quick showers are not so quick anymore, and trip hazards become more and more common.
Turning your dream bathroom into reality improves everything about this space and your life, but you need to do this with a reliable contractor that values your home just as much as his.
With the perfect combination of experience and passion, Home Matters Construction guarantees a remarkable new bathroom that your visitors won't stop talking about it. 
Partner with us on this journey and reap all the benefits of working with a top-tier contractor that can make anything possible!
Elkhorn Homeowners Are Falling In Love With Their New Bathrooms!
Homeowners in Elkhorn are absolutely delighted with their all-new bathrooms! Whatever your desires and tastes may be, you can trust that we will go above and beyond to provide a superior product that'll leave you enamored with the outcome of your remodel!
Home Matters managed the complete renovation of our master bath (gut and replace) and updating of 2 other bathrooms. 
Their communication was very good, the quality of the work was excellent, all of the subcontractors that were in our home were very professional. 
It was a lot of work and the project took longer than the initial estimates, but we are completely satisfied with the outcome.
HMC are great! They were upfront and professional about all aspects of our basement remodel. 
They worked with us on our floor plan and gave insight about better ways to install or incorporate certain parts of the build. They gave us exactly what we wanted and everything was held to a very high standard. 
Everyone was professional, respectful, and great at their job! I wish I could give more stars on this review. 5+ stars in our book.
Types Of Bathroom Upgrades
On our visit to your location, we provide you with the best Omaha bathroom designers available to assist you in selecting the materials, upgrades, and features that make perfect sense for your new restroom. Now, let's look at the most common upgrades and materials.
For a truly comprehensive bathroom remodeling project, it is essential to include an updated vanity or cabinets in the design. Not only will you gain more space, but the look and feel of your room will be drastically improved.
If you're looking for a vanity to suit your master bathroom, opt for the double-sink version as it offers maximum functionality and extra storage space. If you're doing a guest or half bathroom, choose something sleek and custom crafted that easily melds with the overall mood.
Go with hardwood materials if you're looking for a traditional, rustic feel, but if you're looking for a more cost-effective option, opt for plywood or MDF materials.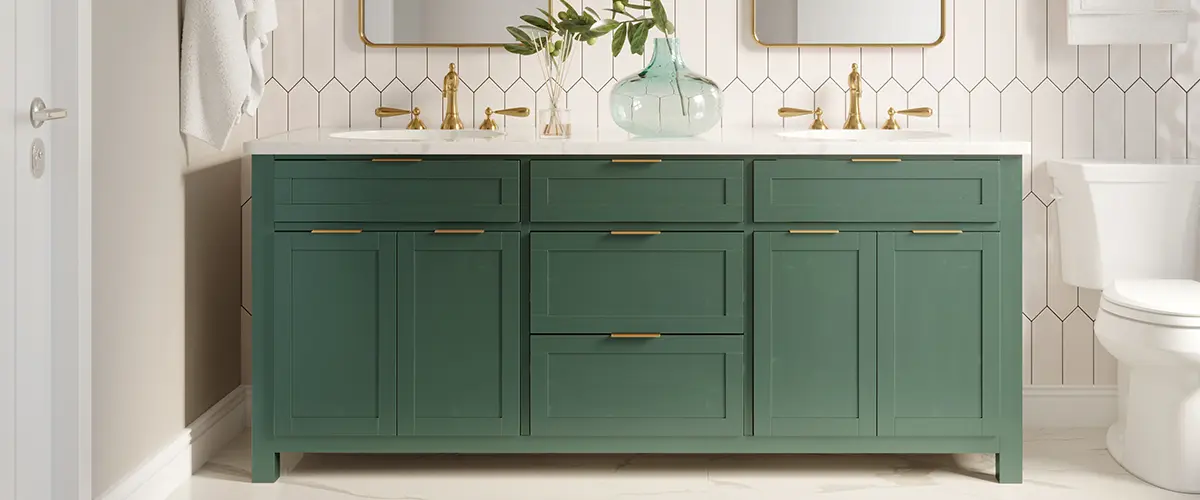 When you're looking for the ideal bathroom countertop, keep three key elements in mind: low maintenance, robustness, and resistance. Not only should your new feature stand up to day-to-day use with ease, but it must also fit perfectly alongside the rest of your interior design scheme.
Quartz is a clear frontrunner when it comes to countertop materials. This manufactured stone offers all the benefits of natural stones but without any drawbacks, making it an obvious choice for those looking for strength, durability, beauty, and low-maintenance.
Granite or another natural stone like soapstone or marble are always good alternatives if you're searching for a new countertop.
The appearance of your bathroom flooring can lift or ruin the overall experience. A well-crafted design will seamlessly connect all elements and allow for a smooth transition between different areas.
Porcelain or ceramic tile flooring is the typical choice of most homeowners for their bathrooms. Yet, those wanting a more sleek and modern appearance should consider luxury vinyl planks or tiles (LVP and LVT).
Although hardwood floors may look chic, they are not well-suited for use in bathrooms given their difficulty in tolerating moisture.
Upgrading your sinks and toilets is a great way to improve the look and feel of your bathroom at a very affordable price.
If you want your sink to become the focal point of your bath, choose a copper, marble, or granite vessel sink.
Undermount porcelain sinks (or ones made from the same material as your counter) will make your counter seem continuous and create an uninterrupted flow in your bathroom. These are more expensive, but will definitely make a great impression.
Porcelain, ceramic, or acrylic are the most common option for toilets.
Most of our senior homeowners doing a bathroom remodeling in Elkhorn are interested in a tub-to-shower conversion or a shower upgrade. Undoubtedly, showers are more accessible and pose fewer trip hazards.
If money is not a constraint, a tiled walk-in shower with glass enclosures and a glass door will create an upscale vibe in your new bathroom. It's a more expensive upgrade, but evidently, one that will impress everyone.
For a more budget-friendly upgrade, a prefabricated walk-in shower or one with tiled walls and a curtain will save you some money while still boosting your bath's efficiency.
Freestanding tubs are also a great feature to have in any bathroom, especially if you have young children.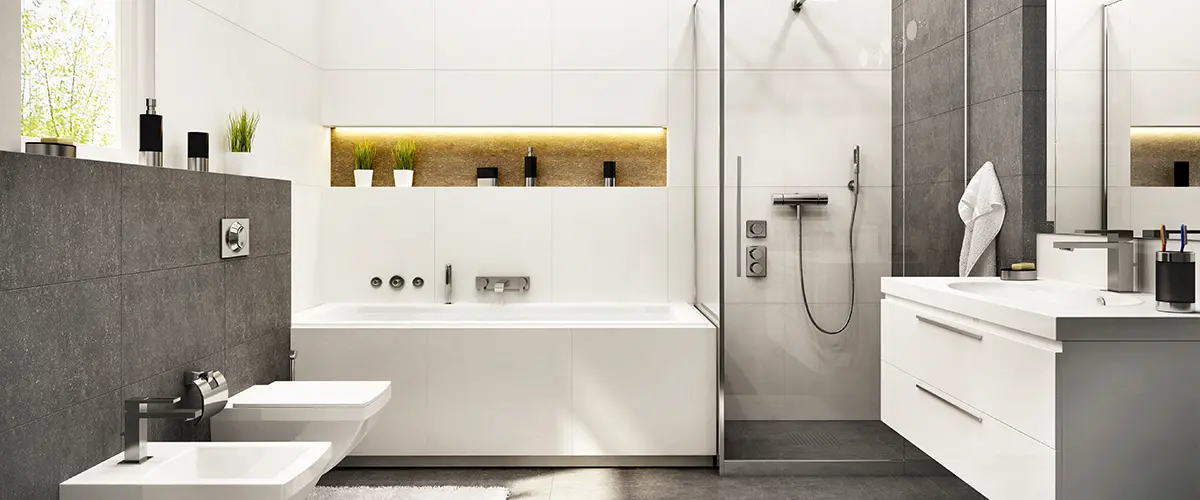 Other Bathroom Upgrades You Can Get
If you want your bathroom to go beyond the basic level of comfort, there are several extra features you can get to ensure that. Other bathroom upgrades include, but are not limited to:
Experience A Pleasant And Satisfying Bathroom Remodel!
At Home Matters Construction, we prioritize taking the pressure and stress off of any bathroom remodeling project for a pleasurable experience for all. Our process is designed to ensure that your journey from beginning to end in regard to refreshing your space will be an enjoyable one!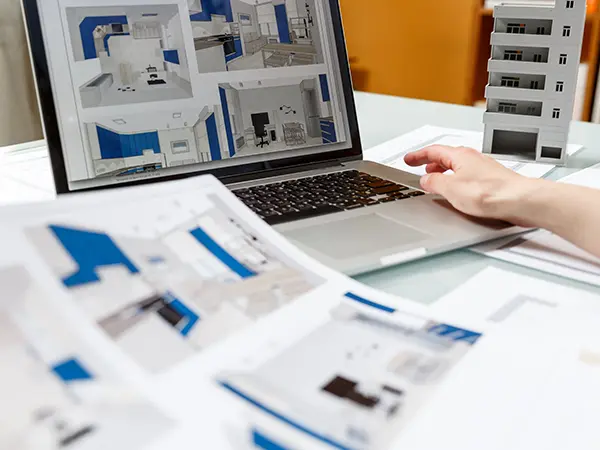 Let's discuss your upcoming project.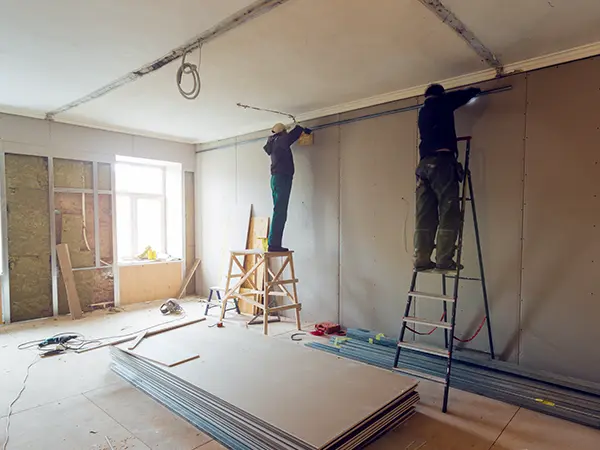 We'll build your new bathroom according to your needs.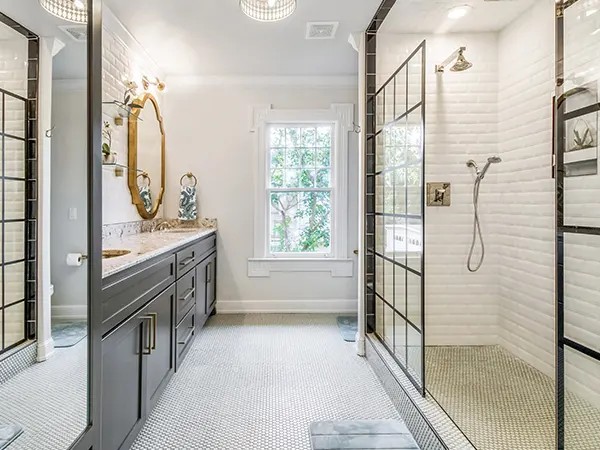 Show off your new bathroom to your friends!
Frequently Asked Questions
Many of our bathroom remodels start from the shower and tub. By converting typical fiberglass pan showers to curbless entry showers with matching tile floors and hidden drains, you're left with a beautiful, easily accessible space for as long as you own your home.
For the quickest makeover, a new vanity with a quartz top, a frameless mirror, modern lighting, and fresh paint can transform a small bathroom on a tight budget.
There isn't a definitive cost to remodel a bathroom in Elkhorn, Papillion, Bellevue, and surrounding areas; however, the average price is approximately $15k. On the other hand, if you opt for an extravagant renovation then be prepared to pay as much as $50K.
We are committed to providing you with the greatest value for your money! Our team will walk you through all available solutions so we can determine what fits best for your particular needs.
The size of your bathroom and the extent of the remodel are important time indicators, but usually, we can complete most bathroom remodels in 3 to 4 weeks.
Depending on the scope of work, a bathroom remodeling in Elkhorn, La Vista, Papillion, and typically across Nebraska can require a permit. At HMC we handle all permitting work for your bathroom remodel so that you can enjoy a relaxing process.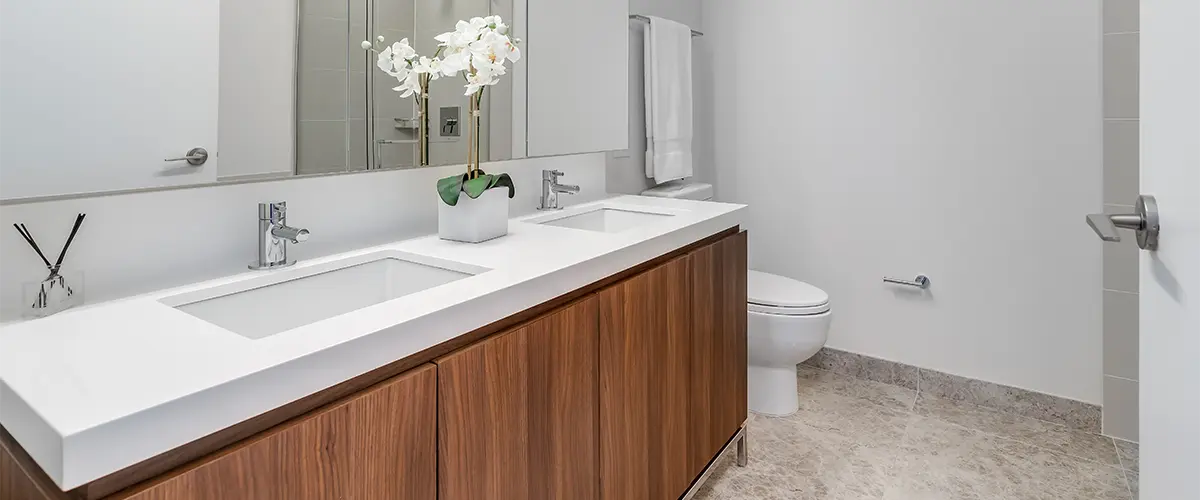 The Best Time To Get Your Bathroom Remodel Project Started!
Investing in a bathroom remodel is always beneficial, no matter if you're planning to sell your home or not.
Not only will this add tangible value to your property, but it'll make everyday living infinitely easier and more comfortable. In the long run, you won't regret making the investment.
Let Home Matters Construction help you create the bathroom of your dreams!
Your New Bathroom Awaits You!