The Best Kitchen Remodeling Cost In Omaha, NE
No time to read through? Get a personalized pricing quote for your project now!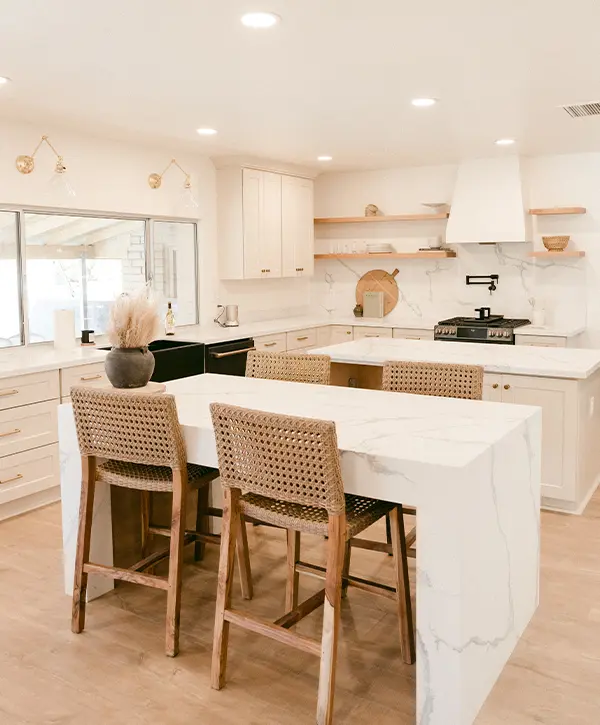 A kitchen remodeling in Omaha may seem expensive, but the investment is totally worth it when you get a taste of the great value and increased comfort it brings.
We know the kitchen remodeling cost in Omaha poses a big obstacle for many homeowners wanting this upgrade. Here at Home Matters Construction, we want to offer you a reasonable remodeling cost that leaves your budgeting worries behind!
With us, you can rest assured that your kitchen remodeling cost in Omaha will be fair and outlined clearly, so you can fully enjoy the excitement of getting this upgrade.
A Premium Remodeling Service At A Fair Price
With Home Matters Constructions, you're not just getting a high-quality service, but you'll enjoy many other perks of working with professionals. We take great pride in our complete service because this is what makes us the go-to remodeler in Bellevue, NE.
The Typical Kitchen Remodeling Cost In Omaha, NE
The cost of remodeling your kitchen will be determined by factors such as the size and scope of the space, the materials used, and any additional features. Understandably, larger spaces will require a larger financial investment for their renovation.
Let's see what the average kitchen remodeling cost in Omaha is, based on different sizes of kitchens.
| Type | Job Cost | Resale Value | Cost Recouped |
| --- | --- | --- | --- |
| Minor Kitchen Remodel - Midrange | $28,327 | $20,478 | 72.3% |
| Major Kitchen Remodel - Midrange | $82,580 | $28,564 | 34.6% |
| Major Kitchen Remodel - Upscale | $164,137 | $43,969 | 26.8% |
Following our in-home consultation, you will receive a clear pricing quote from one of our experts. We strive to deliver cost-effective solutions that fit your budget so you can get the most out of your remodel without breaking the bank!
Homeowners Love Their New Kitchens
We prioritize fostering a strong bond with our clients, but don't just take my word for it. Here is what people have to say about working hand-in-hand with one of the most accomplished kitchen remodelers in town!
Home Matters was referred to me by a member at my sister's church. 
 From the moment we connected with Tony, we felt his honesty, integrity and desire to help us meet our needs for a full, functional kitchen remodeling project. 
 We were not disappointed. Our experience with Tony and the Home Matters team was wonderful. The coordination with their sub-contractors was impressive. The workmanship and work ethics was top notch. The office staff is friendly, professional and easy to work with. 
 I wouldn't hesitate contacting Home Matters for any of your home services, big or small.
Tony and the crew are VERY professional. 
Our remodeling project faced the inevitable covid shipping delays. They anticipated and worked around the supply problems, kept the project on schedule. 
They kept us in the loop, answered all our questions, and did some really great work. The kitchen lights installation just blew us away! 
The new floors are simply a delight. We absolutely recommend Home Matters. 
 Tony and his crew will have our next project!
Labor In A Kitchen Remodeling Cost In Omaha
A major kitchen remodel needs a skilled and experienced team consisting of plumbers, builders, carpenters, electricians, and designers. Finding all of these tradesmen will take you a lot of time, so we've come up with a solution!
Architects are the experts that make sure the space is structurally safe. They're crucial if you build new walls or demolish old ones, as they'll be able to help you get the building permits quicker.
Architects usually charge between $65 to $250 per hour or 10% to 20% of your total project cost as a one-time fee.
The kitchen designer is essential if you want your space to look good and function properly. They'll ensure the layout is fully functional and matches your needs.
Like architects, designers charge around 10% to 20% of the total kitchen remodel cost. For a one-time consultation, expect to pay for a designer anywhere from $300 to $1.5k.
You'll need a professional plumber to fix any plumbing issues that you may have in your kitchen. If you want to change the space's layout, you'll need a plumber.
Plumbers charge between $70 and $150 per hour. Besides their labor, they also charge for materials.
If you plan to relocate your appliances, you'll also need new electrical wiring. Electrical wiring is about safety, especially if your house is not made of bricks and stones.
A professional electrician will charge between $80 and $150 per hour, plus materials.
The Kitchen Contractor That Has Them All
Home Matters Construction puts at your disposal the best tradesmen in the Omaha Metro Area!
We'll take care of every detail for you by partnering with a strong network of skilled professionals, so you won't have to dig around and make calls to find an available plumber. We're taking care of everything from top to bottom, so you can sit back, relax, and watch your vision come true.
We are your one-stop shop for kitchen remodeling in Omaha. We take pride in delivering the best end product to homeowners in Omaha, Papillion, Bellevue, La Vista, and more of NE.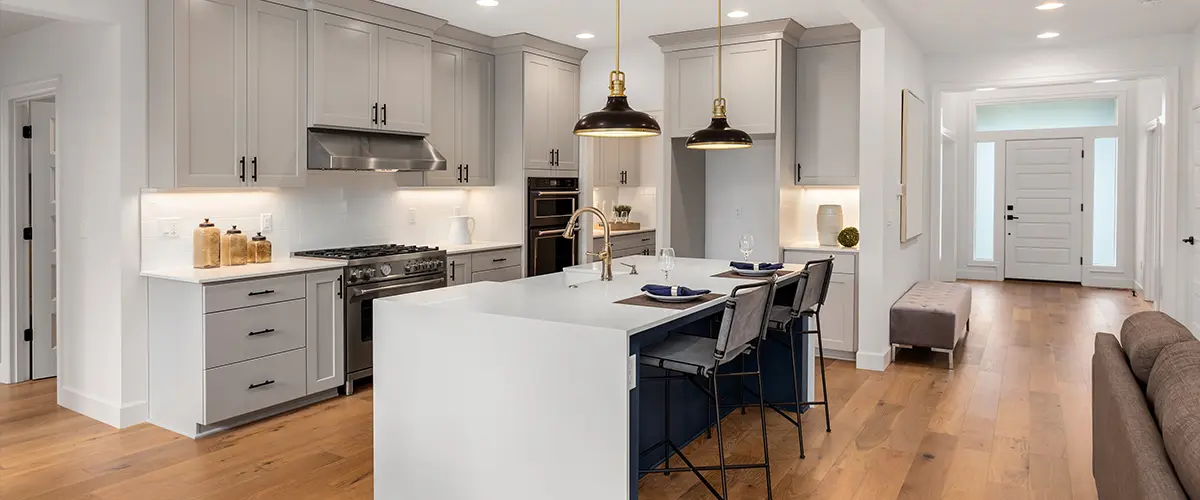 Kitchen Remodeling Upgrades And Materials
As previously stated, designing a kitchen involves numerous upgrades and features. During our meeting, we will discuss the various materials, upgrades, and accessories that you may wish to have in your new kitchen. However, for now, let's talk about the most popular options.
No kitchen renovation is complete without the addition of stylish and modern cabinets.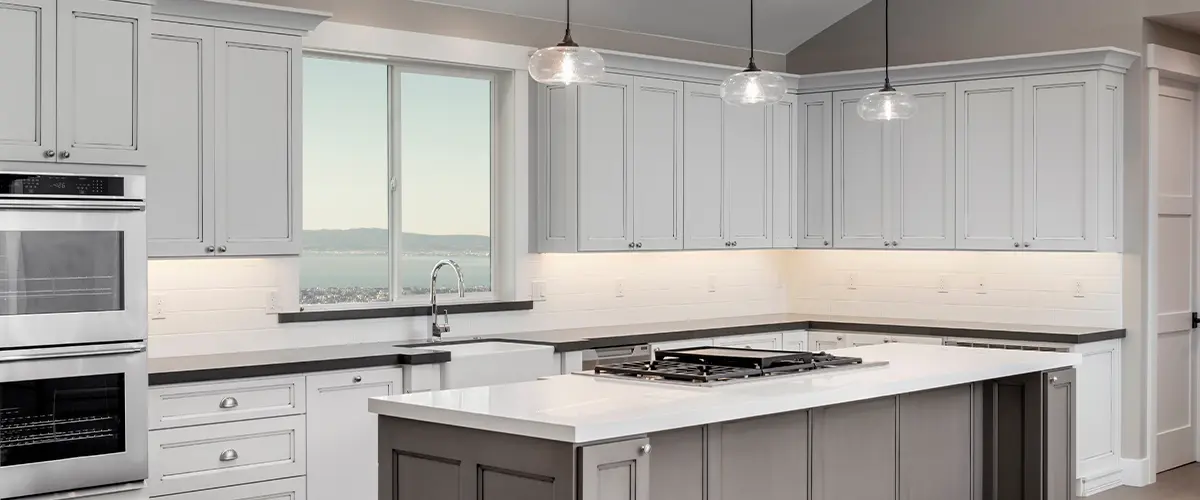 Consider upgrading to energy-efficient appliances if you are planning a complete kitchen renovation. However, if you want to stay within your budget, you may not have to purchase new appliances if your current ones still work well and look great.
Appliance technology is advancing rapidly, with numerous impressive features such as touchscreens, scheduling options, and even self-cooking robots. This makes operating appliances more convenient than ever.
A kitchen range can be found for a bargain of $500, or you may choose to invest in a high-end model that could cost up to $3,000+. If you're looking into a gas-infused one, your bill will include the installation fee, around $200 per hour, and materials.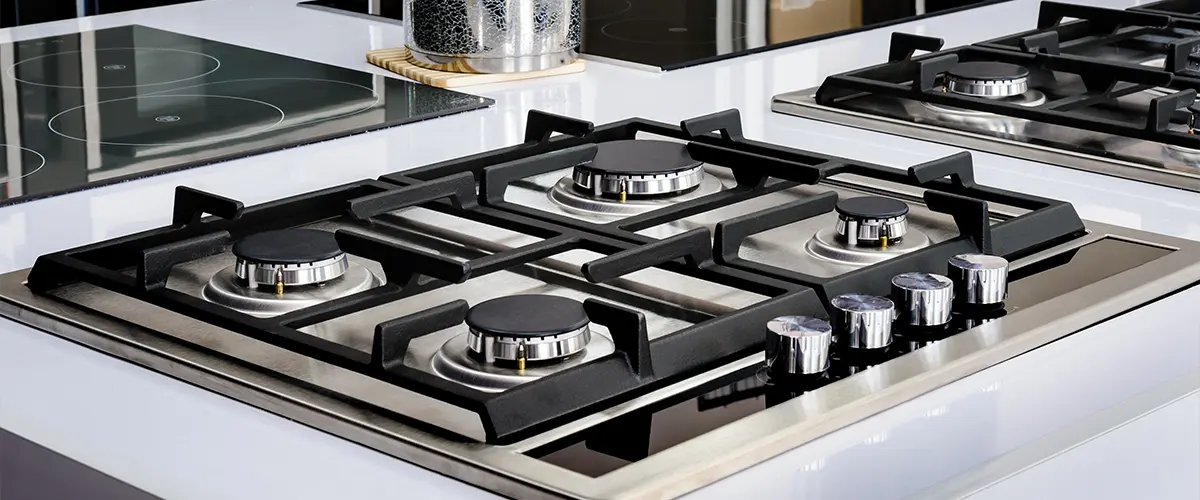 Replacing your kitchen countertops is a crucial part of your kitchen remodel. By doing so, you can create a new centerpiece for your kitchen and significantly enhance its functionality.
Without any doubt, quartz countertops are an excellent option for homeowners. They are manufactured, and their cost ranges from $75 to $100 per square foot. Additionally, their exceptional durability sets them apart as a top-tier choice.
Granite countertops cost around $40 to $60 per square foot. On the other hand, marble is visually attractive, but costs double the price of granite, about $100 per square foot, even though it may not be as practical.
The installation of these materials also comes with different price points.
| Material | Typical Cost (per square foot installed) |
| --- | --- |
| Laminate | $27 - $34 |
| Quartz | $50 - $200 |
| Hardwood | $30 - $40 |
| Marble | $40 - $200 |
| Granite | $50 - $400 |
| Stainless Steel | $80 - $225 |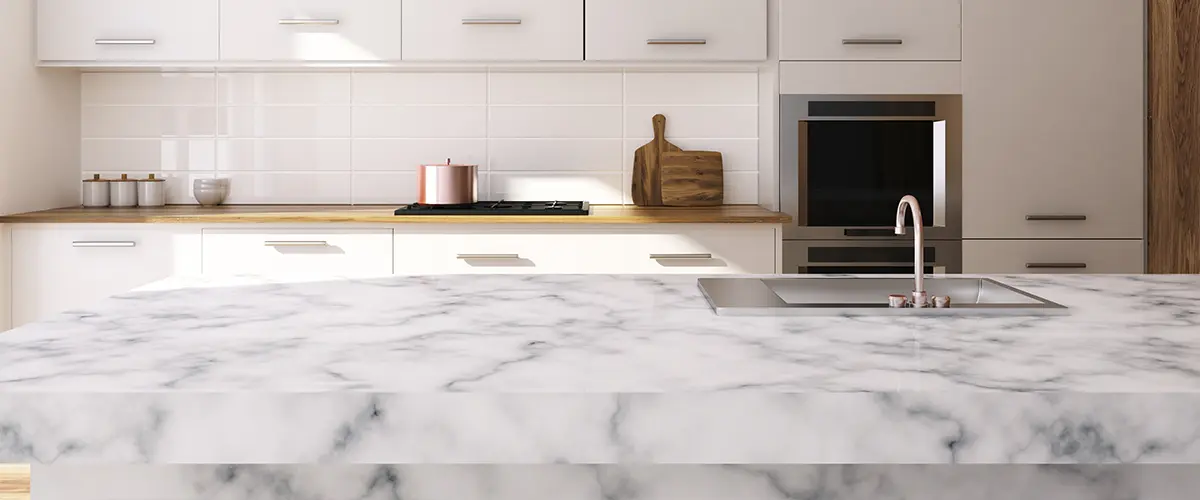 Refinishing your hardwood kitchen floors is the most cost-effective way to maximize return on investment. Replacing the wood floors with new, solid hardwood flooring costs between $2 and $20 for materials only or between $5 and $30 total cost per sq. ft.
Another popular option that's also affordable is LVP or LVT. Installing vinyl plank flooring can cost you anywhere from $2 to $10 per square foot, while luxury vinyl planks will set you back between $1 and $6 for materials alone—factor in labor costs of up to an additional $5.
Laminate remains a viable choice if you do not have many children and pets running around your kitchen regularly. However, it will be more expensive than other options as the costs of laminate flooring range from $2.70 to $11 per square foot, depending on its quality.
Porcelain tile is typically mid-range in price, costing an average of $12–$40 per square foot.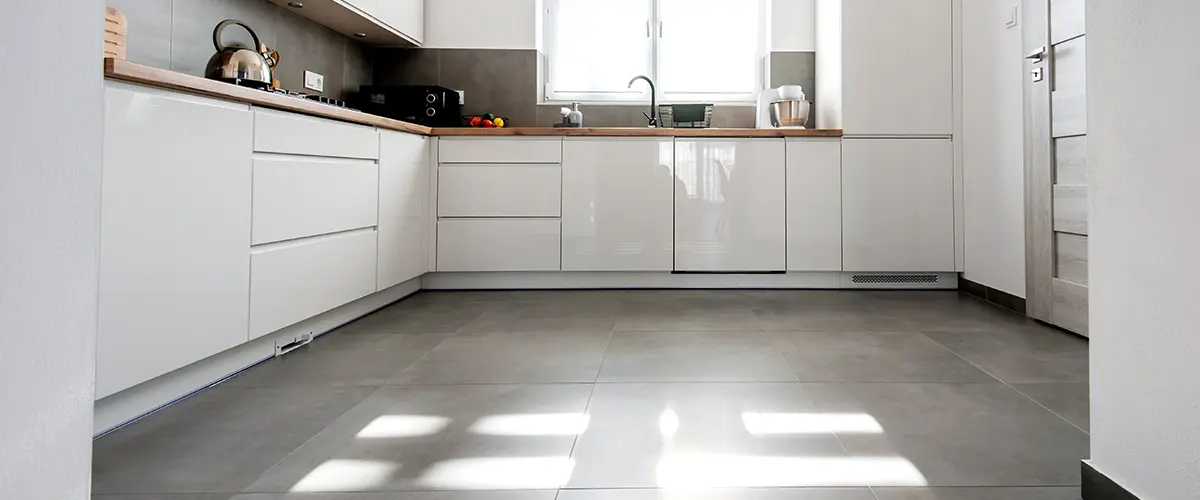 Installing a tile backsplash can make your kitchen walls look brand new and shiny. As tiles are easy to clean and maintain, cleaning your kitchen will save you a lot of time and effort.
Let's look at some backsplash materials.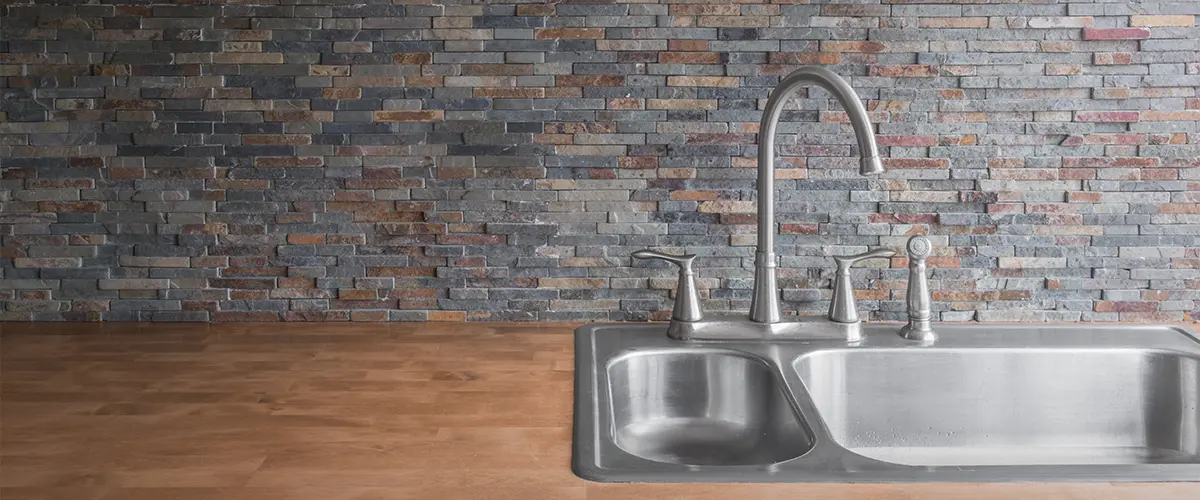 Budgeting For Your Kitchen Renovation Cost In Omaha
HGTV's shows have pointed out that a common mistake homeowners make during a kitchen renovation is not fully grasping the total cost beforehand. This lack of understanding can result in unrealistic expectations and unexpected expenses down the line.
Here are some tips on how to budget for your renovation!
It's not wise to spend more than you can afford on features that you won't use. For instance, if you're not a passionate chef, investing in the most luxurious stovetop may not make sense.
If you want this room to be a place for your family to congregate and savor time together, it has to feel cozy and welcoming. Achieving that perfect atmosphere requires more than usual consideration, so collaborate closely with your designer until every detail is absolutely right!
To avoid unexpected expenses when renovating an old kitchen, homeowners should set aside a portion of their budget for potential problems like mold, mildew, or plumbing issues that may arise. Be proactive and don't let hidden problems catch you off guard!
An extra 20% of your total project cost will be more than enough to handle easily anything that might come up, so nothing catches you on the wrong foot.
When it comes to remodeling your kitchen in Omaha, you can expect costs to be higher than transforming other areas of the house. But by clarifying precisely what services and materials you're investing in for this project, you can ensure a stress-free experience instead of an overwhelming one.
Before engaging a kitchen renovation company or any of its contractors, make sure to inquire as to what exactly you will receive in exchange for the cost. Check out the local Chamber of Commerce or local BBB and filter through some contractors.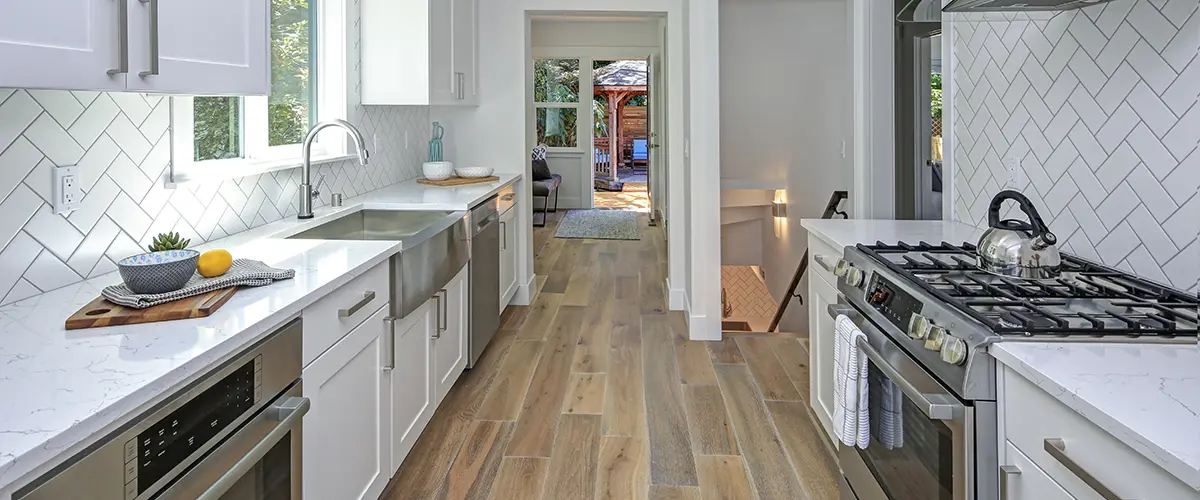 Get Full Pricing Transparency For Your Kitchen Remodeling Cost In Omaha
The cost for a kitchen remodel in Omaha is typically around $40,000. However, the final price may vary depending on the choices made during the remodel.
Home Matters Construction is the perfect option for you if you want to get your kitchen designed by an experienced professional within a budget and timeline. We guarantee that the result will be exactly how you have envisioned it.
Get amazing results without breaking your budget with our custom designs.
We tend to over-deliver, so expect:
Stop Delaying And Get Your New Kitchen Today!