The Best Kitchen Remodel Cost In Papillion, NE
No time to read through? Get a personalized pricing quote for your project now!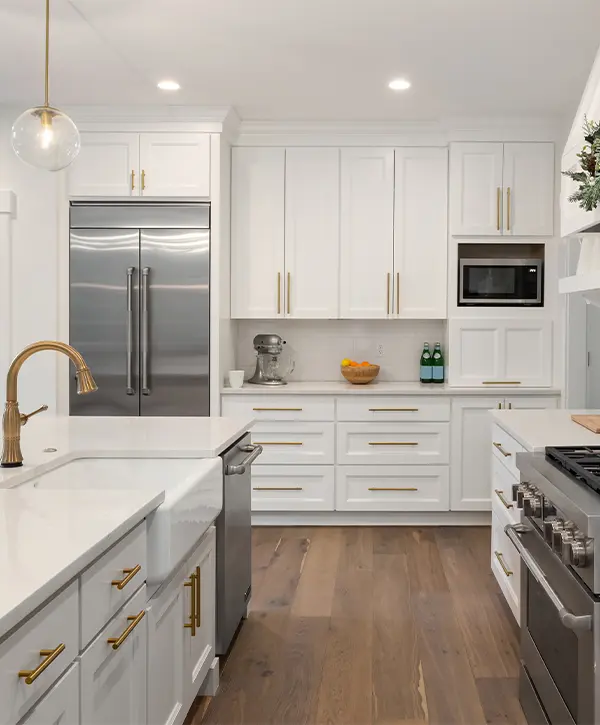 It is undeniable that kitchen remodels in Papillion yield some of the best returns on investment when compared to other home improvement projects.
These spaces are a fantastic way to improve your life, but what's the actual kitchen remodel cost in Papillion, NE?
Here at Home Matters Construction, we know the costs of a remodel are the main reason for concern for most of our customers, and we're planning to change that!
A Kitchen Remodeler That'll Make You A Priority
The remodeling industry in Papillion won't do you justice, so we are taking it one step further. We guarantee fast and reliable service that puts your family's needs first. We go beyond the ordinary to offer something extraordinary!
The Typical Kitchen Remodel Cost In Papillion, NE
Calculating the price of a kitchen renovation entirely relies on your space's size, the resources you use, and all the extra features you decide to include. Let's see what the average kitchen remodel cost in Papillion is, based on different sizes of kitchens.
| Category | Size | Average cost |
| --- | --- | --- |
| Large Kitchen | over 200 sq ft | $50,000 - $80,000 |
| Average Kitchen | 100 sq ft | $19,500 - $52,000 |
| Small Kitchen | Less than 70 sq ft | $10,500 - $28,000 |
After our in-home consultation, our experts will give you a clear and concise pricing quote. We understand that home renovations can be expensive, so we'll provide cost-effective solutions to keep your project within budget. 
Homeowners Love Their New Kitchens
We prioritize fostering a strong bond with our clients, but don't just take my word for it. Here is what people have to say about working hand-in-hand with one of the most accomplished kitchen remodelers in town!
Home Matters was referred to me by a member at my sister's church. 
 From the moment we connected with Tony, we felt his honesty, integrity and desire to help us meet our needs for a full, functional kitchen remodeling project. 
 We were not disappointed. Our experience with Tony and the Home Matters team was wonderful. The coordination with their sub-contractors was impressive. The workmanship and work ethics was top notch. The office staff is friendly, professional and easy to work with. 
 I wouldn't hesitate contacting Home Matters for any of your home services, big or small.
Tony and the crew are VERY professional. 
Our remodeling project faced the inevitable covid shipping delays. They anticipated and worked around the supply problems, kept the project on schedule. 
They kept us in the loop, answered all our questions, and did some really great work. The kitchen lights installation just blew us away! 
The new floors are simply a delight. We absolutely recommend Home Matters. 
 Tony and his crew will have our next project!
Labor In A Kitchen Remodel Cost In Papillion
Kitchens are extensive projects that require plumbers, designers, electricians, builders, and carpenters. These are a lot of experts, and all of them charge differently.
Architects are the experts that make sure the space is structurally safe. They're crucial if you build new walls in your space or change the room's structure.
Architects usually charge between $65 to $250 per hour or 10% to 20% of your total project cost as a one-time fee.
The kitchen designer is essential if you want your space to look good and function properly.
Like architects, designers charge around 10% to 20% of the total kitchen remodel cost. For a one-time consultation, expect to pay for a designer anywhere from $300 to $1.5k.
A professional plumber should always be contacted to fix any plumbing issues in your kitchen. If you're looking to change the layout of the space, a plumber will definitely need to be consulted.
Plumbers charge between $70 and $150 per hour. Besides their labor, they also charge for materials.
Before relocating your appliances, ensure that the appropriate electric wiring is in place for their safety. This is especially true if your home isn't constructed of brick and stone materials.
A professional electrician will charge between $80 and $150 per hour, plus materials.
The Kitchen Contractor That Has Them All
Don't waste your hard-earned money and valuable time trying to get in touch with individual experts. Take advantage of our unique services, and you could save yourself from all the hassle while getting access to many specialists!
Home Matters Construction prides itself on a close-knit network of expert professionals, such as electricians, plumbers, carpenters, and designers. Rest assured that you won't have to search further – we've got everything you need right here!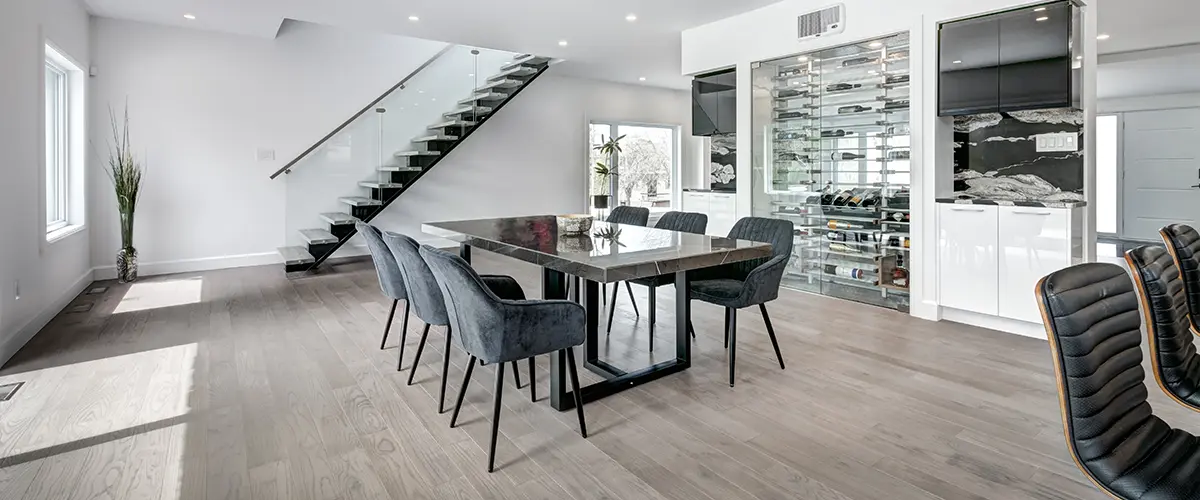 We are your one-stop shop for kitchen remodels in Papillion. We take pride in delivering the best end product to homeowners in Bellevue, Omaha, La Vista, Omaha, Gretna, Springfield, and more of Nebraska.
The Upgrades And Features In A Kitchen Renovation Project
As discussed earlier, remodeling a kitchen can encompass many possibilities with diverse features. When you come in for an on-site consultation with us, our staff will provide you a comprehensive listing of what is available to suit your updated space!
Until then, let's discuss the most popular options and their associated price for your kitchen remodel cost in Papillion.
A kitchen renovation wouldn't be complete without new cabinets. These take the most space in your kitchen and they'll definitely set the mood in your room.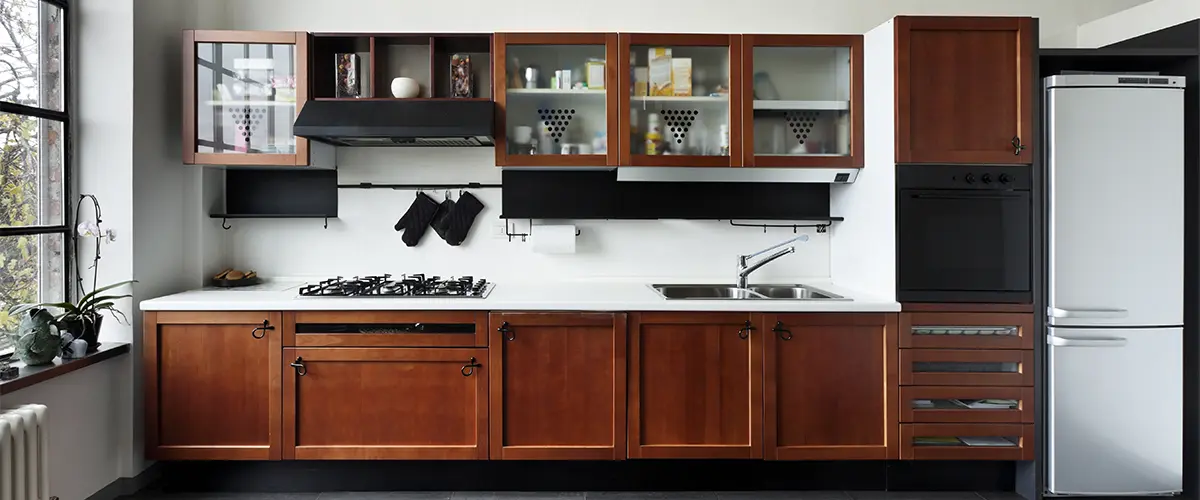 A backsplash is an ideal solution to protect your walls from spills. No more scrubbing off stubborn sauces or residues – wipe down a tile backsplash, and you're done! Installing a backsplash will save you time, energy, and effort in keeping your kitchen clean.
Let's look at some backsplash materials.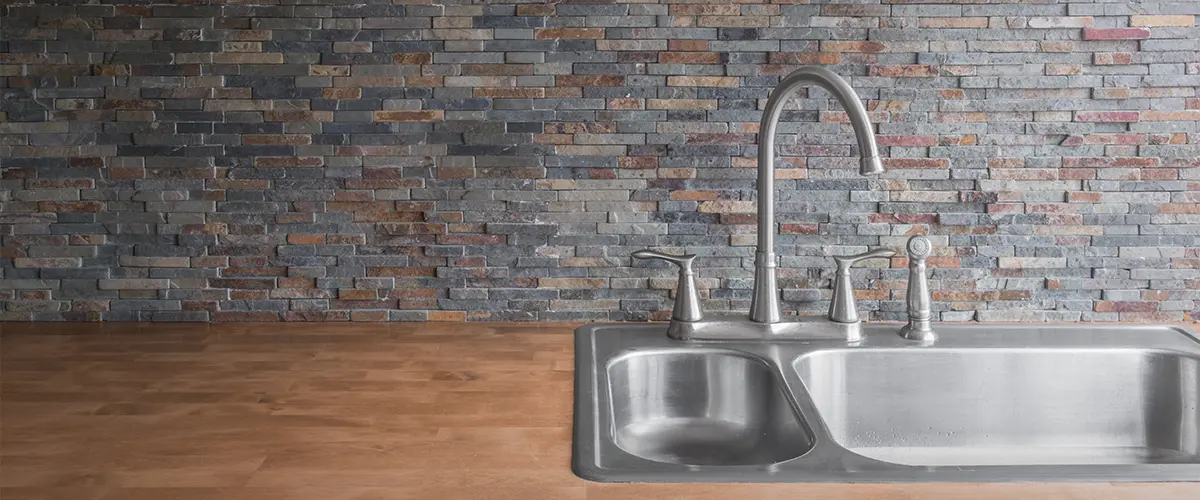 Kitchen renovations don't have to include new appliances. If you've already got some that do their job and look good, there's no need for change – keep what you've got! Choosing not to get any new appliances is a great money-saver too.
Appliances are quickly transforming into futuristic marvels, with amazing features such as touch screens and scheduling capabilities. Even robots that can cook their own meals! The possibilities seem unlimited, making home life so much easier than ever before.
When shopping for a kitchen range, prices can vary greatly. You'll find models ranging from budget-friendly $500 to high-end options costing over $3,000. Remember that you'll also need to install the gas lines for a gas range setup.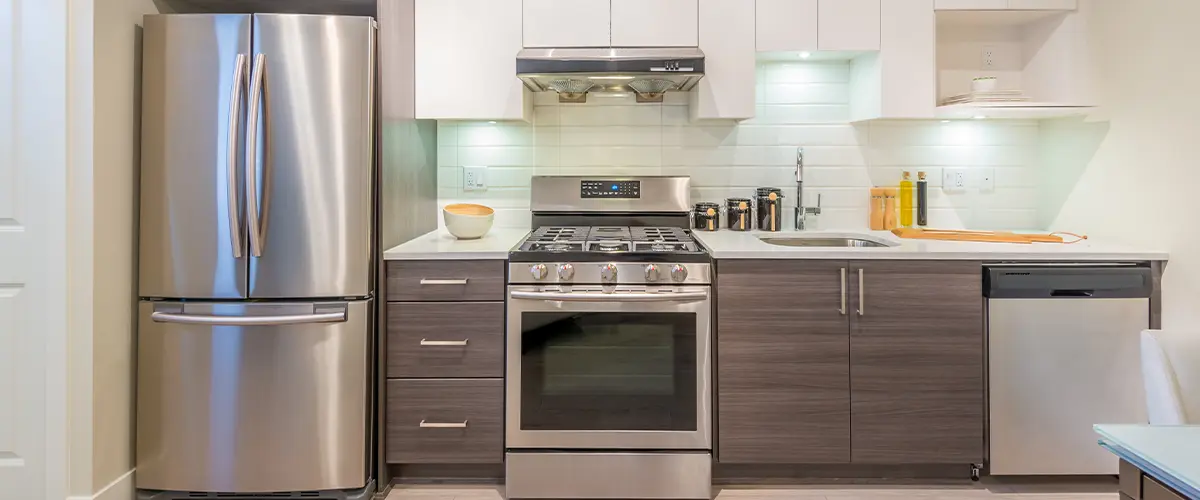 Kitchen countertops are an essential upgrade in any renovation and will be the perfect centerpiece of your new space. Messing up on this step can prevent you from achieving the kitchen of your dreams, so give it all your attention!
Quartz is the ideal choice if you're looking for a reliable yet economical countertop option. While it doesn't feature natural elements like granite or marble, you'll benefit from its strength and durability at an average cost of $75 to $100 per square foot.
In comparison, granite runs between $40-60/sq ft., while marble averages around double that amount with minimal added benefits – making quartz definitely your best bet!
The installation of these materials also comes with different price points.
| Material | Typical Cost (Per square foot installed) |
| --- | --- |
| Laminate | $30-$72 |
| Quartz | $72-$240 |
| Hardwood | $54-$300 |
| Marble | $102-$360 |
| Granite | $72-$300 |
| Stainless Steel | $109-$275 |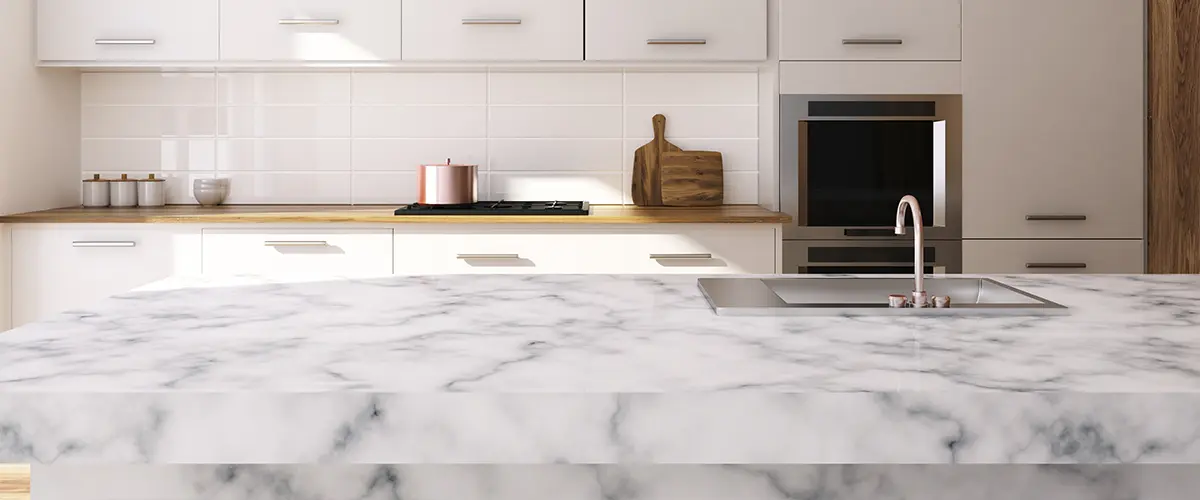 While flooring upgrades are typical, they aren't always required. If you already have a hardwood floor in your kitchen, it will take a simple refinish to make them look brand new! You'll save money and time by not investing in expensive materials.
If you want to replace it with new hardwood flooring, the average cost of installing hardwood flooring in a kitchen is around $8k.
Luxury vinyl planks are an excellent choice for flooring as they provide a much more water-resistant option than hardwood, require little upkeep and maintenance, and can be easily cleaned. Plus, you don't have to worry about rot or mold development with this flooring; no sealing or staining is required!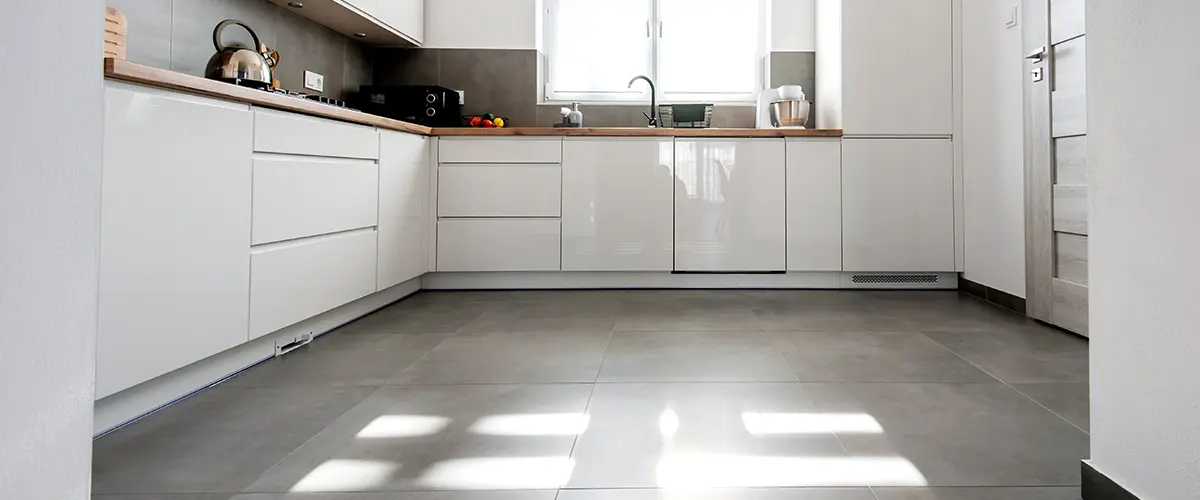 Budgeting For Your Kitchen Renovation Cost In Papillion
Home renovation shows like HGTV regularly demonstrate the positive side of things. Unfortunately, they are well-known for presenting unrealistic kitchen remodeling budgets that can cost people over twenty thousand dollars!
If you don't want to fall into the same trap as many homeowners, here are some tips on budgeting for your renovation!
If you don't consider yourself a master chef, investing in the most luxurious kitchen range may not be your wisest choice.
If this room is where you and your family gather for a board-game night or a weekend dinner, we'd recommend making this room cozy and adding a dining space. This is mostly about design and style, so spend a little more time with your designer to ensure the look you're going for is the right one.
Homeowners often overlook the need to leave room in their budget for unexpected issues with many outdated kitchens. Mold, mildew, and plumbing problems are all too frequent components of kitchen renovations; it is wise to be prepared when tackling this type of project!
An extra 20% of your total project cost will be more than enough to handle easily anything that might come up, so nothing catches you on the wrong foot.
When it comes to your kitchen remodel in Papillion, the cost is likely higher than a bedroom or bathroom renovation. Preparing and understanding precisely what you're investing in can make all the difference between having an anxiety-free upgrade journey and a stressful experience.
Prior to engaging a kitchen renovation company or any of its contractors, make sure to inquire as to what exactly you will receive in exchange for the cost. Check the local BBB or Chamber of Commerce to help you pick the best contractor around you!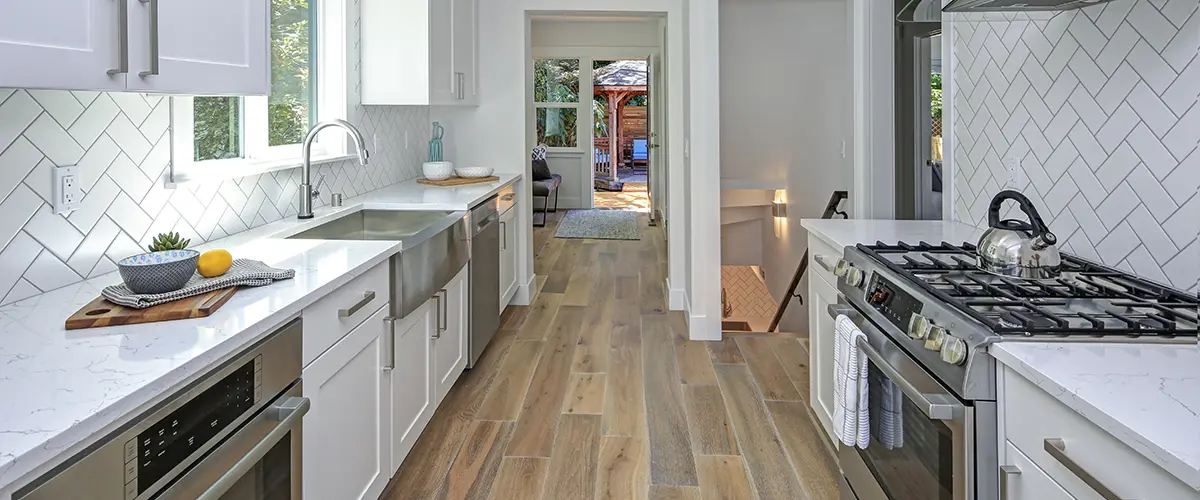 Get Pricing Transparency In Papillion With Home Matters Construction
Remodeling your kitchen in Papillion can cost around $30k on average – but keep in mind that depending on the options you choose, this final price might be subject to change.
We've worked on kitchen remodels that were as low as $20k and as much as over $70k.
No matter the project, your local experts from HMC will ensure you're getting your dream kitchen on time and within your kitchen remodeling budget.
We tend to over deliver, so expect:
Stop Delaying And Get Your New Kitchen Today!