The Best Kitchen Remodel Cost In La Vista, NE
No time to read through? Get a personalized pricing quote for your project now!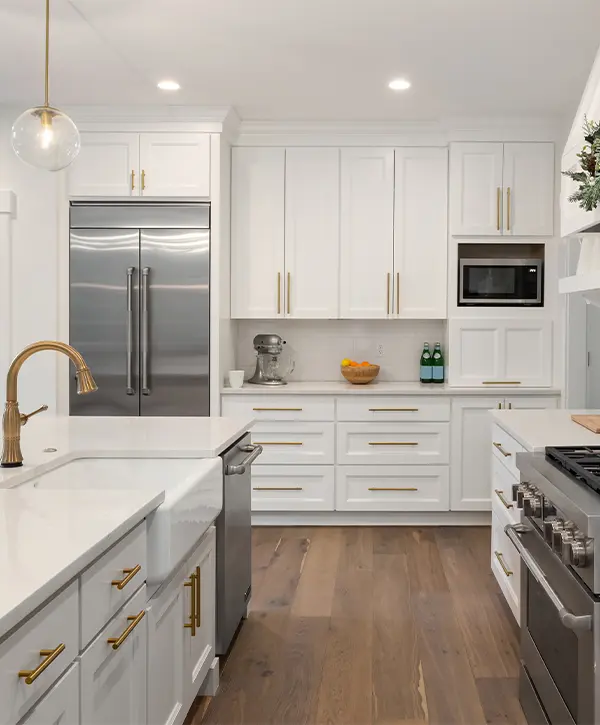 Investing in a kitchen remodel for your La Vista home can be one of the most rewarding endeavors. You can see an improved quality of life, a more efficient kitchen, and a higher home value!
But how much does a kitchen remodel cost in La Vista, NE?
Home Matters Construction plans to give you an accurate breakdown of all costs associated with a kitchen remodel in La Vista and some budgeting tips to keep your project 100% worth it.
The Typical Kitchen Remodel Cost In La Vista, NE
To ascertain the cost of a kitchen remodel, you must consider its size, materials used, and any additional features. Let's explore what La Vista homeowners typically pay to upgrade their kitchens based on dimensions.
The Typical Kitchen Remodel Cost In Papillion, NE
Calculating the price of a kitchen renovation entirely relies on your space's size, the resources you use, and all the extra features you decide to include. Let's see what the average kitchen remodel cost in Papillion is, based on different sizes of kitchens.
| Category | Size | Average cost |
| --- | --- | --- |
| Large Kitchen | over 200 sq ft | $50,000 - $80,000 |
| Average Kitchen | 100 sq ft | $19,500 - $52,000 |
| Small Kitchen | Less than 70 sq ft | $10,500 - $28,000 |
After our in-home consultation, our experts will give you a clear and concise pricing quote. We understand that home renovations can be expensive, so we'll provide cost-effective solutions to keep your project within budget. 
Homeowners Love Their New Kitchens
We prioritize fostering a strong bond with our clients, but don't just take my word for it. Here is what people have to say about working hand-in-hand with one of the most accomplished kitchen remodelers in town!
Home Matters was referred to me by a member at my sister's church. 
 From the moment we connected with Tony, we felt his honesty, integrity and desire to help us meet our needs for a full, functional kitchen remodeling project. 
 We were not disappointed. Our experience with Tony and the Home Matters team was wonderful. The coordination with their sub-contractors was impressive. The workmanship and work ethics was top notch. The office staff is friendly, professional and easy to work with. 
 I wouldn't hesitate contacting Home Matters for any of your home services, big or small.
Tony and the crew are VERY professional. 
Our remodeling project faced the inevitable covid shipping delays. They anticipated and worked around the supply problems, kept the project on schedule. 
They kept us in the loop, answered all our questions, and did some really great work. The kitchen lights installation just blew us away! 
The new floors are simply a delight. We absolutely recommend Home Matters. 
 Tony and his crew will have our next project!
Labor In A Kitchen Remodel Cost In La Vista
Kitchen renovations are complex and involve getting a plumber, designer, electrician, builder, and carpenter. Gathering the necessary experts for this job can be overwhelming, not to mention the diverse rates each specialist charges!
Architects are the experts that make sure the space is structurally safe. They're crucial if you build new walls in your space or change the room's structure.
Architects usually charge between $65 to $250 per hour or 10% to 20% of your total project cost as a one-time fee.
The kitchen designer is essential if you want your space to look good and function properly.
Like architects, designers charge around 10% to 20% of the total kitchen remodel cost. For a one-time consultation, expect to pay for a designer anywhere from $300 to $1.5k.
A professional plumber should always be contacted to fix any plumbing issues in your kitchen. If you're looking to change the layout of the space, a plumber will definitely need to be consulted.
Plumbers charge between $70 and $150 per hour. Besides their labor, they also charge for materials.
Before relocating your appliances, ensure that the appropriate electric wiring is in place for their safety. This is especially true if your home isn't constructed of brick and stone materials.
A professional electrician will charge between $80 and $150 per hour, plus materials.
The Kitchen Contractor That Has Them All
Save yourself from the turmoil of searching for individual experts, and put your hard earned money and time to better use by taking advantage of our complete service!
Home Matters Construction brings a team of elite experts to you, whether an electrician, plumber, carpenter, or designer. You don't have to look any further for the perfect solution – we've got everything you need in one convenient location!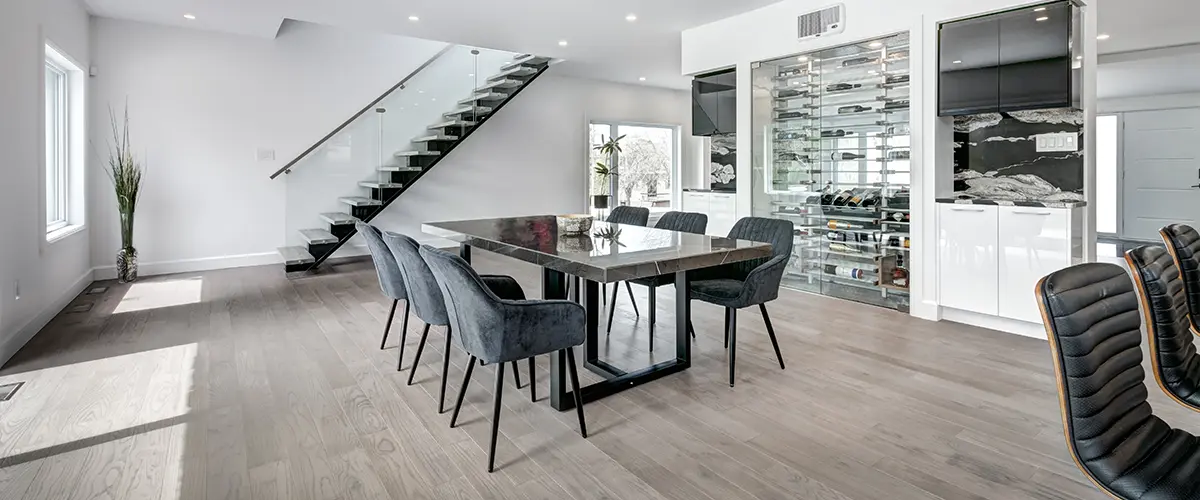 We are your one-stop shop for kitchen remodels in Papillion. We take pride in delivering the best end product to homeowners in Bellevue, Omaha, La Vista, Omaha, Gretna, Springfield, and more of Nebraska.
The Upgrades And Features In A Kitchen Renovation Project
As mentioned before, remodeling a kitchen can entail numerous options with various features. When you visit us for an on-site consultation, our team will provide you with a complete list of what is accessible to accommodate your revamped space!
Until then, let's discuss the most popular options and their associated price for your kitchen remodel cost in La Vista.
Installing a backsplash is the perfect way to keep your kitchen clean with less effort. No more trying to scrub off stuck-on sauces or residues – simply wiping down tiles will do! Save yourself time, energy, and hassle by installing a beautiful tile backsplash in your kitchen today.
Let's look at some backsplash materials.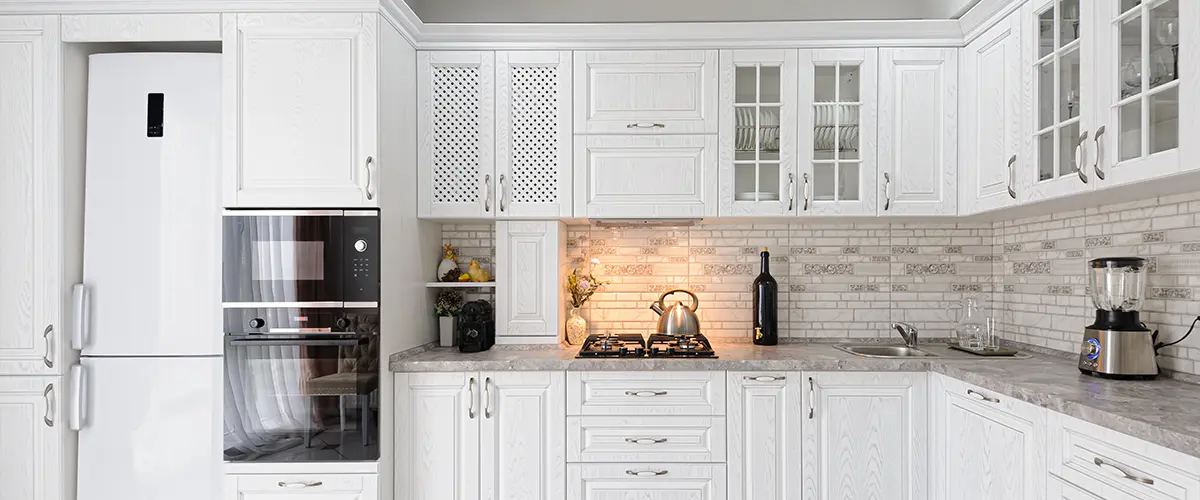 You don't have to purchase new appliances when renovating your kitchen! If the ones already there still do their job and look nice, keep them. Not getting any new appliances is wise since it will save you money in the long run.
Home life is transforming into a world of convenience and luxury as appliances transform into futuristic marvels with features like touchscreens and scheduling capabilities. Imagine robots that can cook their own meals! The possibilities are virtually limitless for making our home lives more comfortable.
While searching for the ideal kitchen range, costs can be incredibly diverse. You'll find models that start from a budget-friendly $500 and up to extravagant options costing over $3,000, not including gas line installation fees for a gas range set up. Remember to factor in all of your expenses before making a decision!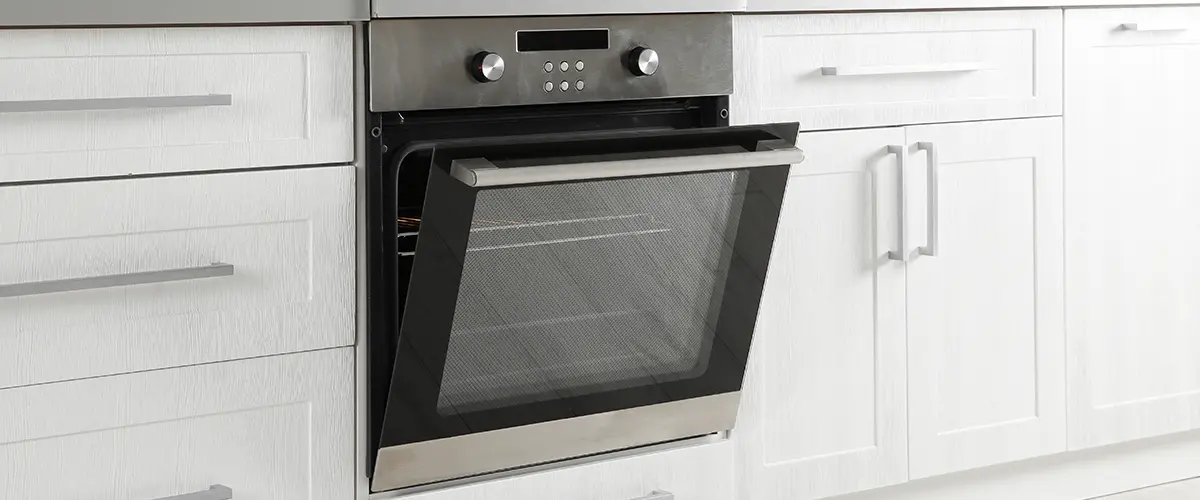 Kitchen countertops are the ideal addition to any renovation and will be a beautiful focal point of your new space. Don't let a slight misstep prevent you from having the kitchen of your dreams- give it all the attention it deserves!
If you're in search of a countertop option that is dependable and budget-friendly, then Quartz is the perfect choice for you. While it lacks natural elements such as granite or marble, this material offers superior strength and resilience – all at an accessible price point of $75 to $100 per square foot.
By contrast, granite costs between $40-60/sq ft., while marble averages about twice that amount without much additional benefit – this makes quartz the superior option!
The installation of these materials also comes with different price points.
| Material | Typical Cost (Per square foot installed) |
| --- | --- |
| Laminate | $30-$72 |
| Quartz | $72-$240 |
| Hardwood | $54-$300 |
| Marble | $102-$360 |
| Granite | $72-$300 |
| Stainless Steel | $109-$275 |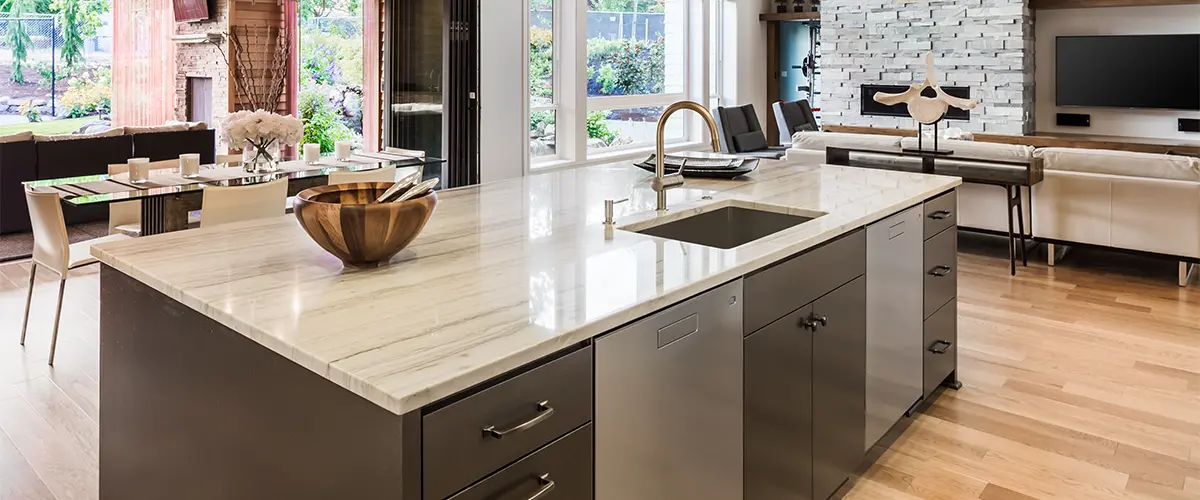 Flooring upgrades aren't always necessary – if you're lucky enough to have hardwood floors in your kitchen, a simple refinishing is required to make them look like they were installed yesterday! This means less money and time invested in expensive materials.
If you're yearning to switch out your flooring with new hardwood, the estimated expenditure for installing this type of surface in a kitchen is approximately $8k.
Luxury vinyl planks are an outstanding option for flooring. Not only do they offer incomparable water-resistance compared to hardwood, but they also require minimal maintenance and upkeep. They can be easily cleaned too! With luxury vinyl planks, you'll never have to worry about rot or mold again – no sealing or staining is needed either!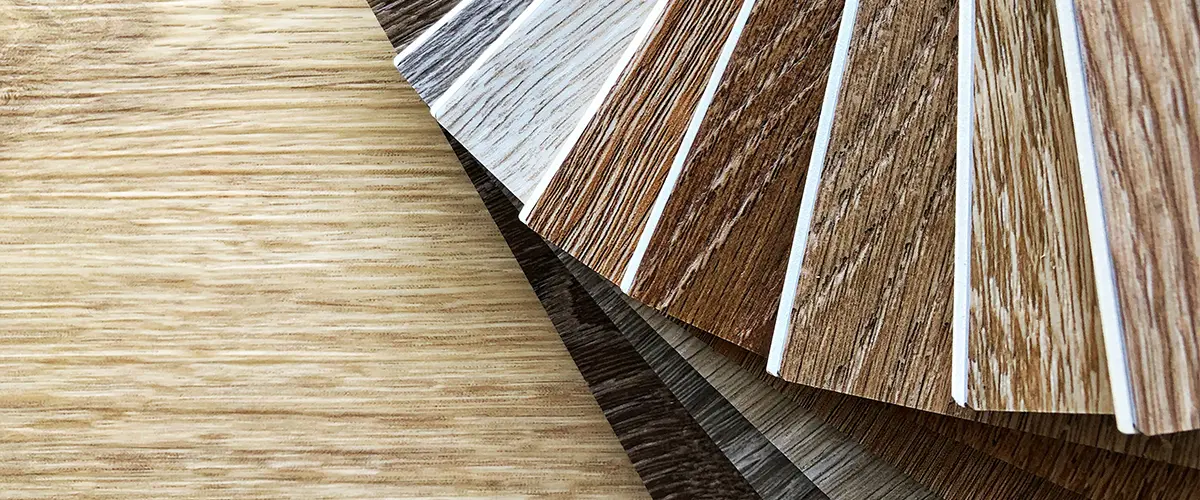 A kitchen renovation wouldn't be complete without new cabinets.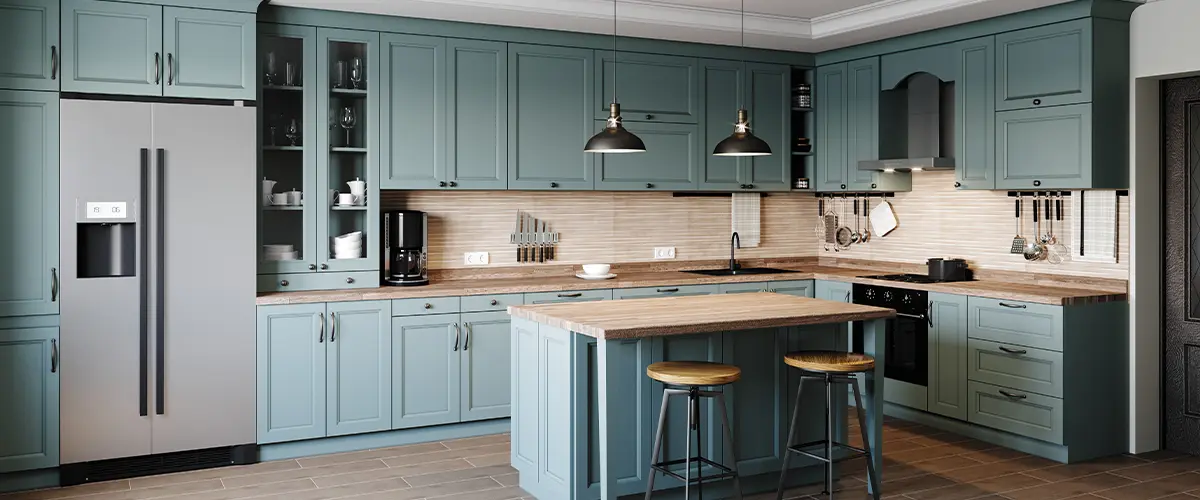 Budgeting For Your Kitchen Renovation Cost In La Vista
Home remodeling shows on HGTV can deceive viewers as they often make it appear like kitchen remodels are easily affordable. The truth is a bit different – very few kitchen remodels will cost as little as $10k.
To help you create reasonable expectations, here are some quick tips on properly budgeting for your remodel.
If you don't consider yourself a master chef, investing in the most luxurious kitchen range may not be your wisest choice.
For the space where your family comes together for a game night or weekend dinner, we suggest making it cozy and comfortable by adding appropriate furnishings. Design is critical here, so take extra time with your designer to ensure you get the perfect look!
Homeowners sometimes forget to set aside money for potential problems when updating an older kitchen. Mold, mildew, and plumbing issues are too common in these renovations; it's important to be ready before starting the project! Being prepared will ensure that you don't run into unexpected costs down the line.
By allocating an extra 20% of your total project cost, you can ensure that any unexpected occurrences will be taken care of with ease – leaving you always on the winning foot.
When it comes to remodeling your kitchen in La Vista, you can expect costs to be higher than transforming other areas of the house. But by clarifying precisely what services and materials you're investing in for this project, you can ensure a stress-free experience instead of an overwhelming one.
Before engaging a kitchen renovation company or any of its contractors, make sure to inquire as to what exactly you will receive in exchange for the cost. Check out the local Chamber of Commerce or local BBB and filter through some contractors.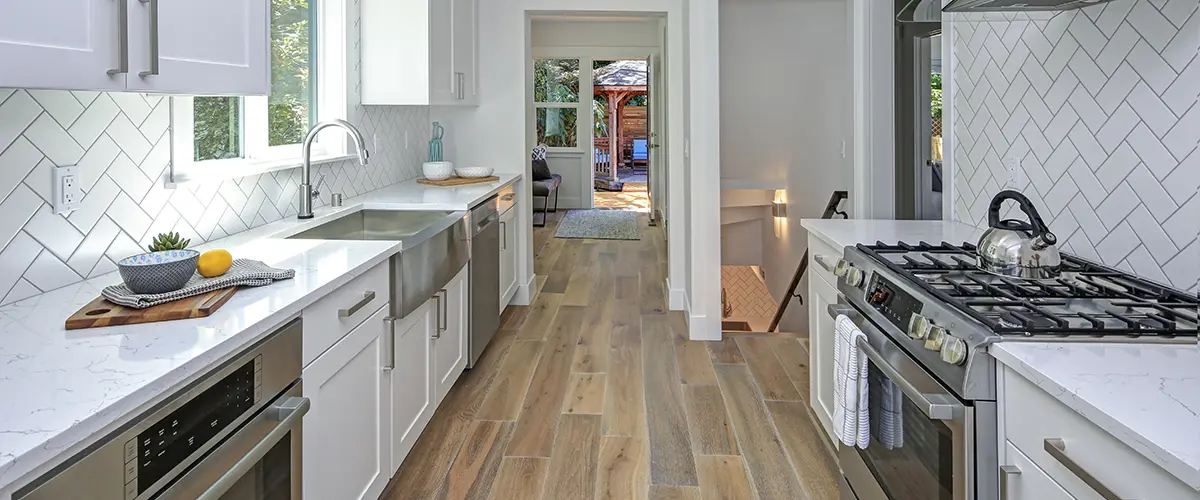 Get Pricing Transparency In La Vista With Home Matters Construction
Revamping your kitchen in La Vista may set you back an average of $30k. However, this cost can vary depending on your chosen materials and features.
We've worked on kitchen remodels that were as low as $20k and as much as over $70k.
Let HMC help make your kitchen remodeling dream a reality! With our local experts by your side, you can be sure that the project will be completed on time and within budget.
We tend to over deliver, so expect:
Stop Delaying And Get Your New Kitchen Today!