The Best Bathroom Remodeling Cost In Gretna, NE
No time to read through? Get a personalized pricing quote for your project now!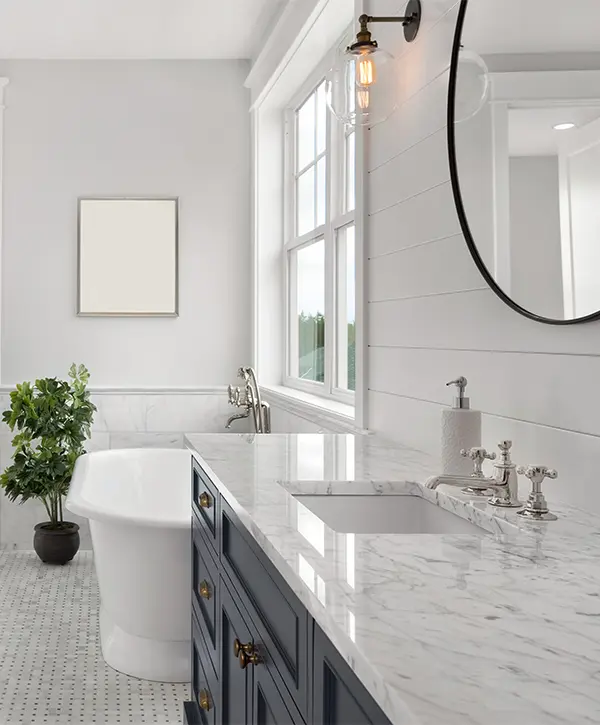 According to the Cost vs. Value Report 2023, a major bathroom remodel in Gretna, NE, has an average cost of approximately $80k, while minor bathroom remodeling projects cost around $25k.
However, the return on investment these bathroom upgrades provide is over 54%, meaning you'll get more than half of your money back upon selling the place, or you'll see an increase in your home's appraisal value.
At Home Matters Construction, we get that it's important for you to clearly understand the bathroom remodeling costs in Gretna, and we're about to address that!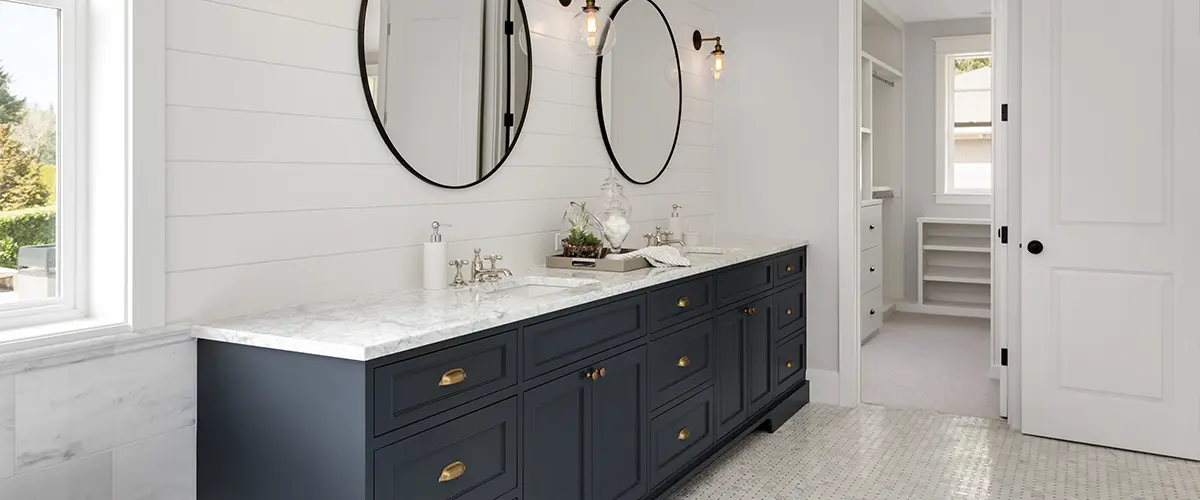 The Typical Bathroom Renovation Cost In Gretna, NE
To calculate the cost of a bathroom remodeling project, consider the size of the bathroom, the materials used, and the labor fees charged by the contractor. Keep in mind that a small half-bath remodeled for return on investment will cost less than a larger bathroom with high-end materials. Here are some bathroom remodeling price estimates based on different bath sizes.
| Size/Category | Economy | Standard | High-end | Luxury |
| --- | --- | --- | --- | --- |
| Small Bathroom (5'x8′) | $9k – $12k | $12k– $15k | $15k– $18k | $18k– $22k |
| Average Bathroom | $12k - $14k | $15k – $12k | $19k – $25k | $25k – $30k |
| Large Bathroom | $20k – $25k | $25k – $35k | $35k – $50k | $50k – $80k |
Get in touch with Home Matters Construction today to receive a free estimate that covers all aspects of your project. Once we conduct an in-home consultation, we will provide you with a precise quote to help you stick to your construction budget. Additionally, we will provide you with money-saving tips.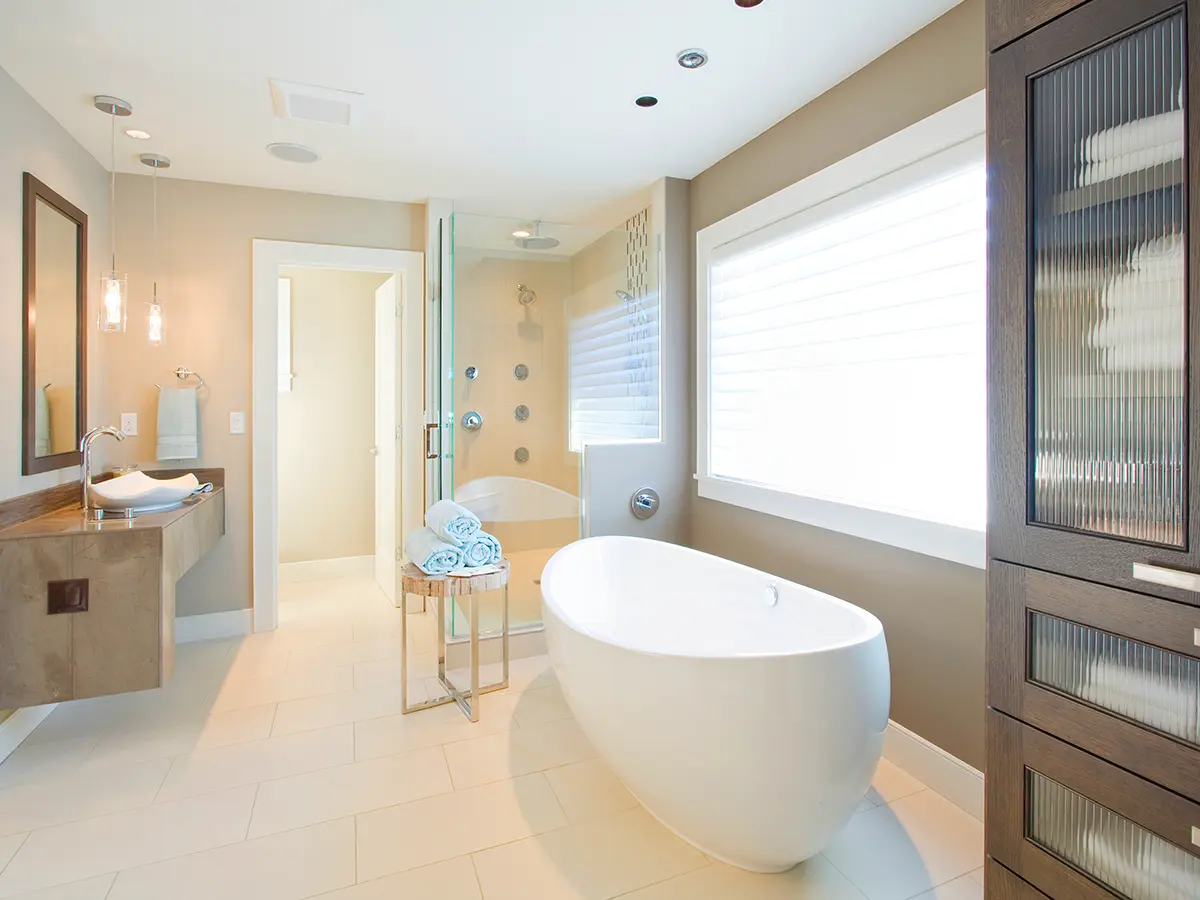 Bathroom Remodel in Papillion
This 86 ft². project included:
This remodel was quoted at $43k, where the most expensive item was the shower.
Labor In A Bathroom Renovation Cost In Gretna
When you're remodeling a bathroom, it's crucial to collaborate with several professionals to guarantee the highest safety standards.
If you are considering a remodel, it is important to hire an architect. They can help you create new floor plans and blueprints while ensuring the safety of any structural changes.
Architects generally charge between $500 and $1,500 per hour or a one-time fee of 10% to 20% of the total cost of your project.
It is recommended to work with a designer when creating a new bathroom to ensure that it is fully functional and has a cohesive layout.
Designers charge 10-20% of the overall renovation cost; one-time consultation costs range from $500 to $1,500, depending on their skill level.
To ensure a successful bathroom remodeling project, taking care of any plumbing issues beforehand is necessary. It is highly recommended to hire a professional plumber for this task.
Plumbers charge between $70 and $150 per hour for their services and any necessary materials expenses.
If you have an older home, it's important to ensure that your electrical installation is up-to-date with current requirements because electrical codes are frequently revised.
Usually, an electrician costs between $80 and $150 per hour in addition to supplies.
Get All In One With Home Matters Construction
Remodeling projects can be difficult when it comes to finding and hiring multiple tradesmen. But have you considered partnering with a remodeling company that offers all the resources you need to make your vision a reality?
At HMC, we worked with top-rated architects, designers, plumbers, electricians, and carpenters in Nebraska to ensure that our homeowners get the highest quality services and products.
This remodeling service is designed to simplify the process so you won't have to deal with multiple appointments and contractors. We'll handle everything, including designing plans, securing building permits, and cleaning up the site once the renovation is complete.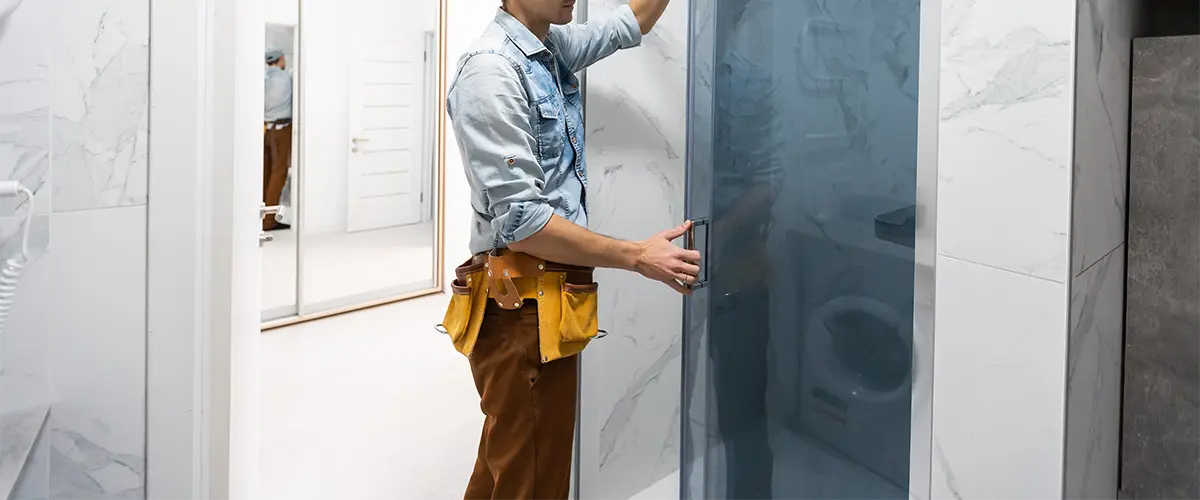 Homeowners Love Their New Bathrooms
For many of your neighbors in Gretna, working with Home Matters Constructions has been the best choice for their home, money, and time. Here's what they say about working with us!
Home Matters Construction remodeled my basement for me. They were amazing! Definitely the best remodeler in Papillion! Couldn't have asked for a better experience. Thank you Tony and Michael.
Home Matters managed the complete renovation of our master bath (gut and replace) and updating of 2 other bathrooms. Their communication was very good, the quality of the work was excellent, all of the subcontractors that were in our home were very professional.
It was a lot of work and the project took longer than the initial estimates, but we are completely satisfied with the outcome.
Bath Renovation Cost In Gretna By Upgrades
Here is a list of popular bathroom upgrades and their costs to assist you in estimating the required amount of funds for your renovation project in Gretna, Nebraska.
Adding a vanity that complements your bathroom design can improve the look of a small bathroom and make it more attractive. Vanities are ideal for half baths or powder rooms and are more affordable.
If you need more storage and want to speed up your morning routine by not having to wait for your partner, a double vanity is a great option.
Semi-custom or custom vanities range from $75 to $250 per square foot. Additionally, finished work may cost $50 to $100 per linear foot. For a master bathroom with a double vanity having two sinks and up to eight feet of countertop, the estimated cost is between $500 to $2,800 for a semi-custom or custom project.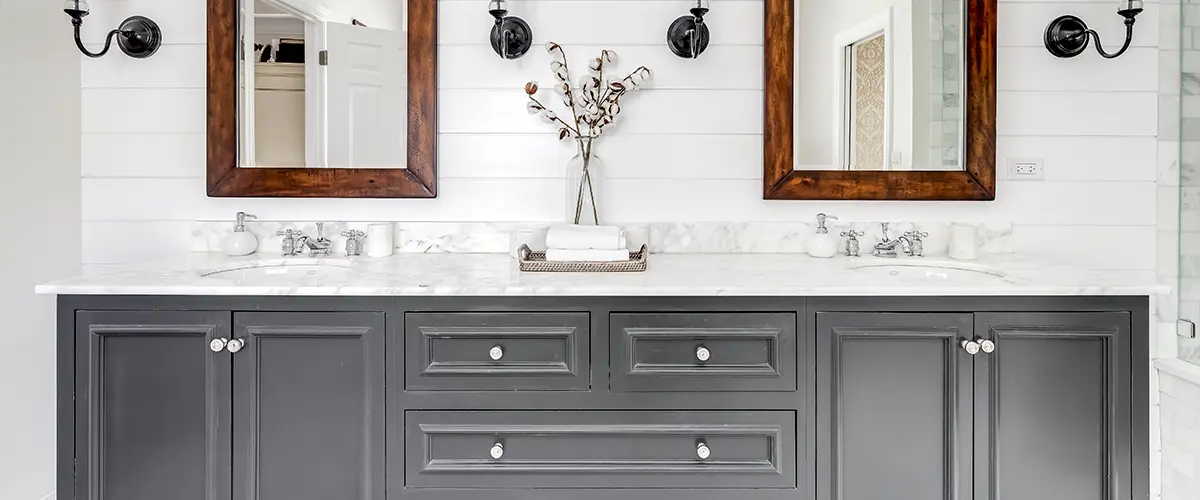 If you're replacing the vanity, you may also need to replace the countertop since the old one may not fit the new vanity, and the new bathroom design may require a different style of countertop.
To make things easier, choose low-maintenance countertops that are both durable and stylish. For a good combination of durability and aesthetic appeal, I would recommend going for quartz countertops.
| Material | Typical Cost (per square foot installed) |
| --- | --- |
| Laminate | $27 - $34 |
| Quartz | $50 - $200 |
| Hardwood | $30 - $40 |
| Marble | $40 - $200 |
| Granite | $50 - $400 |
| Stainless Steel | $80 - $225 |
The hardwood floors in many of the bathrooms we renovated were deteriorating rapidly or the ceramic tiles looked outdated and unappealing.
Italian porcelain tiles are a favored flooring choice among Gretna, homeowners. Porcelain tiles range from $2 to $30 per square foot. However, hiring a professional for the purchase and installation process can cost between $9 to $50 per square foot.
Luxury vinyl plank or tile flooring is a cost-effective and efficient alternative to natural hardwood or stone flooring. It offers the same appearance but with fewer drawbacks.
The average cost of installing LVP flooring is between $5,500 to $8,000 for a 1000 sq/ft space. Luxury vinyl planks cost between $2.5 and $12 per square foot, on average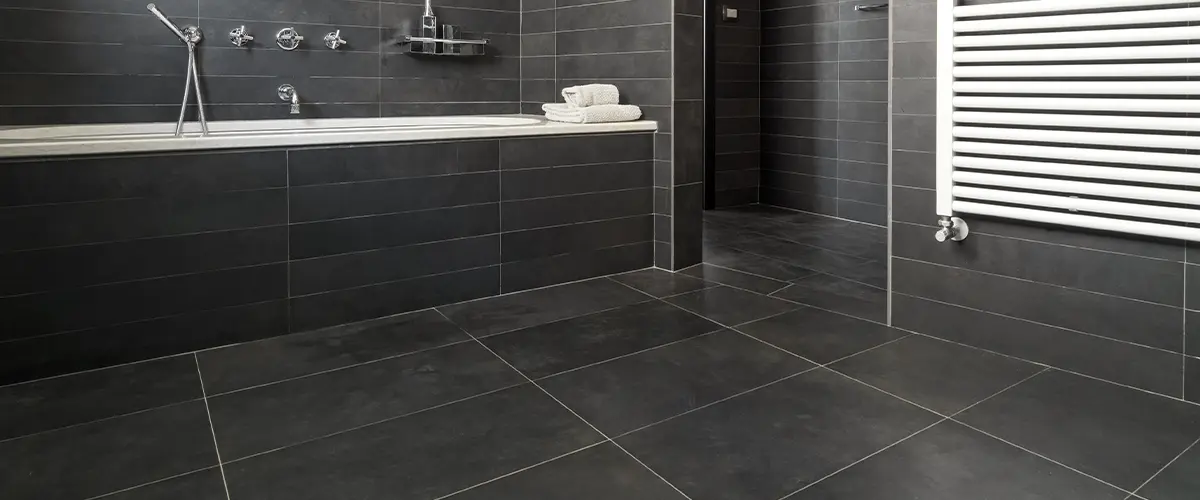 If you're planning to renovate your bathroom in Gretna, NE, replacing your old bathtub with a walk-in shower with glass doors is advisable. This might increase your initial renovation expenses, but it will prove to be advantageous in the long term.
The cost of remodeling a shower with bathroom tiles varies based on the size of the shower and the materials used. Generally, walk-in showers cost at least $1,000 to renovate, but the total cost can range from $1,000 to $5,000.
In most cases, installing tiles for a floor or shower surround is pricier compared to installing a shower pan. However, there are situations where the extra cost may have valid reasons. The expenses can vary significantly, ranging from $2,000 to more than $10,000.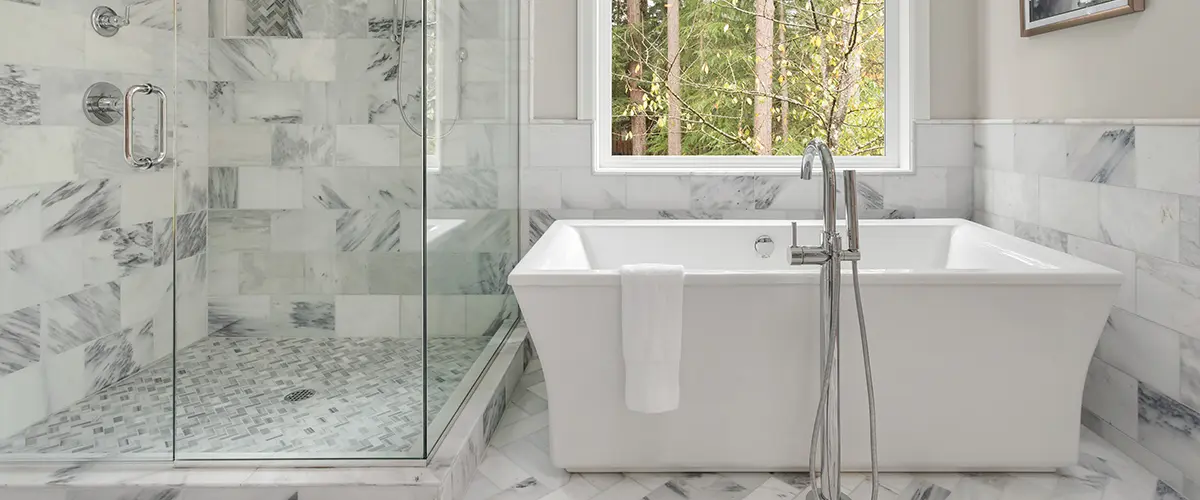 Budgeting For Your Bathroom Remodeling Cost In Gretna, NE
Homeowners in Gretna are worried about the expenses involved in renovating their bathrooms. Although HGTV promotes upscale bathroom remodels for just $15k, the actual cost tends to be higher. Let's look at some tips that help you keep your bathroom remodeling cost within your budget.
Consider making small changes if you want to save money on your bathroom renovation. One affordable upgrade that our elderly clients often request is replacing an old bathtub with a walk-in shower.
Working closely with your designer can be especially helpful in achieving the desired design and style while keeping your remodel within a set budget.
When you're renovating your bathroom, it's crucial to expect unexpected issues like mold, mildew, or plumbing problems. To be on the safe side, it's recommended that you set aside an additional 20% of the overall project cost to handle such situations.
By doing this, you'll have some extra money set aside for unforeseen circumstances. If things go according to plan, the additional funds will stay in your account.
It's important to be aware that bathroom renovations are usually cheaper than renovating a bedroom or kitchen, which some people may not know. To avoid unexpected expenses in the future, it's crucial to understand all the upfront costs for a smooth and hassle-free project.
It is important to inquire about fees and possible hidden charges related to the job before signing any documents. Having a clear understanding of the total cost will allow you to plan your budget accordingly.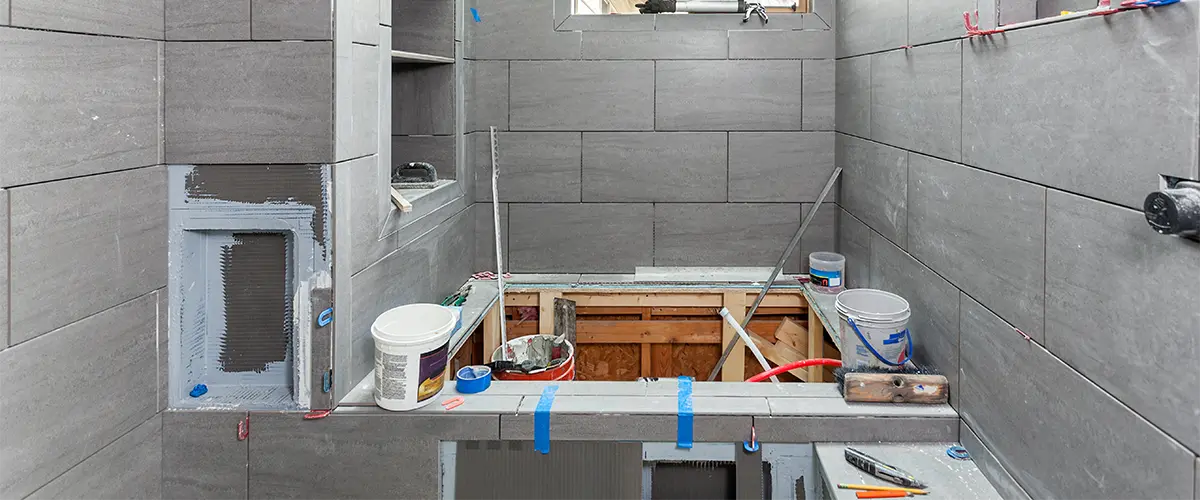 Enjoy The Best Quality Craft At A Fair Price In Gretna
Home Matters Construction can help you create the perfect bathroom design, no matter the size of your home.
Our bathroom remodeling services typically cost around $30,000 on average, but the final price may vary depending on the materials you select. We promise to stay within your budget and provide a hassle-free experience.
Our bathroom remodeling company goes above and beyond in providing service, so you can anticipate receiving more than expected.
Start Your Bathroom Remodeling Project Today!