The Best Bathroom Remodeling Cost In Bellevue, NE
No time to read through? Get a personalized pricing quote for your project now!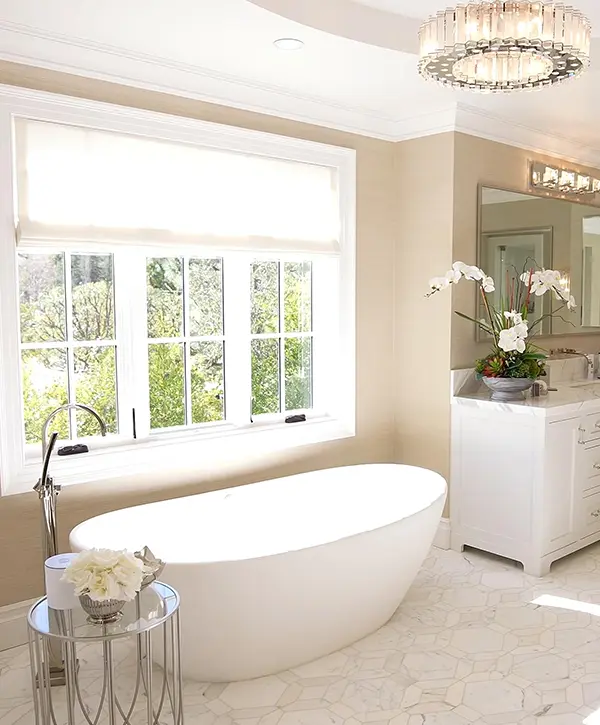 The Cost vs. Value Report 2022 states that for a bathroom remodel in Bellevue, NE, the average cost is around $31,000. However, the report also highlights that the return on investment makes this upgrade worthwhile.
Minor bathroom repairs provide a 67.5 percent rate of return, while major bathroom renovations offer a return of 59.5 percent.
At Home Matters Construction, we get that you need to understand the cost of bathroom remodeling in Bellevue clearly. That's why we provide you with all the information you need to prepare for this exciting process!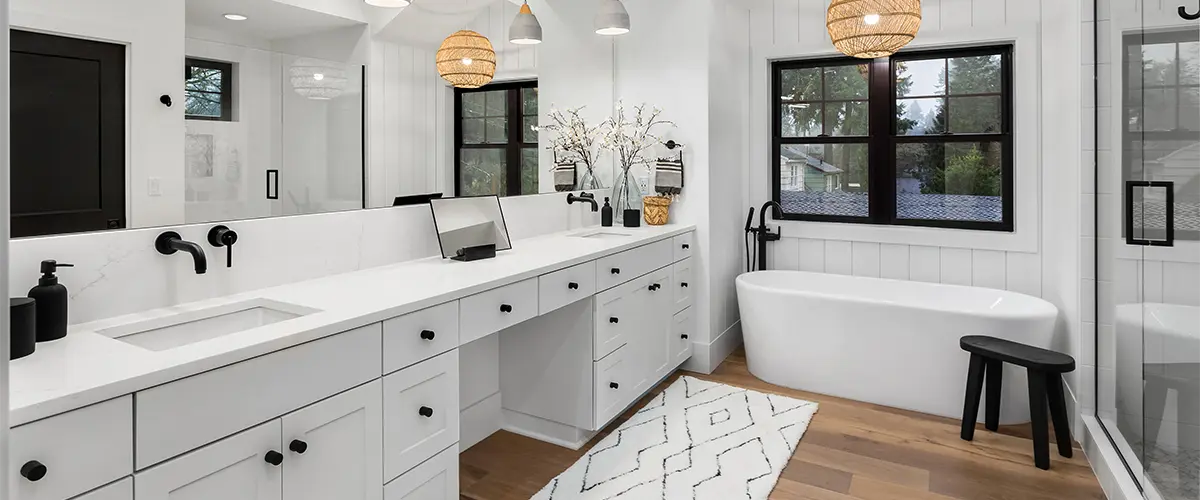 The Typical Bathroom Renovation Cost In Bellevue, NE
Several factors need to be taken into account to determine the cost of a bathroom remodeling project. These factors include the bathroom's size, the type of materials used, and the labor fees charged by the contractor. Remember that a larger bathroom with high-end materials will cost more than a small half-bath that's remodeled solely for return on investment.
Here are some bathroom remodeling price estimates based on different bath sizes.
| Size/Category | Economy | Standard | High-end | Luxury |
| --- | --- | --- | --- | --- |
| Small Bathroom (5'x8′) | $9k – $12k | $12k– $15k | $15k– $18k | $18k– $22k |
| Average Bathroom | $12k - $14k | $15k – $12k | $19k – $25k | $25k – $30k |
| Large Bathroom | $20k – $25k | $25k – $35k | $35k – $50k | $50k – $80k |
Contact Home Matters Construction now for a complimentary estimate that includes all aspects of your project. Following an in-home consultation, we'll provide you with an exact quote to help you stay within your construction budget. We'll also offer tips on how to save money.
Labor In A Bathroom Renovation Cost In Bellevue
To ensure the highest safety standards when remodeling a bathroom, it is important to work with multiple professionals.
If you plan to remodel, hiring an architect is important. They can assist you in creating the new floor plans and blueprints and also ensure the safety of any structural changes.
Architects generally charge between $65 and $400 per hour or a one-time fee of 10% to 20% of the total cost of your project.
Working with a designer is recommended to ensure that your new bathroom is fully functional and has a seamless flow.
Designers charge 10-20% of the overall renovation cost; one-time consultation costs range from $300 to $1,500, depending on their skill level.
Before starting a bathroom remodeling project, addressing any plumbing issues is essential. To ensure the job is done correctly, we recommend hiring a professional plumber.
Plumbers charge between $70 and $150 per hour for their services and any necessary materials expenses.
If your home is old, ensuring the electrical installation meets current requirements is important, as electrical codes are updated regularly.
Usually, an electrician costs between $80 and $150 per hour in addition to supplies.
Get All In One With Home Matters Construction
Finding and hiring multiple tradesmen for a remodeling project is a hassle. However, what if you could partner with a remodeling company that provides all the necessary resources to bring your vision to life?
At HMC, we collaborated with some of Nebraska's finest architects, designers, plumbers, electricians, and carpenters to guarantee our homeowners that they will receive only the best quality.
We offer a hassle-free remodeling experience that eliminates needing you to contact different professionals and arrange appointments. 
We take care of everything, from designing the plans and obtaining the necessary building permits to tidying up the site and leaving you with your newly renovated bathroom.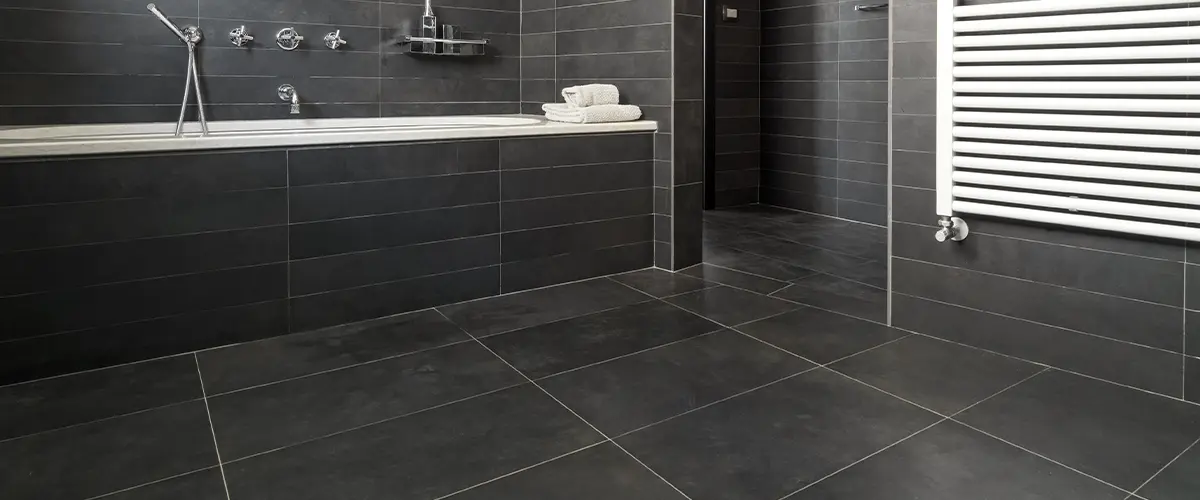 Homeowners Love Their New Bathrooms
Your neighbors in Bellevue love their new bathrooms! For them, working with Home Matters Constructions has been the best choice for their home, money, and time. Here's what they say about working with us!
Home Matters managed the complete renovation of our master bath (gut and replace) and updating of 2 other bathrooms. Their communication was very good, the quality of the work was excellent, all of the subcontractors that were in our home were very professional.
It was a lot of work and the project took longer than the initial estimates, but we are completely satisfied with the outcome.
Tony and Mike at Home Matters Construction are hands down the best in town. Not to mention, they restored my faith in contractors. I had several bad experience before working with them.
They are professional, have pride in their work and make sure you are completely satisfied with the work. Not to mention they are pretty hilarious.
They put in luxury vinyl plank floors in my kitchen, bathrooms. They look absolutely amazing. I highly recommend them and will work with them on future projects.
Bath Renovation Cost In Bellevue By Upgrades
To help you determine the amount of money you will need for your bathroom renovation in Bellevue, Nebraska, here are some of the most popular upgrades and their associated costs.
Installing a vanity that matches your design can enhance the appearance of a small bathroom and make it more appealing. These are perfect for half baths or powder rooms and are also more budget-friendly.
A double vanity could be helpful if you require more storage. Additionally, having two sinks can make your morning routine more efficient as you won't need to wait for your partner anymore.
Semi-custom or custom vanities vary between $75 and $250 per square foot. There is also an additional cost of $50 to $100 per linear foot for the finished work. For a double vanity with two sinks and a maximum of eight feet of countertop in a master bathroom, the estimated cost falls between $500 to $2,800 for a semi-custom or custom project.
Note: As per KCMA, you'll get the most value out of a semi-custom vanity, so if you're looking for the highest ROI, that would be your best choice.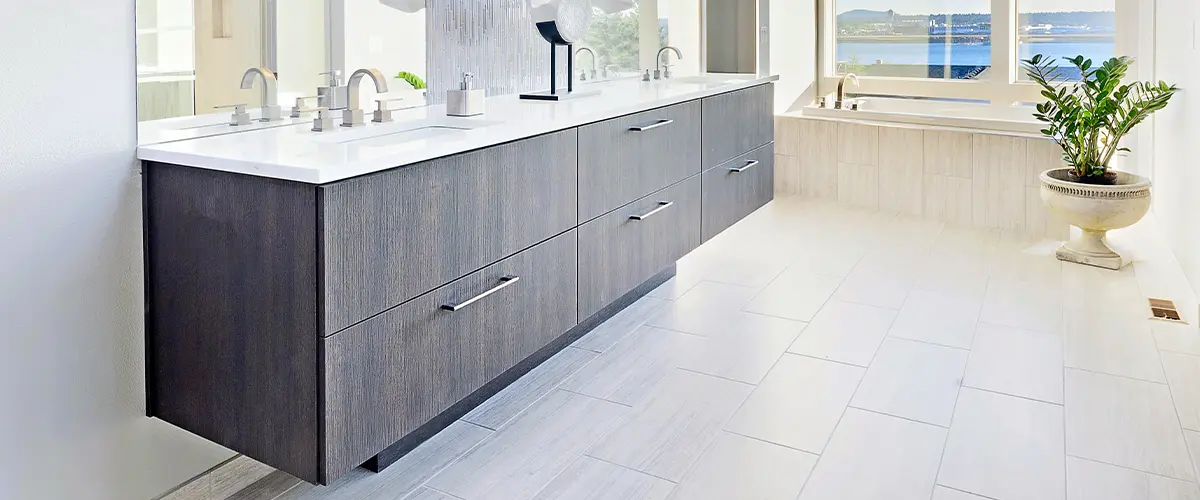 It is necessary to replace the countertop if you're replacing the vanity. This is because the old countertop may not fit the new vanity size, and the new bathroom design may require a different countertop style.
To make things easier, choose low-maintenance countertops that are both durable and stylish.
Quartz countertops would be the best choice for a balance of durability and aesthetics. This engineered material has a long lifespan and offers both comfort and beauty.
Choosing natural stone countertops such as granite or marble for your new bathroom will add an elegant touch, but they come with a higher cost. Keep in mind that granite is known for its durability and resistance, while marble is softer and more likely to develop cracks or chips.
| Material | Typical Cost (per square foot installed) |
| --- | --- |
| Laminate | $27 - $34 |
| Quartz | $50 - $200 |
| Hardwood | $30 - $40 |
| Marble | $40 - $200 |
| Granite | $50 - $400 |
| Stainless Steel | $80 - $225 |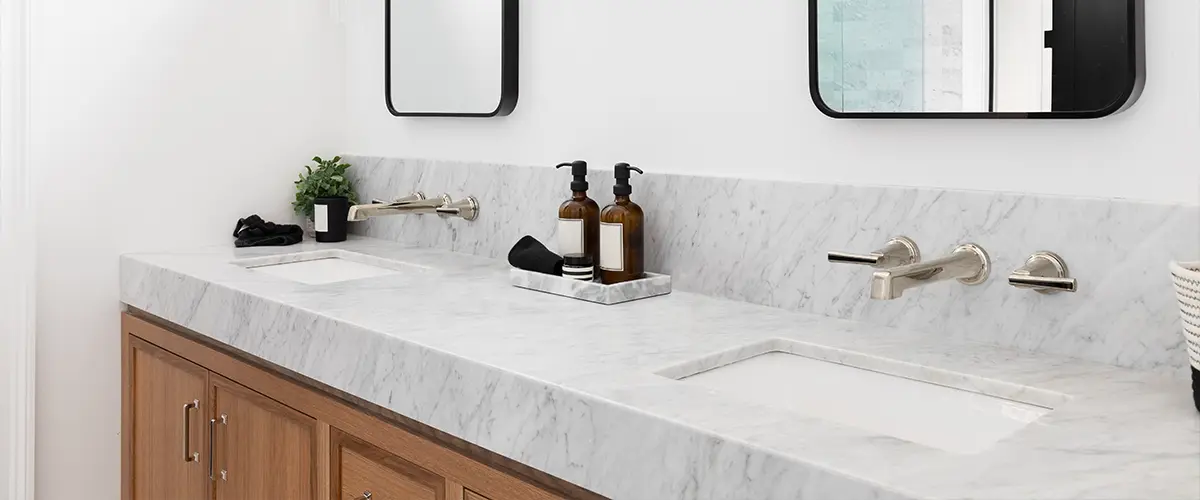 Many of the bathrooms we renovated had hardwood floors that were deteriorating quickly or unappealing ceramic tiles that looked outdated.
Italian porcelain tiles are a favored flooring choice among Bellevue, homeowners. On average, porcelain tiles range from $2 to $30 per square foot. However, hiring a professional for the purchase and installation process can cost between $9 to $50 per square foot.
Luxury vinyl plank (or tile) flooring is both cost-effective and highly efficient. It provides a natural hardwood or stone appearance but with fewer disadvantages.
The average cost of installing LVP flooring is between $5,500 to $8,000 for a 1000 sq/ft space. Luxury vinyl planks cost between $2.5 and $12 per square foot, on average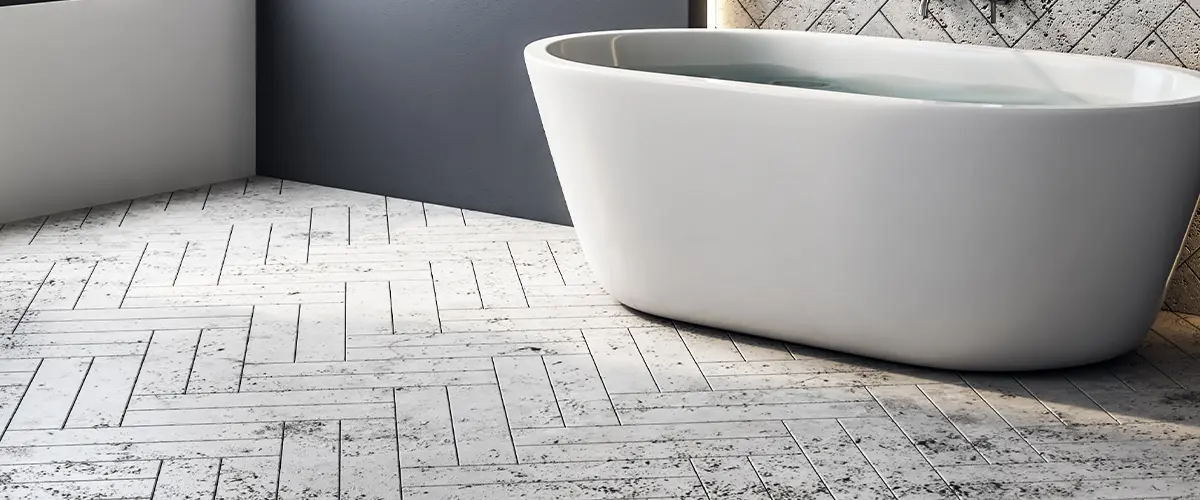 When renovating your bathroom in Bellevue, NE, consider replacing your old bathtub with a walk-in shower with glass doors. Although it may increase your initial renovation costs, it will be beneficial in the long run.
Remodeling a shower with bathroom tiles can cost anywhere between $1,000 to $5,000, depending on the size of the shower and the materials used. Usually, walk-in showers cost around $1,000 and up to renovate.
Installing tiles on a floor or shower surround is generally more expensive than installing a shower pan. Nonetheless, there are circumstances where the additional cost may be justified. The costs can vary widely, with some cases costing anywhere from $2,000 to over $10,000.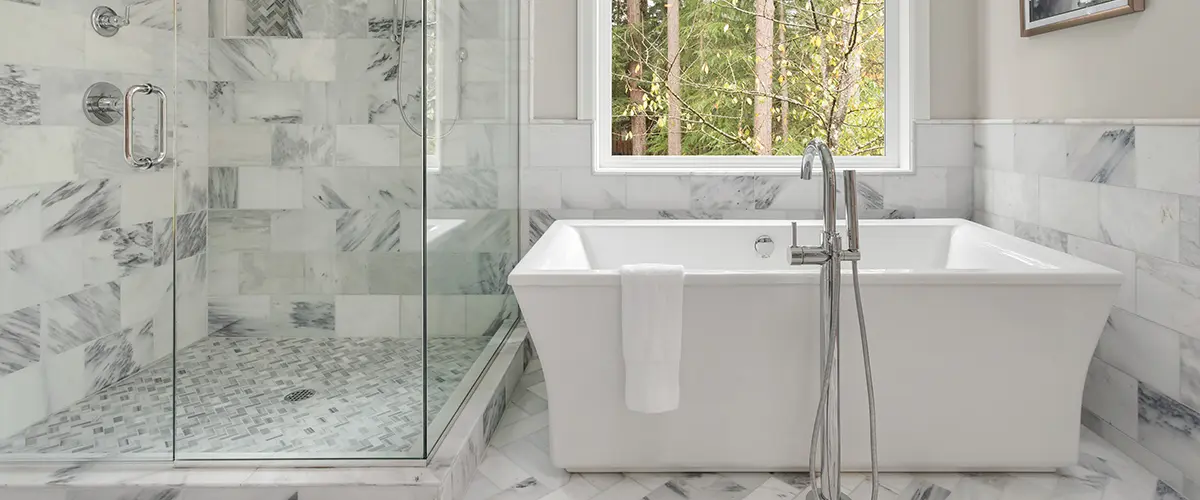 Budgeting For Your Bathroom Remodeling Cost In Bellevue, NE
Many homeowners in Bellevue are concerned about the cost of remodeling their bathroom. HGTV shows often advertise major upscale bathroom remodels for as little as $15k, but in reality, the total cost is often higher than this.
Let's look at some tips that help you keep your bathroom remodeling cost within your budget.
If you want to save money on your bathroom renovation and don't need anything fancy, consider making small changes. One affordable upgrade that is in high demand among our elderly clients is replacing an old bathtub with a walk-in shower.
Working closely with your designer can be especially helpful in achieving the desired design and style while keeping your remodel within a set budget.
When you're renovating your bathroom, it's important to anticipate any unforeseen problems that may arise, like mold, mildew, or plumbing issues. To stay safe, it's advisable to allocate an extra 20% of the project's total cost to deal with such contingencies.
This way, you'll have a cushion for unexpected events. The additional money will remain in your account if everything goes as planned.
Not everyone knows that bathroom renovation is typically less expensive than renovating a bedroom or kitchen. To ensure a hassle-free project, it's crucial to comprehend all the expenses upfront to avoid any unforeseen costs in the future.
Before signing anything, ask about any fees or hidden charges associated with the job. Knowing exactly what you'll pay to budget ahead of time is critical.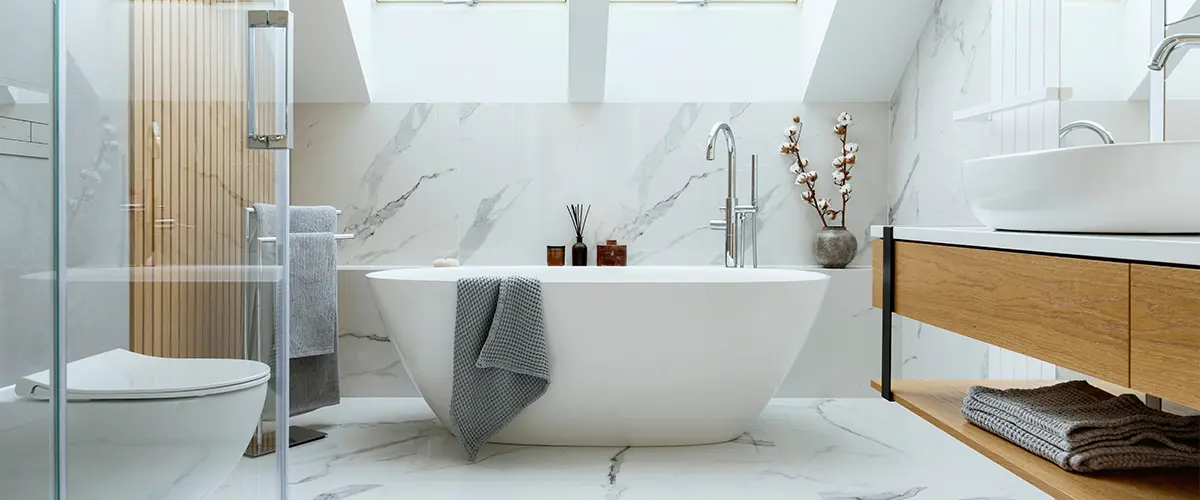 Get Pricing Transparency For Your Bathroom Remodeling Cost In Bellevue, NE!
Regardless of the size of your home, we at Home Matters Construction can assist you in creating the ideal bathroom design.
On average, our bathroom remodeling services cost approximately $30,000. However, the final cost may vary depending on the materials you choose. We guarantee that we will keep your project within budget and ensure a smooth process.
Unlike most bathroom remodeling companies, we tend to over-deliver, so expect:
Start Your Bathroom Remodeling Project Today!