Are you considering a basement renovation project and searching for the perfect flooring option? Look no further than concrete basement floors. Concrete floors have gained immense popularity among homeowners due to their durability, versatility, and aesthetic appeal.
Whether you're transforming your basement into a cozy living space, a home gym, or a game room, concrete basement floors offer a solid foundation to bring your vision to life. Get ready to discover why concrete basement floors are the ideal choice for creating a functional and stylish space that truly enhances your home.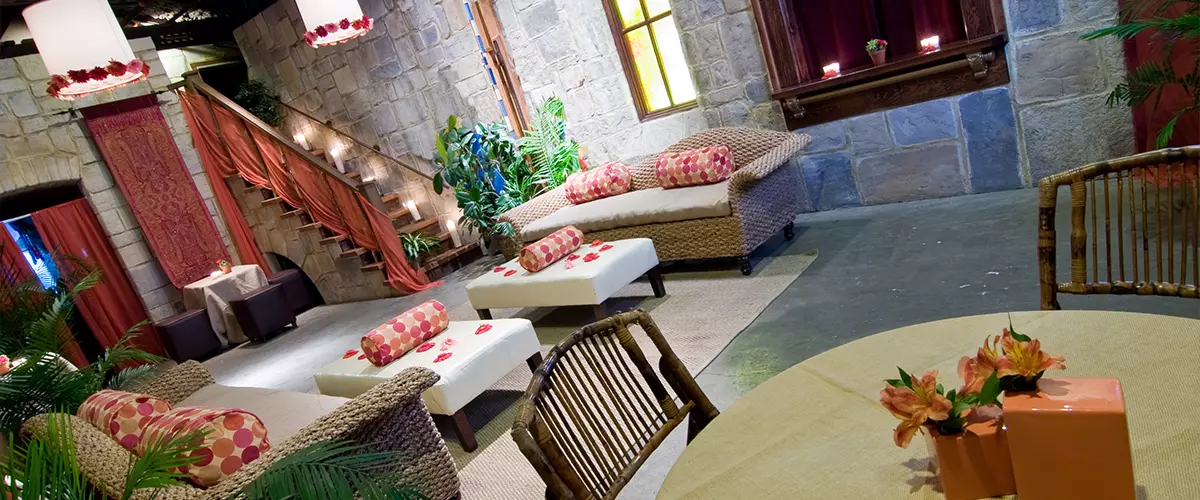 Understanding the Benefits of Concrete Flooring
When it comes to renovating your basement, you want a flooring option that not only looks great but also stands the test of time. Concrete flooring is a fantastic choice that offers numerous benefits for homeowners like you. Let's explore why concrete floors are a smart investment for your basement:
You want your basement floor to be tough enough to withstand heavy foot traffic, potential spills, and everyday wear and tear. Concrete flooring is incredibly durable and can handle the demands of a busy household. It's resistant to scratches, dents, and stains, making it an ideal choice for high-traffic areas like basements.
Basements are notorious for excess moisture, which can lead to mold growth and damage to traditional flooring materials. But here's where concrete floors shine: they are highly resistant to moisture. Concrete acts as a barrier, preventing water from seeping through and causing potential problems. With a properly sealed concrete floor, you can bid farewell to worries about mold and mildew in your basement.
As a homeowner, you likely appreciate flooring options that require minimal maintenance. Well, concrete floors are exactly that. Once properly installed and sealed, they are remarkably low maintenance. Unlike other flooring materials that need regular cleaning, polishing, or refinishing, concrete floors only require simple sweeping or mopping to keep them looking pristine. You'll save both time and money on maintenance efforts.
Investing in a basement floor is a big decision, and you want to make sure it pays off in the long run. Concrete flooring offers excellent cost-effectiveness over its lifespan. Unlike other flooring options, its durability means you won't have to replace or repair it frequently. Its resistance to moisture and mold reduces the risk of costly water damage repairs or the need for dehumidification systems.
Basements often struggle with temperature regulation, but concrete floors can help alleviate this issue. They have the ability to absorb and store heat, keeping your basement cool during hot summer months. When combined with appropriate insulation, concrete floors can retain warmth during colder seasons, creating a comfortable and cozy living space for you and your family.
Concrete flooring doesn't mean you're limited to a plain gray surface. Far from it! Today, you have an array of design options to choose from. Concrete can be stained, dyed, or stamped to mimic the appearance of other materials like hardwood, tile, or even luxurious stone. You can also experiment with decorative patterns and textures to personalize your basement's aesthetic, creating a space that reflects your unique style.
At Home Matters Construction, our mission is to provide exceptional basement remodeling services that go beyond creating a comfortable and inviting space. We aim to deliver results that not only enhance your personal comfort but also increase the value of your property and simplify your life. 
Comparing Concrete Flooring with Other Basement Flooring Options
When it comes to choosing the right flooring for your basement, you want to make an informed decision that meets your needs and fits your lifestyle. Let's compare concrete flooring, a popular choice for basements, with other flooring options you might be considering:
Concrete Floors: The Solid Foundation for Your Basement
Concrete flooring is an excellent option for basements due to its durability, moisture resistance, and low maintenance. It provides a solid foundation that can withstand the demands of a busy household. Unlike other flooring options, concrete floors won't scratch easily, making them perfect for high-traffic areas like basements or game rooms.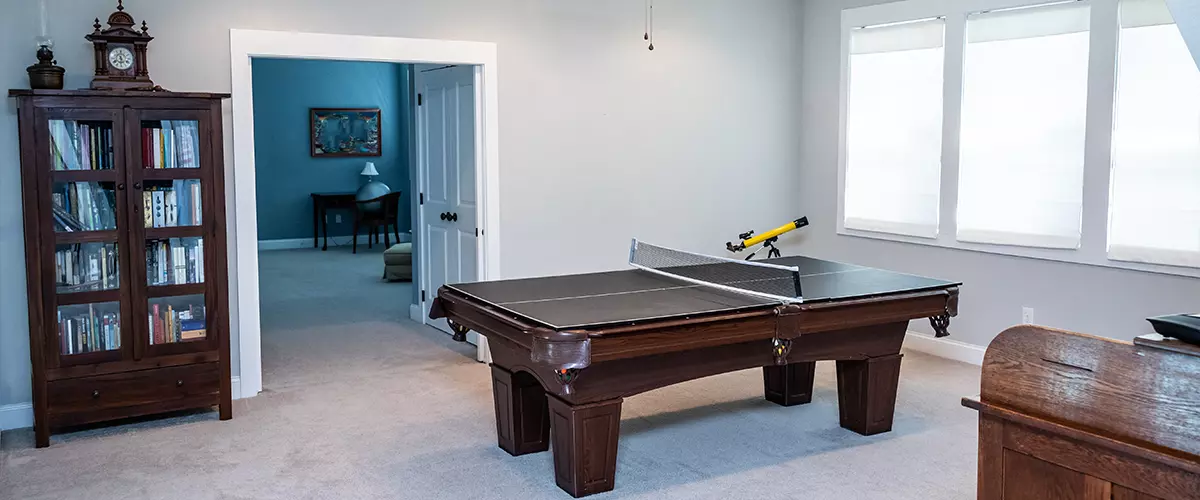 Hardwood Floors: Warmth and Elegance, with Some Considerations
Hardwood floors are undoubtedly beautiful and can add warmth and elegance to any space. However, they may not be the best choice for basements. Wood is susceptible to moisture, and basements often have higher humidity levels. This can cause the wood to warp or buckle over time, leading to costly repairs. Additionally, hardwood floors require regular maintenance and refinishing to keep them looking their best.
Carpet Tiles: Comfort, but Watch Out for Moisture
Carpet tiles offer a cozy and comfortable flooring option for basements. They come in various colors and patterns, allowing you to customize your basement space. However, moisture can be a concern with carpet tiles. In basements prone to dampness or occasional water intrusion, carpet tiles can absorb moisture, leading to mold and mildew growth. Also, cleaning and maintaining carpet tiles can be more challenging than other flooring options.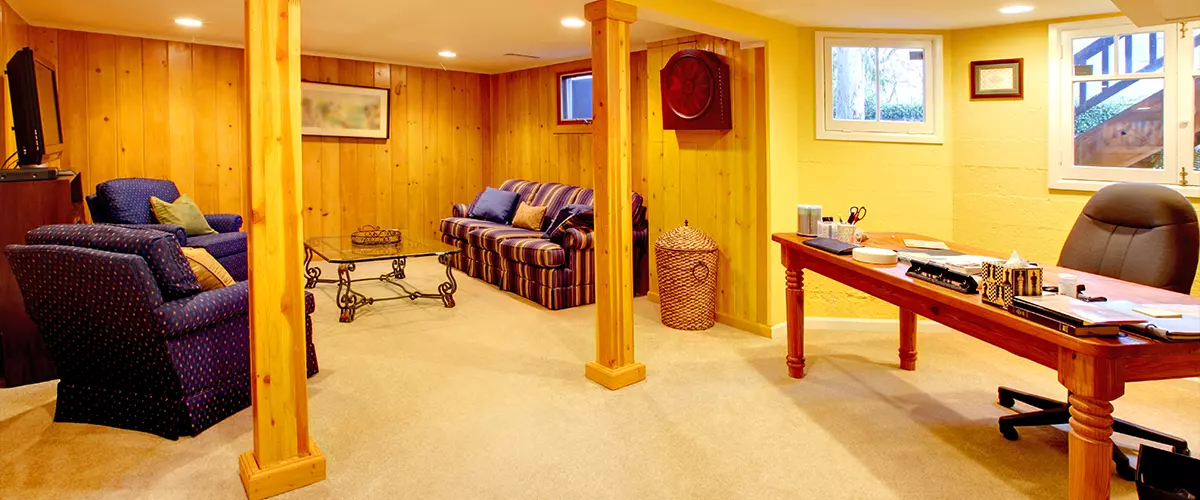 Ceramic Tile: Water Resistance, but Requires Proper Subflooring
Ceramic tile is known for its water resistance and durability, making it suitable for basement floors. However, it's crucial to ensure a proper subflooring system to prevent cracks in the tile due to the natural settling of the concrete surface. Installing ceramic tile directly on the concrete floor can lead to long-term issues, compromising the integrity of the flooring.
Rubber Flooring: Versatile and Comfortable, but Not for All Basements
Rubber flooring offers versatility, cushioning, and comfort underfoot, making it a popular choice for exercise areas or game rooms. However, it may not be suitable for all basements. Rubber flooring is more prone to scratches and dents and can be challenging to clean and maintain. Additionally, rubber flooring might not provide the desired aesthetic appeal for a basement that doubles as a living or entertainment space.
Concrete Coatings: Enhancing the Look and Functionality
If you prefer the look of concrete but want to add some extra flair, consider concrete coatings. These coatings can be applied to your concrete basement floor, offering a variety of finishes, colors, and textures. They enhance the appearance of your concrete floor while providing additional protection against stains and wear.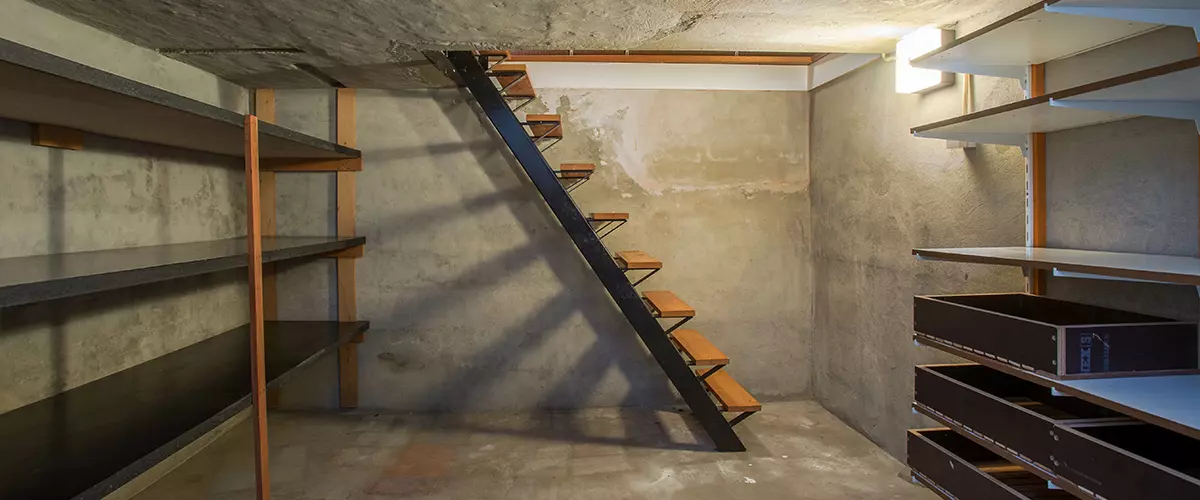 Expand Your Living Area With A Complete Basement Remodel
Ready to transform your basement into the space of your dreams? Contact Home Matters Construction, your trusted partner in basement remodeling. Our experienced professionals are ready to bring your vision to life, whether you're looking to create a cozy living area, a home gym, or a versatile entertainment space. We specialize in working with concrete basement floors and offer a wide range of services to meet your specific needs.
Don't wait any longer – reach out to us today to schedule a consultation and take the first step toward your basement renovation project. Contact us at (402) 661-0910 or message us via our contact form. Let's make your basement the highlight of your home!