The Best Kitchen Remodeling In Chalco, NE
Get yourself a kitchen you can be fully proud of. Request your free estimate and start today!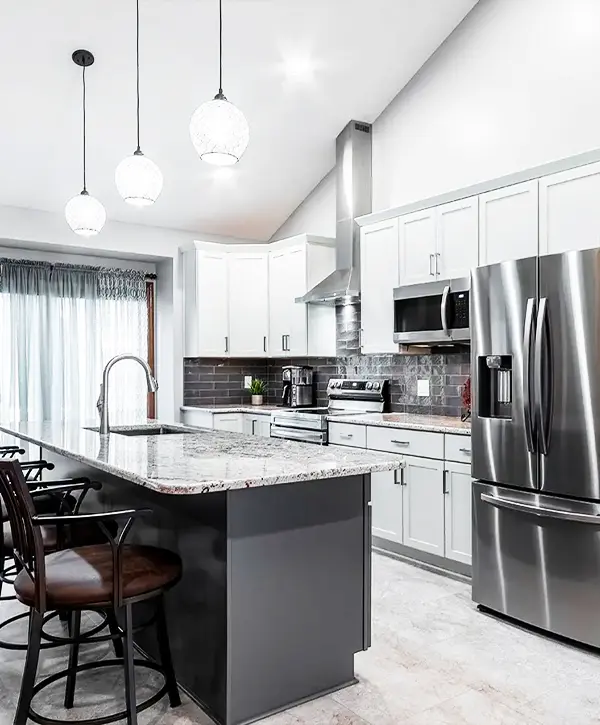 Kitchen remodeling is an exceptional home improvement project that guarantees your home meets your long-term needs. In Chalco, Nebraska, kitchen remodels can range from $25k to over $100k.
Home Matters Construction provides competitive kitchen remodel costs, complete remodeling services, and a dependable kitchen contractor to ensure a seamless experience for you and your loved ones so you can fully enjoy the excitement of getting a remodel.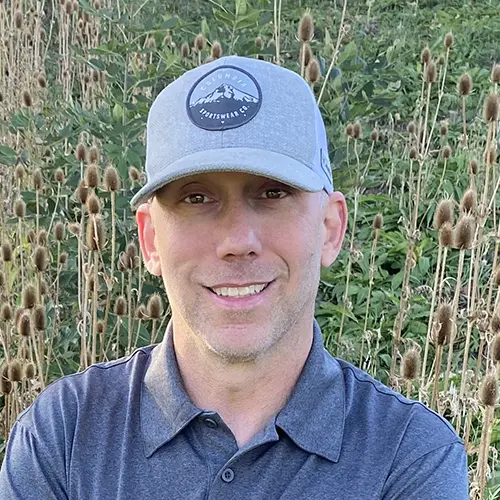 Tony Inzauro – Owner of Home Matters Construction
Hi, I'm Tony Inzauro, owner of Home Matters Construction. My personal approach and honest communication will give you the confidence and peace of mind to finally start your project and enjoy watching your home become your personal heaven. I love working on basements because of all that unused potential, and I made it my mission to help homeowners tap into that huge benefit!
A Complete Kitchen Remodeling Service - Now At Your Doorstep
We understand that kitchen remodels demand attention and expertise to ensure a successful outcome. Our unwavering commitment is to exceed your expectations and get you a kitchen you can revel in.
Get Inspiration From Our Portfolio!
Unlock the true potential of our extensive kitchen remodeling expertise and harness the unrivaled skills that our top-tier remodeler brings right to your doorstep. Delve into our portfolio for a wealth of fresh ideas that will ignite inspiration for your upcoming project.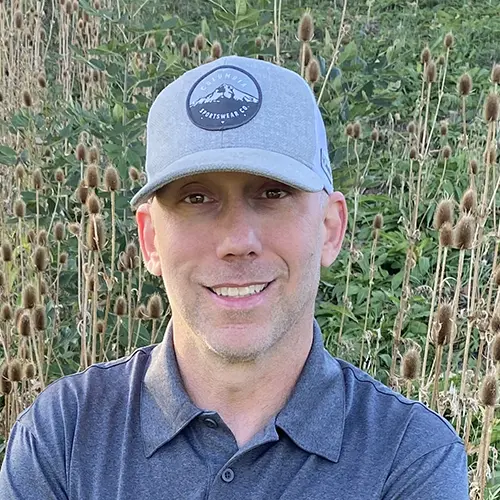 If you're curious and eager to delve deeper into the intricacies of your kitchen remodel process, don't hesitate to reach out to us at (402) 661-0910 or simply click the button below to request your complimentary quote. We'll promptly respond within one business day to engage in a meaningful discussion about your plans.
Your Neighbors Loved Working With Professionals
We find immense joy in seeing our clients' happiness as they fully embrace their new space. Here's what some of the people who have worked with us in the past have shared about their experience with HMC…
Home Matters managed the complete renovation of our master bath (gut and replace) and updating of 2 other bathrooms.
Their communication was very good, the quality of the work was excellent, all of the subcontractors that were in our home were very professional. It was a lot of work and the project took longer than the initial estimates, but we are completely satisfied with the outcome.
Tony and the crew are VERY professional. Our remodeling project faced the inevitable covid shipping delays. They anticipated and worked around the supply problems, kept the project on schedule.
They kept us in the loop, answered all our questions, and did some really great work. The kitchen lights installation just blew us away! The new floors are simply a delight. We absolutely recommend Home Matters. Tony and his crew will have our next project!
Kitchen Remodeling Cost In Chalco, NE
Kitchen remodels in Chalco, NE, and the surrounding areas start at $40,000 and can reach over $100,000 for larger spaces with high-end appliances and exquisite cabinetry finishes. Our expertise extends to kitchens ranging from $20k to $90k, ensuring that we can bring your vision to life, no matter your budget.
What influences the kitchen remodeling cost:
Before
After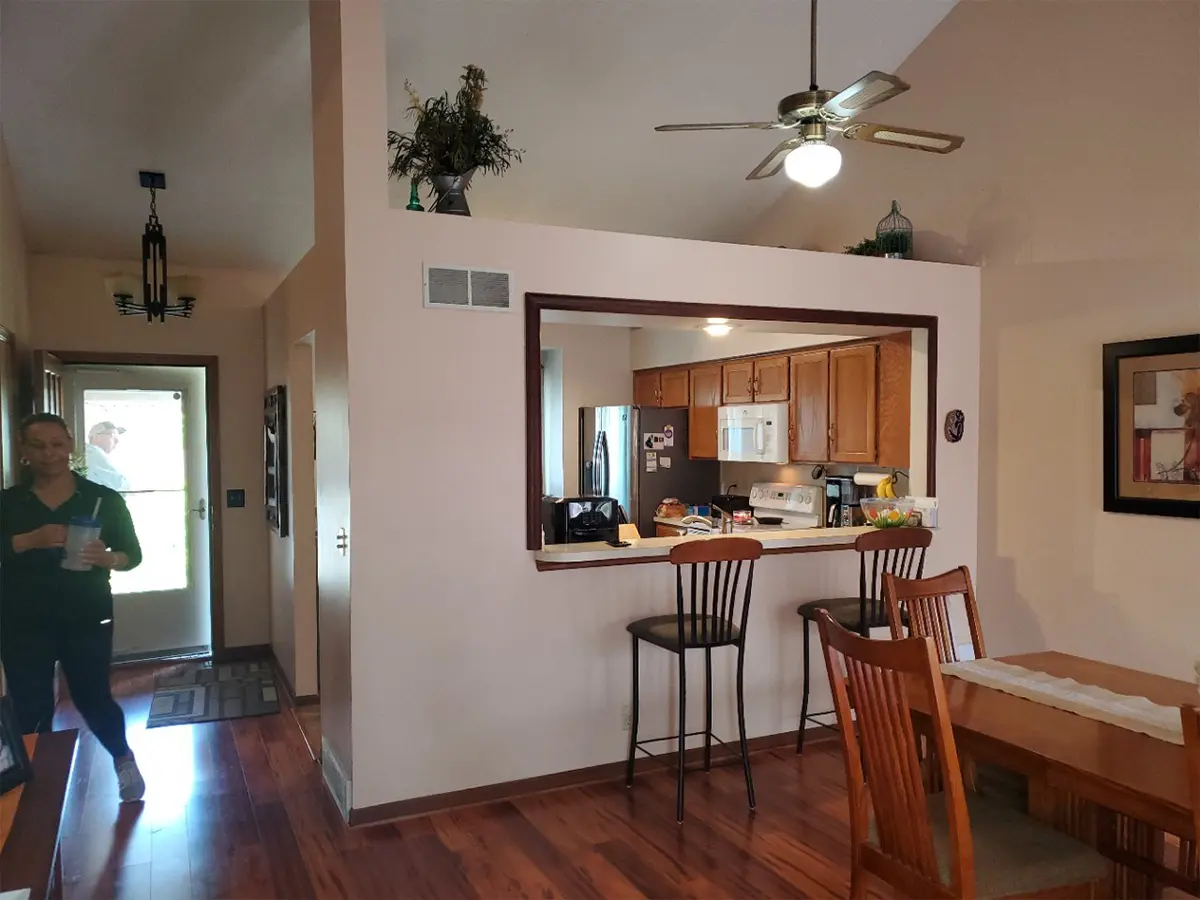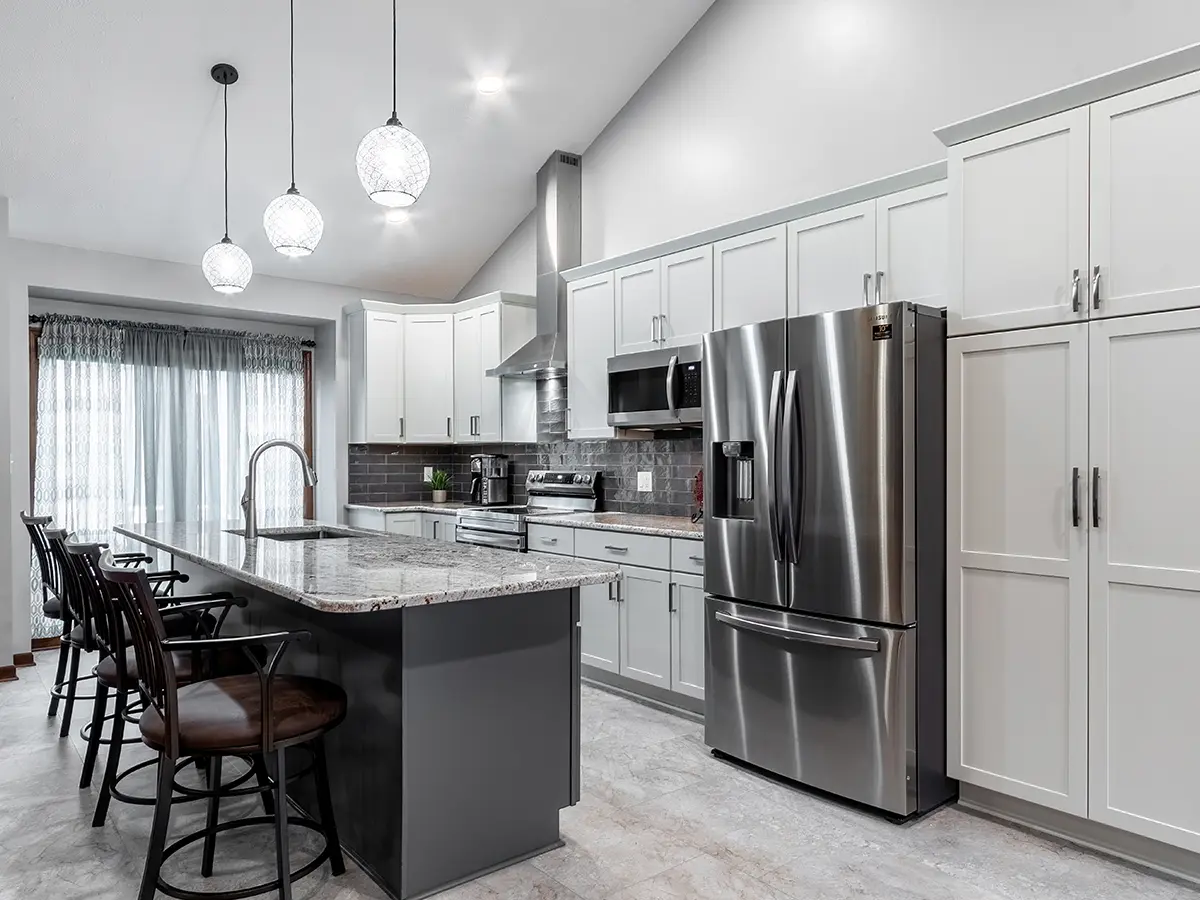 Average Kitchen Remodel In Omaha
This kitchen remodel was quoted at $65k, where the most expensive item were the custom cabinets, at $14k.
At Home Matters Construction, we place your satisfaction and convenience at the forefront. Our aim is to craft an extraordinary kitchen that seamlessly meets your needs and enhances your lifestyle without causing too many disruptions to your day-to-day life.
We're Taking Care Of Everything For You!
Our main goal is to streamline our process and provide a smooth remodeling experience, removing the usual stress and hassle associated with projects in Chalco, NE. We have already addressed the most common concerns to ensure customer satisfaction.
Although kitchen remodeling projects can be expensive, they offer a substantial return on investment. Our team is dedicated to working within your budget, and we also provide access to a range of financing options to help you get started on this project.
We greatly value your time, as well as ours, and we are dedicated to minimizing unnecessary delays at the job site. Our main objective is to complete your project within the specified timeline so you can fully enjoy your new kitchen while we efficiently assist the next homeowner.
A Simple, Quick, And Effortless Kitchen Remodel
Our process revolves around ensuring your comfort and well-being. We strive for you to fully relish the thrill of this upgrade, and we can unequivocally guarantee your satisfaction!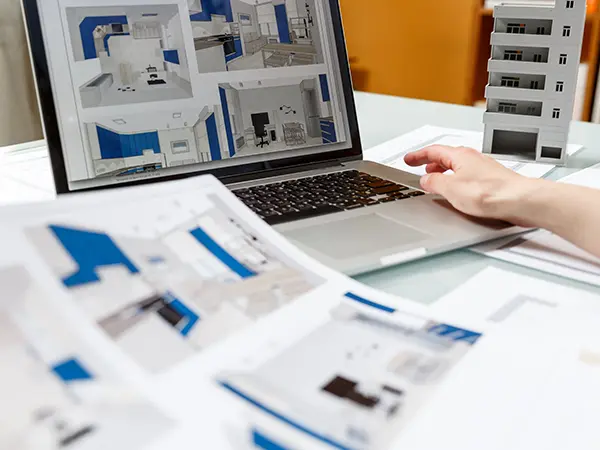 Get in touch with us, share your vision, and we'll help you out with advice and insights about your new kitchen.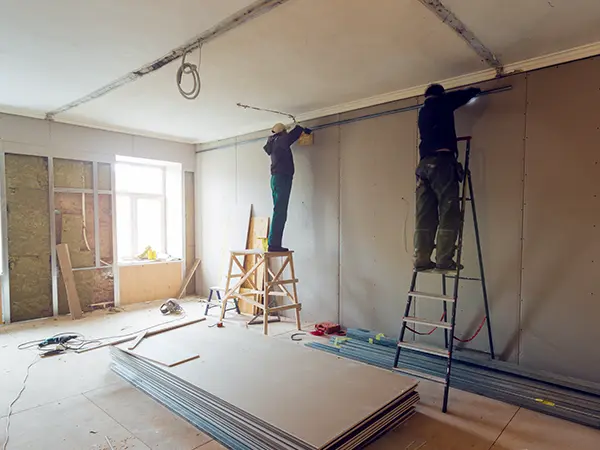 As soon as we pick the design and materials, we get to work according to our timeline. You'll have complete control over everything.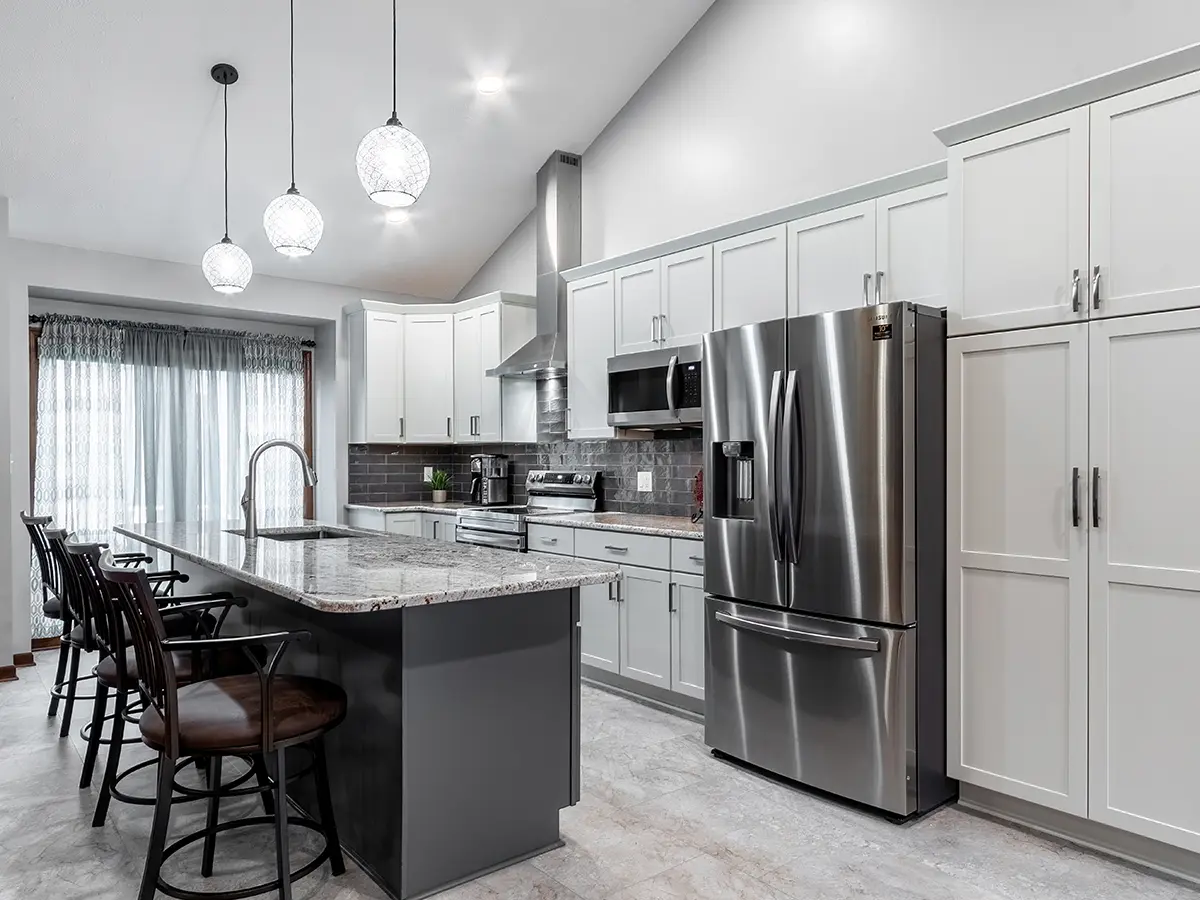 Your new kitchen is ready to host the best family gatherings you'll ever have! Start calling your friends!
Kitchen remodels in Chalco, La Vista, Bellevue, Omaha, and generally across Nebraska start at around $40-45k. Depending on the size of your kitchen, cabinet selection, appliances, and any layout reconfiguration, you can expect to pay up to $90k for a medium to large kitchen remodel.
If electrical or plumbing work is being done, your kitchen remodel may need a permit. Depending on the specifics of your project, we'll prepare the paperwork needed and take care of permitting on your behalf.
Usually, the most expensive part of a kitchen remodel will be the cabinets, along with countertops and appliances. Depending on your design and selections, you can expect to pay at least 35% on the cabinets and countertops alone.
A kitchen remodel takes between 4 and 6 weeks dep,nding on material and vendor supply and the size of your space.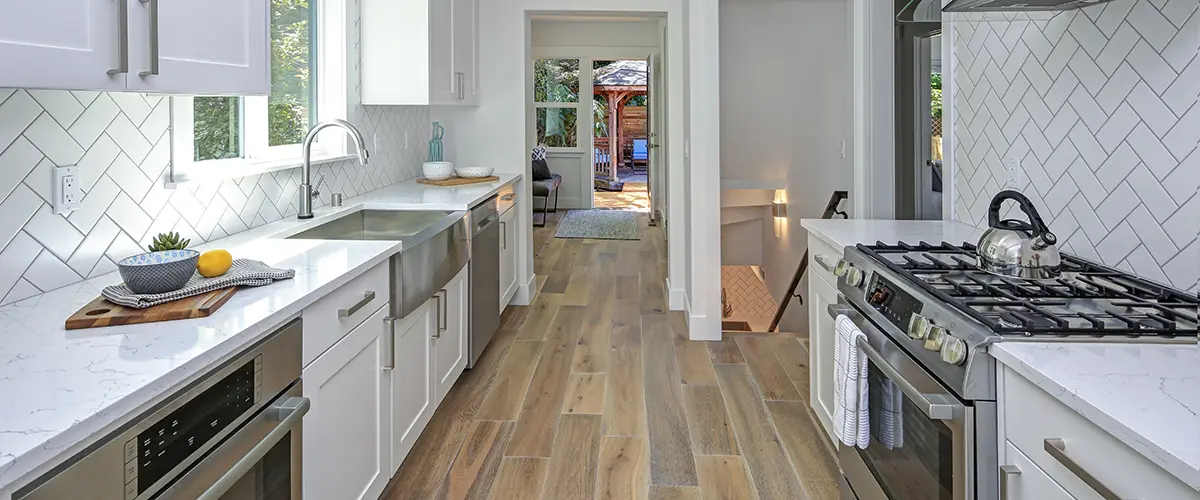 Remodel Your Kitchen With A Pro That Puts You And Your Investment First!
Getting a new kitchen in Chalco is a noteworthy achievement for you and your family, and the investment is undeniably worthwhile. Not only will it enhance the value of your property in the market, but it will also instill a sense of pride, urging you to graciously host friends in your exquisite new kitchen every weekend.
If we have successfully convinced you to finally pursue the remodel you've been longing for, don't hesitate to give us a call at (775) 242-6405 or request a quote from the button below, and we'll circle back within a business day.
Tony and Mike at Home Matters Construction are hands down the best in town. Not to mention, they restored my faith in contractors. I had several bad experience before working with them. They are professional, have pride in their work and make sure you are completely satisfied with the work. Not to mention they are pretty hilarious.
They put in luxury vinyl plank floors in my kitchen, bathrooms. They look absolutely amazing. I highly recommend them and will work with them on future projects.
HMC are great! They were upfront and professional about all aspects of our basement remodel. They worked with us on our floor plan and gave insight about better ways to install or incorporate certain parts of the build.
They gave us exactly what we wanted and everything was held to a very high standard. Everyone was professional, respectful, and very great at their job! I wish I could give more stars on this review. 5+ stars in our book.
Nestled in Sarpy County, Nebraska, Chalco is a charming community that prides itself on its rich heritage and small-town feel. One of its prominent landmarks is the Chalco Hills Recreation Area, a nature lover's haven sprawling over 1,186 acres with 7 miles of winding trails for hiking, biking, and nature walks. Moreover, the area houses Wehrspann Lake, a popular fishing and boating spot, contributing to the scenic beauty of Chalco. This environment-rich recreation area serves as an emblem of Chalco's commitment to maintaining a balance between urban development and nature preservation.