The Best Kitchen Remodeling In Bennington, NE
Get yourself a kitchen you can be fully proud of. Request your free estimate and start today!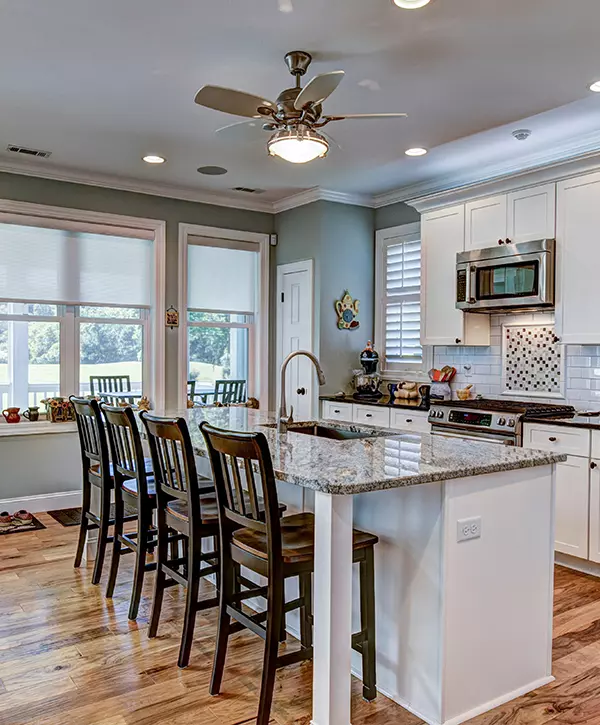 If your kitchen has been neglected for too long, there's a surefire way to rekindle your love for it and bring it back to its former glory. Kitchen remodeling in Bennington, NE, is a worthwhile investment that boasts lots of benefits to your lifestyle and home.
You've struck gold as you've stumbled upon a kitchen remodeling company that is committed to delivering the highest quality product you can find in this area. With Home Matters Construction, you're guaranteed a new kitchen that'll make your life so much better and your home so much more valuable!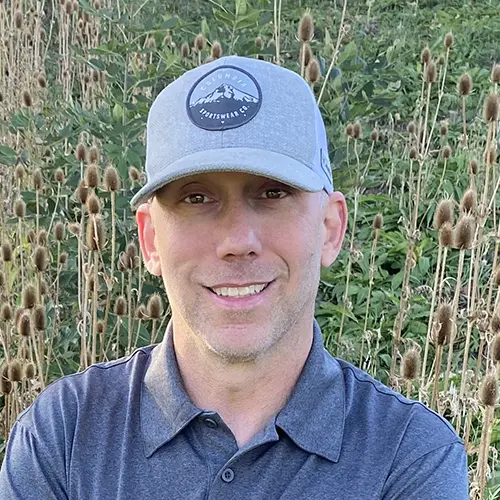 Tony Inzauro – Owner of Home Matters Construction
Hi, I'm Tony Inzauro, owner of Home Matters Construction. My personal approach and honest communication will give you the confidence and peace of mind to finally start your project and enjoy watching your home become your personal heaven. I love working on basements because of all that unused potential, and I made it my mission to help homeowners tap into that huge benefit!
A Complete Kitchen Remodeling Service - Now At Your Doorstep
We know that kitchen remodels can be challenging undertakings. In fact, they demand meticulous effort and expertise to ensure your satisfaction with the final result. Rest assured, we are committed to going above and beyond for your project so that you can enjoy the exceptional benefits of collaborating with a top-tier contractor.
Get Inspiration From Our Portfolio!
Enjoy our extensive experience in countless kitchen remodeling projects, and take advantage of a contractor that has done it all!
Check out our portfolio and get some new ideas for your upcoming project!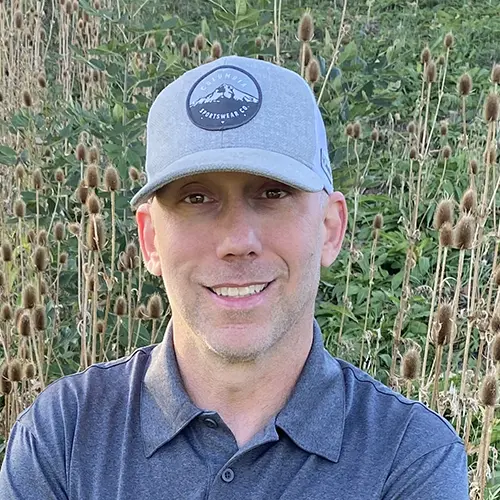 If you're intrigued and want to learn more about what your kitchen remodel process will look like, simply give us a call at (402) 661-0910 or request your free quote by clicking the button below. We'll reach back within a business day so we can discuss your plans.
Your Neighbors Loved Working With Professionals
We love seeing our clients happy with their new space. At HMC, we take immense pride in our craftsmanship and the service we offer you, which is why we keep at it. Here's why your neighbors loved working with us!
From the moment we connected with Tony, we felt his honesty, integrity and desire to help us meet our needs for a full, functional kitchen remodeling project. We were not disappointed.
Our experience with Tony and the Home Matters team was wonderful. The coordination with their sub-contractors was impressive. The workmanship and work ethics was top notch. The office staff is friendly, professional and easy to work with. I wouldn't hesitate contacting Home Matters for any of your home services, big or small.
Tony and his crew remodeled a family kitchen for me and it far surpassed my expectations. His people were super nice as my family was living in the residence. I wouldn't call anyone one else!
Kitchen Remodeling Cost In Bennington, NE
Kitchen remodels in Bennington, NE, and surrounding areas start at $40,000 and can reach upwards of $100,000 in larger spaces with high-end appliances and cabinetry finishes. We've worked on kitchens for as low as $20k and as much as $90k, so regardless of your budget, we can make your vision happen!
What influences the kitchen remodeling cost:
Energy-efficient and high-end appliances
Countertop materials
Custom, semi-custom, or stock cabinets
Type of flooring
Upgrading the electrical and plumbing installations
Extra features like corner solutions or under-cabinet lights
Changing the layout of the room
Relocating appliances
Before
After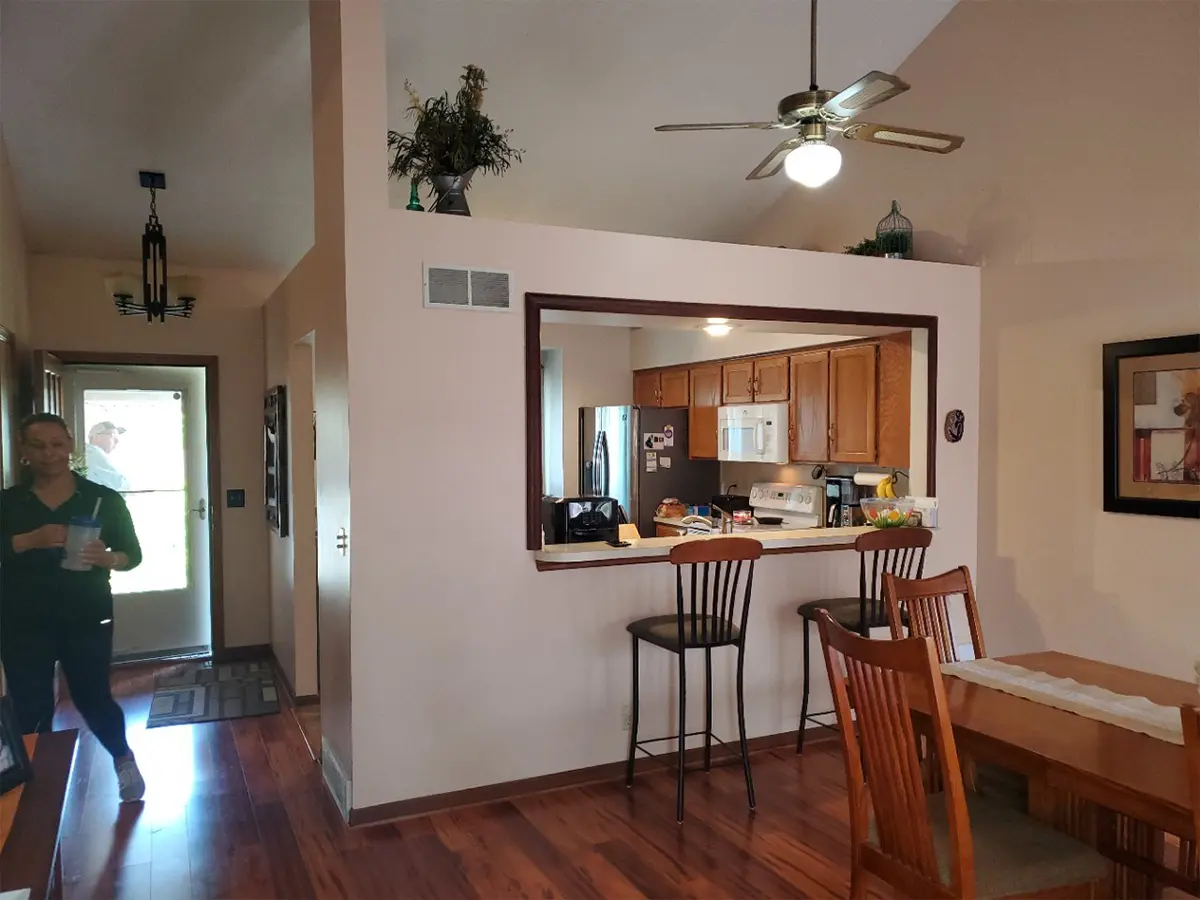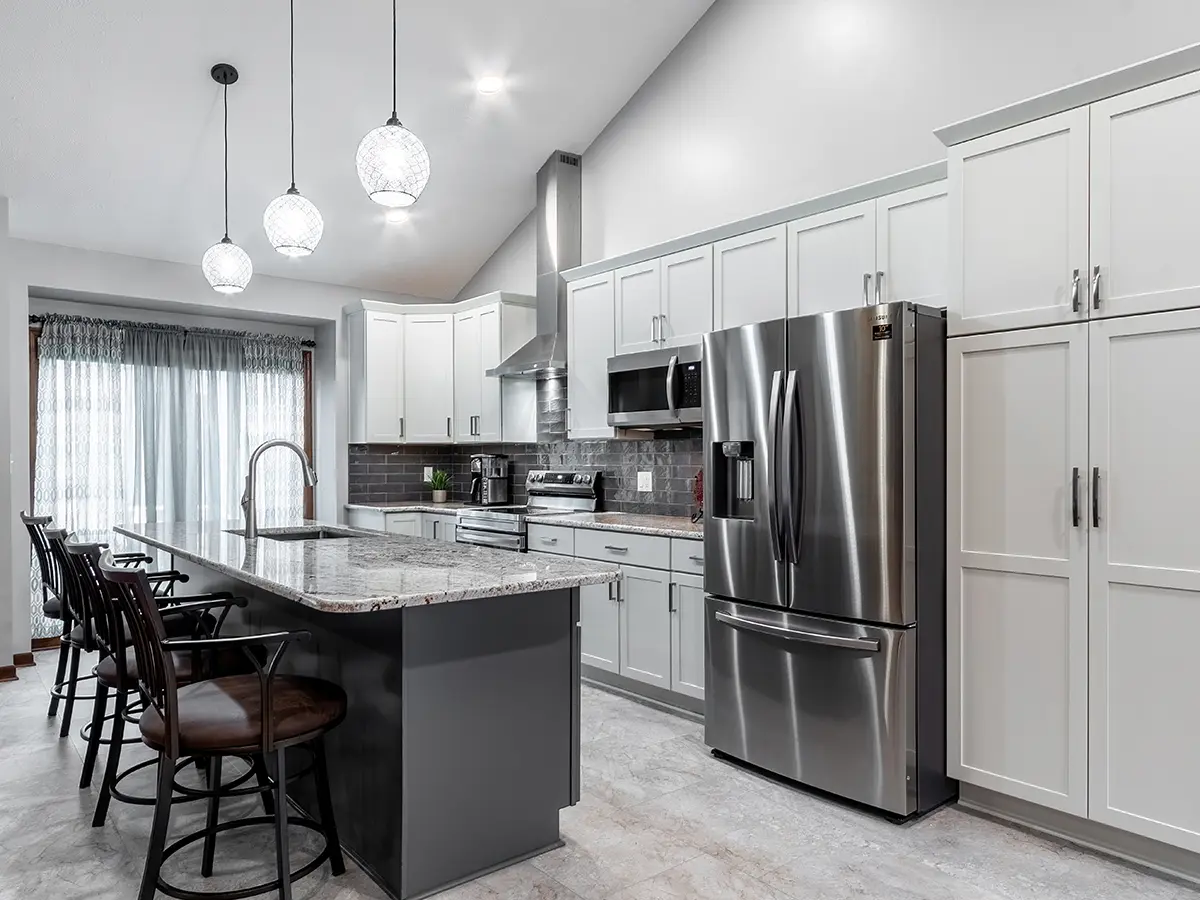 Average Kitchen Remodel In Omaha
This kitchen remodel was quoted at $65k, where the most expensive item were the custom cabinets, at $14k.
* Prices are subject to change due to factors that impact labor or material costs. Contact us for your kitchen remodeling project so you can get a more accurate pricing estimate.
We made it extremely easy and convenient to work with us! At Home Matters Construction, our focus will be on you, your time, and your investment, so we can offer you a spectacular kitchen that matches your needs and lifestyle!
We're Taking Care Of Everything For You!
We've dealt with pretty much all the concerns homeowners have when doing a kitchen remodel. Our goal is to perfect our process so you can get seamless remodel – without any of the stress and hassle usually associated with remodeling.
Although kitchen remodeling projects are some of the most expensive projects you can start, the ROI they'll bring to your home is immense. We'll work within any budget to ensure your new space fulfills your needs and makes your day-to-day life so much more enjoyable.
We value both your time and ours and strive to avoid any unnecessary delays on the job site. Our objective is to complete your project within the specified timeline so that you can enjoy your new kitchen, and we can move on to assist the next homeowner.
A Simple, Quick, And Effortless Kitchen Remodel
Our process is designed for your comfort and well-being. We want you to fully enjoy the excitement of getting this upgrade, and we can guarantee you will!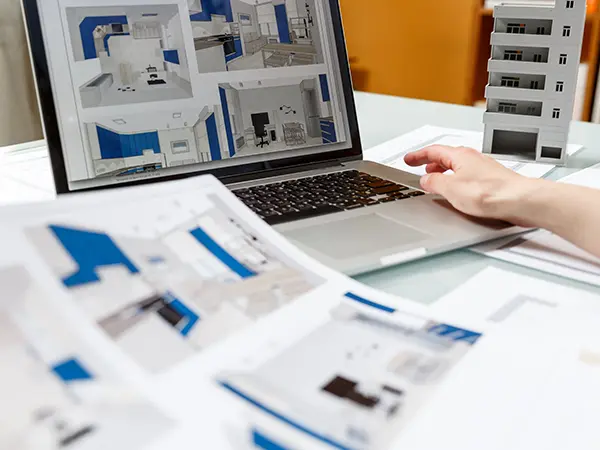 Get in touch with us, share your vision, and we'll help you out with advice and insights about your new kitchen.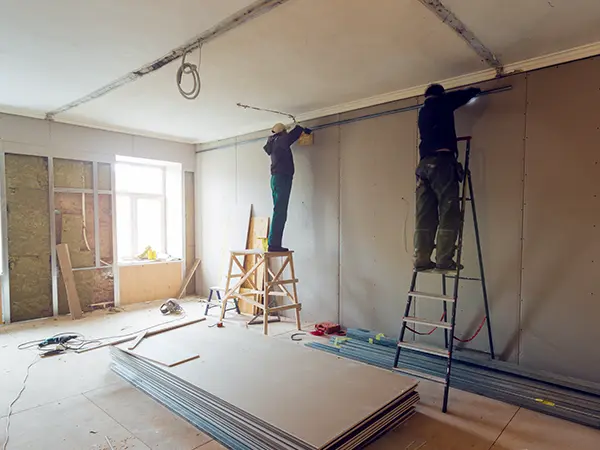 As soon as we pick the design and materials, we get to work according to our timeline. You'll have complete control over everything.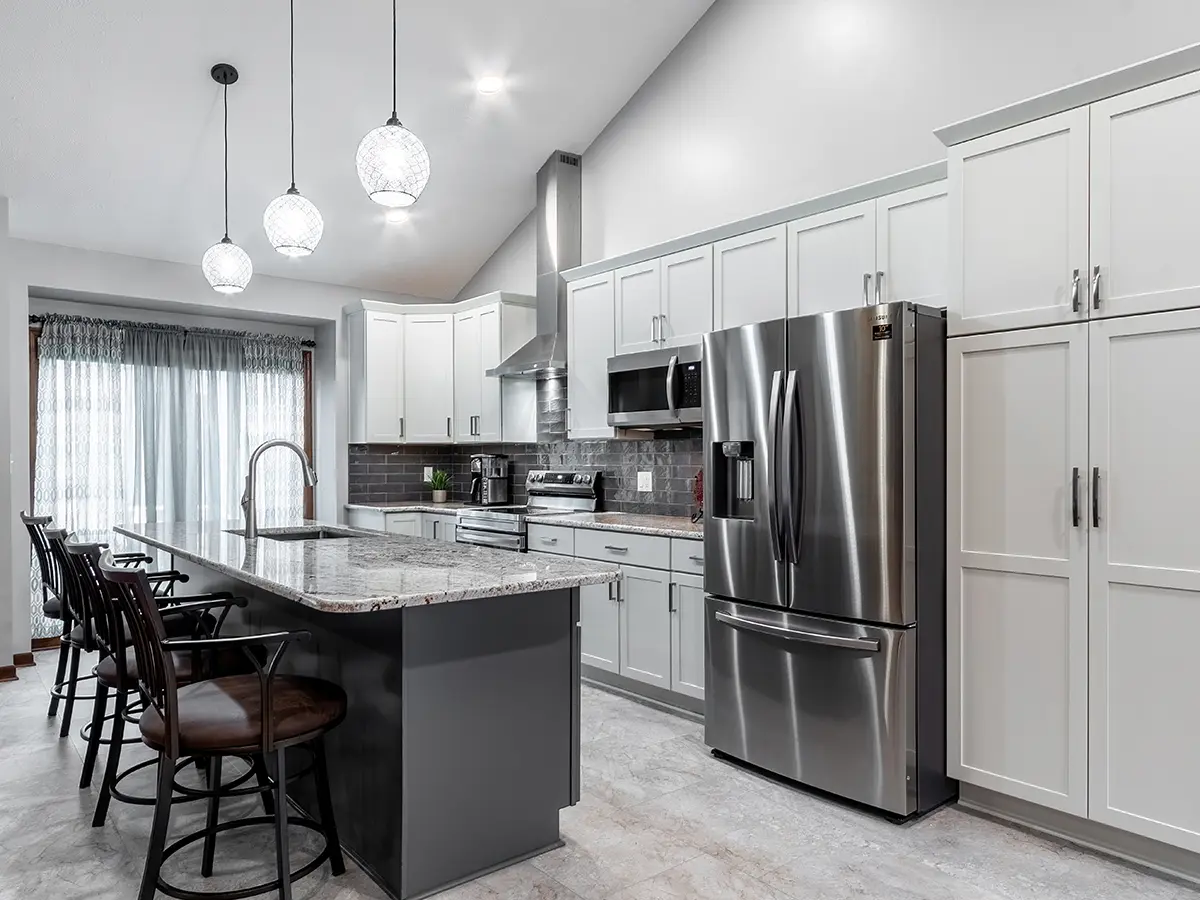 Your new kitchen is ready to host the best family gatherings you'll ever have! Start calling your friends!
Frequently Asked Questions
Kitchen remodels in Bennington, La Vista, Bellevue, Omaha, and generally across Nebraska start at around $40-45k. Depending on the size of your kitchen, cabinet selection, appliances, and any layout reconfiguration, you can expect to pay up to $90k for a medium to a large kitchen remodel.
A kitchen remodel takes between 4 and 6 weeks, depending on material and vendor supply and the size of your space.
We'll take care of your kitchen remodel together with our in-house team of craftsmen. We also partner with trusted, licensed contractors for specific work such as electrical or plumbing. We're very familiar with the building codes in Bennington, NE, so you'll get the highest remodeling quality.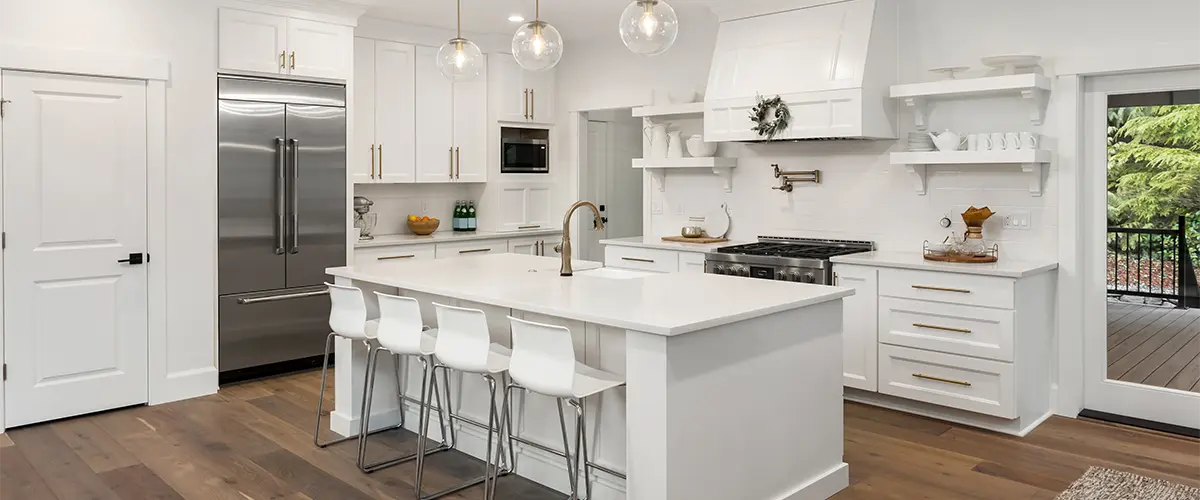 Remodel Your Kitchen With A Pro That Puts You And Your Investment First!
Getting a new kitchen is a big step for you and your family, but the investment is always worth it. Financially, you'll see a boost in your property's value on the market. Intrinsically, you'll be so proud of your new kitchen that you'll want to have friends over every weekend.
If we've convinced you to finally get the remodel you've been dreaming of, give us a ring at (775) 242-6405 or request a quote from the button below, and we'll circle back within a business day.
Tony and his crew were great – they remodeled our kitchen. The craftsmanship was awesome. High attention to detail.
Very polite, just the type of dudes you'd prefer to have working in your house. Tony was up front about everything, no hidden costs or weird surprises. I'd trust these guys to do just about anything.
HMC are great! They were upfront and professional about all aspects of our basement remodel. They worked with us on our floor plan and gave insight about better ways to install or incorporate certain parts of the build.
They gave us exactly what we wanted and everything was held to a very high standard. Everyone was professional, respectful, and very great at their job! I wish I could give more stars on this review. 5+ stars in our book.
Other services you might be interested in:
Bennington, NE, is a charming town located in Sarpy County. It is home to many local attractions, such as the Bennington Historical Museum, which showcases artifacts dating back to the 1700s. The Bennington Public Library also offers a variety of resources for those looking to do research on the area's history. Additionally, nearby are two state parks, Wehrspann Lake and Platte River State Park, which offer camping, fishing, and other outdoor activities. With all these things to explore around the area, it's no wonder why so many people choose Bennington to call home.