The Best Kitchen Remodel In Bellevue, NE
Looking to get the best kitchen remodel in Bellevue? This is it!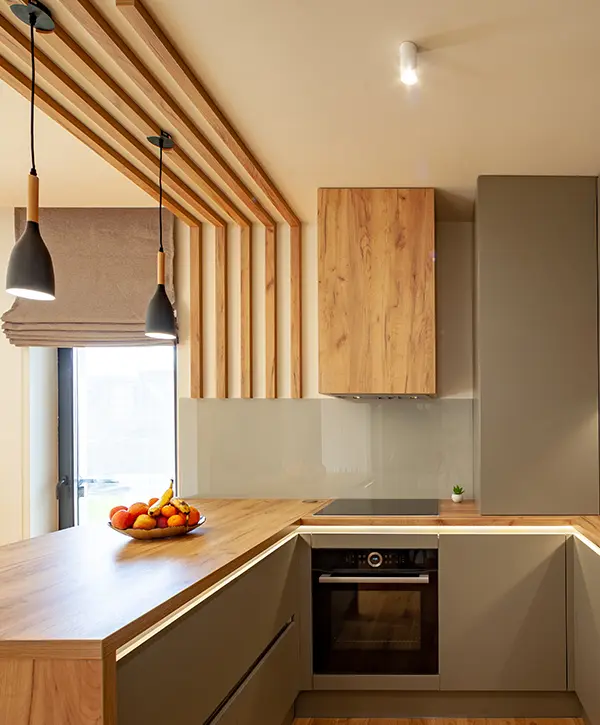 Get the most cost-effective and reliable solutions for your upcoming kitchen remodel in Bellevue, NE, by working with the best remodeler in town!
Home Matters Construction is Bellevue's local kitchen renovator with years of experience giving homeowners like yourself a kitchen they can be proud of. We focus on functionality, custom design, and making your remodeling experience unique and pleasant.
You'll receive a dedicated team that strives to make your renovation an effortless and quick project – a memorable experience with the best kitchen remodelers in Bellevue.
With HMC, you're getting more than the rest of the industry settled for!
A Kitchen Remodel That Keeps On Giving
We value you, your family, and your home, which is why we go the extra mile. We're bringing to the table what no other contractor does. So get ready for a complete remodeling service that's all about you and your complete satisfaction!
With us, you'll get more than any other contractor has to offer!
Your Premium Kitchen Remodel In Bellevue
With the wrong contractor, remodels can be stressful and become a nightmare.
At Home Matters Construction, we realized this early on, so we focused on optimizing our process and understanding your underlying needs. Our goal is to make your remodel unfold seamlessly and for you to fully enjoy the excitement of getting a new, upgraded kitchen!
We minimize the stress and anxieties that most renovations bring by working with a team of professionals that are 100% involved and dedicated to your well-being. You'll get our constant guidance and walkthroughs, so you'll be on top of things every step of the way.
Your needs and wants will become Home Matters Construction's core values, and the end product will reflect your personality and lifestyle completely!
Homeowners Love Their New Kitchens In Bellevue
Our past customers are over the moon with how their remodel turned out, and we're happy we helped them achieve that! This is what they say about working with us!
We had a wall removed between our kitchen and dining room and they did a wonderful job! 
They were open and honest about everything and were very organized. They did a great job cleaning up after themselves too! 
We will definitely use them for other projects!
Tony and his crew were great – they remodeled our kitchen. 
The craftsmanship was awesome. High attention to detail. Very polite, just the type of dudes you'd prefer to have working in your house. 
Tony was up front about everything, no hidden costs or weird surprises. I'd trust these guys to do just about anything.
Type Of Upgrades And Materials
Kitchen remodels are some of the most extensive projects, with hundreds of upgrades and materials available.
Choosing between so many great features can be an overwhelming task, which is why our experts will help you pick the best solution for your particular situation.
Let's see some common kitchen upgrades and materials.
Kitchen cabinets are the most popular upgrade homeowners get for their kitchen renovation.
These can be:
According to KCMA, semi-custom cabinets will give you the best return on investment, but if you want a space that's truly unique and feels yours, go for custom kitchen cabinets.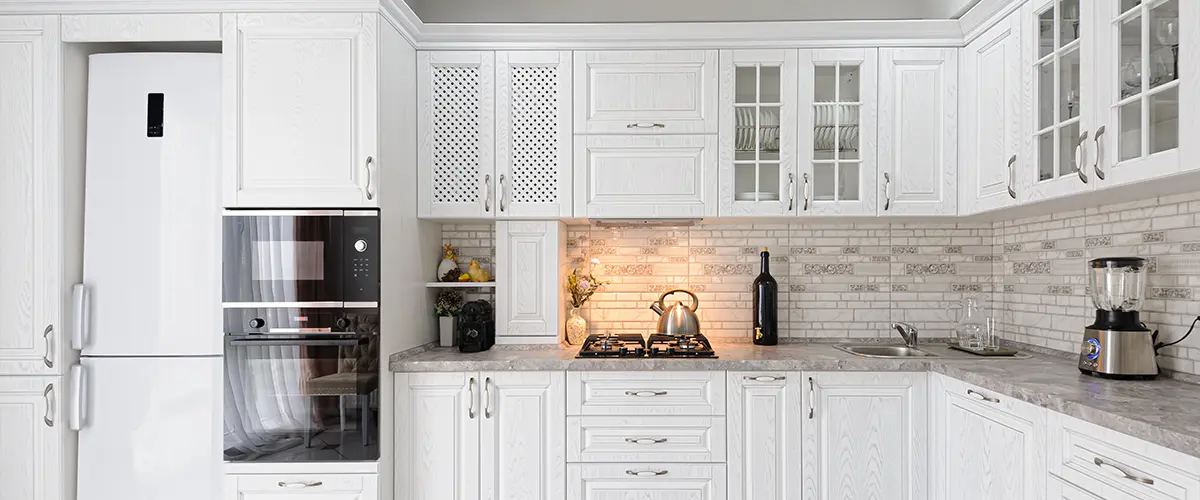 Old, squeaky hardwood floors become less and less common in both kitchens and baths. The reason is simple, humid spaces like these will damage them, so wood floors become inefficient.
A great alternative is luxury vinyl planks or tiles. These are affordable materials, similar to laminate, but better. They can even resemble the natural look of wood, and their installation is fairly simple.
If you want a more upscale flooring material, Italian porcelain tile or ceramic tile are two great options that our customers love. They're more expensive, but they require little to no maintenance.
If you're still in love with your hardwood floors, the best way to make them look great again is to restore them. Sanding them down and refinishing them will prolong their lifespan for at least a decade, if not more.
Countertops can become the focal point in any kitchen remodel. Besides, new cabinets most often require new countertops as well, especially if you want them to match the new design.
Granite or quartz counters are some of the most popular options homeowners in Bellevue go for. Quartz is a manufactured stone with great strength and durability, perfect for most households. It's a little bit more expensive than granite, but undoubtedly the best choice for countertops.
Marble is a more upscale option that uplifts the look and vibe of your kitchen, but it's a softer stone, so it's less resistant than quartz.
Avoid laminate counters at all costs, as they require constant maintenance, they're some of the least durable counter materials, and they have a rather cheap look.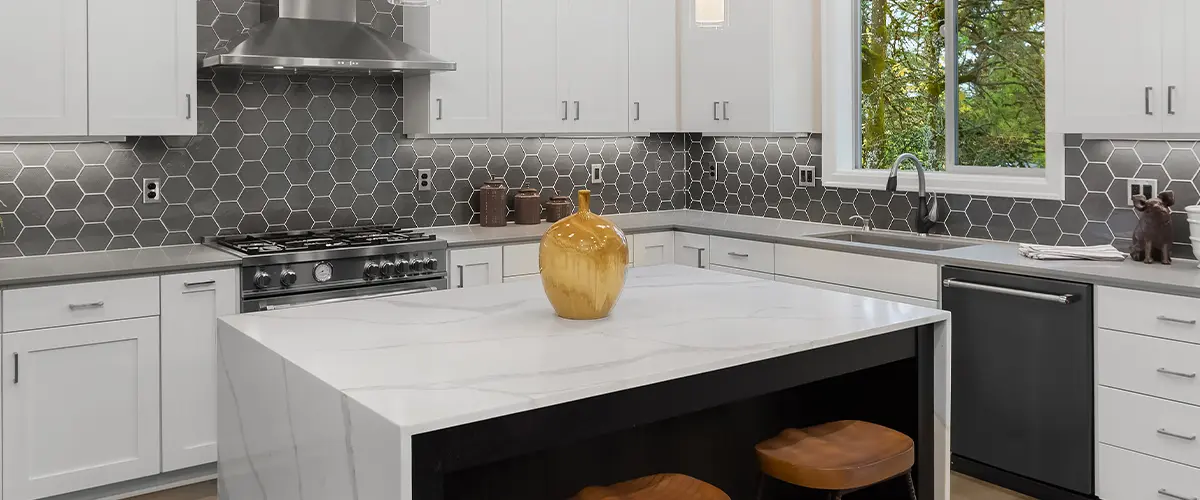 Sinks can quickly become a focal point in a new kitchen, but they also need to be highly functional and easy to use.
The most popular styles that are easily matched with any design are the drop-in sink and the undermount sinks.
Both are highly functional, and the only difference is their look. Undermount sinks offer a more upscale look, are more expensive, and require more maintenance, while drop-in sinks are easier to clean and more affordable. Their look will not impress, though.
To truly boost the efficiency of your kitchen sink you'll need to invest in good water fixtures. A faucet with a detachable head, multiple spraying options, and even a tray to wash vegetables and fruits will make a difference!
Other Upgrades You Can Get
Some other upgrades and kitchen finishes in Bellevue, NE that our customers get are:
A Quick And Intuitive Kitchen Remodeling Process In Bellevue, NE
Because we know remodels usually come with a lot of stress, we designed a simpler, more efficient process. Forget about all concerns and enjoy working with a team that puts you first!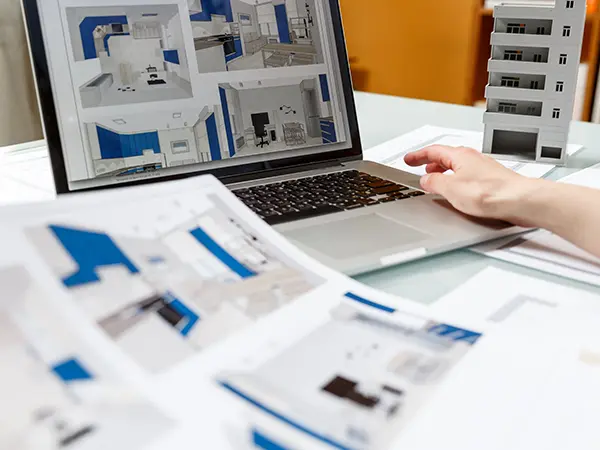 Get in touch with us, and let's discuss your project!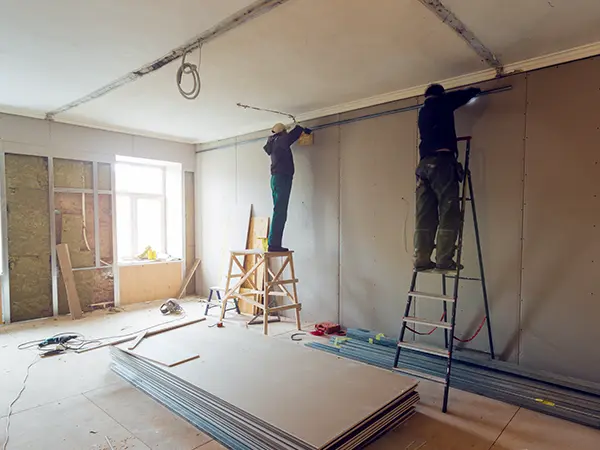 Sit back, relax, and enjoy seeing your kitchen take shape.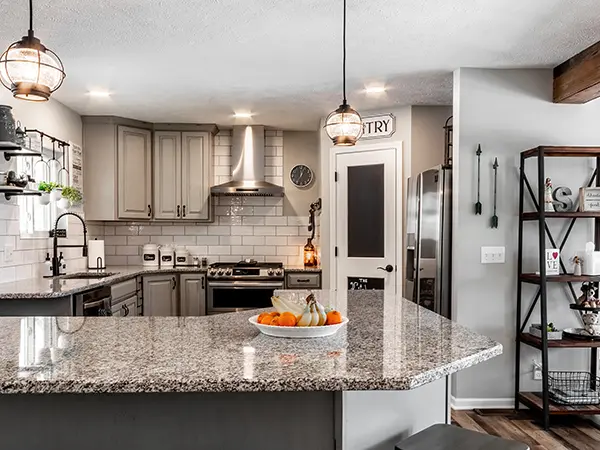 Start creating new memories in your new kitchen!
Frequently Asked Questions
Kitchen remodels in Bellevue and generally across Nebraska start at around $40-45k. Depending on the size of your kitchen, cabinet selection, appliances, and any layout reconfiguration, you can expect to pay up to $90k for a medium to a large kitchen remodel.
If electrical or plumbing work is being done, or if you're adding or removing a wall, your kitchen remodel in Bellevue, or anywhere in Nebraska, for that matter, will require a permit.
If electrical or plumbing work is being done, your kitchen remodel may need a permit. Depending on the specifics of your project, we'll prepare the paperwork needed and take care of permitting on your behalf.
Usually, the most expensive part of a kitchen remodel will be the cabinets, along with countertops and appliances. Depending on your design and selections, you can expect to pay at least 35% on the cabinets and countertops alone.
A kitchen remodel takes between 4 and 6 weeks depending on material and vendor supply and the size of your space.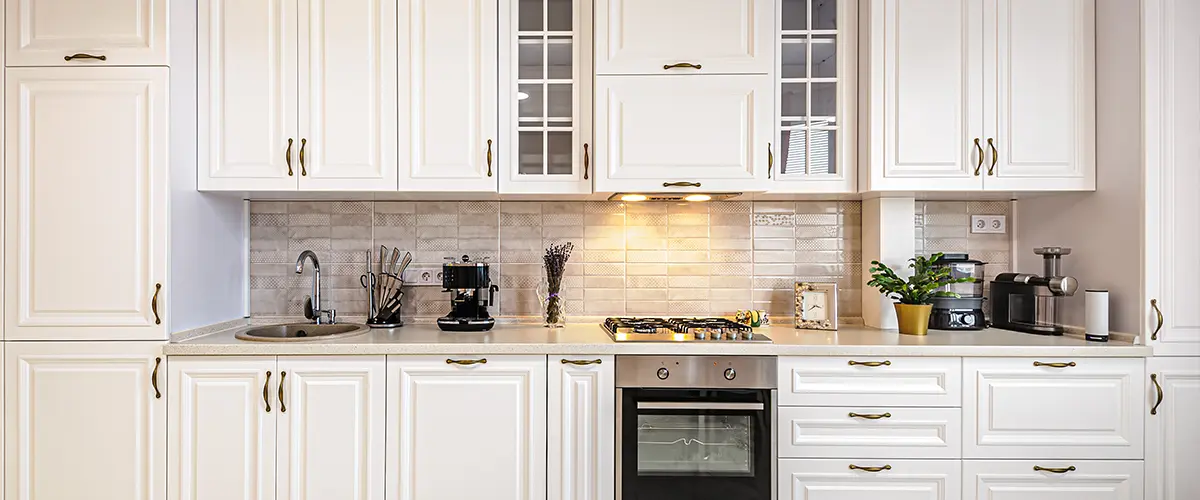 Uplift The Functionality And Vibe Of Your Kitchen
Your kitchen is where all family members get together over a warm meal and drink. It's the room that helps create unforgettable memories and strengthens our bonds.
The moment this ceases to happen, it's the moment you need to consider a remodel.
At Home Matters Construction, we're fully dedicated to helping you get a kitchen that matches your changing needs, wants, and preferences. Be it a larger space with more counter space or a more comfortable and functional kitchen, our team of craftsmen will go above and beyond to ensure you're satisfied with our work.
Besides a high-quality remodel, you'll get:
Take The Final Step Toward A Well-Deserved Upgrade