The Best Basement Remodel In Bellevue, NE
Thinking about starting a basement remodel in Bellevue, NE?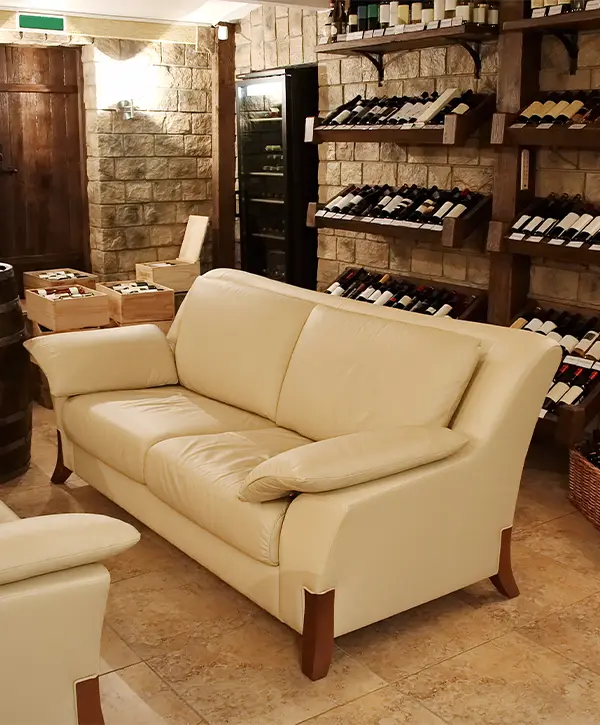 Basements are no longer the dark and humid places that you see on TV. In fact, homeowners are starting to realize basements' true potential, and they're going all in to get this amazing investment. Or at least in Bellevue, they do!
HMC is here to help your basement achieve its true potential and transform it into a livable space that'll make your home feel more like yours.
We'll help you achieve all these goals and more!
A Top-Notch Basement Remodel In Bellevue
We strive to provide customers with a level of service and workmanship that is unmatched in the industry. We have extensive experience in transforming dark, dreary basements into warm and inviting living spaces.
Boost Your Home's Value With A Premium Basement Remodeling In Bellevue, NE
Oftentimes, homeowners forget about their basement's potential and overlook the space for a long time. However, if your home has an older basement, it could be a turnoff for potential buyers, who will then try to negotiate for a lower price.
Therefore, remodeling this space is going to be a great investment that will raise the value of your home on the market but will also bring immeasurable value to your life.
With our design team, you can create a whole new space that will adapt to your changing needs – whether you want a man cave to relax in with friends, a playroom to keep the kids entertained, or a stunning bedroom that will make guests want to stay the night.
Check out our basement remodel offer in Bellevue, NE, and get the best deal on your project right now! Work with the best basement builder in Nebraska and make sure your project is 100% successful.
Bellevue Homeowners Love Their Finished Basements!
Your Bellevue neighbors have already improved their homes by transforming basements into one of the best rooms. Upgrade your home and enjoy the benefits!
I shopped many different companies before deciding on Home Matters Construction to complete a basement remodel. I found their attention to detail and business process was the most efficient and cost effective process around. 
I worked with a wonderful planning team prior to any construction, where every detail was worked out. The timeline for the job was clearly mapped out and followed appropriately. The team members are punctual and finished the remodel within the timeframe proposed. 
Follow-up after completion has been outstanding and most importantly, the response I have received from friends and family about our new basement bar has been outstanding.
I was looking for someone to remodel my basement in Papillion. I called several contractors, but Home Matters Construction in Papillion was definitely the obvious choice from the beginning. They were transparent, upfront, and honest. They took the time to walk me through the entire process. 
They gave me clear numbers from the beginning that never changed. The construction process was painless. They shared the schedule with me from the beginning and then updated me along the way with all of the progress. 
The software that they used was great for us to see everything along the way from the estimate to progress pics, to schedule, to payments. I won't waste my time with anyone else in the future. Home Matters will be my only call. HIGHLY RECOMMEND!
Different Finishes You Can Get For Your Basement
There's no limit to what you can do with your basement. You can transform it into anything you can think of, but it's better when working with a pro!
Let's look at some of the best basement transformations you can get!
A basement bedroom is a great way to increase the living space on your property. As your family grows and needs change, you'll appreciate the extra room.
Having an extra bedroom opens opportunities for more guests to stay the night or for your family to gather more often. Also, if money is tight, consider renting it out – you can earn some cash while simultaneously helping someone in need.
Besides, converting a basement into a bedroom is really affordable.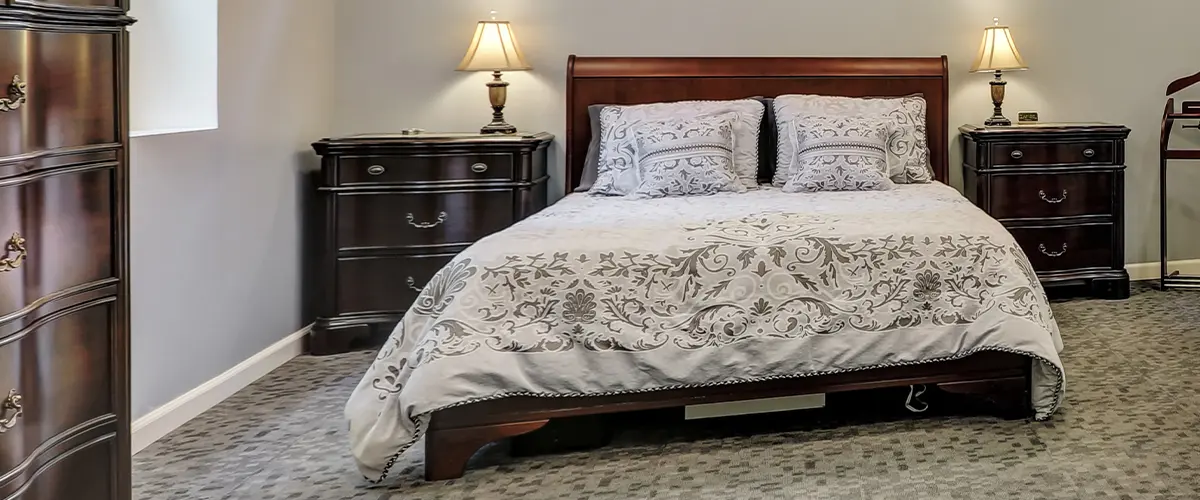 One of the main issues people had while working from home was not having access to a serene and cozy spot. Since interruptions and people in the background of Zoom calls were so frequent, it made work very hard to get done.
We've had an increasing number of customers who are redoing their basements into either an office or another room to use as a workspace. 
Many do this not for themselves but for their kids, as a quiet place to study or work on their school projects, away from distractions.
Finding time for everything is a real challenge in today's age. And even if you have time to work out, gym subscriptions can cost a lot of money, and driving there might take you some time.
Some of the best benefits of having your own in-house gym are working out at your convenience, setting your own pace, and working without feeling self-conscious.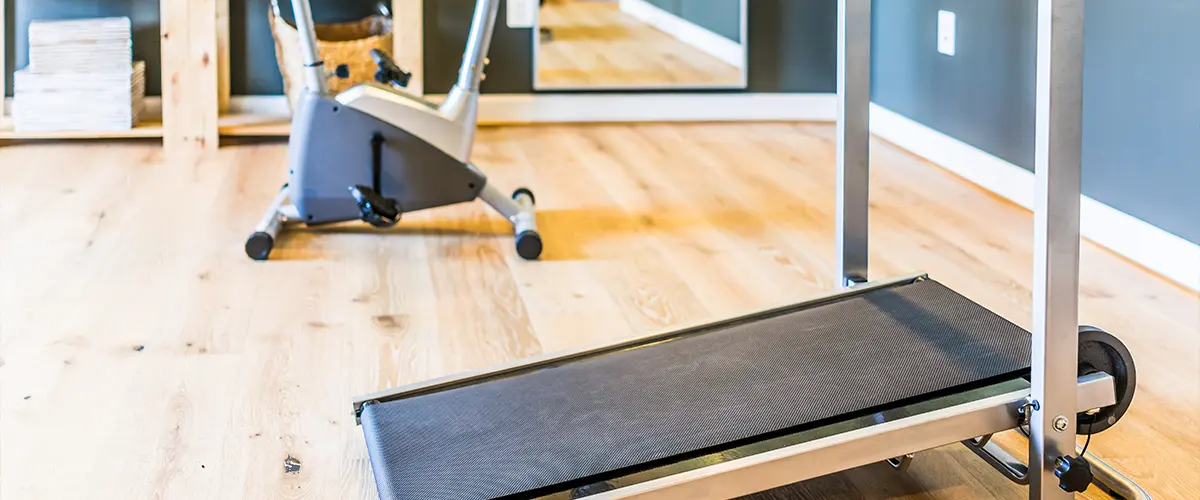 We've helped many families transform their basements into safe playrooms as a way to keep their little ones busy and away from danger.
Make the entire room child-proof, add in their favorite toys, and that's pretty much all it takes to keep the little ones away from their devices for at least a few hours.
Not only is this transformation affordable, but it's also perfect for families with young children who will eventually grow out of the phase. Plus, you can easily change the basement into something else down the line.
Like a man cave or a playroom for yourself.
Other Upgrades You Can Get
Some other upgrades and basement finishes in Bellevue, NE that our customers get are:
A Highly-Efficient Basement Remodeling Process
Go through a highly-efficient basement remodeling process designed exclusively for you and your needs. We're making your remodel quick, intuitive, and so transparent that'll know what happens and why – at every step of the way.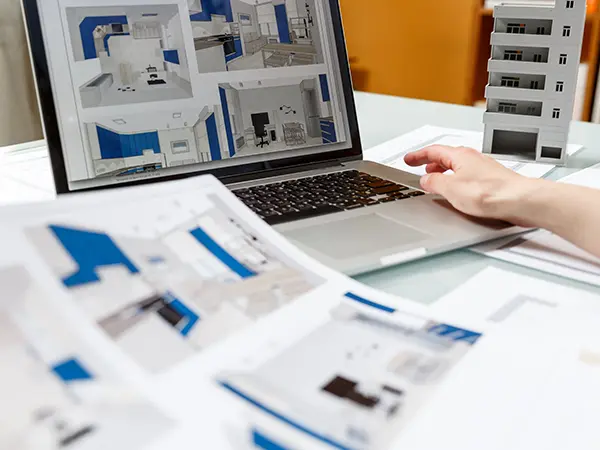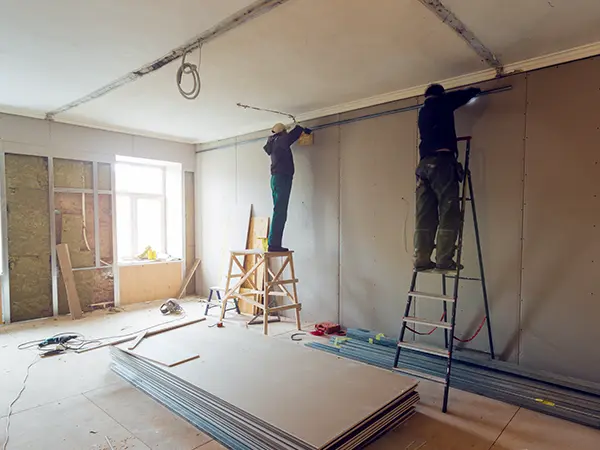 You'll be in full control of everything during the building phase.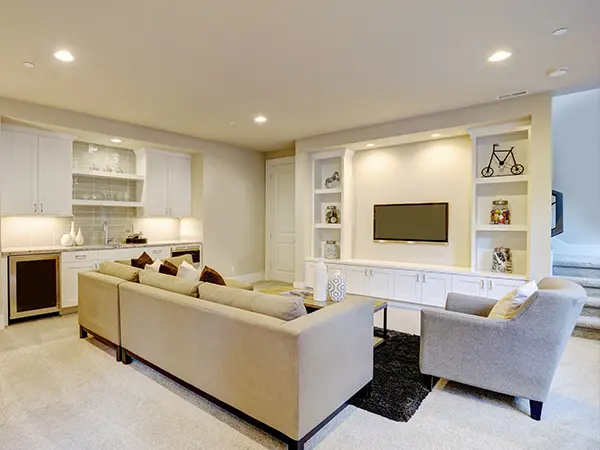 Enjoy your new, transformed basement!
Frequently Asked Questions
We've seen basement remodeling projects go for as low as $45k and as expensive as over $115k. This all depends on what you're hoping to get out of your basement transformation. While a playroom transformation will be fairly cheap, an in-house gym will cost a lot more because of the equipment.
Depending on the scope of work, your basement remodeling in Bellevue can take anywhere from three to six weeks. Upgrading the wall framing, painting, and lighting will take a lot less time than doing a high-end basement renovation with new flooring, a new electrical system, a half bathroom, and a kitchenette.
I'm Tony, the owner and founder of Home Matters Construction. I will take care of the building and remodeling, all while ensuring my work is backed by premium customer support.
We vetted a team of skilled, licensed, and insured tradesmen, all experts in every remodel field and Nebraska's building codes. We all value your home and appreciate you trusting us to work on it. Because of that, expect the best craftsmanship and dedication to see you fully satisfied with your new basement.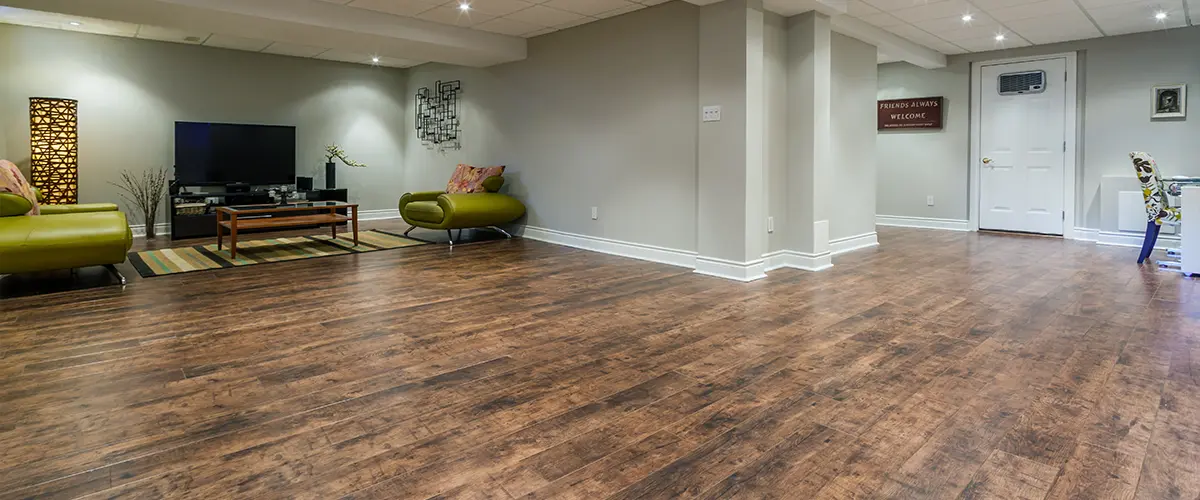 Bring Your Basement To Life With This Well-Deserved Upgrade!
If you've kept postponing your basement remodeling in Bellevue, now is the best time to make the final decision and get started.
Work with HMC, and you won't have to worry about the extensive stress other contractors put on you during a basement remodel. We're concentrating on your needs and wants because we understand that's what it takes to get you the space of your dreams.
With your local experts from Home Matters Construction Bellevue, you'll also get:
Let A New Basement Improve The Quality Of Your Life