If you've had plumbing issues in your basement before, choosing the ideal type of flooring can be difficult.
The decision might seem complicated, but it's not. You only need to look at a few types of flooring for basements and avoid others.
In this article, you'll not only discover the best 5 types of basement flooring for your remodel, but also which basement flooring options and materials are best to avoid in this damp space.
Let's begin.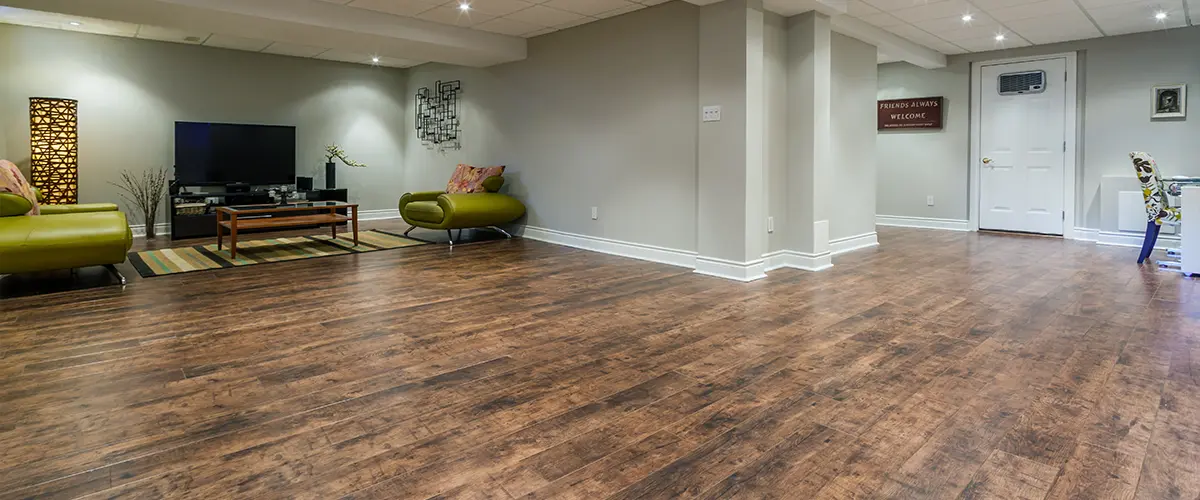 Before Installing The New Basement Floor
Before beginning any work on your basement flooring project, you should ensure that the concrete is in good condition.
Most homes will have a concrete floor, which is standard. Make sure the quality of the concrete is good before continuing with the installation, so you can avoid plenty of issues down the line with your basement flooring.
To ensure your basement is waterproof, check that the concrete is level with no cracks and that water doesn't seep in during storms.
It goes without saying that if your concrete floors are in poor condition, you'll likely be unsatisfied with your basement as a whole.
If you plan on refinishing your basement into something like a workshop or gym, then you likely won't need a subfloor. However, if you have other plans for your basement such as turning it into an office, a playroom for kids, or even a guest room; we recommend putting it on the subfloor.
Our experts from Home Matters Construction will help you decide what's the best subfloor option for your particular needs.
However, subfloors are usually made of concrete or epoxy.
Let's now see what are the best types of flooring for basements.
5. Engineered Wood Flooring
If your home has incorporated hardwood features in other rooms, you might want to consider doing the same for your basement.
Engineered hardwood is a great alternative to natural hardwood in basement environments that are known to be damp. The core of engineered wood flooring is made of plywood while the surface consists of real hardwood, providing you with the best of both worlds.
Hardwood flooring is better installed over a subfloor, and it costs between $5 to $8 per square foot.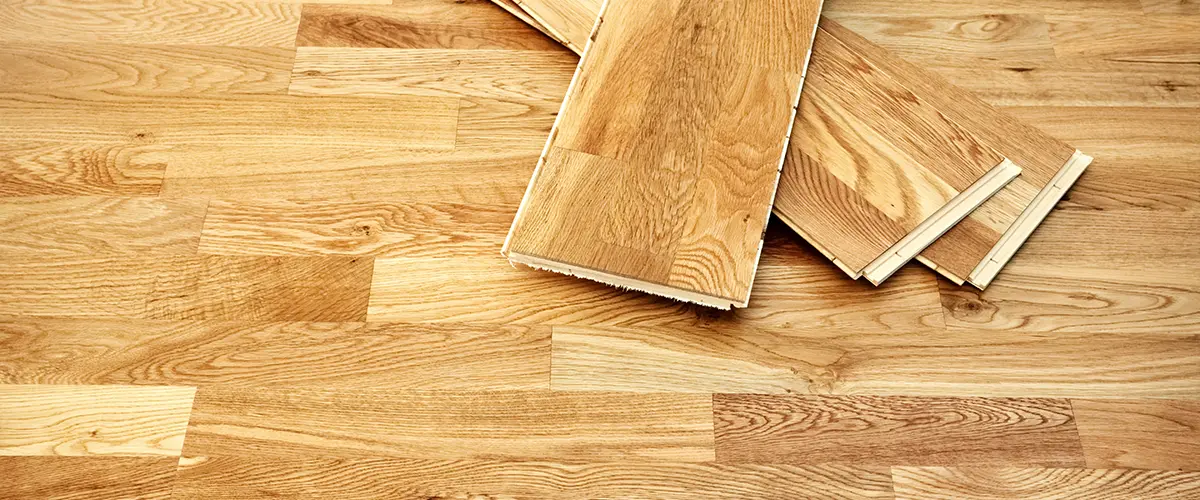 Vinyl sheets for your basement flooring are a cheap and good option, costing only $0.75 to $4 per square foot. Not to mention, vinyl is durable and easy to clean too! You'll have plenty of style options available to you as well.
Please note that it can be quite a struggle to install the vinyl sheet by yourself. The role is heavy, so you'll need help carrying it downstairs. You'll also have to cut it to size and make sure it fits snugly between all walls in order to correctly cover the subflooring.
Rough concrete irregularities will likely show through if you opt for a vinyl sheet floor.
At the same time, keep in mind that vinyl flooring or laminate flooring is not waterproof and if you're having any major leaks in your basement, it won't look pretty.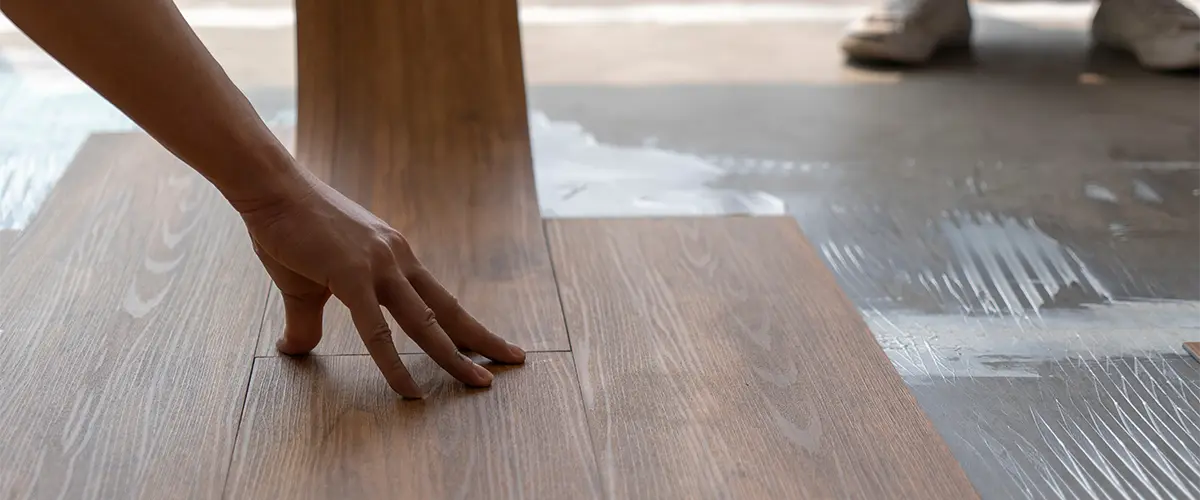 3. Luxury Vinyl Plank Flooring Or Tiles
Luxury vinyl planks (LVP) and luxury vinyl tiles (LVT) are excellent, affordable basement flooring options that are easy to install and maintain. They can also resemble more expensive materials like stone or hardwood.
LVP and Luxury vinyl tile basement floors differ from other types of flooring like vinyl or laminate and also require a subfloor if installed on concrete.
These bathroom flooring options are also easy to replace, and they cost between $2 to $7 per square foot.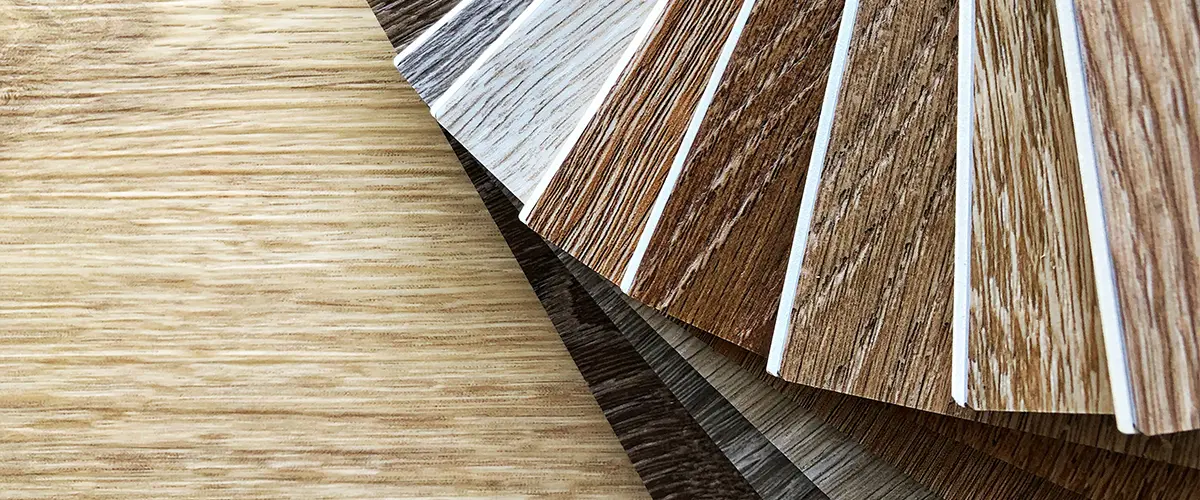 Tile flooring is an excellent functional option for a bathroom or kitchen, but it depends on your planned transformation of the basement space. If you're planning to build a home theater or guest room, tile might not be best suited because it keeps floors cold and rooms difficult to warm up.
If you're renovating your basement and want to turn it into a laundry room, tile basement floors would be more than recommended.
Ceramic tile can create an enticing design in certain areas of your home, such as the bathroom, laundry room, or gym. However, if you want to turn a spare room into a bedroom, tile might not be the best option.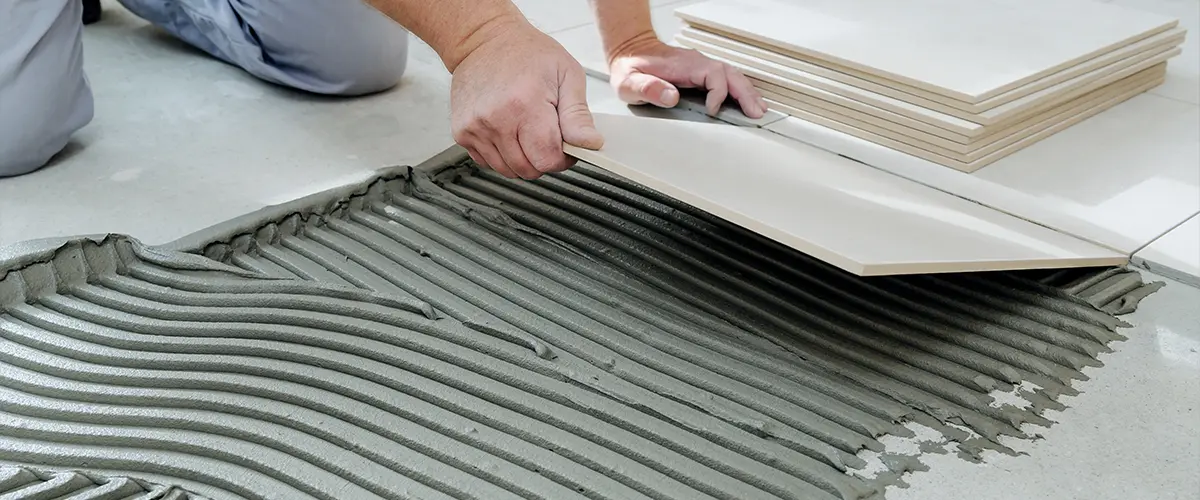 If you're considering redoing your basement and want an easy-to-clean yet smooth and durable surface, epoxy coating is a great option for you. This will look like concrete flooring if unfinished, but when done by a professional, it'll look beautiful!
Epoxy, often used in tandem with carpeting, can enhance the look of any room – be it a gym, office, or bedroom in your home. Different epoxy treatments create different visual effects.
For example, you can add sand for some texture, or flakes to add some color and a nice pattern.
Application of epoxy can be troublesome, and it often requires a professional for installation if you want it to look good. Some kits may also produce fumes during application or curing, so unless you're well-equipped, it's probably better to hire someone. You can expect to pay around $120 for a DIY kit.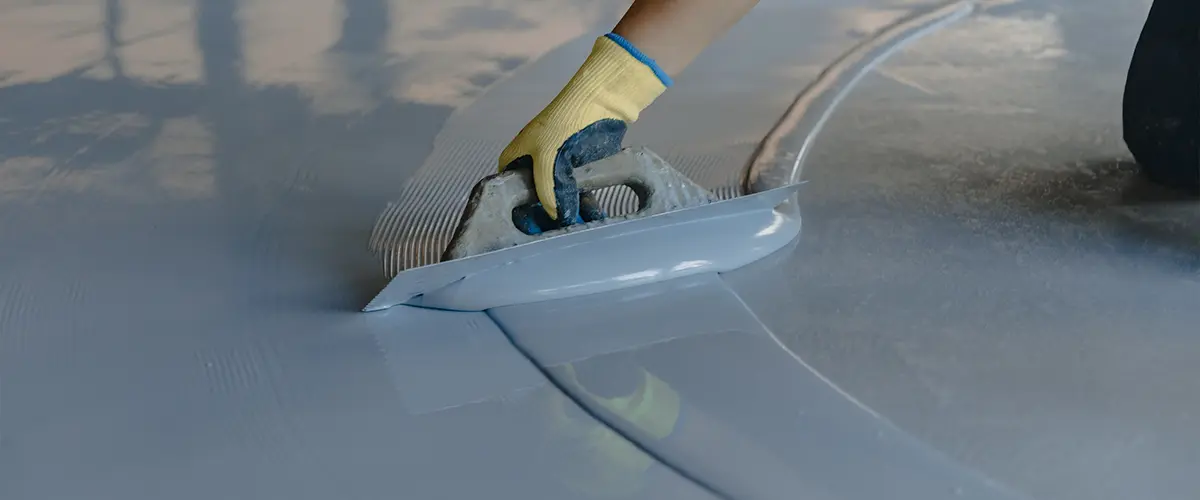 The best types of flooring for basements are the ones that'll match your needs and preferences.
If you're carving out an office in your basement, you'll want to consider the atmosphere and how it might affect your work. With that in mind, luxury vinyl planks or engineered hardwood would be good options to create a cozier feel.
If you want a workshop or gym that is easy to clean and maintain, epoxy or tile flooring are great choices. Rubber flooring is also a good option for gyms.
With Home Matters Construction, you're getting the best types of basement flooring right to your doorstep. We're experts in making a basement look great, and we're looking forward to working on yours!
Contact us today for a consultation at (402) 661-0910 or request a free quote and we'll get back to you to discuss your upcoming project!