If you're like most people, you probably don't want to run up and down the stairs, every time nature calls.
That's why adding a basement bathroom is such a great idea!
And not only does a basement bathroom make your life easier, but it also increases your property value and makes your home more attractive to potential buyers.
However, before you start any basement bathroom remodeling project, there are a few things you need to know. In this article, we'll discuss what you'll have to consider to get the perfect basement bathroom addition.
Let's get to it!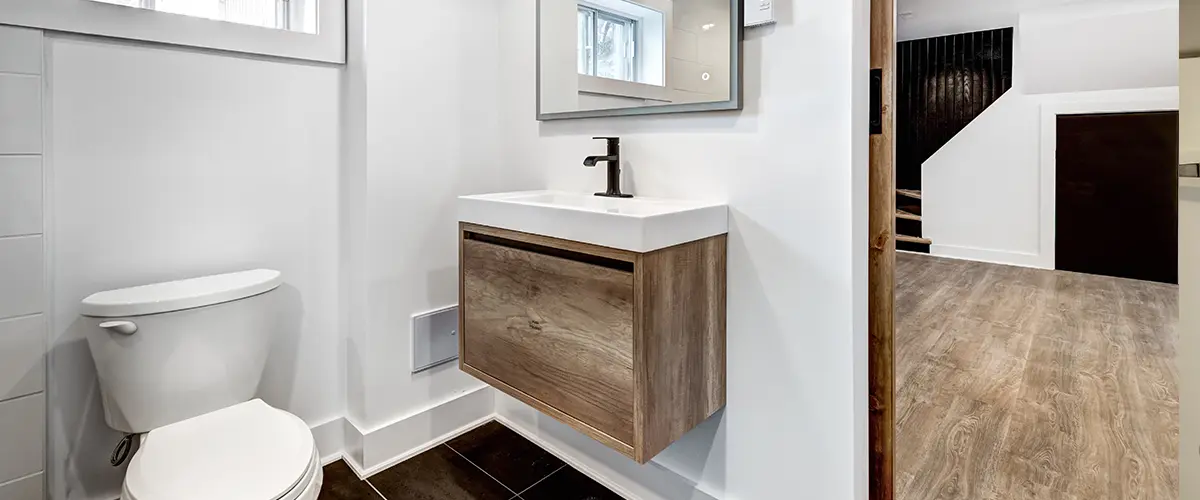 One of the first things you need to consider when adding a basement bathroom is how much space you can work with.
For instance, if your basement is tiny and has short ceilings, you can put in a more compact bathtub next to the toilet seat and vanity to take care of your essentials.
Let's assume that the ceiling is tall enough and there is plenty of space to design. If this were the case, you would be able to add an extra-large shower or jacuzzi tub for your after-workout relaxation time.
In any case, basements are usually pretty large. There is a lot of space to work with, you just need to determine whether it's for a bathroom or you're planning a different addition as well.
Basement Bathrooms - Design And Functionality
The design of your basement bathroom will be determined by its layout. An unfinished basement allows you to be more creative with the types of fixtures and finishes you can use.
Remember the needs of all household members who use the basement bathroom when finalizing its design.
For example, if your family members who are elderly or disabled will be using the new bathroom, you'll want to make sure it has plenty of space for walkers and wheelchairs.
When you are designing your basement bathroom, you need to decide which features are most important to you. Let's see some of them.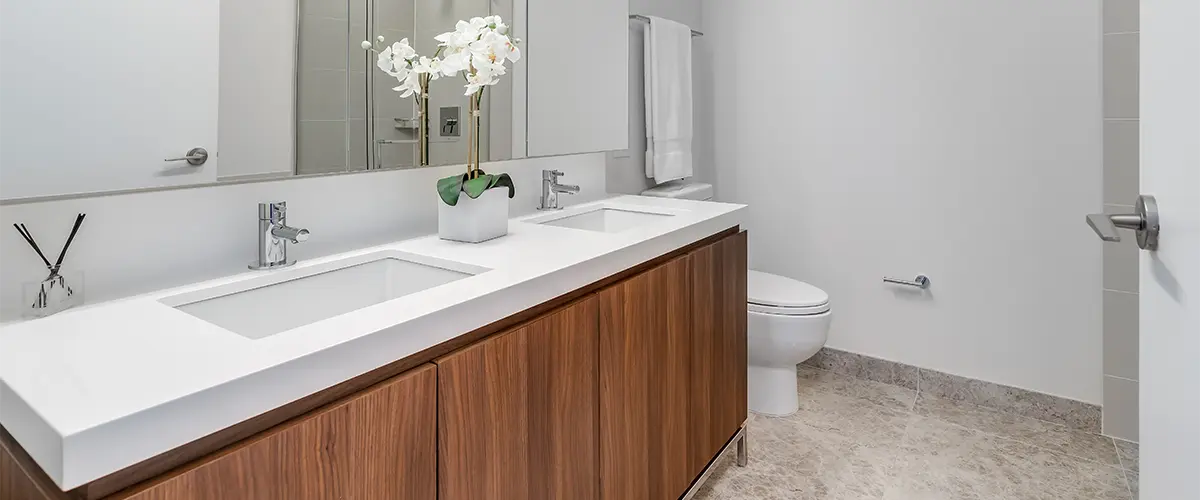 If you're looking for a touch of luxury in your basement bathroom, a bathtub is a great option worth considering.
There are many different types of bathtubs to choose from. You can pick one with jets installed or opt for a shower stall to save space. They're perfect for people who love taking long baths and provide a spa-like experience right in the comfort of your own home!
There are several materials you can use to make your basement bathroom bathtubs, such as acrylic or cast iron. For a touch of luxury, consider adding brushed nickel fixtures that complement your basement's décor.
The most convenient option for people who work out every morning in their home gym is to add a shower to their basement.
If we talk about design, you also have quite a few choices for your basement bathroom shower:
Whatever your choices are, make sure they fit your taste and lifestyle to the very last detail.
If you have a small basement, don't worry- a single sink will work just fine. You also won't be limited in your design options. Besides, a double vanity will be more suited for a master bathroom which is usually on the first floor, not in the basement.
No matter your style, you can find a vessel sink that suits your needs and reflects your personality. Natural stone, intricate pedestals, or sleek undermount sinks — the options are limitless.
Depending on the basement bathroom layout you choose, your countertop and vanity may be the first things people see when they enter. If that's what you want visitors to see first, then make sure to pick a design with those elements in mind.
Countertops come in a variety of materials and finishes, including:
The best basement bathroom countertop is one that matches the rest of your home's décor as well as your budget for durability and maintenance costs over time.
Basement bathrooms usually have wall-to-wall cabinets that store towels and other necessities like toiletries or medicine. However, if there's only enough space to install a sink in your bathroom, consider adding an antique cabinet or dresser to use as your vanity.
Not only will it give you more storage space, but it'll also add a unique and interesting design element to your home that no one else will have.
On the other hand, if the space is large enough, you may want to install a custom vanity. This will give you plenty of options when it comes to design, size, and even the number of sinks you want in your basement bathroom.
Basement bathrooms are often small and windowless, so there's very little natural light coming in. And because the lighting is vital for both safety and comfort, you'll need to take some action.
Add several light fixtures for different tasks and extra functionality:
Storage space is important for a basement bathroom, but not crucial. Most of your toiletries will be in the master bathroom, while this space will remain sort of clean and empty.
If, however, you want extra storage space in your basement bathroom, here are some storage options:
When compared to upstairs bathrooms, basement bathrooms typically have more ventilation challenges, so bathroom vent fans become mandatory. Even some local building codes are making ventilation systems in all baths – not just basement baths – mandatory.
Basement rooms are susceptible to changes in humidity because they are generally below ground level and surrounded by concrete. Which is why it's essential to have a great ventilation system installed.
An exhaust or ventilation fan is the best resolution in this case. Removing moisture from the air will enable your full bathroom to be comfortable year-round, and not develop mold, mildew, or other unpleasant smells or bacteria.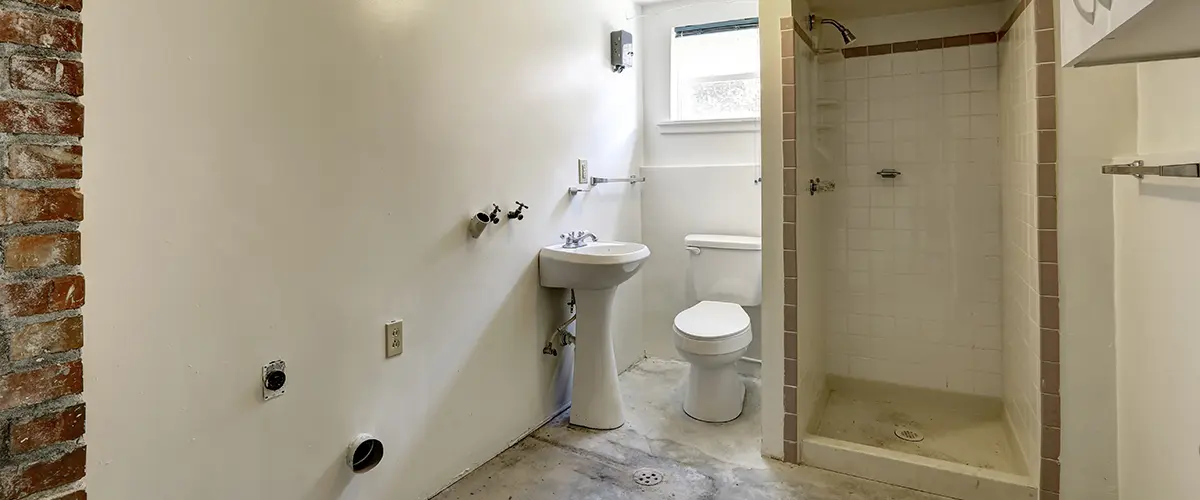 Basement bathroom plumbing
One of the challenges of having a basement bathroom is that the water pressure is often low. Your existing plumbing system will need to be adjusted, and that's a lot of work that needs to be done.
There are several things you can do to improve the water pressure in your basement bathroom:
Your basement bathroom deserves a professional to look at it. A professional team from the very beginning helps you avoid any issues with low water pressure in your basement bathroom. They're highly trained and will make sure that everything is done correctly so that you won't have any problems down the line.
Besides, it'll be much easier for them to obtain the building permits required to start the construction!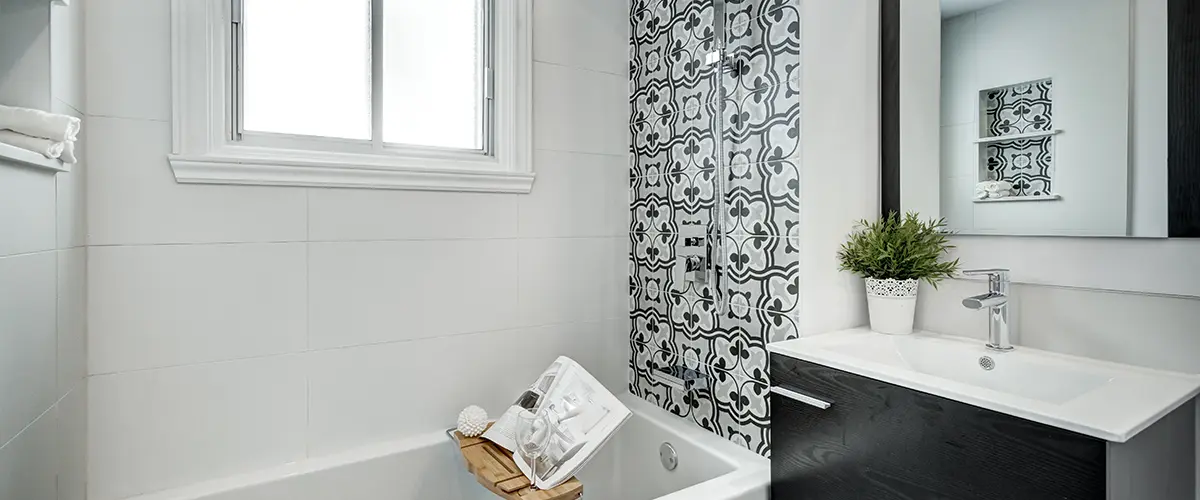 Finished basement drainage
Because basement floors tend to be lower than the rest of your home, the main drain line, toilet drain, or shower drain are usually higher up and further away from where they need to be.
To avoid a sewage backup, you'll have to pump water out of the sewer lines and into an above-ground drainage system.
It's essential to consider the layout of your basement bathroom when you're planning the project. By doing so, you can avoid potential issues that could disrupt your renovation.
If you plan on adding a horizontal or vertical pipe to your plumbing system, you may have to do some additional work to the main stack and above-ground piping. This is necessary in order to ensure that wastewater can drain properly and accommodate any upgrades.
To reduce the amount of wastewater you need to pump out, try to locate the bathtub, toilet, and sink close together. If your basement bathroom is in the lowest part of your home, you might have to install a sump pump to push the water on the main sewage line.
Adding a new basement bathroom can be a daunting and expensive project, but it's definitely worth the effort. With the proper planning and execution, you can have a functional and beautiful space that everyone in your family will love.
If you're not comfortable doing all of the work yourself, hire a contractor who has experience with basement renovations and will save you time and money in the long run.
At Home Matters Construction, we'll make sure to map out your vision down to the last detail and get your basement bathroom up and running in no time. Contact us today at (402) 661-0910 for a free on-phone consultation!