The Best Kitchen Remodel Cost In Bellevue, NE
No time to read through? Get a personalized pricing quote for your project now!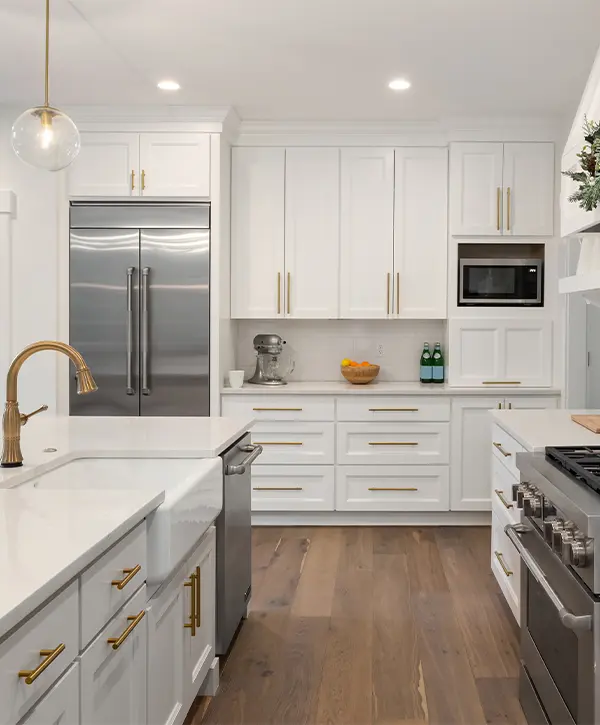 Remodeling your kitchen in your Bellevue home can be a highly rewarding project. It can bring about an improved quality of life, a more functional kitchen, and increase the value of your home.
But how much does a kitchen remodel cost in Bellevue, NE?
Home Matters Construction provides you with a detailed cost breakdown for your kitchen remodel in Bellevue, as well as budgeting tips and cost-effective solutions to get the most value out of your project.
A Premium Remodeling Service At A Fair Price
With Home Matters Constructions, you're not just getting a high-quality service, but you'll enjoy many other perks of working with professionals. We take great pride in our complete service because this is what makes us the go-to remodeler in Bellevue, NE.
The Typical Kitchen Remodel Cost In Bellevue, NE
To figure out how much a kitchen remodeling will cost, you need to consider the size of the kitchen, the materials that will be used, and any extra features that will be added. Here are some averages based on different kitchen sizes.
| Category | Size | Average cost |
| --- | --- | --- |
| Large Kitchen | over 200 sq ft | $50,000 - $80,000 |
| Average Kitchen | 100 sq ft | $19,500 - $52,000 |
| Small Kitchen | Less than 70 sq ft | $10,500 - $28,000 |
After our consultation, our in-house professionals will give you a precise and transparent price quote. We are dedicated to providing budget-friendly options to help you achieve your desired renovations without exceeding your budget.
Homeowners Love Their New Kitchens
We prioritize fostering a strong bond with our clients, but don't just take my word for it. Here is what people have to say about working hand-in-hand with one of the most accomplished kitchen remodelers in town!
Home Matters was referred to me by a member at my sister's church. 
 From the moment we connected with Tony, we felt his honesty, integrity and desire to help us meet our needs for a full, functional kitchen remodeling project. 
 We were not disappointed. Our experience with Tony and the Home Matters team was wonderful. The coordination with their sub-contractors was impressive. The workmanship and work ethics was top notch. The office staff is friendly, professional and easy to work with. 
 I wouldn't hesitate contacting Home Matters for any of your home services, big or small.
Tony and the crew are VERY professional. 
Our remodeling project faced the inevitable covid shipping delays. They anticipated and worked around the supply problems, kept the project on schedule. 
They kept us in the loop, answered all our questions, and did some really great work. The kitchen lights installation just blew us away! 
The new floors are simply a delight. We absolutely recommend Home Matters. 
 Tony and his crew will have our next project!
Labor In A Kitchen Remodel Cost In Bellevue
Renovating a kitchen can be overwhelming because it requires hiring a plumber, designer, electrician, builder, and carpenter. Each specialist charges different rates, which can add to the complexity.
Architects are the experts that make sure the space is structurally safe. They're crucial if you build new walls in your space or change the room's structure.
Architects usually charge between $65 to $250 per hour or 10% to 20% of your total project cost as a one-time fee.
The kitchen designer is essential if you want your space to look good and function properly.
Like architects, designers charge around 10% to 20% of the total kitchen remodel cost. For a one-time consultation, expect to pay for a designer anywhere from $300 to $1.5k.
A professional plumber should always be contacted to fix any plumbing issues in your kitchen. If you're looking to change the layout of the space, a plumber will definitely need to be consulted.
Plumbers charge between $70 and $150 per hour. Besides their labor, they also charge for materials.
Before relocating your appliances, ensure that the appropriate electric wiring is in place for their safety. This is especially true if your home isn't constructed of brick and stone materials.
A professional electrician will charge between $80 and $150 per hour, plus materials.
The Kitchen Contractor That Has Them All
You can save yourself the trouble of finding individual experts and use your time and money more effectively by using our complete service.
At Home Matters Construction, we have a team of highly skilled professionals, including electricians, plumbers, carpenters, and designers, all in one place. You don't need to search elsewhere for a solution – we have everything you need.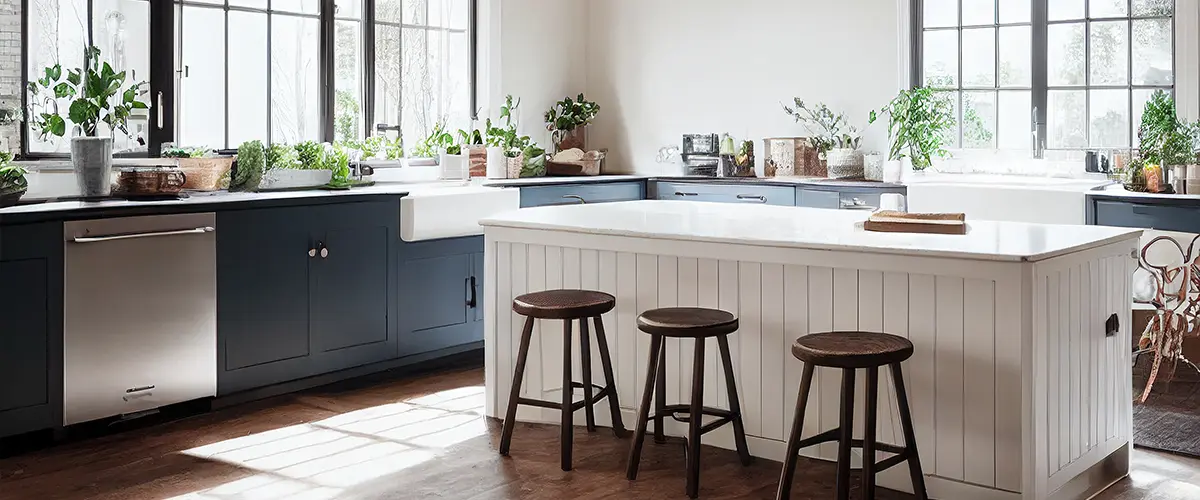 We provide a complete kitchen remodeling service for homeowners in Bellevue, La Vista, Omaha, Papillion, Gretna, Springfield, and other parts of Nebraska. You'll enjoy the best possible end product and a smooth building process.
Kitchen Remodeling Upgrades And Costs
As we've previously discussed, there are many options with different features when it comes to remodeling a kitchen. During your on-site consultation with us, our team will provide you with a comprehensive list of what's available to fit your renovated space.
Until then, let's discuss the most popular options and their associated price for your kitchen remodel cost in Bellevue.
A kitchen renovation wouldn't be complete without new cabinets.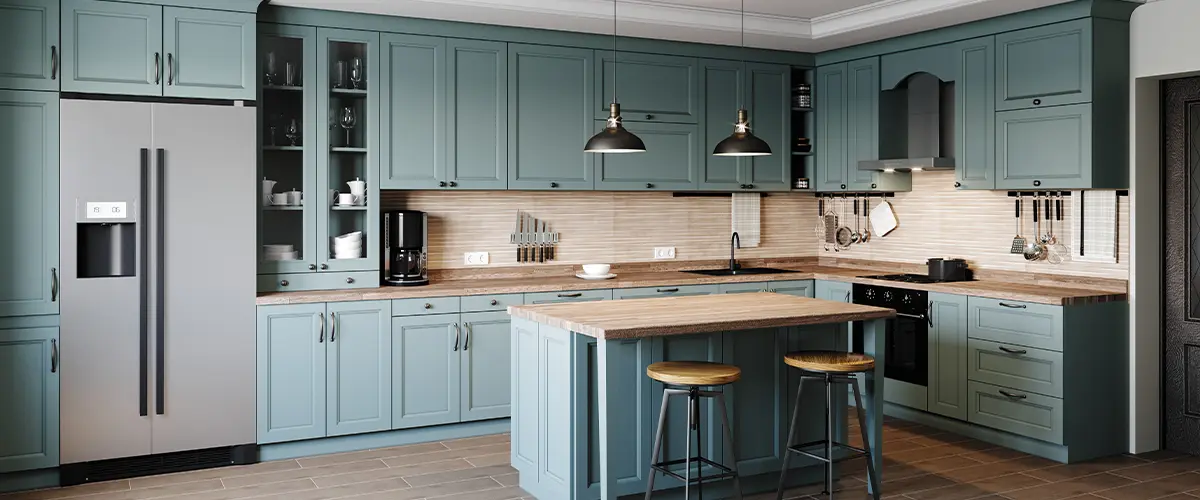 To save money when renovating your kitchen, consider keeping your existing appliances if they are in good working condition and visually appealing. Purchasing new appliances is not necessary unless it is a must-have for you.
Appliances in the home are advancing with features like touchscreens and scheduling capabilities, transforming our home lives into a more convenient and luxurious experience. It's even possible to imagine robots that can cook their meals, making the possibilities for comfort at home virtually limitless.
When looking for a kitchen range, the prices can vary greatly. Some models start at a budget-friendly price of $500, while others can be extravagant and cost over $3,000. Remember that if you choose a gas range, you will also need to factor in the cost of installing a gas line. Make sure to consider all expenses before making your final decision.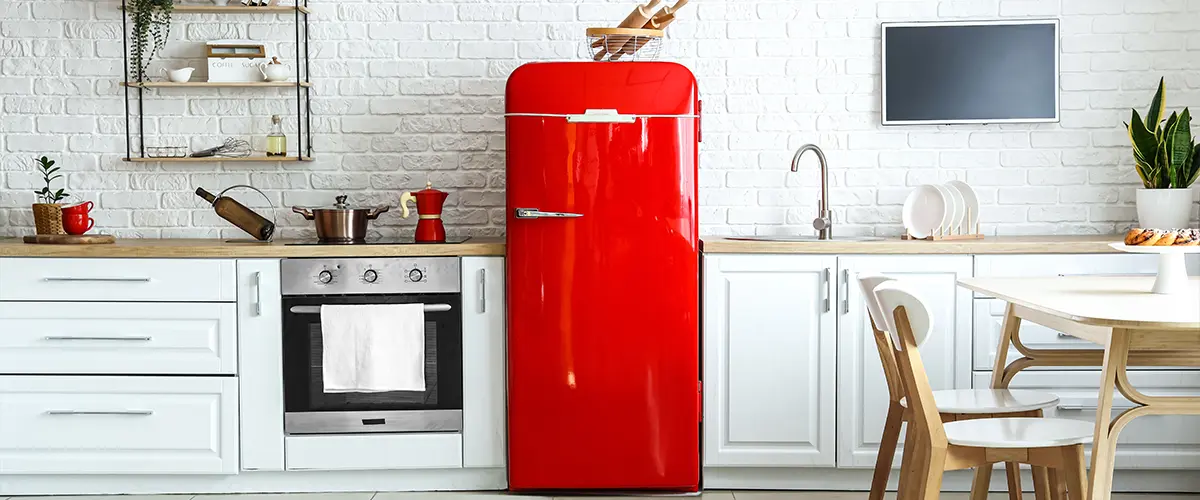 Adding kitchen countertops to your renovation can enhance the beauty of your new space by creating a stunning focal point. Don't overlook this important aspect of your renovation; give it the attention it deserves to achieve the kitchen of your dreams.
Quartz is a great option if you want a durable and affordable countertop. Although it doesn't have the natural qualities of granite or marble, it is very strong and resilient. Plus, it only costs between $75 and $100 per square foot.
Quartz is a better choice than marble because it costs between $40-60/sq ft, similar to granite, but with no extra benefits, while marble costs about twice as much.
The installation of these materials also comes with different price points.
| Material | Typical Cost (Per square foot installed) |
| --- | --- |
| Laminate | $30-$72 |
| Quartz | $72-$240 |
| Hardwood | $54-$300 |
| Marble | $102-$360 |
| Granite | $72-$300 |
| Stainless Steel | $109-$275 |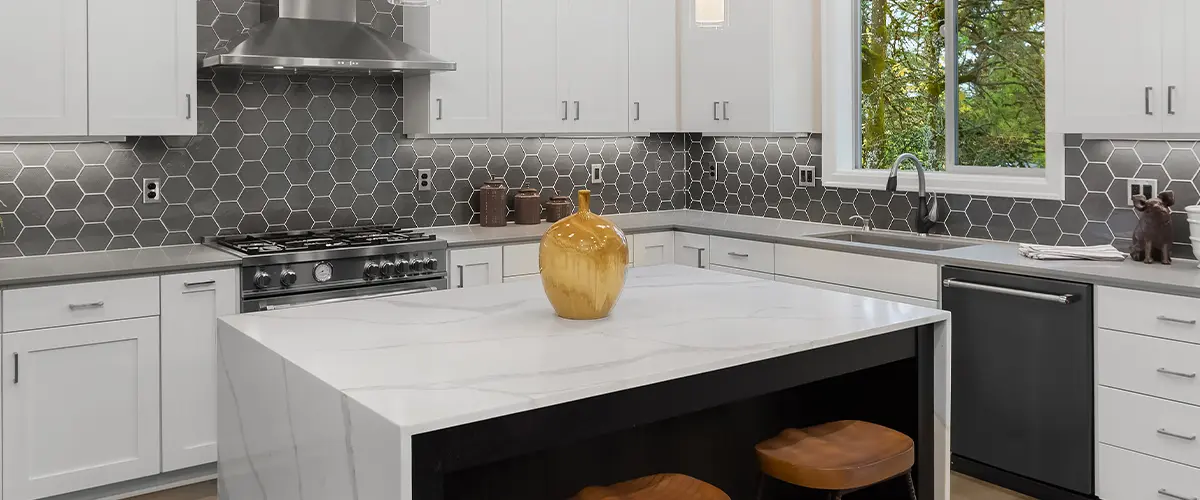 A cost-effective alternative to upgrading your kitchen flooring is refinishing existing hardwood floors. If your kitchen already has hardwood floors, refinishing them can make them look new again without investing in expensive materials or spending a lot of time and money on installation.
If you're yearning to switch out your flooring with new hardwood, the estimated expenditure for installing this type of surface in a kitchen is approximately $8k.
Luxury vinyl planks are a great flooring choice because they are highly water-resistant, low-maintenance, and easy to clean. They provide superior protection against rot and mold compared to hardwood floors, and no sealing or staining is required.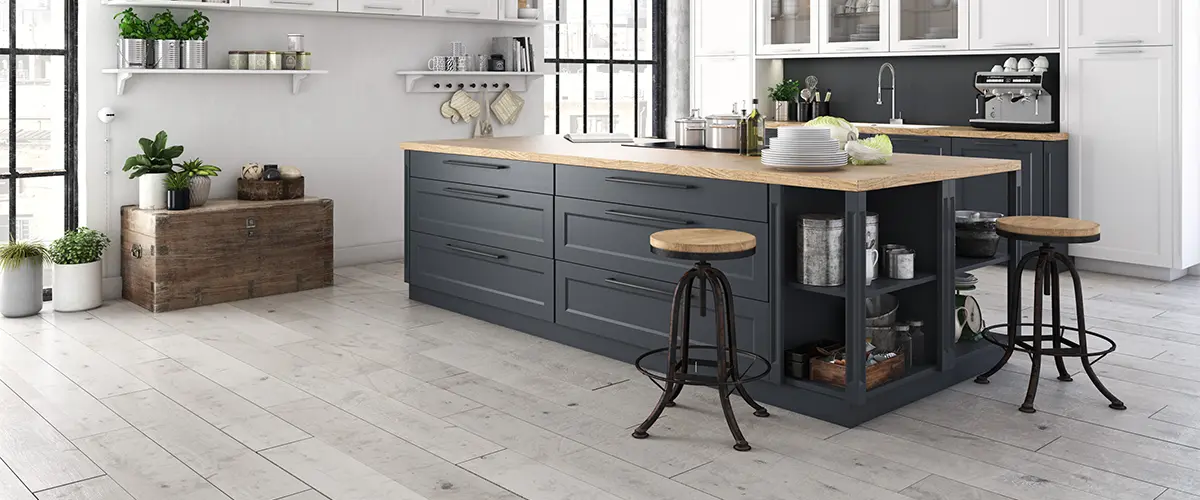 Installing a backsplash can make keeping your kitchen clean much easier. No more struggling to scrub off stubborn sauces or residues – just wiping down the tiles will suffice! By installing a gorgeous tile backsplash in your kitchen, you can save yourself time, effort, and hassle.
Let's look at some backsplash materials.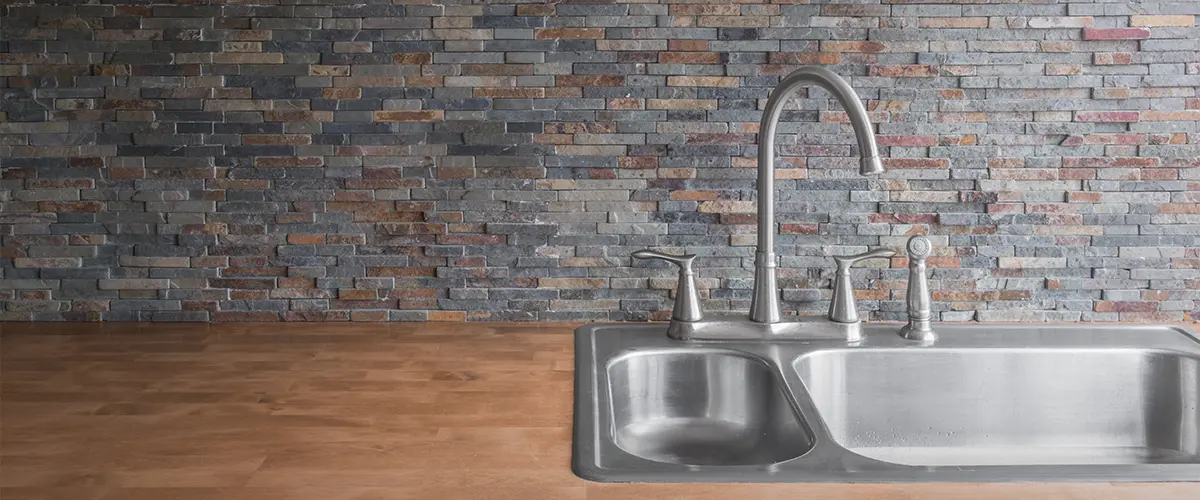 Budgeting For Your Kitchen Renovation Cost In Bellevue
HGTV's home remodeling shows can be misleading since they often portray high-end kitchen remodels that cost less than $10,000. To help you create reasonable expectations, here are some quick tips on properly budgeting for your remodel.
If you don't consider yourself a master chef, investing in the most luxurious kitchen range may not be your wisest choice.
To create a comfortable and cozy space for your family's game night or weekend dinner, we recommend adding suitable furniture and paying extra attention to the design. Working closely with your designer to achieve the desired look is important.
When renovating an older kitchen, homeowners should remember to save money for problems such as mold, mildew, and plumbing issues. These problems are quite common during renovations, so it's important to be ready beforehand to avoid unexpected costs later on.
By allocating an extra 20% of your total project cost, you can ensure that any unexpected occurrences will be handled easily – leaving you always on the winning foot.
When it comes to remodeling your kitchen in Bellevue, you can expect costs to be higher than transforming other areas of the house. But by clarifying precisely what services and materials you're investing in for this project, you can ensure a stress-free experience instead of an overwhelming one.
Before engaging a kitchen renovation company or any of its contractors, make sure to inquire as to what exactly you will receive in exchange for the cost. Check out the local Chamber of Commerce or local BBB and filter through some contractors.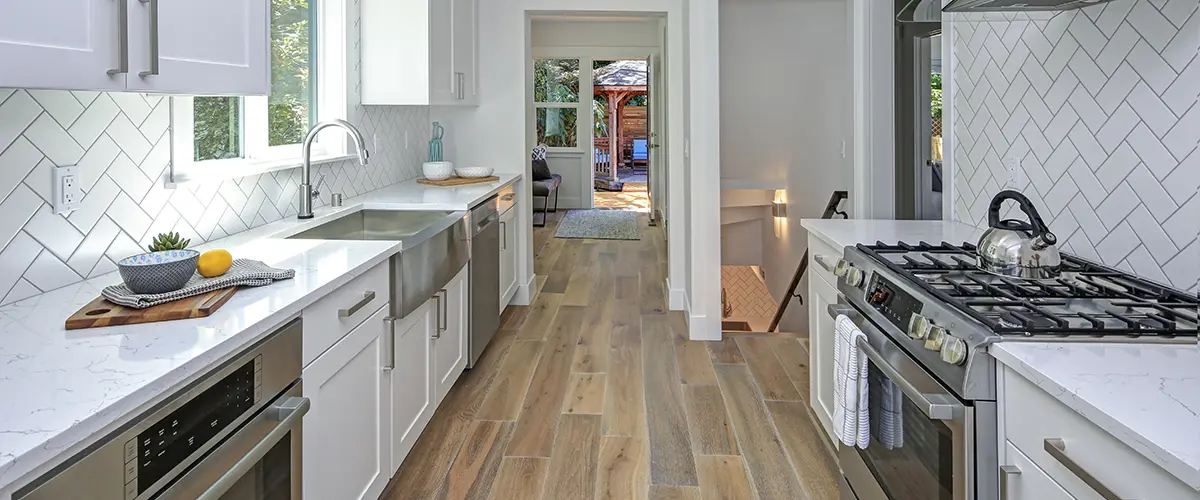 Pricing Transparency And Reliability From HMC
The average cost of renovating your kitchen in Bellevue is around $45,000, but the final cost will depend on the materials and features you choose.
We've worked on kitchen remodels that were as low as $20k and as much as over $70k.
HMC can assist in turning your kitchen remodeling dream into a reality. Our team of local experts will ensure that the project is finished within budget and on schedule.
We tend to over deliver, so expect:
Stop Delaying And Get Your New Kitchen Today!