The National Association of Realtors' Remodeling Impact Report reveals that finishing a basement will yield you up to a 75% return on investment, and the happiness rating from homeowners who improved their basements was equally as impressive — 9.5 out of 10!
To be precise, for every $10k you invest in revamping your basement, the value of your property will increase by around $7k.
The numbers appear to be promising, and the question remains: what is the real-world impact this project will have? How can a basement remodel possibly add value for you or your business?
Find out below!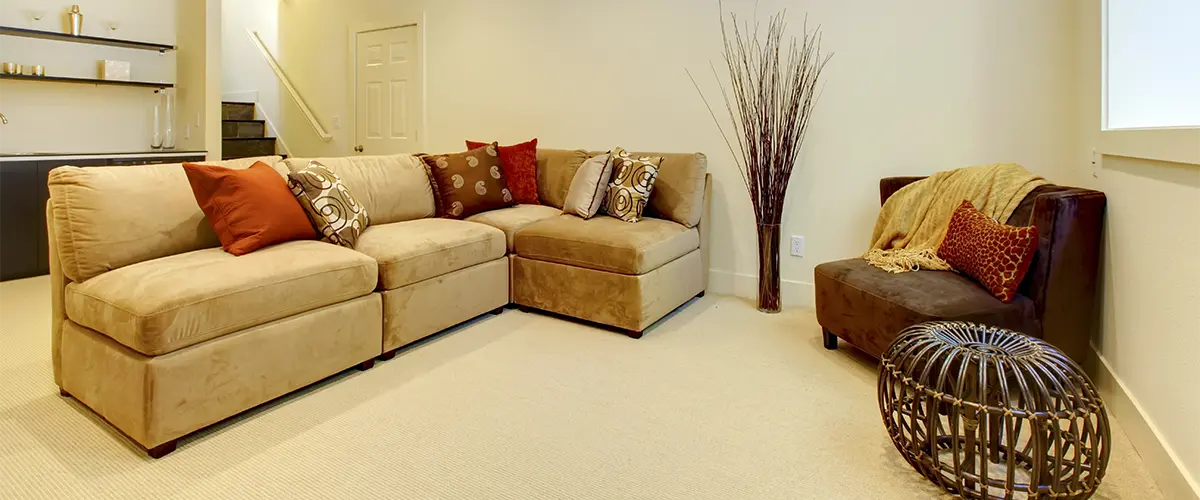 How Much Should You Spend On A Basement Remodel?
According to Angi, on average, redoing a finished basement will cost about $20,200 – however, the price can range drastically from as little as $4,200 to as much as $45,000.
Finishing a basement can be surprisingly budget-friendly, with the average job costing between $2,800 and $34,500. On average, you're likely to spend around $18,400 on your project. However, it may come at an increased cost should you build from scratch or install a walkout basement.
Here's a breakdown of how much you should expect to pay for different upgrades:
| Type Of Work | Cost |
| --- | --- |
| Waterproofing | $1,900 - $6,500 |
| Sump pump | $600 - $1,600 |
| Egress window | $1,000 - $7,000 |
| Framing | $700 - $1,400 |
| Stairs and railings | $2,000 - $7,000 |
| Electrical, lighting fixtures and outlets | $3,000 - $12,000 |
| Plumbing and fixtures | $2,500 - $15,000 |
| Insulation | $1,500 - $4,000 |
| Drywall | $1,000 - $3,000 |
| Paint | $1,250 - $3,500 |
| Flooring | $2,000 - $12,000 |
| Furniture | $1,000 - $30,000 |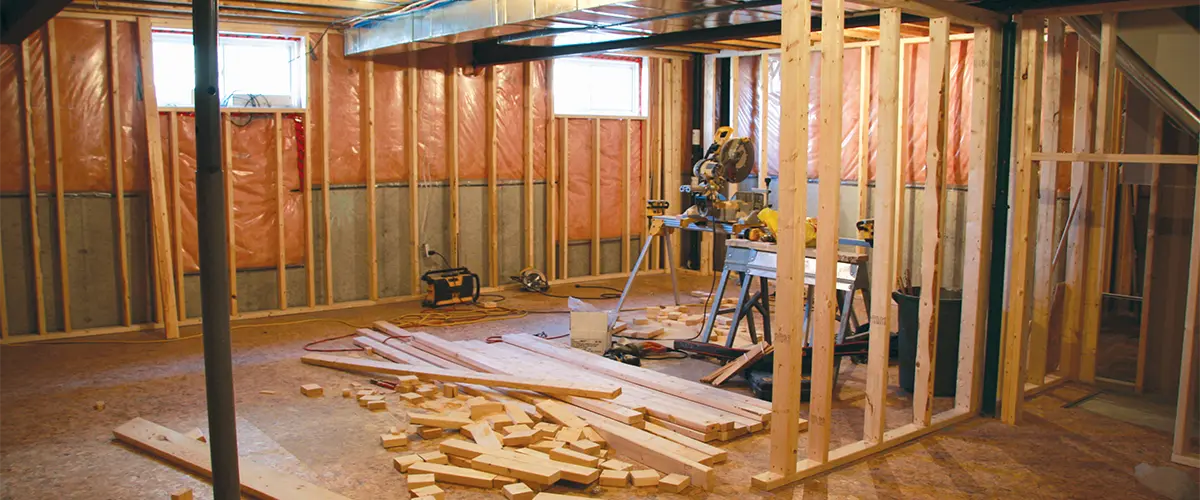 What Are The Best Materials To Get For Your Basement
When making your basement more livable, you should prioritize the flooring, walls and ceiling – these are the essential elements in transforming this space. With upgrades to each of these components, you'll be much closer to having a cozy living area for yourself or for others.
To ensure a successful basement remodeling project, it is essential that the subfloor and finish floor are properly planned. Considering these details now will assist in avoiding any unpleasant surprises down the line.
Your basement's subfloor is likely composed of concrete; however, it can be easily transformed with ceramic or porcelain tile, luxury vinyl plank, epoxy, and other materials. Unfortunately, hardwood flooring should be avoided in basements due to its vulnerability to moisture damage.
To ensure your basement walls are insulated, soundproofed, and resistant to water damage, you must select a material with an R-13 insulation rating or one that permits the easy addition of extra insulation. Investing in the right type of material will give you peace of mind now and for years down the road.
When selecting a hard-board insulated wall panel for your damp basement, be sure to purchase one that has been specifically designed for such an environment. Additionally, make sure to acquire warranty coverage against mold and moisture damage which will ensure the longevity of your investment in these panels!
Solid inorganic wall panels that don't give mold what it needs to grow are available.
If pipes and ducts dominate your basement's ceiling, you may be limited in design possibilities due to local regulations requiring a minimum height of seven feet or higher.
For an even more brief look, try installing a suspended or drop ceiling with a smooth surface composed of soundproofing panels embedded in a grid. This integration conceals your ductwork and enables you to access it quickly.
If a basement leak occurs, the whole ceiling could be destroyed instantly. To avert this catastrophe or at least act promptly if it does happen, ensure access to all your pipes and ductwork is granted. Granted, drywall can have limitations, but you can always guard against any potential difficulties with some forethought.
What Should You Remodel Your Basement Into
Unlock your basement's untapped potential and create a space that works for you! Whether it's an extra bedroom, home theatre, or laundry room, transforming this area can provide life-altering convenience. Your dreams are just a renovation away – so why wait? Start planning now to make the most out of one of your biggest assets.
Besides the basic living space that you can get, there are some other possible transformations, such as:
A Laundry Room Transformation
By converting your basement into an operational laundry room, you can benefit from the silence of a lower-level area and save precious square footage in other parts of your home. A few plumbing tweaks and some appliances are all it takes to make this transformation happen!
The job is done with minor plumbing updates, simple tile flooring, and some cabinetry or open shelves!
If you want to upgrade your basement and get a tile floor, budget around $3,000 ($7-$14 per square foot), plus another $2K for cabinets. The plumbing rate will vary between $25-$200 depending on the expertise needed for repairs. In conclusion, getting a finished basement is an accessible and economic improvement!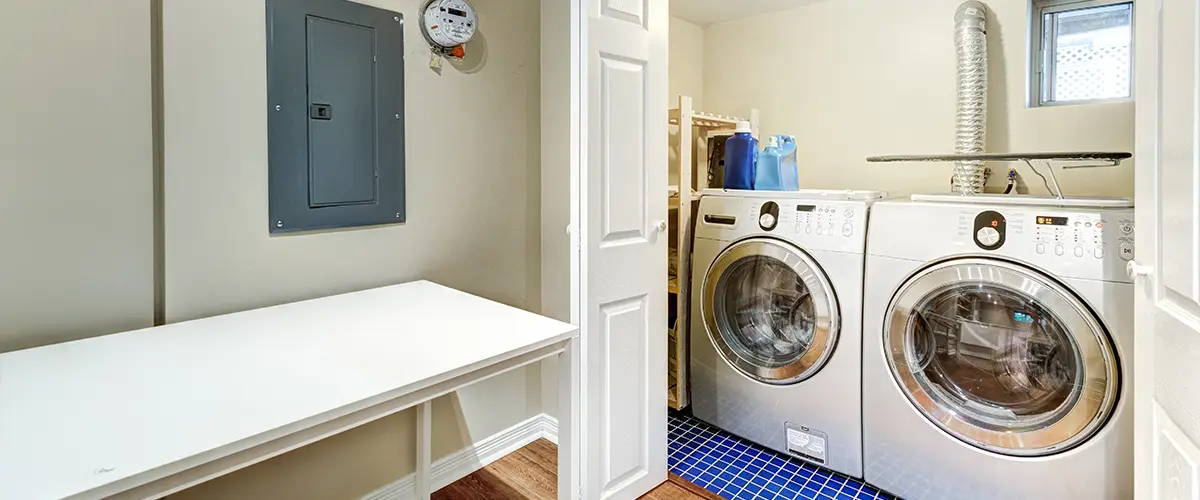 A basement is an optimal option for finding a conducive working spot, due to its stillness and serenity. This tranquil atmosphere encourages focus and productivity, making it an ideal location for getting things done.
Fortunately, you don't have to break the bank to make your space more inviting and functional. Carpeting or luxury vinyl flooring will set a beautiful tone in your room for only $2-$5+ per square foot. Upgraded lighting fixtures and cabinetry add an air of sophistication that can take the look up a notch while adding a stylish desk ties it all together!
Remodeling a finished basement space into an office with a living space will cost around $10k.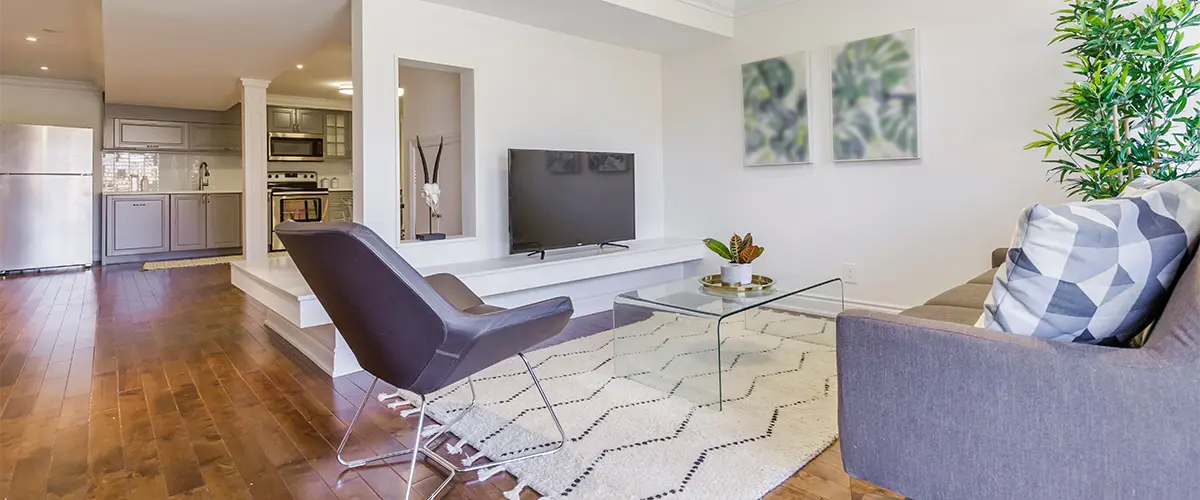 Transform your home into a sanctuary with the ideal man cave! Spend quality time with friends bonding over ice-cold brews during game night, or collaborate on ambitious projects. Have fun playing some pool, debating politics, or simply socializing – all in one convenient place.
For instance, a pool table can cost between $2,100 and $3,500. A bar around the area would add an additional price of roughly $8k; then, you could include some comfortable couches and stools for another estimated fee of about $2,000.
To top it off – get a TV to watch your favorite game.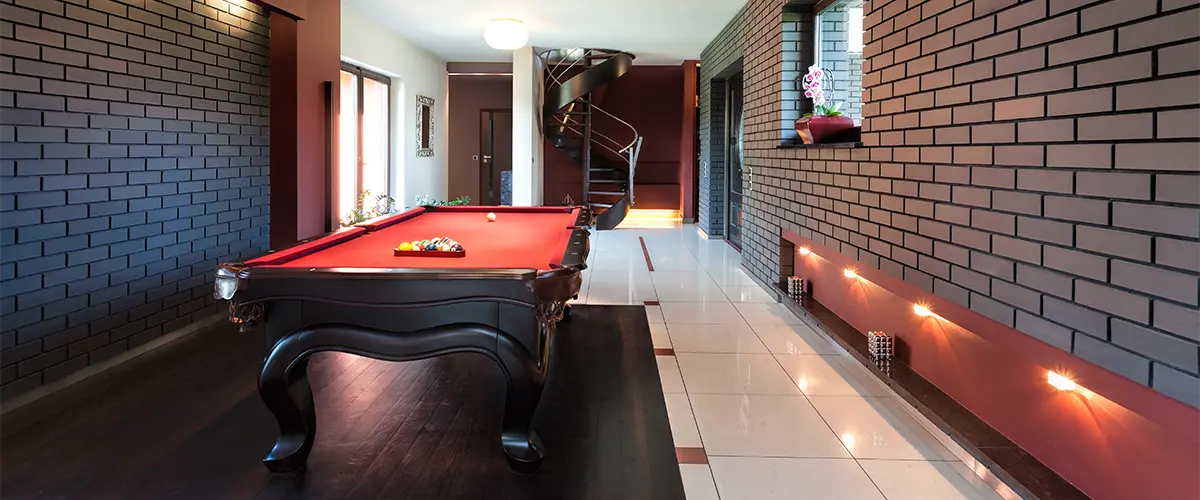 Creating a home gym in your basement can be costly due to the necessary gear and materials.
Investing in the costs of materials such as rubber flooring, HVAC systems, electrical wiring, plumbing services, and other expenses like gym equipment adds up to a whopping $20k!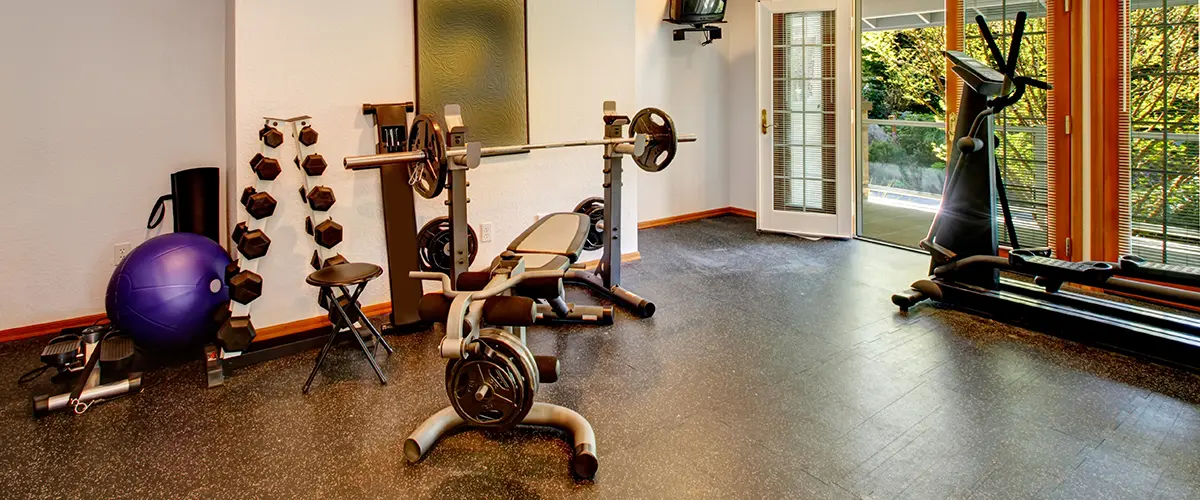 Three Tips To Ensure Maximum Profit
If you want to get the most out of your basement remodel, check out these simple tips for optimizing profitability and increasing return on investment.
One of the best ways to ensure you're not overspending is coming up with a budget and staying true to it.
If luxurious features such as tile flooring, chic lighting fixtures, and custom cabinets for a potential kitchenette are not at the top of your priority list, keep these items to an absolute minimum. Concentrate on making sure that your basement is finished in a practical way instead.
With the abundance of contractors making grandiose and lofty promises, it's natural to want to go after the one with the lowest quote. However, that isn't always a wise decision; neither is settling for an excessively expensive offer. Striking a balance between quality service and price point should be your priority in choosing which contractor you will select.
To have the most success with your project, you should solicit various bids from several contractors. Be sure to delve into their reviews and websites to make an informed decision, then request a quote so that you can compare their offered services.
Profit doesn't always equate to money; it can manifest in tangible forms such as improved home comfort, increased living space, greater functionality, and flexibility, or even aesthetic beauty.
Investing in a basement remodel pays off from the start. Yet, what's even more significant is obtaining an exemplary renovation with minimal anxiety and effortless convenience throughout the process. Ultimately, property owners desire to maximize their home investments- refreshing your basement can lead you closer to reaching its highest capacity!
Investing in basement remodeling is always worth it, regardless of your purpose. Financially, the return on investment can be up to 70%, a great bonus for any homeowner! But that's not all – there are immense intangible benefits as well. 
This project will truly pay off tenfold and make an incredible difference throughout your entire home.
Here at Home Matters Construction, we go the extra mile on every basement remodel we undertake. You're getting a superior remodel with us that no one else in the area offers. Work with a top-tier contractor and make the biggest home investment you'll ever make!