The Best Kitchen Remodeling Cost In Springfield, NE
No time to read through? Get a personalized pricing quote for your kitchen remodel project now!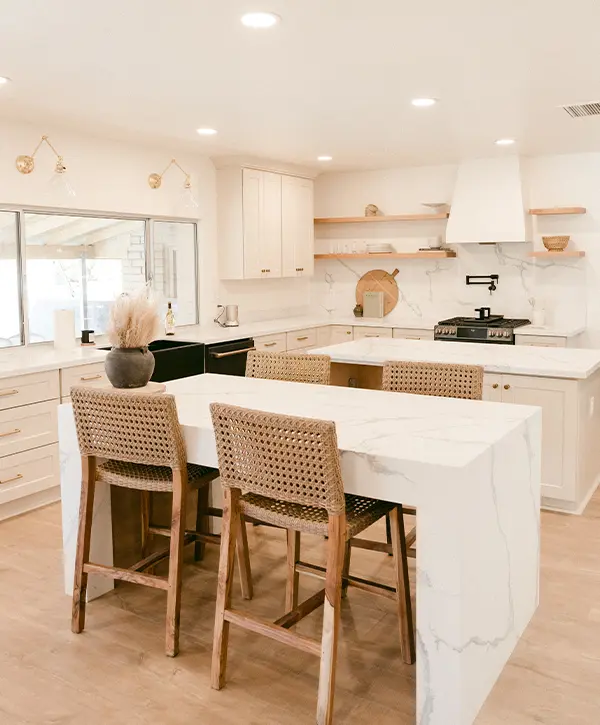 Although a kitchen remodeling in Springfield may come with a high price tag, the benefits in terms of added value and improved comfort make it a valuable investment.
At Home Matters Construction, we understand that the kitchen remodeling cost in Springfield can be a major challenge for homeowners seeking to enhance their homes. Hence, we aim to provide you with a fair remodeling cost that eliminates all your budgeting concerns.
Generally, kitchen remodeling cost in Springfield and surrounding areas start from $30k for a basic remodel of a rather small space but go up to over $100k for a large, upscale remodel.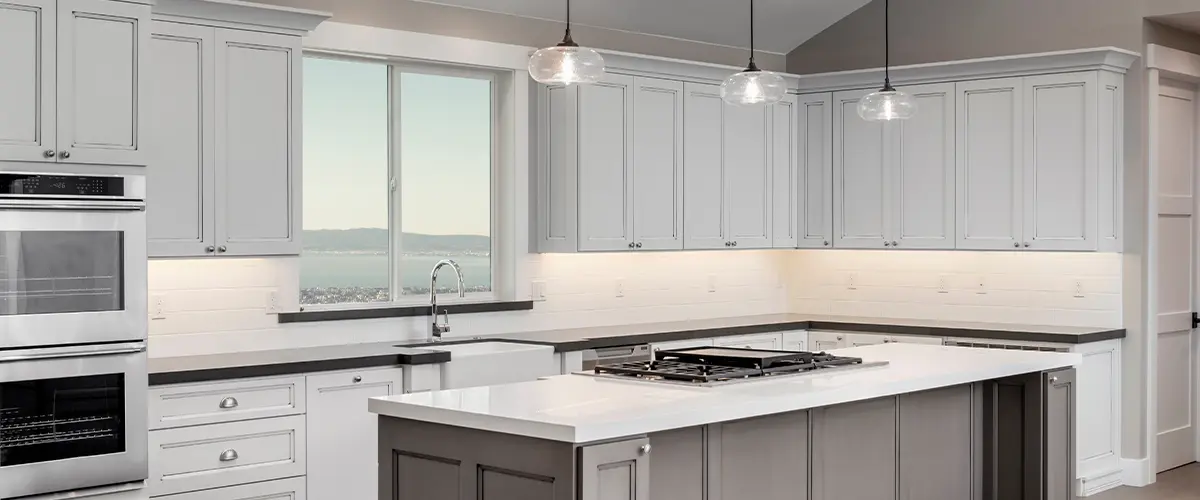 The Typical Kitchen Remodeling Cost In Springfield, NE
The cost of renovating your kitchen depends on factors such as the size and extent of the space, the materials used, and any extra features. Naturally, larger spaces will require a bigger financial commitment for their remodeling. Let's see what the average kitchen remodeling cost in Springfield is, based on different sizes of kitchens.
| Type | Job Cost | Resale Value | Cost Recouped |
| --- | --- | --- | --- |
| Minor Kitchen Remodel - Midrange | $28,327 | $20,478 | 72.3% |
| Major Kitchen Remodel - Midrange | $82,580 | $28,564 | 34.6% |
| Major Kitchen Remodel - Upscale | $164,137 | $43,969 | 26.8% |
After the in-home consultation, one of our experts will provide you with a pricing quote that is easy to understand. We aim to offer affordable options that suit your budget, allowing you to get the most out of your remodel without spending too much money.
Homeowners Love Their New Kitchens
We prioritize fostering a strong bond with our clients, but don't just take my word for it. Here is what people have to say about working hand-in-hand with one of the most accomplished kitchen remodelers in town!
HMC are great! They were upfront and professional about all aspects of our basement remodel. They worked with us on our floor plan and gave insight about better ways to install or incorporate certain parts of the build. They gave us exactly what we wanted and everything was held to a very high standard. Everyone was professional, respectful, and very great at their job! I wish I could give more stars on this review. 5+ stars in our book.
We had a wall removed between our kitchen and dining room and they did a wonderful job! They were open and honest about everything and were very organized. They did a great job cleaning up after themselves too! We will definitely use them for other projects!
Labor In A Kitchen Remodeling Cost In Springfield
To complete a major kitchen remodel, you will require a skilled and experienced team consisting of plumbers, builders, carpenters, electricians, and designers. However, searching for all of these tradespeople can be time-consuming. That's why we have a solution to your problem!
Architects are essential for ensuring structural safety in a building. They can expedite the process of obtaining building permits if you plan on constructing new walls or removing existing ones.
Architects usually charge between $65 to $250 per hour or between 10% to 20% of your total project cost as a one-time fee.
If you want your kitchen to both look good and function properly, hiring a kitchen designer is vital. They will make sure that the layout is fully functional and tailored to your specific needs.
Designers charge around 10% to 20% of the total kitchen remodel cost like architects. For a one-time consultation, expect to pay for a designer anywhere from $300 to $1.5k.
To address any plumbing problems in your kitchen and to modify the layout, it is necessary to hire a qualified plumber.
Plumbers charge between $70 and $150 per hour. Besides their labor, they also charge for materials.
To relocate your appliances, it's essential to replace the electrical wiring as well. This is crucial for safety reasons, especially if your house isn't built with bricks or stones.
 professional electrician will charge between $80 and $150 per hour, plus materials.
The Kitchen Contractor That Has Them All
Home Matters Construction puts at your disposal the best tradesmen in Springfield!
We have partnered with a reliable network of skilled professionals who will handle every detail for you. You don't need to search for an available plumber or make any calls. We will take charge of everything from start to finish, allowing you to sit back, relax, and witness your vision come to life.
If you live in Springfield, Omaha, Papillion, Bellevue, La Vista, or nearby areas of NE and you need your kitchen remodeled in Springfield, we can help. Our services cater to all your needs, and we strive to provide the best end product for homeowners.
Kitchen Remodeling Upgrades And Materials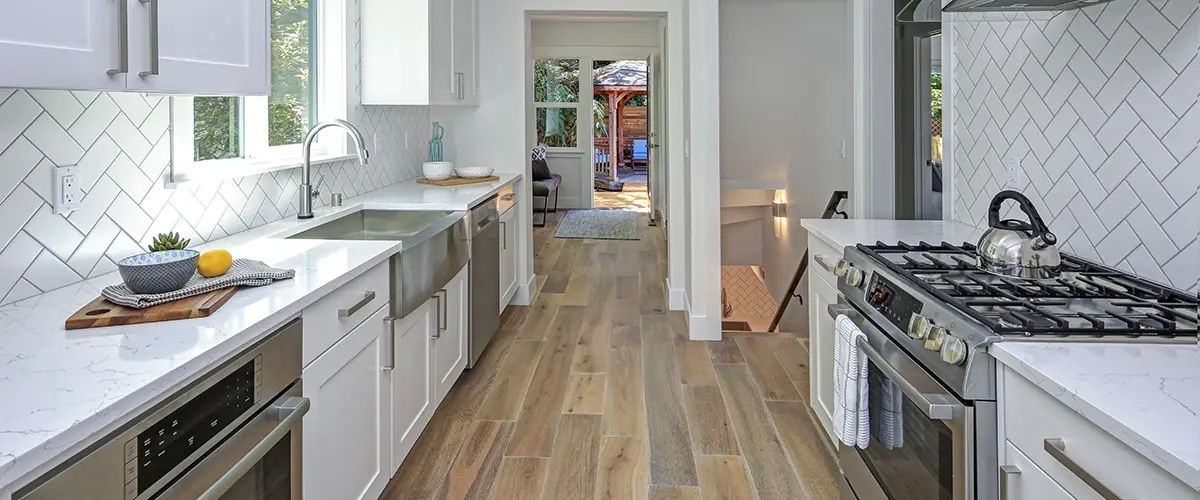 As we mentioned before, there are many upgrades and features to consider when designing a kitchen. In our upcoming meeting, we'll go over different materials, upgrades, and accessories that you might want in your new kitchen. But for now, let's focus on the most popular options.
Let's look at some backsplash materials.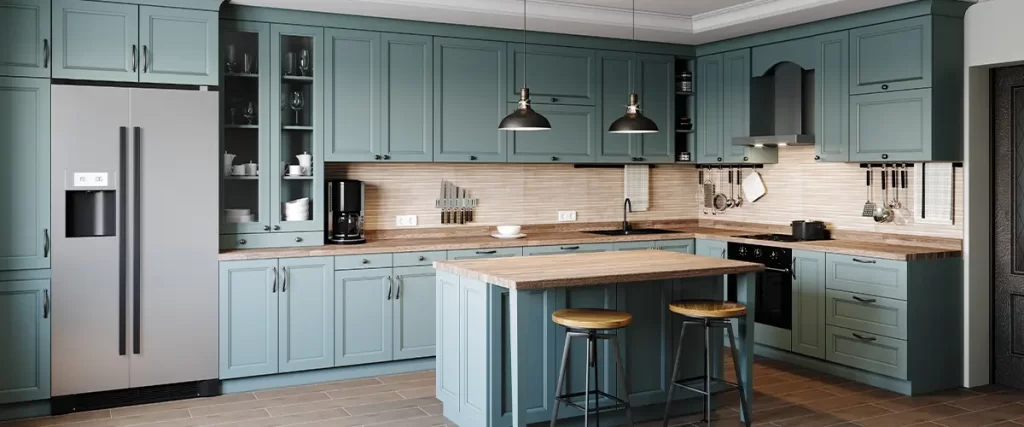 Nowadays, appliances come with various advanced features like touchscreens, scheduling options, and self-cooking robots which offer great convenience in operating them.
A kitchen range can be found for a bargain of $500, or you may choose to invest in a high-end model that could cost up to $3,000+. If you're looking into a gas-infused one, your bill will include the installation fee, around $200 per hour, and materials.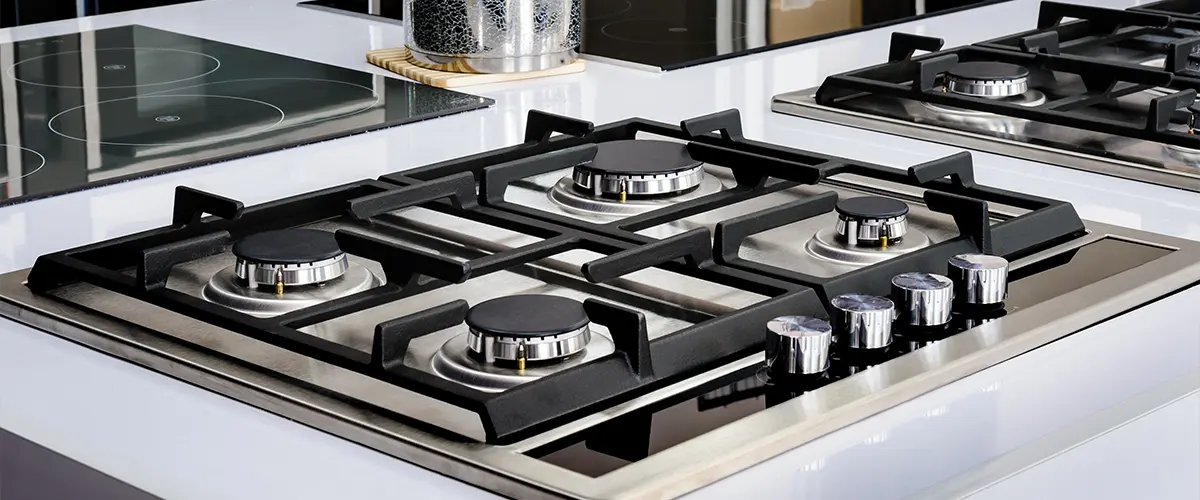 Replacing your kitchen countertops is a crucial part of your kitchen remodel. Doing so can create a new centerpiece for your kitchen and significantly enhance its functionality. Without any doubt, quartz countertops are an excellent option for homeowners. The installation of these materials also comes with different price points.
| Material | Typical Cost (per square foot installed) |
| --- | --- |
| Laminate | $30 - $72 |
| Quartz | $72 - $240 |
| Hardwood | $54 - $300 |
| Marble | $102 - $360 |
| Granite | $72 - $300 |
| Stainless Steel | $108 - $215 |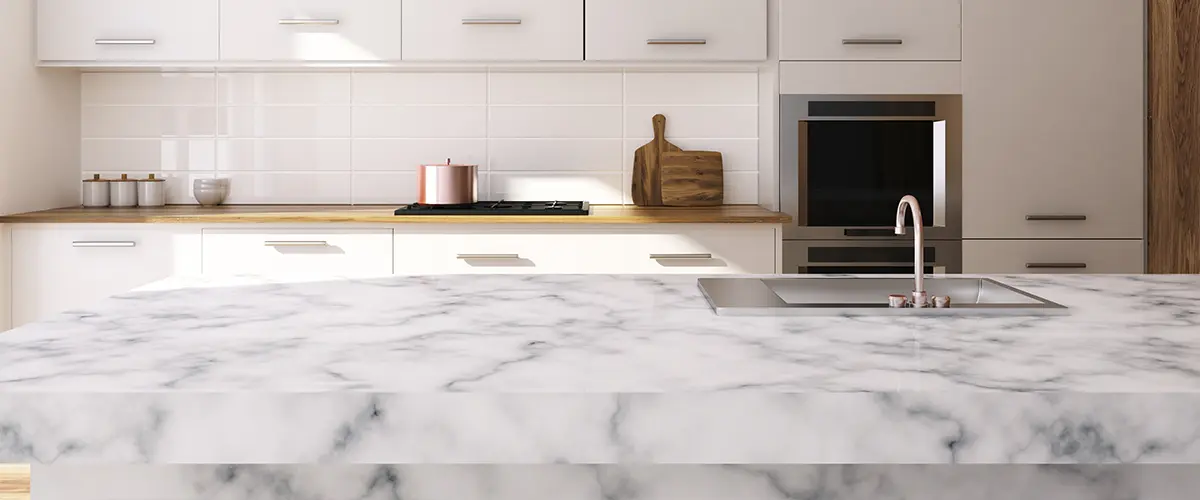 The cost of new hardwood flooring usually varies around $8,000 based on the total square footage. However, an alternative choice that is both affordable and popular is Luxury Vinyl Plank or Tile flooring. LVP/LVT has the ability to imitate the appearance of natural wood grain without the drawbacks of real wood.
Consider selecting porcelain or ceramic tiles available in attractive patterns or modern styles to add an exclusive touch to your renovated kitchen. Porcelain tiles cost, on average, from $2 to $30 per square foot, while ceramic tiles cost from $2 to $20 per square foot.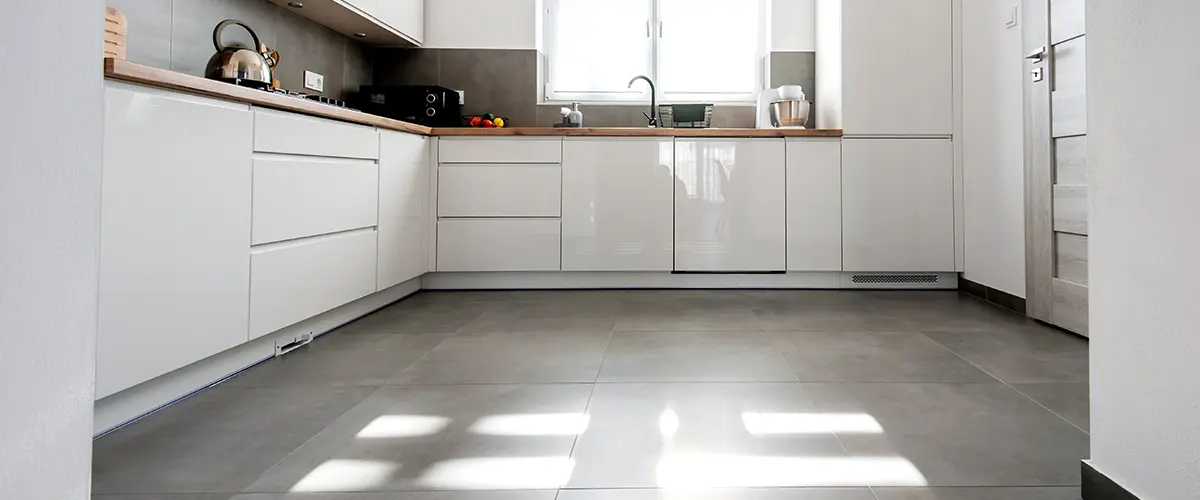 No kitchen renovation is complete without the addition of stylish and modern cabinets.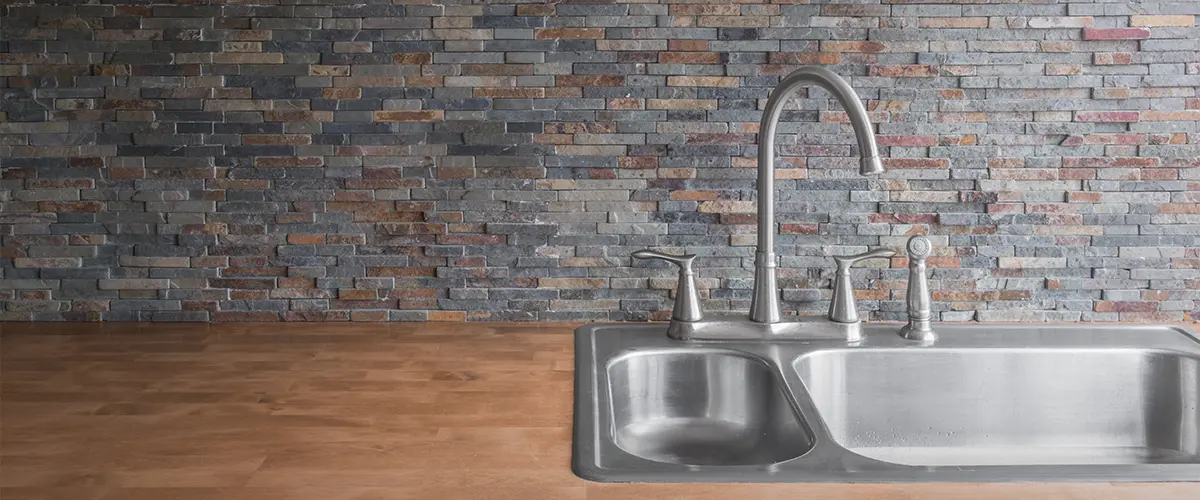 Budgeting For Your Kitchen Renovation Cost In Springfield
The TV shows on HGTV have highlighted that homeowners often fail to comprehend the complete cost of a kitchen renovation beforehand, which can lead to unrealistic expectations and unforeseen expenses in the future.
Here are some tips on how to budget for your renovation!
It's not wise to spend more than you can afford on features that you won't use. For instance, if you're not a passionate chef, investing in the most luxurious stovetop may not make sense.
To create a warm and inviting atmosphere for your family to spend time together in this room, it's important to prioritize coziness. Work closely with your designer to ensure every detail is just right and contributes to the desired atmosphere.
When renovating an old kitchen, it's important for homeowners to allocate a portion of their budget for anticipated problems such as mold, mildew, or plumbing issues that may occur unexpectedly. Being proactive can help prevent unforeseen expenses from catching you off guard.
An extra 20% of your total project cost will be more than enough to handle easily anything that might come up, so nothing catches you on the wrong foot.
To avoid surprises and have a successful and stress-free kitchen remodeling in Springfield, it is crucial to anticipate and prepare for the potential costs beforehand. This will help you have a clear idea of the expected expenses.
Always ask your kitchen renovation company or the kitchen renovation contractors about what you'll get for the price you'll pay.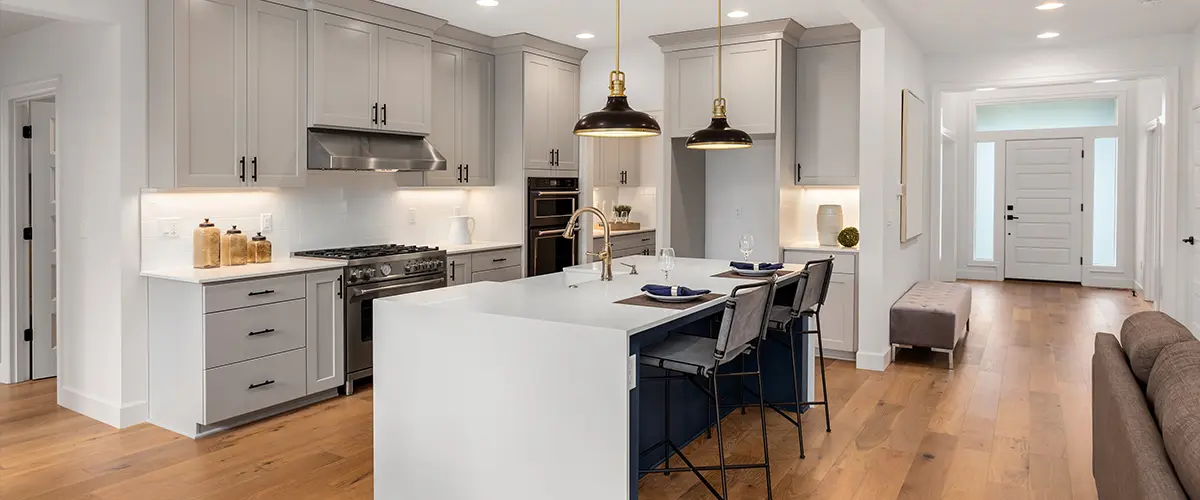 Get Full Pricing Transparency For Your Kitchen Remodeling Cost In Springfield
On average, homeowners in Springfield usually spend about $30,000 on a kitchen remodel. However, the final cost can be influenced by the specific decisions made during the remodeling process.
If you're looking for an experienced professional to design your kitchen within a budget and timeline, Home Matters Construction is the perfect option for you. We guarantee that the end result will be exactly as you have envisioned it.
Get amazing results without breaking your budget with our custom designs.
We tend to over-deliver, so expect:
Stop Delaying And Get Your New Kitchen Today!