The Best Kitchen Remodeling Cost In Elkhorn, NE
No time to read through? Get a personalized pricing quote for your kitchen remodel project now!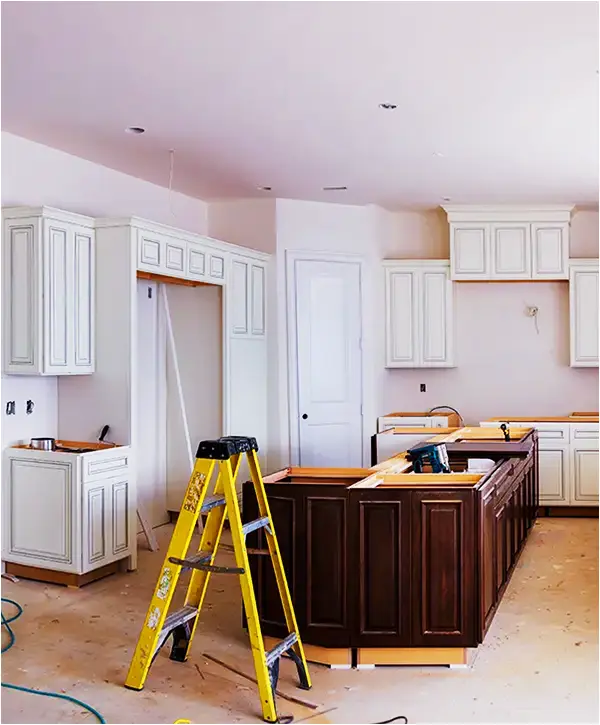 Kitchen remodeling in Elkhorn can be quite expensive. However, the benefits, such as increased home value and improved comfort, make it a worthwhile investment that's sure to pay off every time you use your kitchen.
At Home Matters Construction, we know the kitchen remodeling cost in Elkhorn can be a significant burden for homeowners who want to improve their homes. That's why we strive to offer you a reasonable remodeling cost that takes away all your budgeting worries.
Generally, kitchen remodeling costs in Elkhorn and surrounding areas start from $30k for a basic remodel of a rather small space but go up to over $100k for a large, upscale remodel.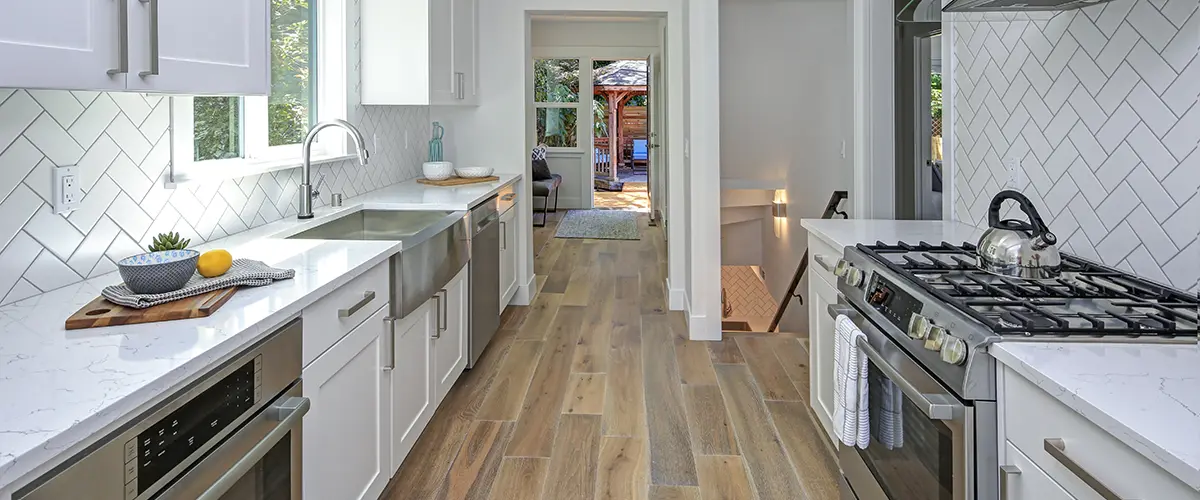 The Typical Kitchen Remodeling Cost In Elkhorn, NE
Kitchen remodeling cost for your project will vary depending on factors like the size of the space, the materials used, and any additional features. Generally, renovating larger kitchens will require a larger budget.
| Type | Job Cost | Resale Value | Cost Recouped |
| --- | --- | --- | --- |
| Minor Kitchen Remodel - Midrange | $28,327 | $20,478 | 72.3% |
| Major Kitchen Remodel - Midrange | $82,580 | $28,564 | 34.6% |
| Major Kitchen Remodel - Upscale | $164,137 | $43,969 | 26.8% |
After the in-home consultation, one of our experts will give you a clear and easy-to-understand pricing quote following the in-home consultation. We strive to provide affordable options that will fit your budget, so you can get the most out of your remodel without overspending.
Homeowners Love Their New Kitchens
We prioritize fostering a strong bond with our clients, but don't just take my word for it. Here is what people have to say about working hand-in-hand with one of the most accomplished kitchen remodelers in town!
Home Matters was referred to me by a member at my sister's church. From the moment we connected with Tony, we felt his honesty, integrity and desire to help us meet our needs for a full, functional kitchen remodeling project. 
We were not disappointed. Our experience with Tony and the Home Matters team was wonderful. The coordination with their sub-contractors was impressive. The workmanship and work ethics was top notch. The office staff is friendly, professional and easy to work with. 
I wouldn't hesitate contacting Home Matters for any of your home services, big or small.
Tony and the crew are VERY professional. Our remodeling project faced the inevitable covid shipping delays. They anticipated and worked around the supply problems, kept the project on schedule. They kept us in the loop, answered all our questions, and did some really great work. 
The kitchen lights installation just blew us away! The new floors are simply a delight. We absolutely recommend Home Matters. Tony and his crew will have our next project!
Labor In A Kitchen Remodeling Cost In Elkhorn
Renovating a major kitchen remodel requires a team of skilled and experienced professionals such as plumbers, builders, carpenters, electricians, and designers. It can be time-consuming to search for all these tradespeople individually. Fortunately, we have a solution for your problem!
If you're planning on building or removing walls, having an architect on board is mandatory to ensure the building's structural safety.
Architects usually charge between $65 to $250 per hour or between 10% to 20% of your total project cost as a one-time fee.
To ensure that your kitchen looks great and works efficiently, get a kitchen designer to help you match the layout and design with your individual requirements.
Designers charge around 10% to 20% of the total kitchen remodel cost like architects. For a one-time consultation, expect to pay for a designer anywhere from $300 to $1.5k.
To address any plumbing problems in your kitchen and to modify the layout, it is necessary to hire a qualified plumber.
Plumbers charge between $70 and $150 per hour. Besides their labor, they also charge for materials.
To relocate your appliances, it's essential to replace the electrical wiring as well. This is crucial for safety reasons, especially if your house isn't built with bricks or stones.
A professional electrician will charge between $80 and $150 per hour, plus materials.
The Kitchen Contractor That Has Them All
Home Matters Construction puts at your disposal the best tradesmen in Elkhorn!
Our reliable network of skilled professionals will take care of everything for you, so you don't have to search for an available plumber or make any calls. From start to finish, we will handle every detail and bring your vision to life while you sit back and relax.
If you live in Springfield, Omaha, Papillion, Bellevue, La Vista, or nearby areas of NE and you need your kitchen remodeled Elkhorn, we can help. Our services cater to all your needs, and we strive to provide the best end product for homeowners.
The Upgrades And Features In A Kitchen Renovation Project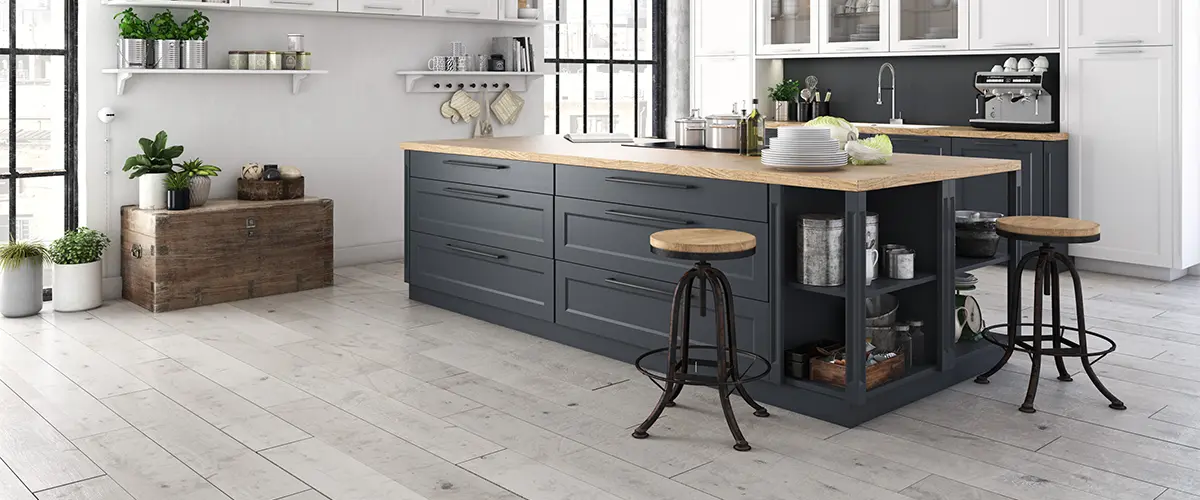 In our upcoming meeting, we will discuss various materials, upgrades, and accessories for your new kitchen. However, let's currently concentrate on the most popular options. As previously discussed, designing a kitchen involves numerous upgrades and features.
Let's look at some backsplash materials.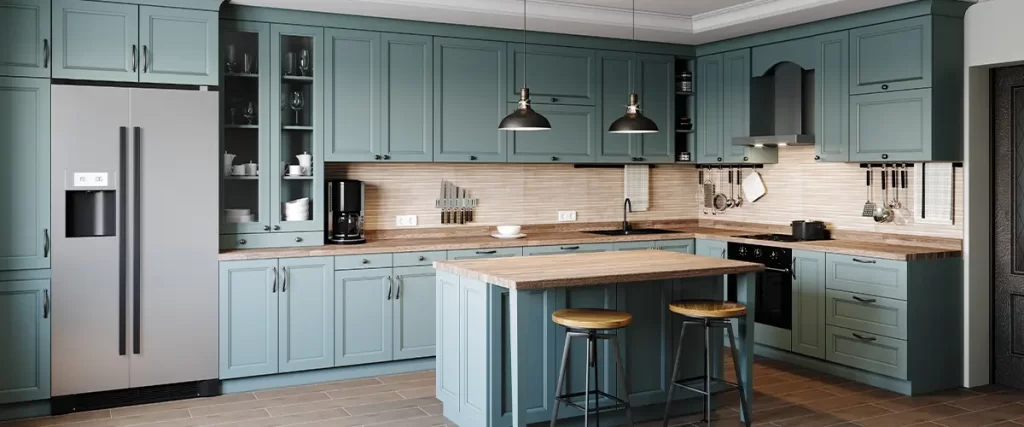 Nowadays, appliances come with various advanced features like touchscreens, scheduling options, and self-cooking robots which offer great convenience in operating them.
You can either buy a budget kitchen range for $500 or opt for a premium model that can cost over $3,000. If you decide on a gas range, keep in mind that you'll have to pay for installation, which is typically around $200 per hour, as well as materials.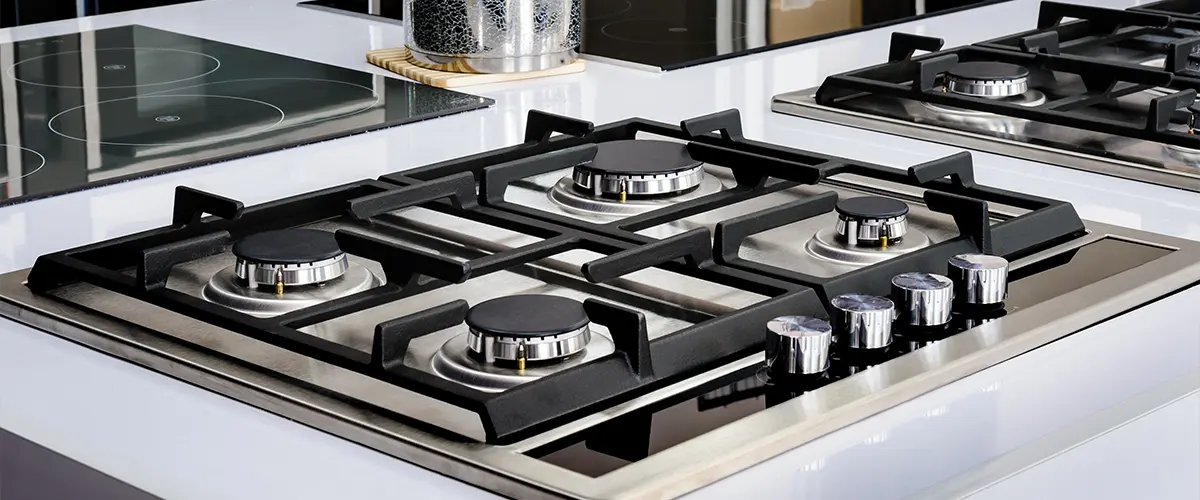 When rremodeling your kitchen, it's important to replace your countertops as it can improve functionality and create a new centerpiece. Homeowners should consider quartz countertops as an excellent option.
The installation of these materials also comes with different price points.
| Material | Typical Cost (per square foot installed) |
| --- | --- |
| Laminate | $30 - $72 |
| Quartz | $72 - $240 |
| Hardwood | $54 - $300 |
| Marble | $102 - $360 |
| Granite | $72 - $300 |
| Stainless Steel | $108 - $215 |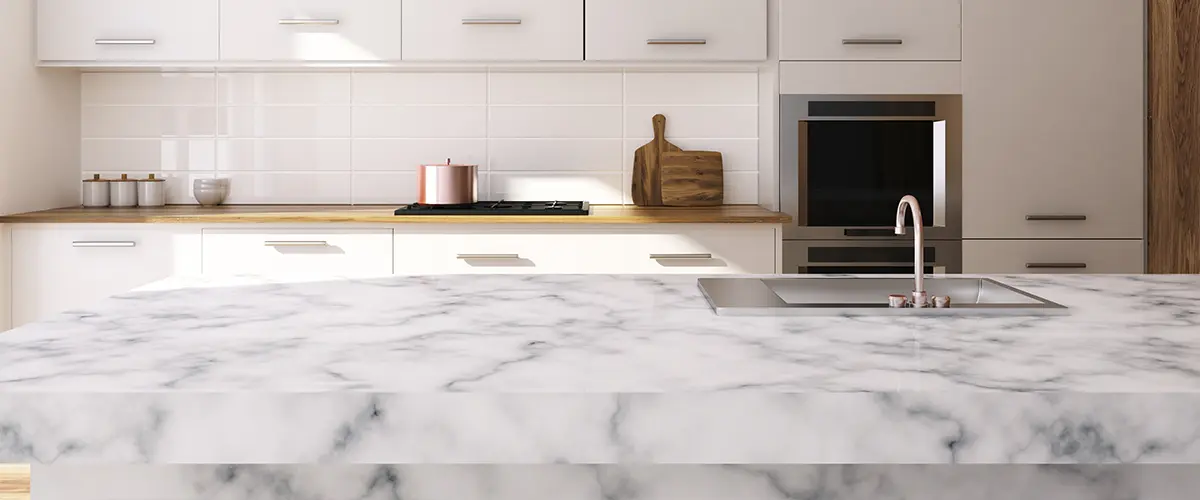 Typically, installing new hardwood flooring costs around $8,000, depending on the square footage. But there is a cheaper and more popular alternative called Luxury Vinyl Plank or Tile (LVP/LVT) flooring, which can look like real wood grain but doesn't have the same downsides as actual hardwood.
For your remodeled kitchen, choose from a variety of porcelain and ceramic tiles with appealing patterns and contemporary designs to add a unique flair. The cost of porcelain tiles ranges from $2 to $30 per square foot, while ceramic tiles cost between $2 and $20 per square foot.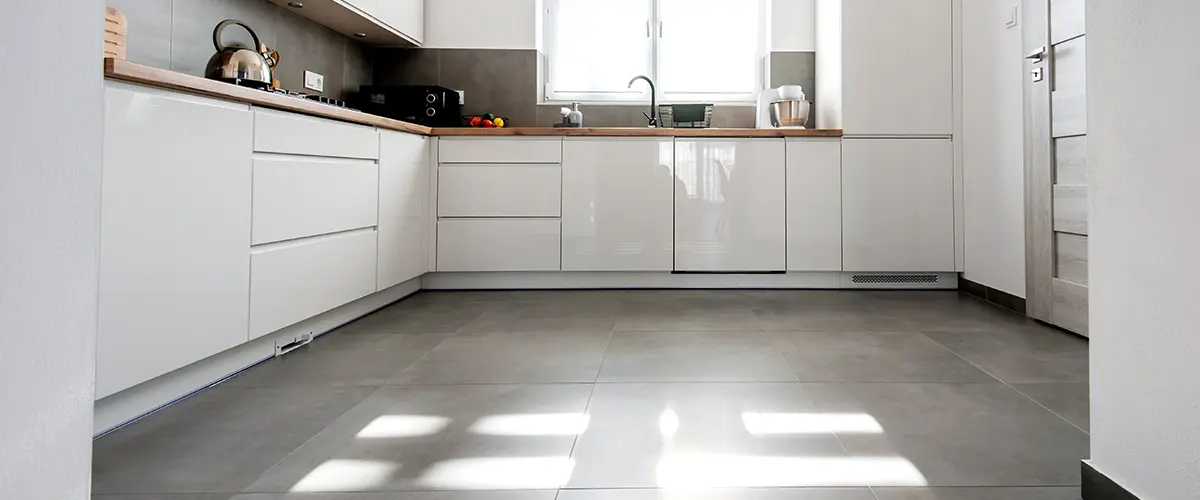 No kitchen renovation is complete without the addition of stylish and modern cabinets.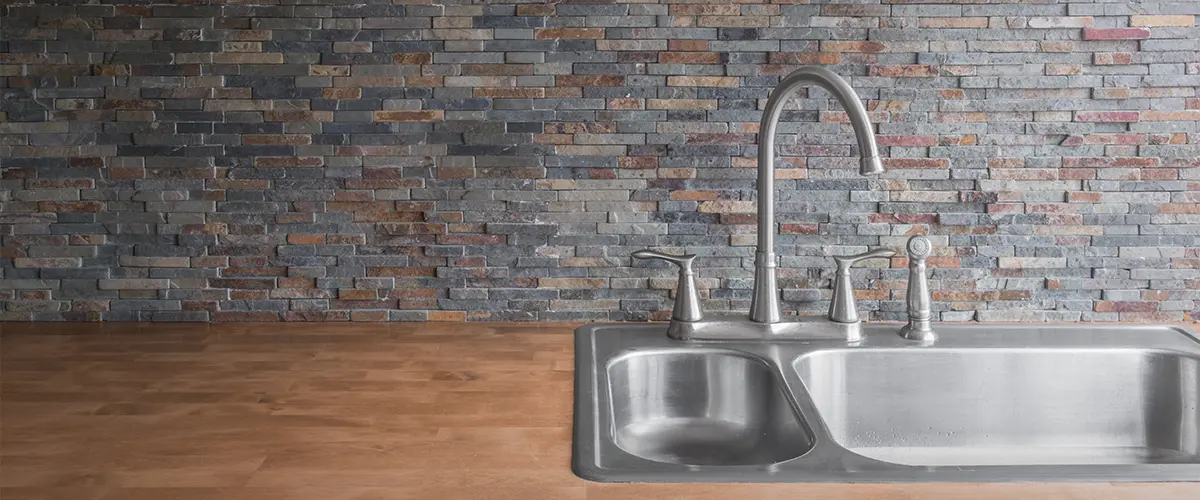 Budgeting For Your Kitchen Renovation Cost In Elkhorn
TV shows have shown that homeowners often don't fully understand the total cost of a kitchen renovation beforehand. This lack of understanding can result in unrealistic expectations and unexpected expenses later on.
Here are some tips on how to budget for your renovation!
is not a smart decision to exceed your budget on features that are not necessary for you. For example, if cooking is not your passion, it wouldn't be logical to spend a lot of money on a high-end stovetop. In order to make this room a cozy and welcoming space where your family can spend quality time together, it's crucial to prioritize coziness. Collaborate closely with your designer to ensure that every detail is carefully considered and contributes to the desired atmosphere.
Homeowners should set aside a specific amount in their budget for potential issues, such as mold, mildew, or plumbing problems, that could arise unexpectedly during the renovation of an old kitchen. By taking a proactive approach, unforeseen expenses can be avoided. An extra 20% of your total project cost will be more than enough to handle easily anything that might come up, so nothing catches you on the wrong foot.
To ensure a smooth and successful kitchen remodeling project in Elkhorn, it is important to anticipate and budget for potential costs in advance. This will provide a clear understanding of the expected expenses and help avoid any unexpected surprises or stress later on. Always ask your kitchen renovation company or the kitchen renovation contractors about what you'll get for the price you'll pay.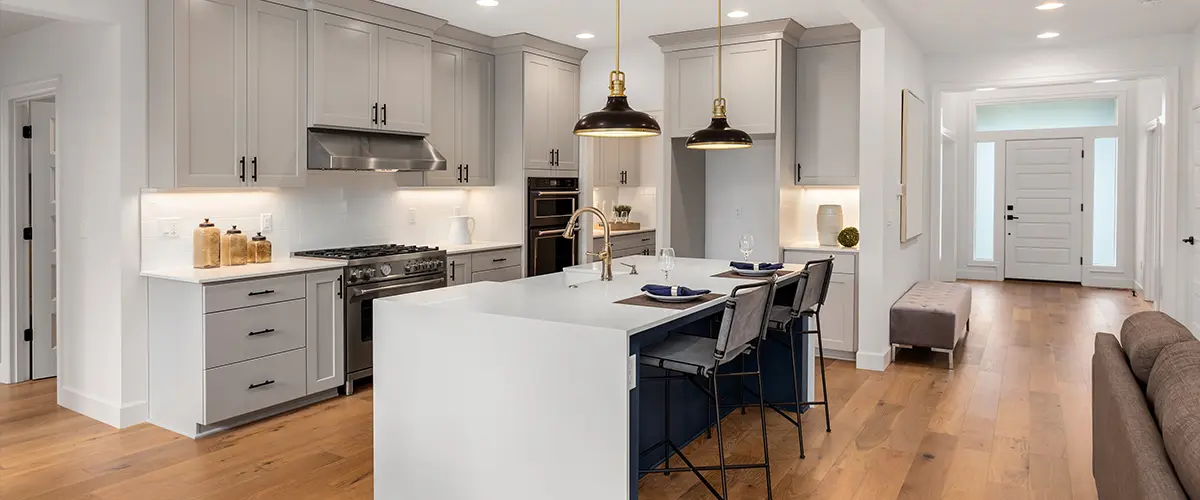 Get Full Pricing Transparency For Your Kitchen Remodeling Cost In Elkhorn
The average cost of a kitchen remodel in Elkhorn is approximately $30,000, but the final cost may vary based on the choices made during the remodeling project.
If you need a skilled expert to create your kitchen while staying within your budget and timeline, consider choosing Home Matters Construction. We assure you that the final outcome will match your vision precisely.
Get amazing results without breaking your budget with our custom designs.
We tend to over-deliver, so expect:
Stop Delaying And Get Your New Kitchen Today!