Bathroom Remodeling Cost In Papillion, NE
No time to read through? Get a personalized pricing quote for your project now!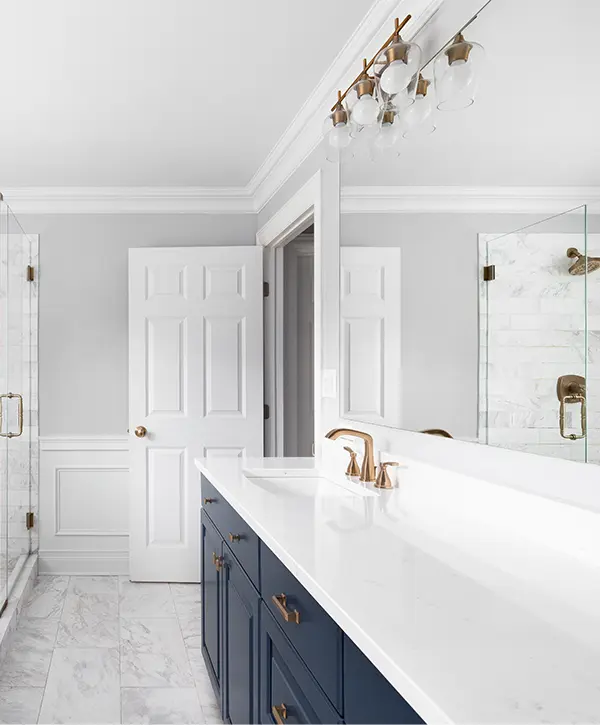 Many of our customers in Papillion are often concerned about the bathroom remodeling cost and how they should budget to keep their project within a reasonable price.
First of all, bathroom remodeling is one of the most valuable home improvement projects for homeowners in Nebraska. According to the Cost vs. Value Report 2022, minor bathroom remodels have a 67.5% ROI, while major remodels return 59.5%.
Here is how much your bathroom remodeling project in Papillion, Nebraska, will cost!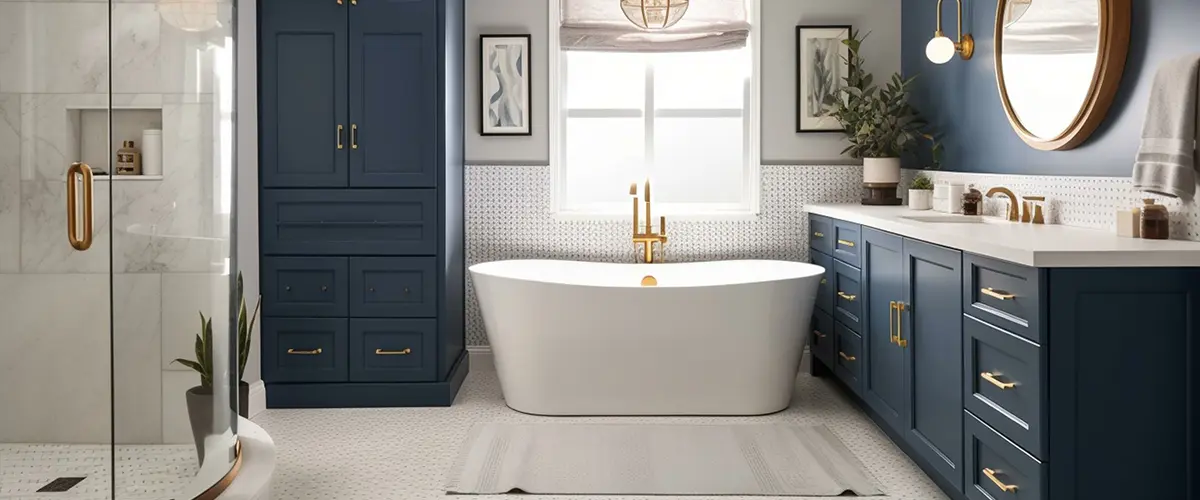 The Typical Bathroom Renovation Cost In Papillion, NE
The total expense of your bathroom renovation is influenced by various factors, such as the size of the room, the materials utilized, and other customized details. For instance, if you want to renovate a bigger bathroom, it will cost you more than a smaller one.
| Size/Category | Economy | Standard | High-end | Luxury |
| --- | --- | --- | --- | --- |
| Small Bathroom (5'x8′) | $9k – $12k | $12k– $15k | $15k– $18k | $18k– $22k |
| Average Bathroom | $12k - $14k | $15k – $12k | $19k – $25k | $25k – $30k |
| Large Bathroom | $20k – $25k | $25k – $35k | $35k – $50k | $50k – $80k |
At Home Matters Construction, you'll get a precise pricing quote that covers everything, top to bottom. We'll keep your remodel within your budget and work together to find the most cost-effective solutions.
Labor In A Bathroom Renovation Cost In Papillion
To ensure a smooth bathroom remodeling project, it's important to factor in all the experts you'll have to work with to ensure your new space is up to the highest standards. These are some of the tradesmen you'll want on your project.
An architect is required if you need to build new walls in your project. You will need the architect's sketches and plans to apply for a building permit.
Architects generally charge between $65 and $400 per hour or a one-time fee of 10% to 20% of the total cost of your project.
A knowledgeable designer will help you discover and build your new bathroom according to your needs, wants, and preferences.
Designers charge 10-20% of the overall renovation cost; one-time consultation costs range from $300 to $1,500, depending on their skill level.
Plumbers are needed to fix any water issues that we may find or to install new lines if you're planning to add a shower or a tub.
Plumbers charge between $70 and $150 per hour for their services and any necessary materials expenses.
You'll need an electrician to check the current state of the wiring system. This will guarantee that the electric installation is secure.
Usually, an electrician costs between $80 and $150 per hour in addition to supplies.
A Complete Remodeling Service - With Home Matters Construction
Managing multiple experts individually for your construction project can be overwhelming.
At Home Matters Construction, we provide all the experts you need to simplify the process. We vetted the most skilled tradespeople in the Omaha Metro Area to bring on your project and see you succeed!
Rest assured that everyone on our team will treat your home and family respectfully and diligently work to bring your vision to life.
Check out our complete bathroom remodeling service in Papillion, NE! Get the best remodelers in town and ensure you get a real investment.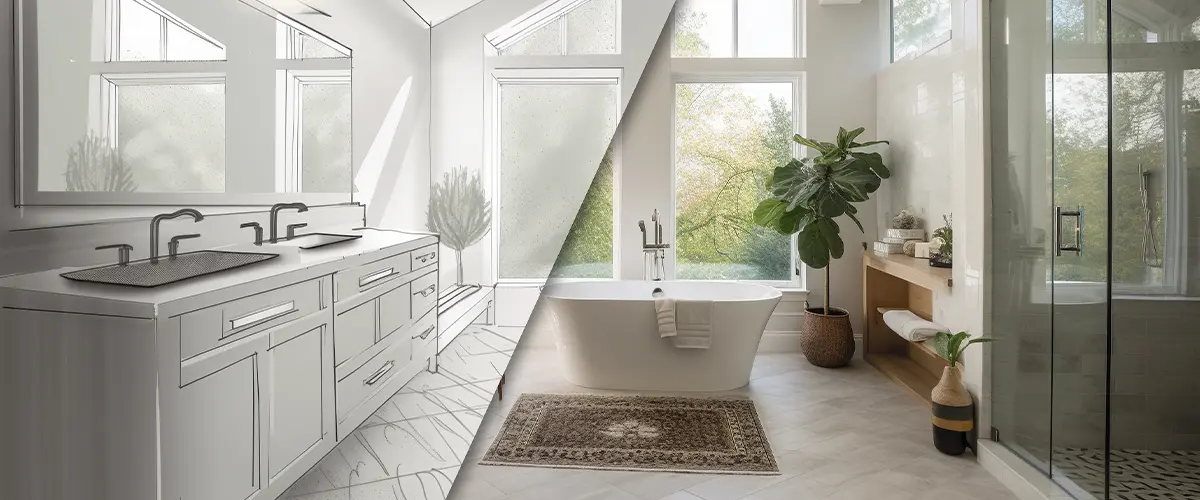 Homeowners Love Their New Bathrooms
Your neighbors in Papillion love their new bathrooms! For them, working with Home Matters Constructions has been the best choice for their home, money, and time. Here's what they say about working with us!
Home Matters managed the complete renovation of our master bath (gut and replace) and updating of 2 other bathrooms. Their communication was very good, the quality of the work was excellent, all of the subcontractors that were in our home were very professional.
It was a lot of work and the project took longer than the initial estimates, but we are completely satisfied with the outcome.
Tony and Mike at Home Matters Construction are hands down the best in town. Not to mention, they restored my faith in contractors. I had several bad experience before working with them.
They are professional, have pride in their work and make sure you are completely satisfied with the work. Not to mention they are pretty hilarious.
They put in luxury vinyl plank floors in my kitchen, bathrooms. They look absolutely amazing. I highly recommend them and will work with them on future projects.
Bath Renovation Cost In Papillion By Upgrades
To give you an idea of how much money you will need for your bathroom makeover in Papillion, NE, we've listed the cost of some of the most popular upgrades to give you a quick overview of how much your new bathroom will cost.
Double vanities are a popular upgrade for new bathrooms because they provide extra storage and make your morning routines more efficient. Double vanities are great for master bathrooms, costing between $500 and $3,000.
If you have a small bathroom, a small vanity will do just fine, and we're seeing many people going for a decorative and unique vanity for guest baths or powder rooms. These are much more affordable, costing between $250 and $2,000 for a quality, custom vanity.
Note: As per KCMA, you'll get the most value out of a semi-custom vanity, so if you're looking for the highest ROI, that would be your best choice.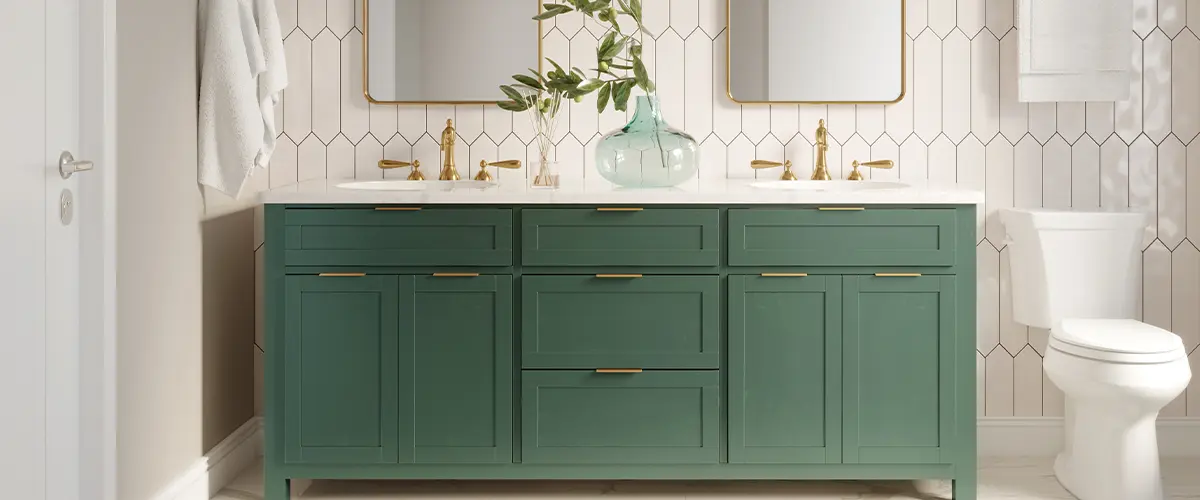 Countertops must be low-maintenance to avoid additional work than benefit.
Consider using quartz for your countertop if you want a durable option. Opt for high-quality quartz worktops that have a consistent appearance without veins to enhance the look of your bathroom.
Quartz is highly durable and scratch-resistant, making it a great choice for frequently-used areas in your home. It's priced at approximately $75-$100 per square foot, which places it in the middle to high range of other options like laminate or solid surface materials.
One of the reasons people choose not to use materials like granite or marble in their bathrooms is due to the higher cost of both materials and installation, despite the luxurious feel they provide.
| Material | Typical Cost (per square foot installed) |
| --- | --- |
| Laminate | $27 - $34 |
| Quartz | $50 - $200 |
| Hardwood | $30 - $40 |
| Marble | $40 - $200 |
| Granite | $50 - $400 |
| Stainless Steel | $80 - $225 |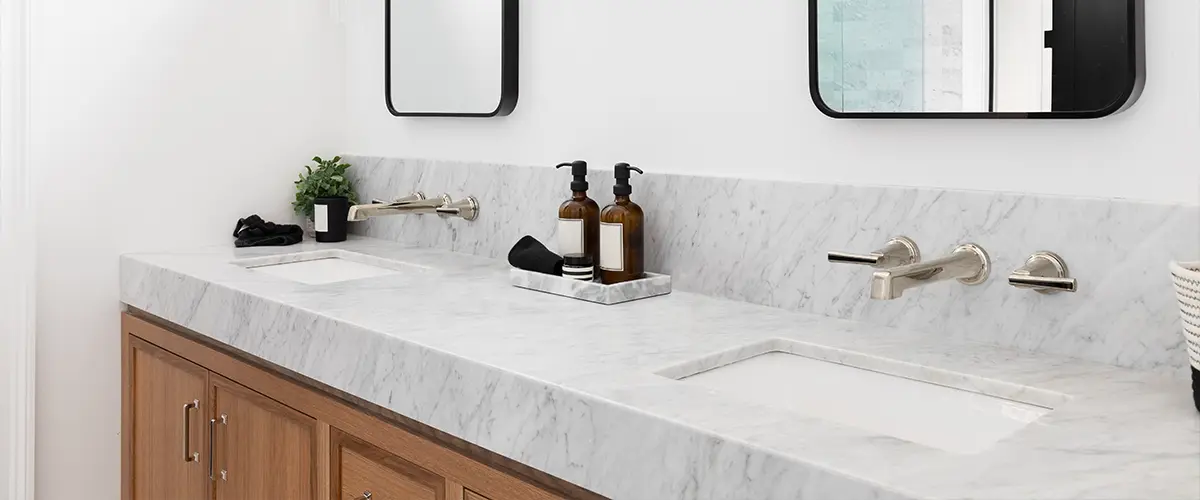 If your bathroom has hardwood floors and you want to keep them, refinishing the wood and doing some quick repairs can be a quick upgrade for as little as $2k.
If you'd rather replace the wood floors with a better flooring material, we'd recommend tile or luxury vinyl plank flooring.
Tile flooring is often ceramic or porcelain. Ceramic is more affordable, coming in at between $2 and $20 per square foot. Porcelain is more upscale, costing between $2 to $30 per square foot.
Luxury vinyl plank flooring is a highly popular flooring material these days. LVP mimics the natural look of hardwood, and LVT (luxury vinyl tiles) mimic the look of natural stone. LVP floorboards generally cost from $2.5 to $12 per square foot.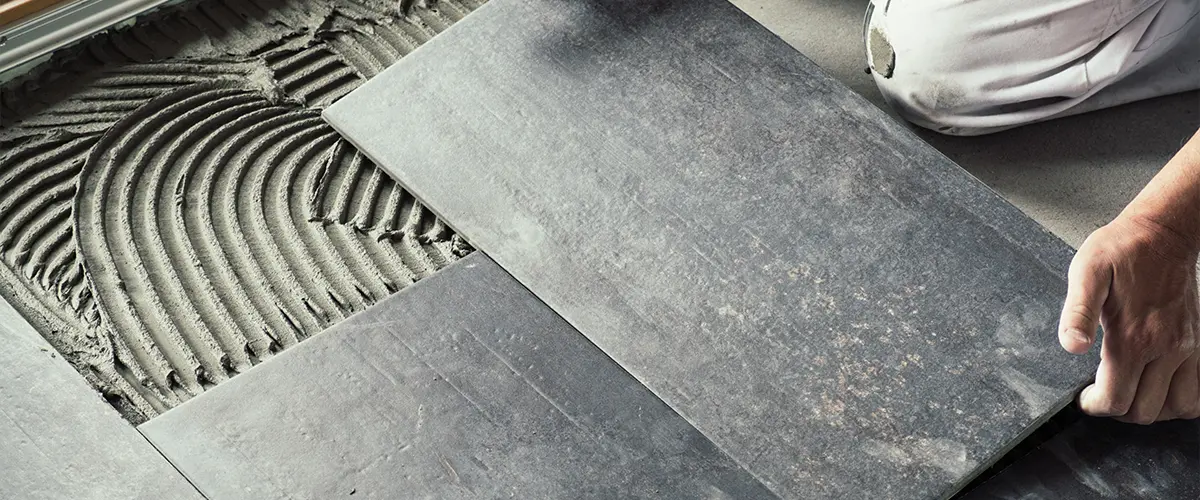 When remodeling your bathroom, consider replacing an old bathtub with a walk-in shower with glass doors. Alternatively, if that's impossible, you could install a freestanding tub. Although this will raise the cost of your Papillion bathroom renovation, it will provide excellent value in the future.
The cost of shower remodel can vary based on factors such as shower size and type of materials used. Generally, the cost falls between $1,000 to $5,000. It's possible that installing a shower pan could be less expensive than tiling both the walls and flooring.
To clarify, most homeowners and bathroom remodelers consider porcelain to be of better quality than ceramic. However, the prices for porcelain can vary greatly, ranging from $2,000 to over $10,000 in certain situations.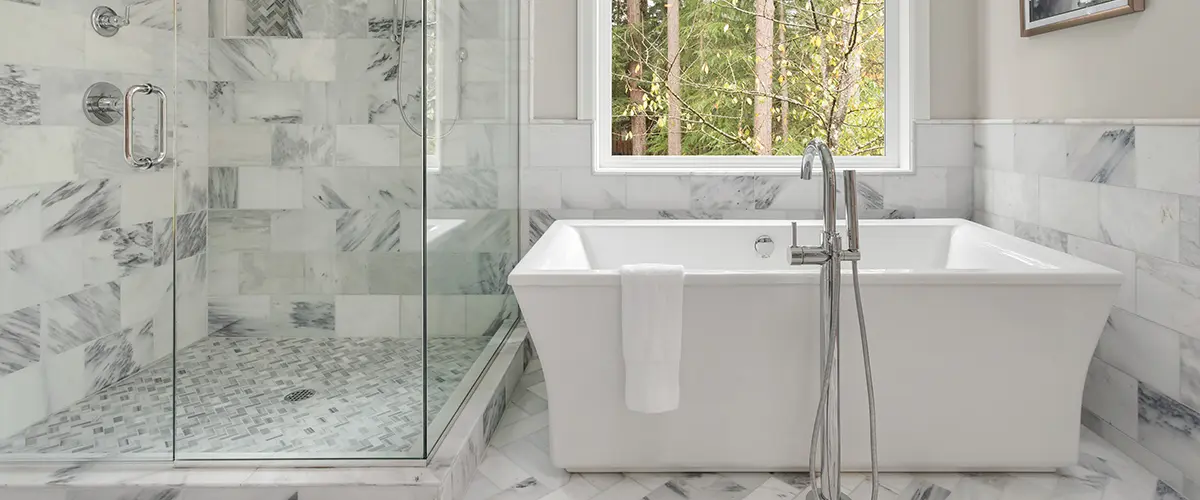 Budgeting For Your Bathroom Remodeling Cost In Papillion, NE
The information provided on home remodeling shows doesn't include each upgrade's cost and specific details. This often causes people to have unrealistic expectations for their remodeling projects, leading them to be under budget and begin their projects with inaccurate expectations.
To combat this, here are a few tips on how to be fully prepared for your bathroom remodel!
To stay within a tight budget during a remodel, focus only on necessary items and avoid unnecessary expenses.
Perhaps you prefer taking quick showers to save time and don't like spending hours soaking in a bathtub. Alternatively, if you need more storage space for towels and don't have enough room elsewhere in your home, upgrading to a double vanity can solve the problem.
Although it may not appear to be the case initially, preparing for unanticipated circumstances is one of the most essential aspects of renovating your bathroom.
Adding an extra 20% to your total budget when planning your building project can help you avoid plumbing difficulties, mold, and mildew caused by budget miscalculations.
Furthermore, this extra money will sit in your account if everything goes smoothly.
It is a common misconception that remodeling a bathroom is more costly than renovating a kitchen or bedroom. To avoid any unpleasant surprises, it is essential to be fully aware of all costs associated with the project beforehand for a hassle-free experience.
Ask your contractor plenty of questions to ensure you're fully in the know about your upcoming remodel.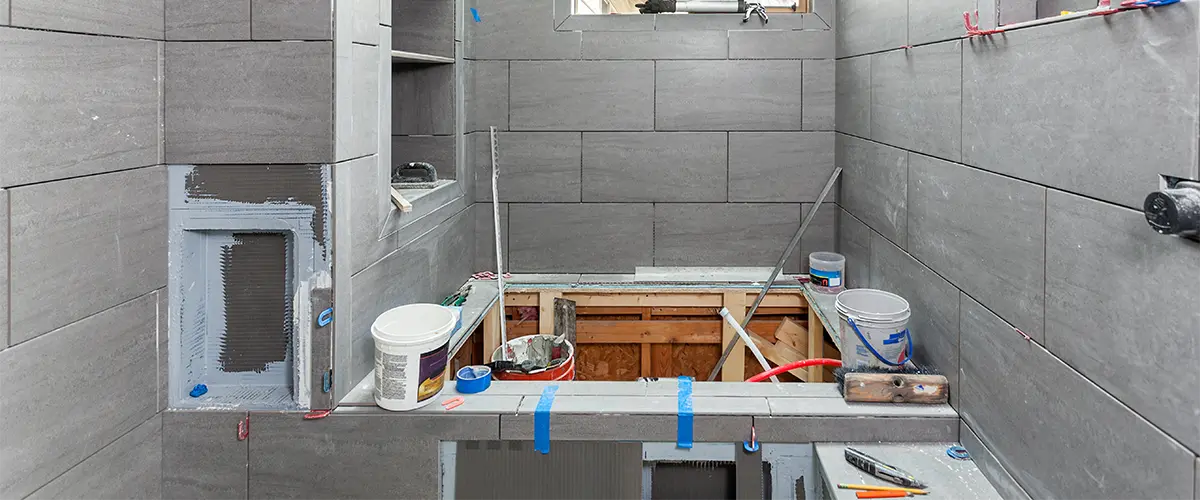 Pricing Trasparency At Its Finest - With HMC!
Home Matters Construction will work with you to design your ideal bathroom.
You'll get a team of experts who are fully committed to helping you turn your project into reality and enjoy every second of it.
While the average bathroom remodeling cost in Papillion is around $30,000, we've worked on baths that cost as little as $15k and as high as $80k. With the right guidance, we'll find the best solutions for your bathroom without breaking the bank!
Unlike most bathroom remodeling companies, we tend to over-deliver, so expect:
Start Your Bathroom Remodeling Project Today!