The Best Bathroom Remodeling Cost In La Vista, NE
No time to read through? Get a personalized pricing quote for your project now!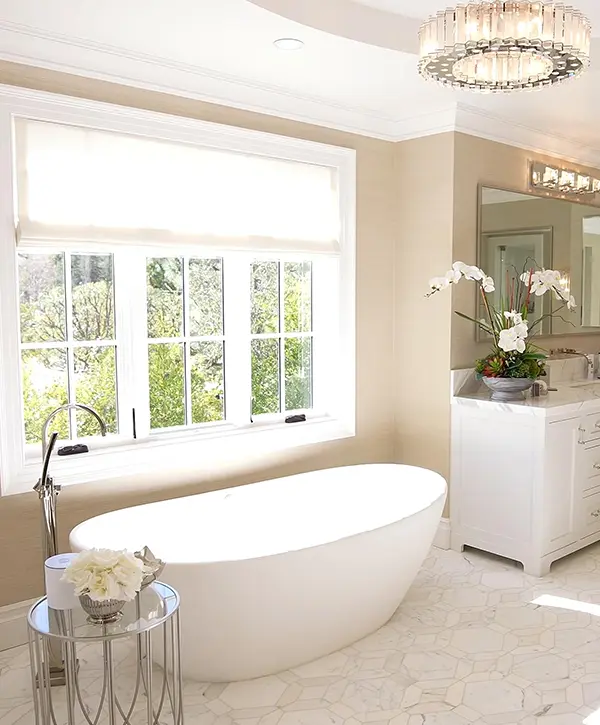 The bathroom remodeling cost in La Vista, NE, can range from $15k for some quick upgrades to over $60k for a major remodel with high-end materials.
According to Cost vs Value Report 2022, minor bathroom remodeling projects bring around 67.5% ROI, while major makeovers return 59.5%. No matter how you look at the numbers, remodeling your bathroom will significantly improve your day-to-day life and boost your efficiency.
With Home Matters Construction, we're ensuring you get the highest ROI and the best craftsmanship you'll ever find in La Vista, NE, and surrounding areas. We value your home, time, and money and know all the tricks that make this project flow seamlessly.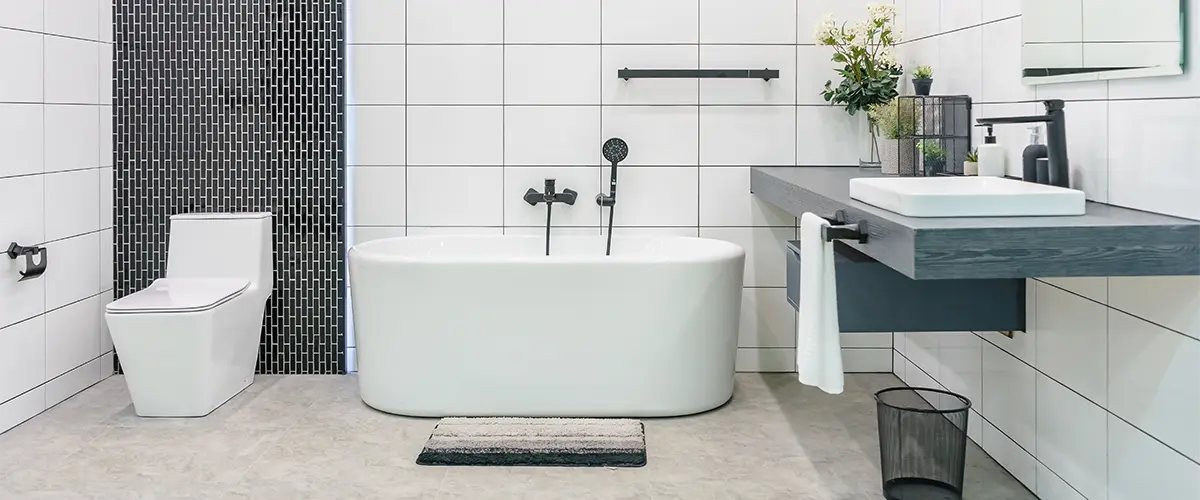 The Typical Bathroom Remodeling Cost In La Vista, NE
If you plan to renovate your bathroom, it's important to consider the room's size, the materials to be used, and other factors. The prices listed below will provide a general idea of the typical costs for different-sized bathrooms in La Vista, NE.
| Size/Category | Economy | Standard | High-end | Luxury |
| --- | --- | --- | --- | --- |
| Small Bathroom (5'x8′) | $9k – $12k | $12k– $15k | $15k– $18k | $18k– $22k |
| Average Bathroom | $12k - $14k | $15k – $12k | $19k – $25k | $25k – $30k |
| Large Bathroom | $20k – $25k | $25k – $35k | $35k – $50k | $50k – $80k |
After an in-depth consultation at your home, we'll offer you precise pricing and time frame quotes. Check out our complete bathroom remodeling service in La Vista, NE, and enjoy working with the most sought-after professional in the area!
Labor In A Bathroom Renovation Cost In La Vista
Restroom renovation can involve the assistance of several experts, such as plumbers, electricians, woodworkers, and builders. They have the necessary skills to handle the different aspects of the project, from conceptualization to construction.
To make changes to the walls in your building project, you'll require the assistance of an architect. Architects are experts who guarantee the safety and structural integrity of new spaces. You'll require their drawings and plans to acquire a building permit. 
Architects usually charge between $65 and $400 per hour or a flat rate of 10% to 20% of your project's total cost.
To achieve an attractive and fully functional bathroom, hiring a professional bathroom designer is important. A knowledgeable designer can discover and create the perfect design for your new space. 
Their services typically range from 10-20% of the total renovation cost or a one-time consultation fee of $300 to $1,500.
Hiring a plumber instead of a handyman to fix bathroom water problems is recommended since handymen may not have the necessary training. A plumber can provide a temporary fix and permanently resolve the issue. 
The cost of a plumber's services, including labor and materials, typically ranges from $70 to $150 per hour.
If you're moving your appliances, update the electrical wiring to ensure your family's safety. 
A qualified electrician will charge between $80 to $150 per hour for their services, plus the cost of supplies.
Get All In One With Home Matters Construction
At HMC, we take immense pride in simplifying your life with a quality bathroom remodel, all while keeping you in the driver's seat of the project at all times.
We work with a trusted network of qualified electricians, carpenters, architects, designers, and plumbers, all highly trained and committed to your success. You don't have to worry about the heavy lifting with us because we'll take care of everything for you!
Our commitment to quality workmanship is unmatched. You won't find another company that guarantees the same level of dedication as we do. So, if you're looking for high-quality workmanship for your project, there's no need to search any further than us.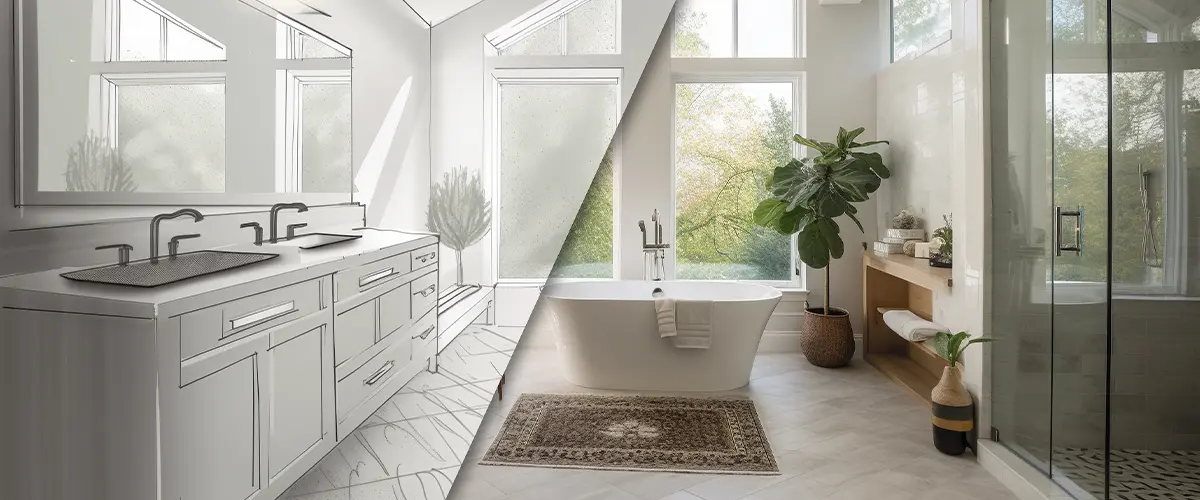 Homeowners Love Their New Bathrooms
Your neighbors in La Vista love their new bathrooms! For them, working with Home Matters Constructions has been the best choice for their home, money, and time. Here's what they say about working with us!
Home Matters managed the complete renovation of our master bath (gut and replace) and updating of 2 other bathrooms. Their communication was very good, the quality of the work was excellent, all of the subcontractors that were in our home were very professional.
It was a lot of work and the project took longer than the initial estimates, but we are completely satisfied with the outcome.
Tony and Mike at Home Matters Construction are hands down the best in town. Not to mention, they restored my faith in contractors. I had several bad experience before working with them.
They are professional, have pride in their work and make sure you are completely satisfied with the work. Not to mention they are pretty hilarious.
They put in luxury vinyl plank floors in my kitchen, bathrooms. They look absolutely amazing. I highly recommend them and will work with them on future projects.
Bathroom Remodeling Cost In La Vista By Upgrades
To give you an idea of how much money you will need for your bathroom remodeling in La Vista, NE, we've listed the cost of some of the most popular upgrades to give you a quick overview of how much your new bathroom will cost.
A bathroom with a toilet vanity that suits your design may make the space more inviting and appealing.
Getting a double vanity might be a good idea if you don't have enough storage in your main bathroom. Double vanities vary in price from $500 to $5,000, depending on their size and features.
According to KCMA, if you want to create a focal point in a powder room or guest bath, choosing a vanity with decorative elements would be best. For better value, you should go for semi-custom options, which can cost as low as $300.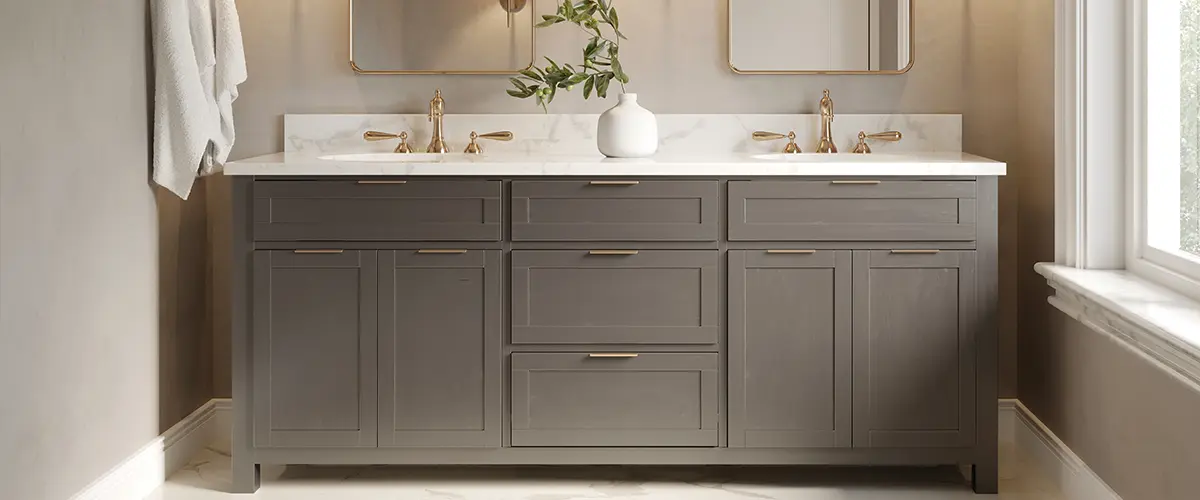 Having countertops is essential in every area since they are both visually appealing and practical. You'll want a sleek bathroom countertop that is easy to maintain, and you don't want to break the bank getting it as well.
Quartz is an ideal choice for that. This manufactured stone has a high-grade surface that will instantly upgrade any kitchen aesthetic. Quartz is scratch resistant, durable, beautiful, and relatively affordable.
Quartz runs between $50-$200 per square foot, making it well worth the investment compared to laminate or solid surface materials.
Granite is another great option, but its intricate pattern is more difficult to match in a bathroom setting. This natural stone is durable and has great scratch resistance. Granite is an upscale countertop, so it doesn't come cheap! Granite slabs cost between $50 and $400 per square foot.
| Material | Typical Cost (per square foot installed) |
| --- | --- |
| Laminate | $27 - $34 |
| Quartz | $50 - $200 |
| Hardwood | $30 - $40 |
| Marble | $40 - $200 |
| Granite | $50 - $400 |
| Stainless Steel | $80 - $225 |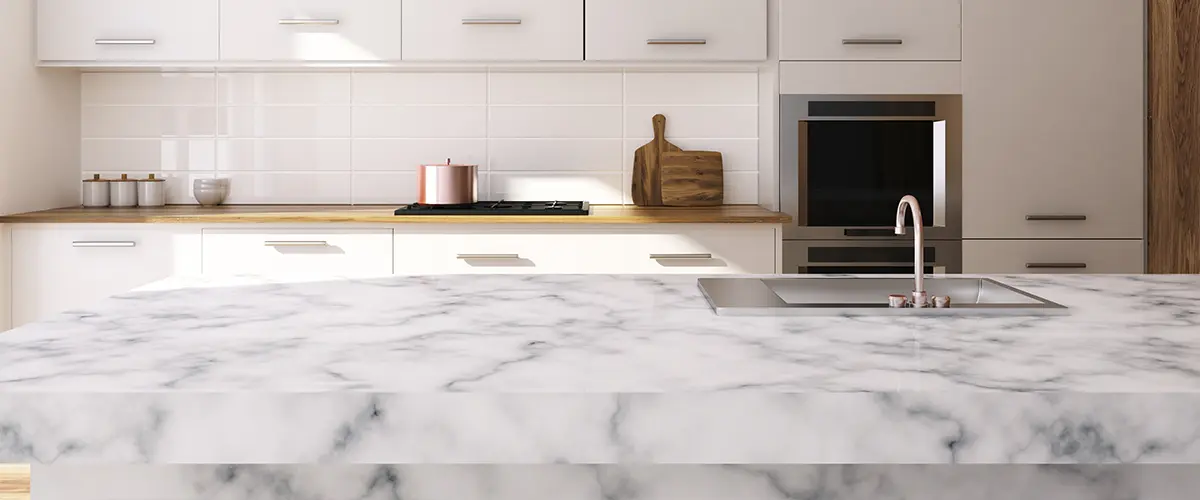 Avoid using hardwood floors in bathrooms, as well as any other materials that can be damaged by water, like laminate.
Porcelain tiles are a cost-effective option for flooring, typically priced between $10 to $30 per square foot, which is more affordable than other types of laminate flooring.
Luxury vinyl plank and tile are also highly-efficient in bathrooms, costing between $2 and $12 per square foot, compared to regular vinyl, which can be found as cheap as $1 per square foot.
Epoxy is a type of flooring that is becoming increasingly popular. It is important to hire a professional to install it and ensure that your bathroom space has a beautiful coating.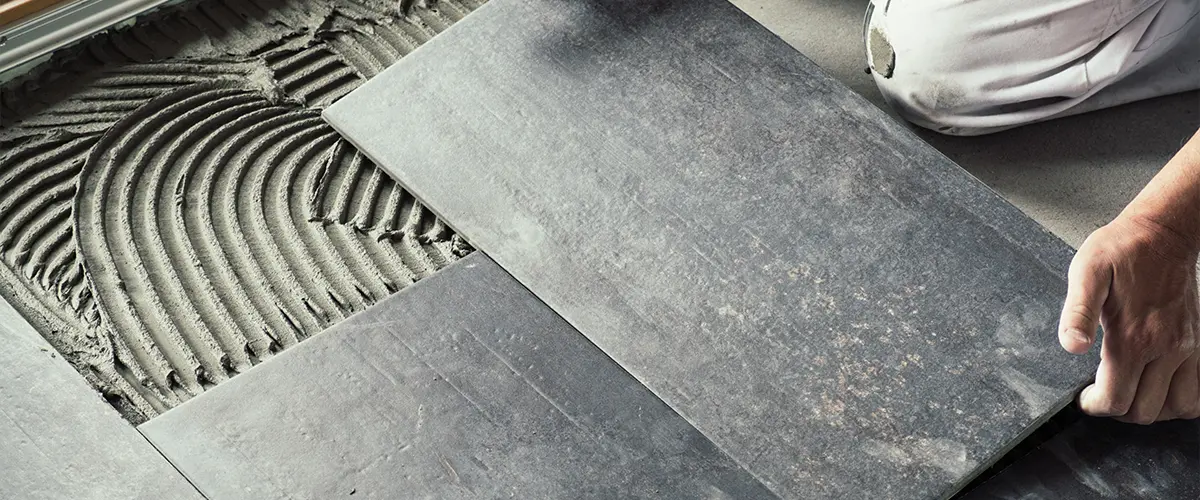 In the La Vista, NE area, upgrading from an old tub to a walk-in shower or installing a freestanding tub can greatly improve your quality of life.
Investing more money upfront for bathroom renovations will pay off in the long run. Consider adding glass shower doors for a more visually appealing look.
The cost of renovating a glass walk-in shower typically ranges from $1,000 to $5,000. The final price will depend on the shower's size and the type of materials selected.
Furthermore, it is worth noting that porcelain tubs are generally considered to be of higher quality. However, it's important to remember that prices can vary greatly, with some models costing up to $2,000 or more.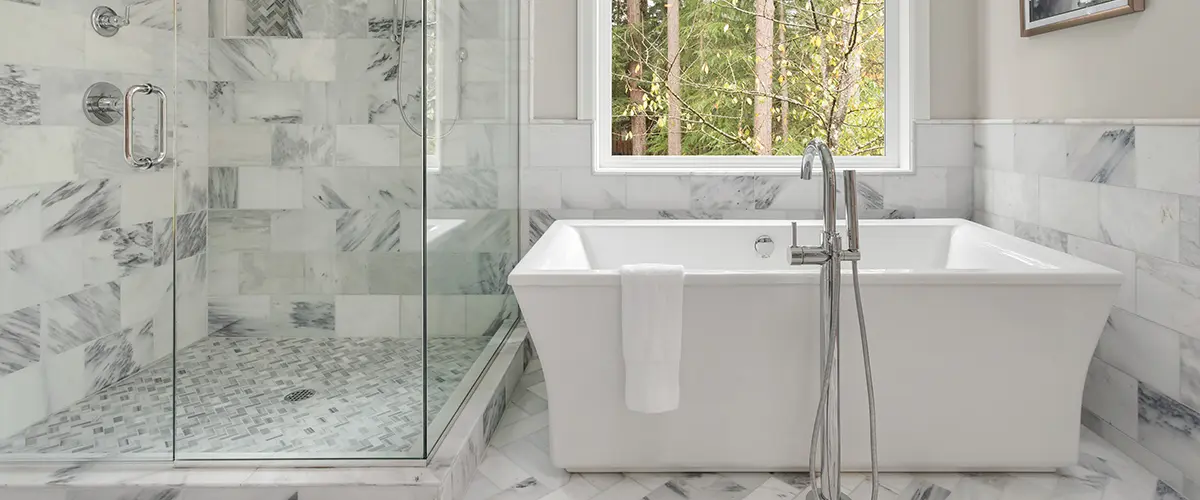 Other Features And Upgrades
In addition to what we already discussed, the cost of bathroom essentials will also be included in the final quote.
Budgeting For Your Bathroom Renovation Cost In La Vista, NE
Renovating a home may seem easy on TV, but the shows often don't reveal the true complexity of the process. Plus, they may showcase expensive bathroom renovations that aren't feasible for most people. Check out these tips for keeping your renovation project within budget.
If you're not interested in indulging yourself, you can opt for a more cost-effective bathroom renovation. However, if you need a calming sanctuary for your mental and physical relaxation, prioritize creating an inviting design for the space. Collaborating with a designer can guarantee that the renovation plan considers the room's appearance and functionality.
Although it may not initially appear to be the case, updating your bathroom by preparing for unforeseen events is essential.
When remodeling, it is common to encounter issues such as mold, mildew, and plumbing problems. It is recommended that you set aside an extra 20% of your budget to prepare for unexpected costs that may arise. It is better to be prepared than to regret not doing so later!
Many people don't realize that renovating a bathroom is usually cheaper than remodeling other home parts, like bedrooms or kitchens. It's important to know all the expenses beforehand to avoid surprises and ensure a smooth and pleasant experience.
Make sure to ask plenty of questions and be fully prepared for what's to come during your renovation.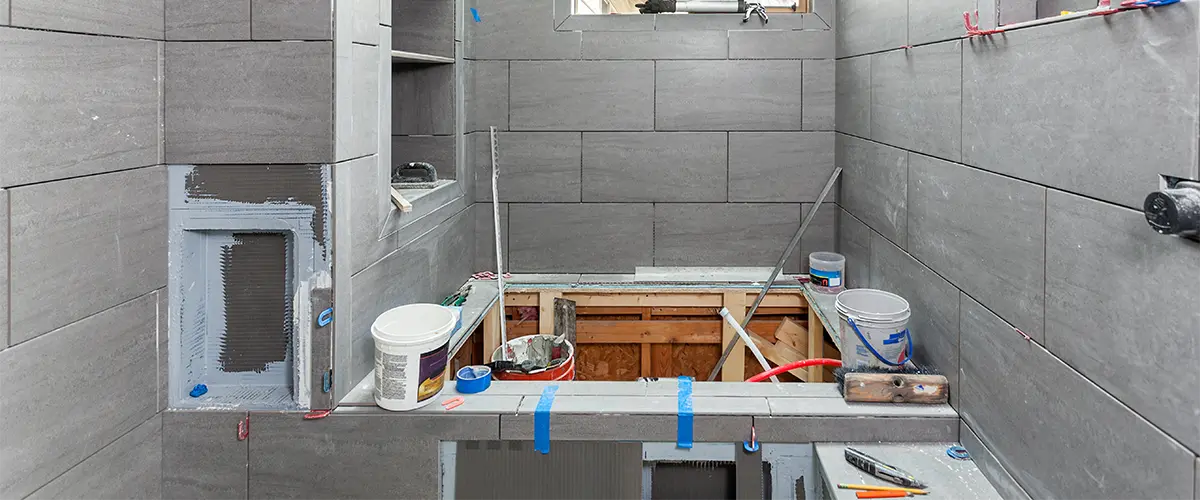 Get Pricing Transparency For Your Bathroom Remodeling Cost In La Vista, NE!
On average, the bathroom remodeling cost in La Vista, NE, and surrounding areas starts at $15k – $20k and can go up to $60k for high-end remodels.
With Home Matters Construction, our skilled tradesmen can assist you in creating and accomplishing your ideal bathroom design, regardless of its size and budget.
Our team will work hard to ensure your renovation is completed within its timeframe and price range!
Unlike most bathroom remodeling companies, we tend to over-deliver, so expect the following:
Start Your Bathroom Remodeling Project Today!