The Best Basement Remodeling Cost In La Vista, NE
No time to read through? Get a personalized pricing quote for your project now!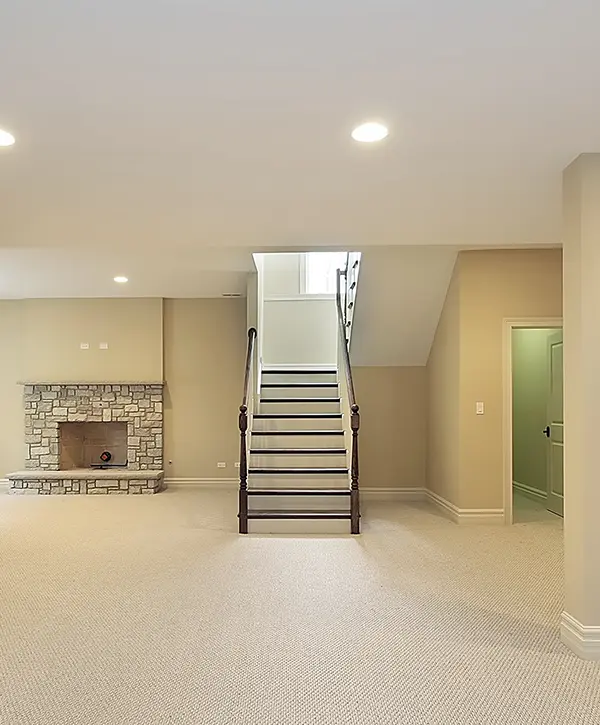 We understand how worrisome basement remodeling costs in La Vista, NE, can be.
Therefore, we are here to provide the assurance you need to get started on this undertaking and finally complete it!
Regardless of your budget, you'll enjoy the peace of mind of knowing that our solutions are affordable without sacrificing quality or value. Our team is committed to providing the best possible experience in La Vista with every job we work on.
A Basement Contractor That Goes All-In For Your Success
The remodeling industry in La Vista won't do you justice, so we are taking it one step further. We guarantee fast and reliable service that puts your family's needs first. We go beyond the ordinary to offer something extraordinary!
How Much Does A Basement Remodel Cost In La Vista, NE?
Homeowners who appreciate their homes now realize the remarkable possibility that comes with remodeling a basement. Not only can it be completed to extend living space, but it also offers an excellent opportunity for further renovation to take full advantage of all extra space available.
And it makes sense!
Investing in a basement remodel is a financially incredible choice and can bring you colossal returns. For instance, if you spend $80,000 on the renovation job – your home value goes up by approximately 50-80% of what you invested!
To put it simply: after an $80k basement remodel, you can sell the house after for $64K more.
On average, throughout Nebraska, these projects typically range from $20k to $50k+.
Homeowners Love Their New Basement
We prioritize fostering a strong bond with our clients, but don't just take my word for it. Here is what people have to say about working hand-in-hand with one of the most accomplished basement remodelers in town!
I shopped many different companies before deciding on Home Matters Construction to complete a basement remodel. I found their attention to detail and business process was the most efficient and cost effective process around. 
I worked with a wonderful planning team prior to any construction, where every detail was worked out. The timeline for the job was clearly mapped out and followed appropriately. The team members are punctual and finished the remodel within the timeframe proposed. 
Follow-up after completion has been outstanding and most importantly, the response I have received from friends and family about our new basement bar has been outstanding.
I was looking for someone to remodel my basement in Papillion. I called several contractors, but Home Matters Construction in Papillion was definitely the obvious choice from the beginning. They were transparent, upfront, and honest. They took the time to walk me through the entire process. 
They gave me clear numbers from the beginning that never changed. The construction process was painless. They shared the schedule with me from the beginning and then updated me along the way with all of the progress. 
The software that they used was great for us to see everything along the way from the estimate to progress pics, to schedule, to payments. I won't waste my time with anyone else in the future. Home Matters will be my only call. HIGHLY RECOMMEND!
The Basement Remodel Cost For Different Finishes
Unlock the potential of your basement by upgrading it! With this remodel, you can unlock various possibilities and make it into the most functional room in your home!
By upgrading your existing washing and drying machine, you can easily turn your basement into a highly functional laundry room! With just a few simple upgrades, this transformation is within reach.
If you're considering getting a tile floor, budget about $3,000 (prices range from $7 to $14 per square foot) and around $2K for cabinets. The hourly plumbing rate varies depending on the expertise and repair needed; however, it typically ranges between $25-$200.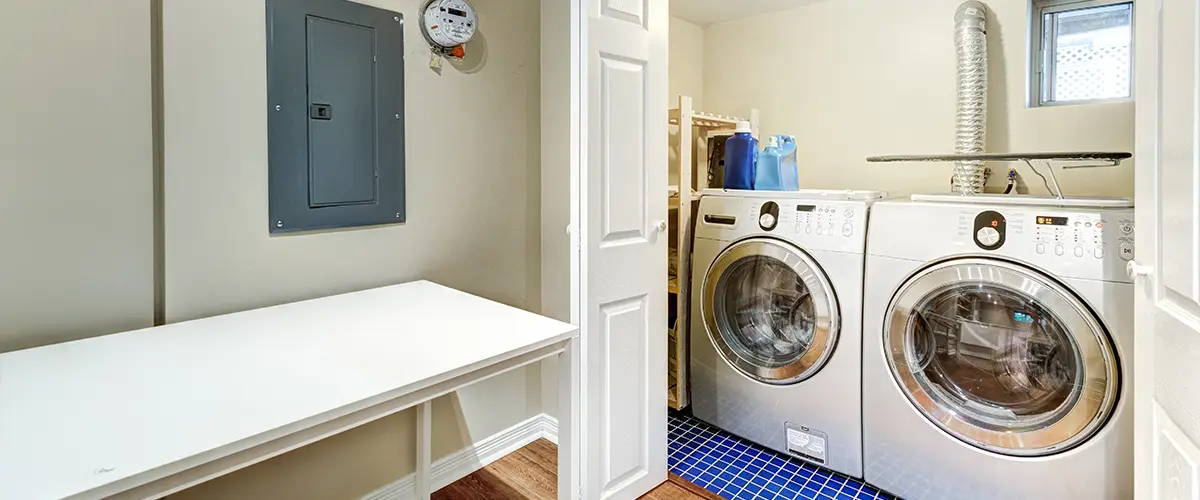 During the pandemic, many individuals found working remotely more attractive than ever. As such, some customers converted one room in their home into an office space for greater comfort and convenience.
Investing in your office space can be a savvy decision that will provide incredible savings over the long run. Installing carpet or luxury vinyl flooring is typically only between $2 to $5+ per square foot, while better lighting, desks, and cabinetry won't break the bank. It won't take much time to reap this smart upgrade's rewards!
Finishing the basement first shouldn't be more than $20k, and remodeling the space in an office will require around $10k.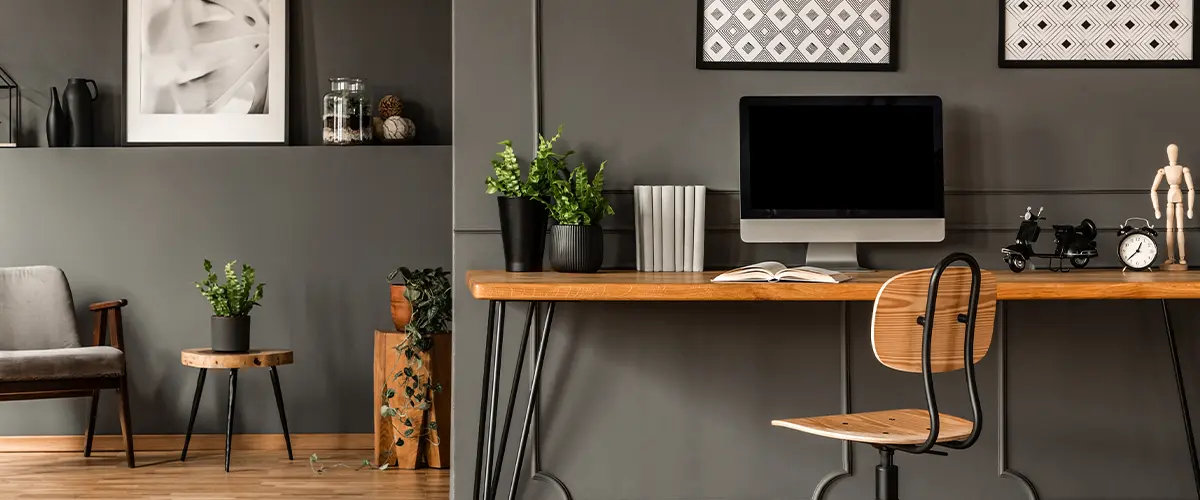 The man cave is the perfect place for you and your nearest and dearest to watch a game, work on a DIY project, play pool or passionately discuss current events over an ice-cold beer.
If you are looking to add luxurious, high-end items to this room, the overall cost could reach up to $15,000. However, if you decide on more budget-friendly pieces of furniture and decor options for this space, it will likely total around $8,000 or less.
For example, you can add a pool table (between $2,100 and $3,500), a bar (about $8k), a couch and some stools (around $2,000), and a TV to watch the game, and this is it!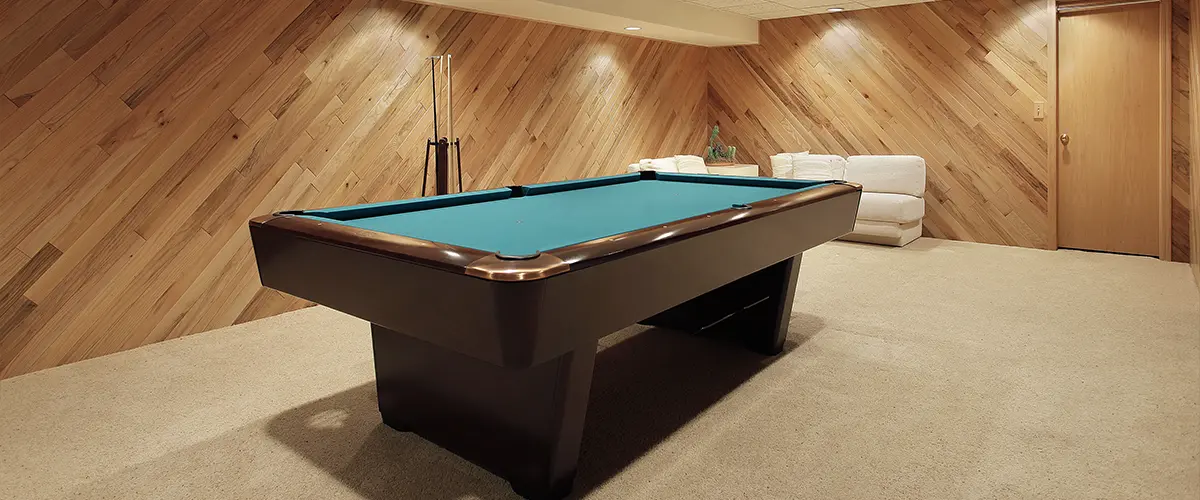 Creating a home gym in your basement can be expensive, given the necessary equipment and materials.
Setting up your own gym has the potential to be a hefty investment. All in all, you may end up paying around $30k for flooring, rubber floors and mats, HVAC systems, electrical installation services, and plumbing fees.
Investing in the gym equipment will set you back approximately $3k to $5k.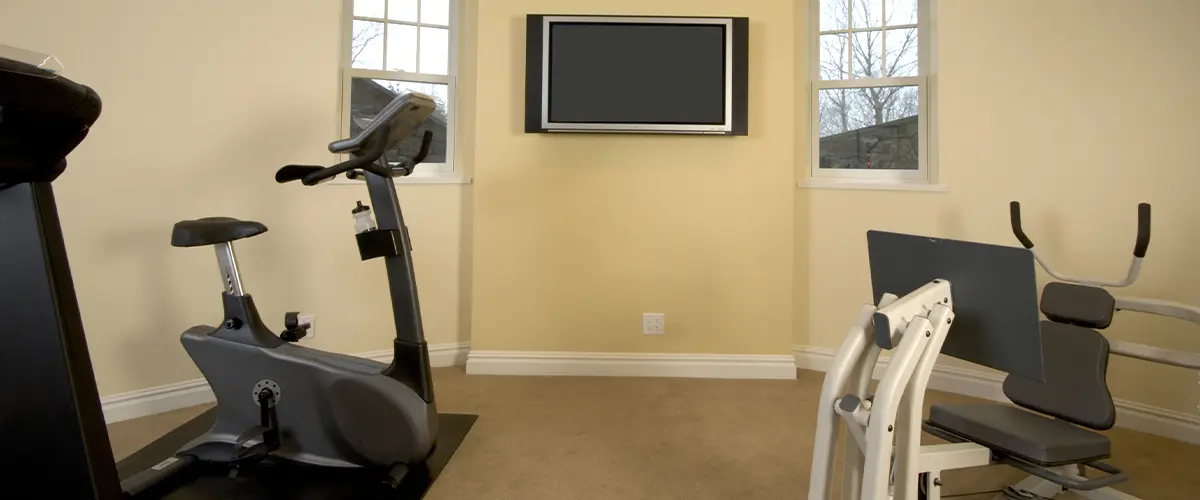 Budgeting For Your Basement Remodel Cost In La Vista, NE
Homeowners are horrified when they incur outrageous expenses due to negligent contractors, substandard workmanship, and ineptitude; unfortunately, these situations occur all too often in this industry.
At Home Matters Construction, we're doing things differently.
To unlock the maximum potential of your basement remodel in La Vista, NE while staying within a reasonable budget, here are three strategies to keep you financially sound.
If you're pressed for cash but still want fantastic flooring, fret not! There are plenty of cost-effective alternatives that your contractor can discuss with you. You don't have to sacrifice quality just because tile might be out of the budget; there's no need to stress over how much strain it'll put on your wallet.
In conclusion, don't sacrifice your budget on pricey materials. On the other hand, be mindful of not cutting corners by purchasing the least expensive options available – it might have a negative effect on your investments in the future.
Preparing for unforeseen events when remodeling a basement is crucial.
During any basement remodeling project, your contractor will likely detect mold, mildew and/or plumbing issues due to basements' susceptibility to these factors.
For the best chance of achieving a successful outcome in your project and to avoid any financial surprises, save at least 20% extra from the budget. This ensures that you are ready for any unexpected costs – it's better to be prepared than regret not saving enough!
As we said, the remodeling market is full of bad practices and contractors going after your money.
If you want to guarantee the success of your venture, put forth effort and time into finding a reliable contractor. Scrutinize online reviews, assess their portfolio for previous projects, ask them for an estimate, and don't hesitate to pose multiple questions – this will aid in determining if they're earnestly enthusiastic about winning your business.
Our advice? Check out BBB and your local chamber of commerce for licensed and insured contractors.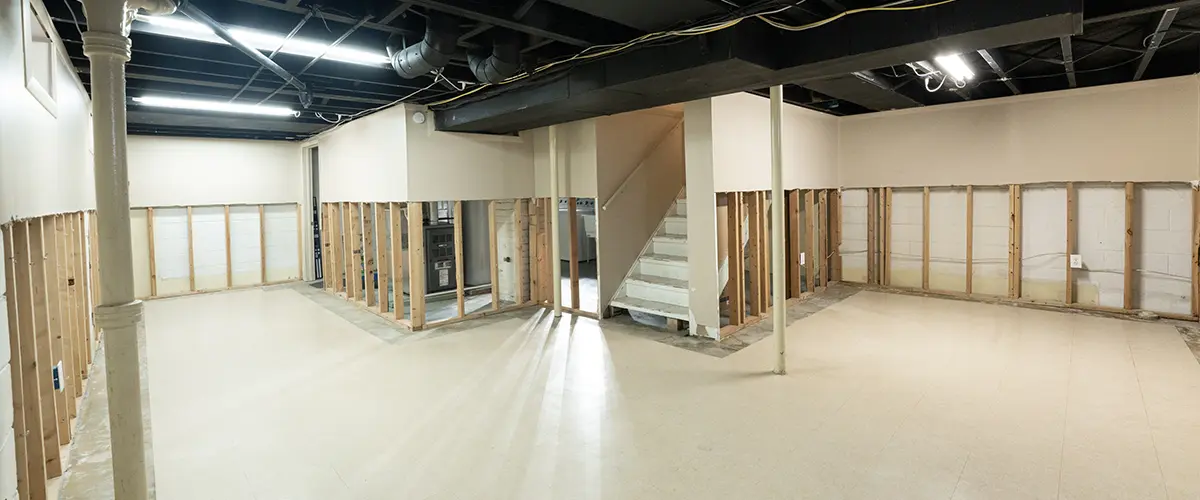 Get The Most ROI On Your Basement Remodel In La Vista With Us!
Let us maximize the profit of your basement remodel and make it truly an investment!
Investing in a finished basement is both smart and rewarding – you can expect an impressive return on investment (ROI) of around 70%. In other words, every $100 spent on renovating your basement will get you back $70 when it's time to sell the house!
Not only can we make that happen, but we can do better!
Choose Home Matters Construction for your home remodeling project and have peace of mind knowing that you'll get stellar workmanship and a hassle-free process. Our team of pros will take care of all the little details, so you can be certain that picking us was an excellent choice!
We'll make sure you're making a great investment!
Get The Most Advantageous Basement Remodeling Cost In La Vista!