Refinishing kitchen cabinets is a smart and cost-effective solution to boost your home's value while achieving maximum return on investment (ROI).
In this blog, we will explore various budget-friendly cabinet refinishing ideas such as painting, staining, and updating hardware that not only modernize your kitchen but also attract potential buyers and make your day-to-day life so much better.
Discover how you can save money on your remodel without sacrificing anything from the quality or beauty of your new space!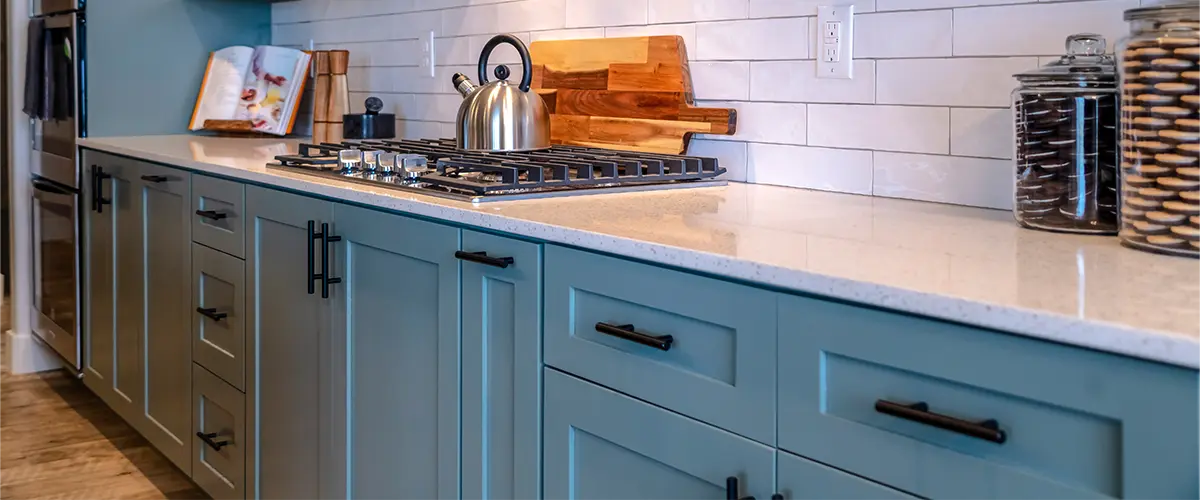 Refinishing Kitchen Cabinets: A Smart Investment For Your Home
Refinishing kitchen cabinets is an excellent investment for homeowners looking to increase the resale value of their homes and achieve a high return on investment (ROI).
One of the most significant benefits of refinishing kitchen cabinets is the increased resale value.
In today's competitive real estate market, an updated and attractive kitchen can make all the difference in securing a higher sale price for your home.
For example, investing in a cabinet refinishing project can yield impressive results when it comes time to sell your home by increasing its value up to 7%. 
This increase can be attributed not only to the enhanced appearance but also to improved functionality and durability offered by new hardware and high-quality materials for your cabinets.
Great Return On Investment
The average ROI for a kitchen renovation is around 70%, making refinishing cabinets a smart move for homeowners looking to increase their property's value even further, without breaking the bank.
At Home Matters Construction, our mission is to offer you a new space that not only makes you feel comfortable and at home, but also increases your property's value and makes life easier for you.
We are committed to giving your the highest possible ROI on your remodeling project without sacrificing anything from the quality or your space.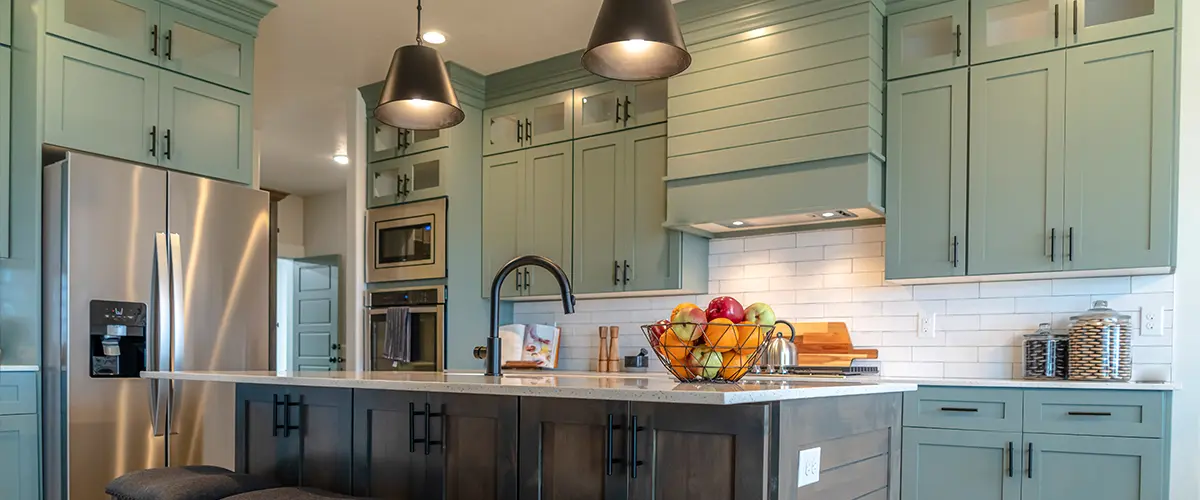 Cost-Effective Refinishing Ideas For Your Kitchen Cabinets
From cabinet painting to hardware updates, these simple upgrades can make a big impact on your home's value without breaking the bank.
Cabinet painting is a popular and budget-friendly option for homeowners looking to breathe new life into their kitchen without breaking the bank. 
This method involves cleaning, sanding, priming, and applying a fresh coat of paint to your existing cabinets, making them look brand new while also increasing their durability.
In addition to being an affordable alternative to complete cabinet replacement, painted cabinets can provide a significant ROI when it comes time to sell your home. In fact, repainting your kitchen cabinets has been known to increase resale value by up to 7%, making this small investment worth considering as part of any renovation project.
To ensure the best results with maximum ROI potential, enlist the help of an experienced professional who specializes in interior cabinet refinishing using high-quality materials and techniques tailored specifically for kitchens.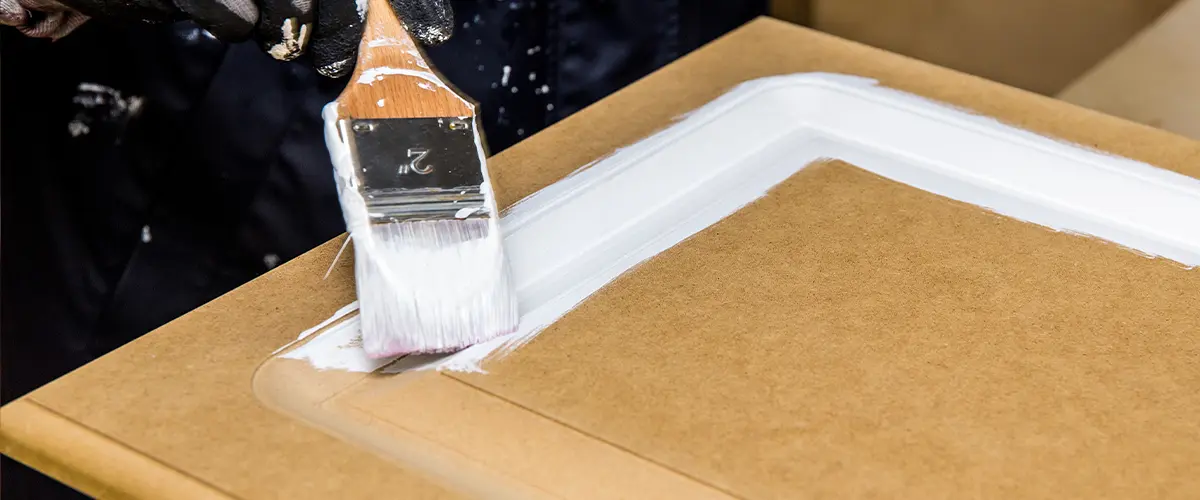 Cabinet stain and staining is a cost-effective solution for refreshing the look of your kitchen cabinets. Staining can enhance the natural beauty of the wood grain, giving your cabinets a rich and warm appearance.
If you have solid wood cabinets that are in good condition but just need an update, cabinet staining could be the perfect solution for maximum ROI. It's important to select high-quality stains and finishes to ensure long-lasting results.
Staining your kitchen cabinets can offer great returns on investment as it saves money compared to completely replacing them while still achieving beautiful new cabinetry in your home renovation project.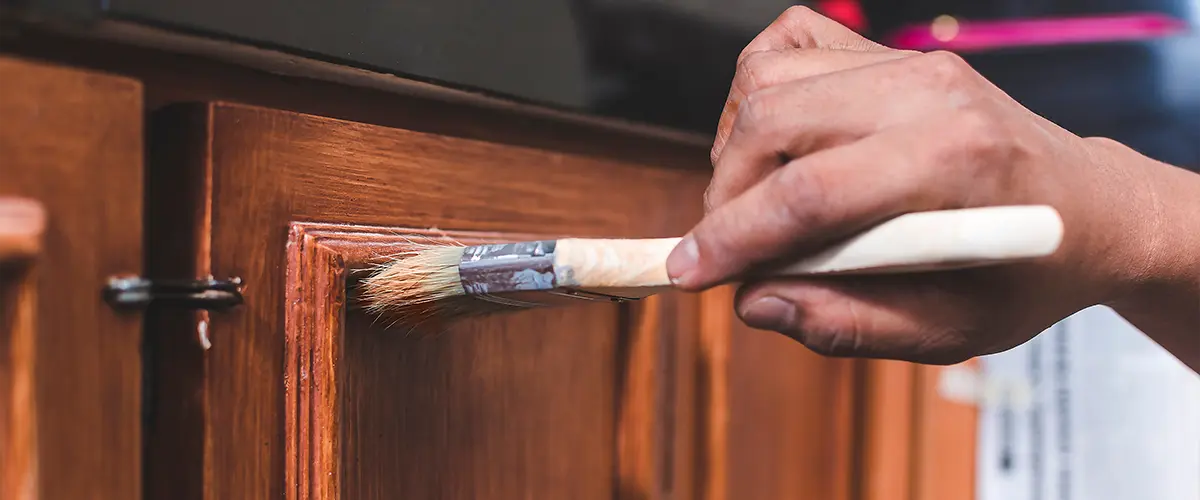 #3. Hardware Updates For Cabinet Doors
Updating the hardware on your kitchen cabinets is a relatively simple and budget-friendly way to give your kitchen an updated look without having to completely replace or reface the cabinets.
Swapping out old hardware for new can make a huge difference in the overall aesthetic of your kitchen, and there are plenty of options available at various price points.
When choosing new hardware, keep in mind factors such as durability, functionality, and ease of use. You'll want something that not only looks great but also withstands daily wear and tear.
Additionally, be sure to select hardware that complements the color and style of your existing bathroom cabinetry.
We 100% recommend updating the cabinet's pulls or knobs whether you want to stain or paint the cabinets.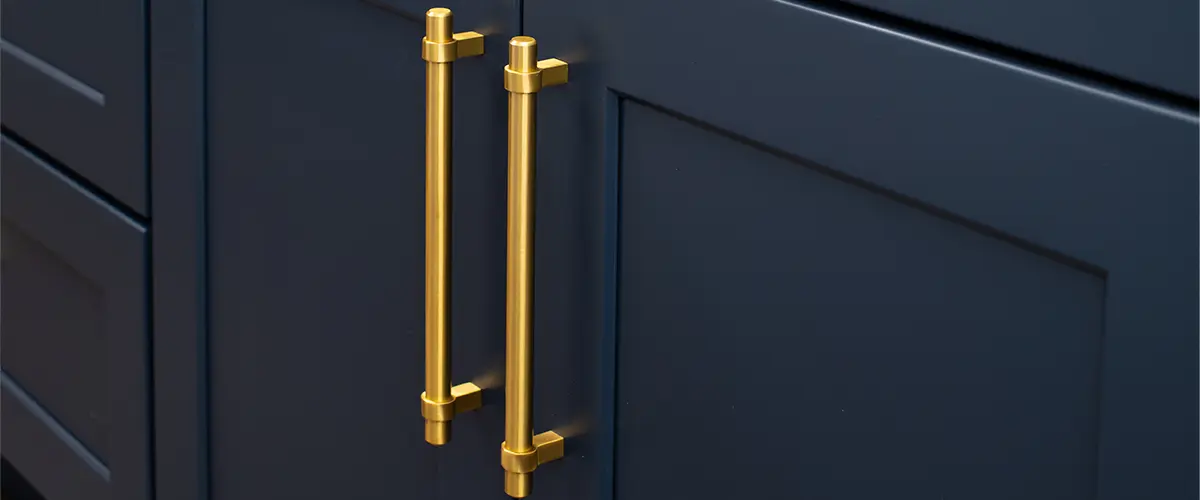 Alternatives To Refinishing: Cabinet Refacing And Replacing
If refinishing your kitchen cabinets isn't the right choice for you, there are alternative options available.
Remember to weigh the pros and cons of each alternative when deciding which option is best for your home renovation project.
Tips For Achieving Maximum ROI With Your Kitchen Cabinet Refinishing Project
Choose high-quality materials for refinishing your cabinets and select timeless styles that will not quickly go out of fashion. Keep the rest of the kitchen in mind, and make sure that your newly refinished cabinets complement and match the overall style and look of your kitchen.
Choose High-Quality Materials
One of the keys to achieving maximum ROI with your kitchen cabinet refinishing project is to choose high-quality materials. This not only ensures that you get a great-looking finish, but also helps to increase the durability and longevity of your cabinets, ultimately saving you money in the long run.
For example, opting for furniture paint specifically designed for cabinetry will give you a more durable finish than regular wall paint. Similarly, investing in high-quality wood panels or veneers can help ensure that your cabinets withstand wear and tear over time.
When it comes to hardware updates, choosing solid metal handles and knobs rather than plastic ones can make all the difference in creating a high-end look.
When selecting styles for your kitchen cabinets, it's important to choose ones that are timeless and won't go out of fashion quickly. Styles that are currently trendy may look great now, but can quickly become outdated in just a few years.
Another strategy is to avoid overly ornate designs or intricate details that can date the look of your kitchen over time. Simple shaker-style cabinets or clean-lined contemporary options offer a sleek, modern look that will remain stylish for years to come. Combine these with a beautiful crown molding and you're all set!
Remember: while bold designs and unique finishes might catch your eye initially, they may not have long-lasting appeal and could detract from the overall value of your home.
Keep The Rest Of The Kitchen In Mind
When refinishing your kitchen cabinets, it's important to keep the overall design of your house and kitchen in mind. You want your updated cabinets to fit seamlessly into the rest of the space.
Consider factors such as color scheme, backsplash, and countertops when choosing a finish for your cabinets.
Additionally, think about how custom color of your newly refinished cabinets will work with other fixtures in the room like lighting and hardware. Choosing hardware that matches or complements other fixtures helps tie everything together for a cohesive look.
Maintain Your Newly Refinished Cabinets
After refinishing your kitchen cabinets, it's essential to maintain them properly to ensure they continue looking great for years to come. 
One of the most important steps is ensuring that you keep your cabinets clean by wiping them down with a soft cloth and mild soap on a regular basis.
Another crucial aspect of maintaining your newly refinished cabinets is taking preventative measures to protect them from damage. 
This may include installing cabinet bumpers, using shelves, avoiding placing hot items directly on the surface, and cleaning up spills quickly to prevent staining.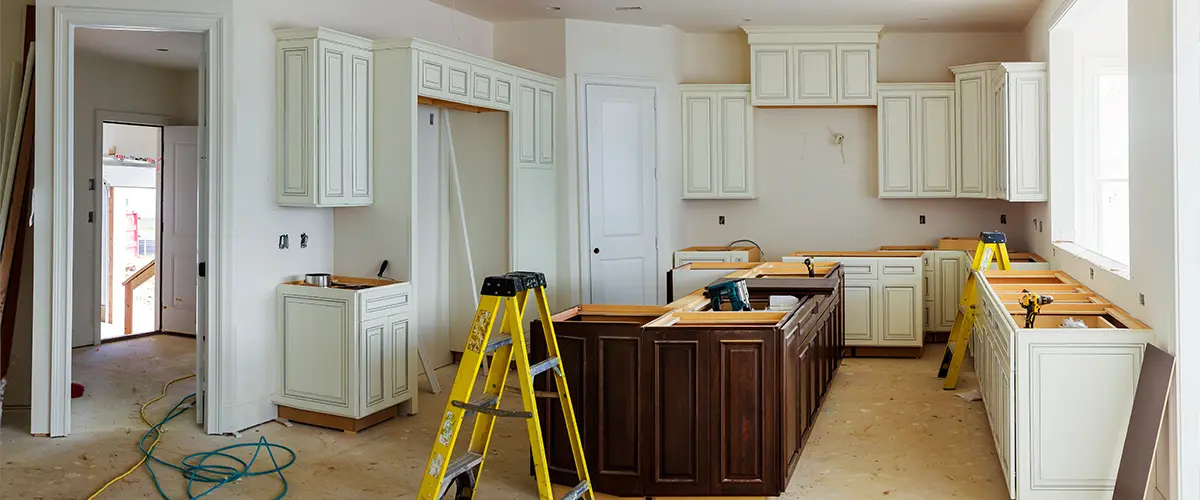 Refinishing your kitchen cabinets is a smart investment that can offer high returns and increase your home's resale value.
With budget-friendly options like cabinet painting, staining, and hardware updates, you don't have to break the bank to achieve a modern look.
We offer free estimates for your kitchen remodeling project, so don't hesitate to give us a call at (402) 661-0910 if you want to learn more about what it takes to refinish kitchen cabinets in Omaha NE!