One of the most frequent requests we're getting from homeowners these days is to convert their unfinished basements into fully functional living spaces.
People love having the extra space to host guests, so we figured a quick guide on how we can make it happen would help everyone see what it takes to transform your basement into a living space.
From finishing it to adding the last piece of furniture, this guide covers 5 quick steps to give your basement space a whole new meaning. Let's begin.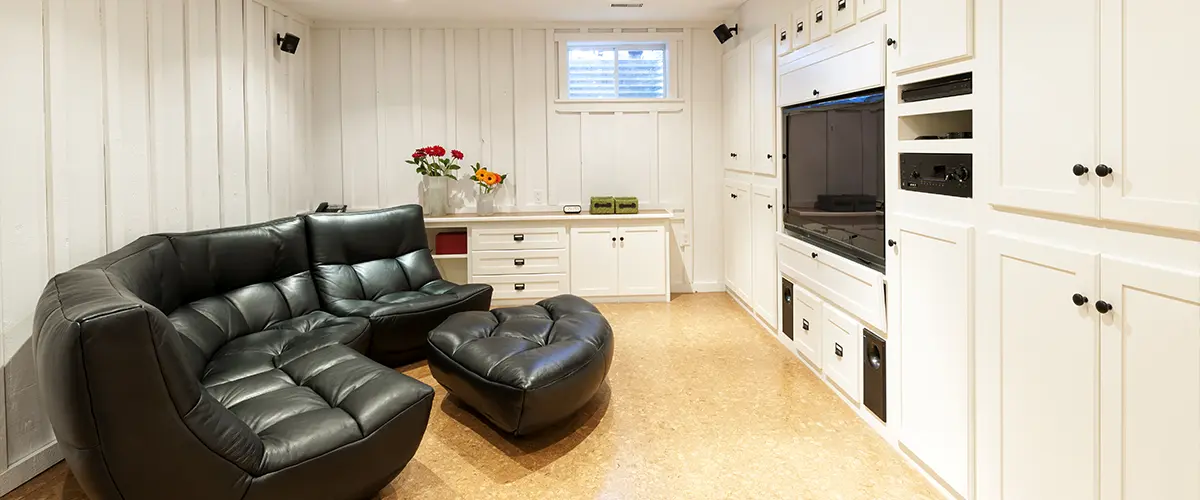 First Things First: Is Your Basement Finished?
This will be a major factor that'll impact the total cost to transform your basement into a living space.
A finished basement space is a basement that's safe to live in. It'll have the plumbing, electrical, and heating installation in place, it'll be insulated and will look very similar to what your upstairs living area looks like.
If your basement is finished, that's great. It means you can jump straight to the 5 steps and begin. If not, let's look at what goes into finishing a basement.
#1. Design Your Basement Layout
The first step in transforming your basement into a living space is to decide on the layout and design. This is where you'll decide what you want your basement to become, respecting the building regulations in Omaha.
In this case, you probably want a large living space with a kitchenette, a bar, a bathroom, and maybe even a bedroom if there's enough space. All of these are doable, but you'll need an architect and designer to draw the plans and apply for the building permits.
At HMC, we've got you covered! 
You'll work with our seasoned designers and architects to ensure your space reflects your true self and matches your needs and lifestyle! Besides, we're experts in the basement building codes in Omaha, and we'll get the permits for you!
#2. Plan Your Electric Wiring & Plumbing Setup
After you have designed the layout of your living space, it's time to plan for the electric wiring and plumbing setup. We put some of the best electricians and plumbers in the Omaha Metro Area at your disposal, so your new space will be completely safe and functional.
Based on your layout plan, we'll help you decide where to place electrical outlets, light switches, lighting fixtures, water fixtures, and pipes.
At this step, you'll also want to check the air quality in your basement, and you'll want to get a radon test kit to see if your basement is safe to live in.
#3. Install the Necessary Insulation & Ventilation
Before you begin any installation, it's important to make sure that your basement is properly insulated and well-ventilated.
Otherwise, it can develop mold that has long-term consequences on your health. Cover the concrete walls with a lumber frame and have drywall installed, put a subfloor on the concrete floor, and you're good to go!
A huge part of finishing a basement is waterproofing it. Sometimes this might be a completely different project, as it requires more time and a good amount of money. However, don't proceed with the next steps without waterproofing your basement.
#4. Add Finishing Touches To The Walls & Floors
Adding the finishing touches will really make your basement look finished and ready to go. This step allows you to be creative and add every feature that complements your lifestyle and makes your day-to-day life easier.
The most difficult choices here will be the type of ceiling you want and the flooring materials. As for the paint on the walls, the choice is yours, but we recommend a light color to take full advantage of the little natural light that comes in.
Transforming Your Basement Into A Living Space
If you have a finished basement, all you have to do is equip it to resemble a living space and function like one. Let's see where you should begin:
We have yet to see a living space without a couch large enough to accommodate everyone in your family. Extendable couches are the better choice, but if you plan to get a small bedroom in your basement, you won't need that.
If you have dogs or cats, you'll need to thoroughly think about the material you want the couch to be. If it's leather, your pets will probably stretch their claws on it, but if it's a fabric sofa, it'll collect a lot of animal hair that's hard to get rid of.
A kitchenette is great in a basement living space because it allows you to prepare a quick snack without going upstairs. It should have some cabinets and a countertop large enough so you can work on it.
You'll also want to install a small sink to make this little corner fully functional.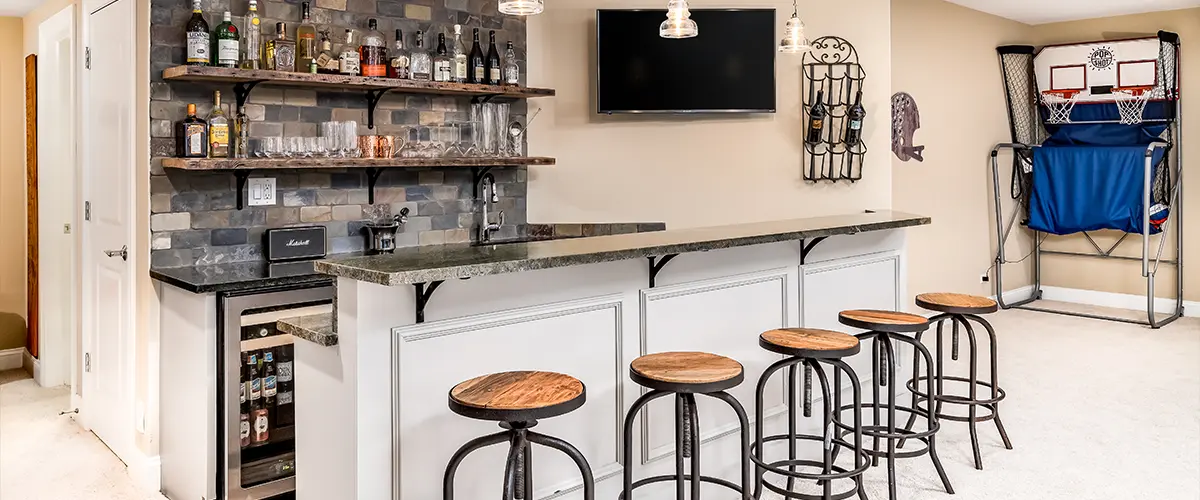 This will be the focal point of your basement, but the addition is 100% worth it. Basements tend to be a little cooler, so a small, electrical fireplace will make the room cozier and more comfortable, so you can spend the night playing board games with your friends or relaxing watching a movie.
If you're not a fan of carpets, don't worry, it's not mandatory. However, carpets make everything feel more comfortable and cozier. They're warm and improve the overall vibe of the basement without compromising on anything except a little bit more maintenance.
Carpets require more vacuuming, but if it's just a small one, all the maintenance required will be done in just a few minutes, and then you can enjoy the rest of the day.
The main purpose of your basement will be to offer more living space, but if you have a large enough basement, adding a bedroom will be an awesome investment.
If you'll have guests, you'll probably want to give them a place to spend the night. They'll feel more comfortable sleeping in a bedroom than in a living space.
Depending on how much space you have, adding a bedroom is also great if your family is growing rapidly and you need more rooms to accommodate everyone's needs.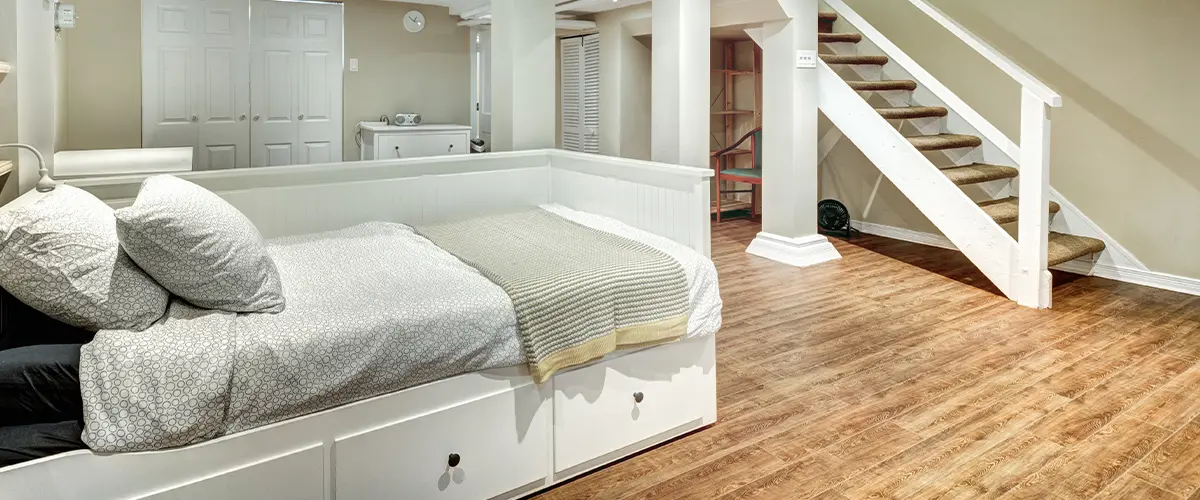 Transforming your basement into a living space is not at all a hard project. Sure, it might take some time to finish the basement and make it a livable space, but after that, everything will go smoothly and you'll have a great place to host some of the best family gatherings or parties you ever did!
As for costs, the endeavor is not as bad as you might think. We've worked on basements for as low as $30k and as high as $80k – depending on the upgrades and features you want. Most basements have around 1000 square foot, and finishing and remodeling it would cost around $50k.
Here at Home Matters Construction, we provide cost-effective solutions for basement remodel so you don't have to break the bank to get this upgrade. You and your home will remain our core focus, and we'll go the extra mile to ensure you're fully satisfied with the outcome.